Christian Payne was born to ride.
His grandfather was a top TT rider in the 1960s, his father carried on the tradition a couple of decades later on flat tracks, and Christian's first birthday gift was a dirt-track motorcycle with training wheels.
And at 18 years of age, Bakersfield's Payne is a national champion, having won the AMA Supermoto Lites championship in just his second full season of racing that discipline.
"It started with grandpa (Sid Payne), he was a national rider for TTs. He rode for Triumph," Christian said. "My dad (Sid Payne Jr.) did flat track."
Which begs the question (no, not why Supermoto?) but why not Sid III?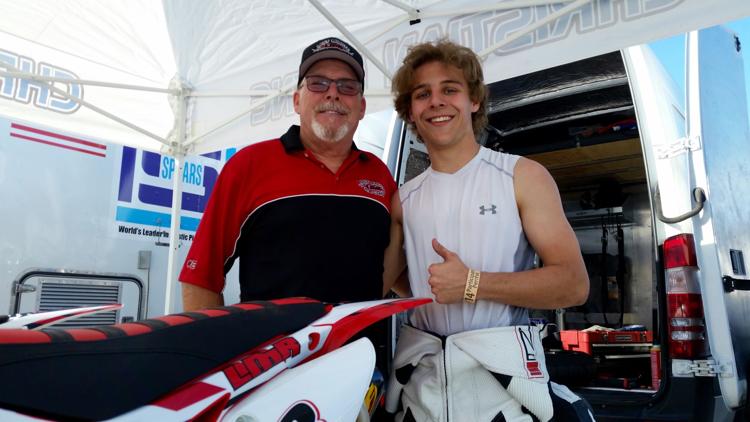 "No Sid the third," said Sid Jr. with a chuckle. "The world can't handle but two of them."
The youngest Payne rode in a variety amatuer off road desert-style races before giving Supermoto a shot in the middle of 2015.
"All of my dad's buddies were doing Supermoto stuff and they were telling him to to just throw some slicks (on the dirt bike) and let me come out and try it. So we did."
Supermoto courses generally blend pavement road racing with some dirt sections and the younger Payne was instantly hooked.
"I liked it a lot," he said. "We just kind of stuck to it. Then it became a big thing when we started doing nationals. We really realized, wow, you have to take this seriously. I started with training."
Some of that training nearly derailed his championship.
"I was doing motocross for training up in Porterville and it was the slowest crash of my life," Christian said of an Aug. 13 accident. "Fresh track. I had only done half-a-lap and it was a little wet. I lost the front, caught it. After that I remember getting up off the ground.
"They said I had a concussion. Dislocated my right elbow and shoulder and I tore a labrum in my shoulder. That put me out for about a month of not even being able to lift a water bottle."
But there was a Supermoto National in Sturgis, N.D. on Aug. 16 and Christian needed to be there.
"The main goal was just to go out and if I finished sixth-place points it was more points than if I wouldn't have gone," he said. "I struggled through it. It really did hurt, but after I started riding for a while it loosened up and felt better."
Christian finished second in the race which ended up securing the championship as the planned finale in Florida on Oct. 7 was canceled due to Hurricane Nate.
"I'm am so happy," he said of winning the championship. "We spent so much and did so much to get that championship. It really feels good to know the hard work paid off."
Christian also competed in most of the Golden Empire Supermoto races held at Kern County Raceway this season and swept the final event last Saturday night, winning both the 250 and 450 races.
The ante will be upped on the national level next year, as Christain plans on defending his Lites (250cc) title as well as running for the Open (450cc) championship.
"He's made so much progress (in Supermoto) in such a short time, I'm amazed at how well he's done," Sid said. "I'm very proud of him and how he's riding. We'll go as long as we can."
Quick shifts
PJ Giacalone and Jeff Beck completed a "clean sweep", winning both days of the 2017 Manufacturers Series last weekend at Auto Club Famoso Raceway. Giacalone's 1955 Chevy 210 dominated the Electronics category winning six straight rounds of competition. On Sunday, Giacalone defeated Bakersfield's AJ Cameron, to win his sixth straight round of competition and remain undefeated for the weekend. Beck dominated the No Electronics category by winning both days. Vincent Hudson of Bakersfield was runner-up in the the Fun Ford DOT class; Tehachapi's Richard Lillo was runner-up in the Fun Ford No Electronics class and Terry Rollins of Bakersfield was runner-up in the Mega MOPAR DOT class.
Kern County Raceway will host the JoRonCo Rentals Night of Mayhem on Saturday night. The event features the locally-based Monster Truck Shocker, Skid Plate races, RV races, waterless boat races, UTV races and a trailer drop. Action starts at 7.