Shon Briggs doesn't see it as pressure that Cal State Bakersfield is replacing three of its top four scorers from last year. He isn't stressed over the idea that his head coach Rod Barnes "needs" Briggs to do "everything" this season.
Instead, the senior guard/forward in his second season at CSUB, views it as a chance to make history.
"I definitely would like to be MVP of the league," Briggs said. "I feel like that's something I can see myself doing."
The Roadrunners have never had a conference player of the year since joining the Western Athletic Conference (Dedrick Basile did win the tournament MVP award when CSUB won the WAC tournament in 2016). Briggs was only a preseason second team All-WAC honoree by the coaches and was not recognized by the media.
But with the opportunity he has this season, and gaps in the team he'll be forced to fill, the Roadrunners' coaches and players think Briggs has a legitimate shot.
One more sign that the Cal State Bakersfield men's basketball season is drawing closer is th…
"He's one of the top players in our league and I think he knows he's got to have a really good year for us to be successful," Barnes said. "If he does that, then I think he'll be right in the hunt."
Briggs' numbers weren't eye-popping one season ago. He started six of his 35 games, averaged 7.4 points and made just one of his six 3-point attempts. He scored six or fewer points in 22 of his first 31 games.
But then CSUB made its run as the first No. 8 seed in the National Invitation Tournament to make it to the semifinal round. Barnes attributes the success to Briggs, who averaged 15.3 points and 6.3 rebounds in the last four games of the season.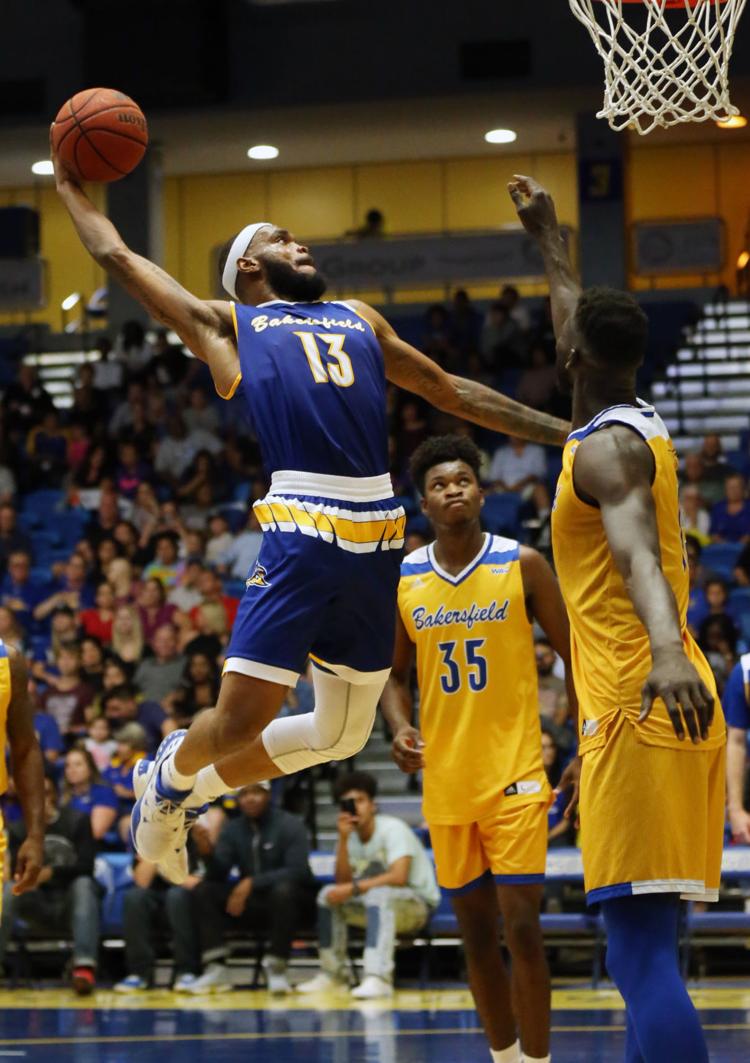 "It was really special the way he played in NIT," Barnes said.
Briggs could sense that it was a preview of what will be in store for him in the 2017-18. His coaches told him as much at the end of the season and throughout the summer, urging Briggs to get in the gym to work as much as possible.
The 500-to-600 shots Briggs took per day in the Icardo Center during this summer were "a lot" more than his daily summer work in previous years. He would workout with his roommate James Suber and played one-on-one against CSUB's most explosive scorer — according to Barnes — Damiyne Durham.
Durham frequently tells Briggs "you don't even know how good you are" and "it's time for everybody to see it."
Briggs knows he'll have to shoot more in games and Barnes thinks Briggs will be able to showcase his 3-point range that stayed hidden last season.
"If we're having problems rebounding, he's gotta rebound," Barnes said. "If we're having problems guarding somebody, he's got to guard somebody. If we're having problems scoring, we're gonna need for him to score. He's gotta be a complete player and he's gotta do it on a consistent basis."
The defensive ability of Briggs was already on display last year, as he helped CSUB rank among the top 15 teams in the country in steals (286), turnovers forced  per game (16.6) and field goal percentage defense (37.2).
Barnes tells his players to set individual goals and hopes those will align with the greater goals of the team. And Briggs knows his quest toward the WAC Player of the Year award will depend heavily on if his play turns into CSUB wins.
"None of that will work if we don't win," Briggs said. "We got to come in first. (I) want to get another ring. But personal goals, I know I push myself to that."
Jon Mettus can be reached at 661-395-7389. Follow him on Twitter at @jmettus.