Faced with plenty of uncertainty about playing football anytime soon, a handful of local high school players have decided to take things into their own hands.
Spearheaded by local trainer Dejon Jernagin, who doubles as the director for California Recruits, which provides college placement assistance for student athletes, two area club football teams were created to give those athletes a place to play.
More than 80 area players are divided among the Bakersfield Elite and Central Valley Elite, and are now midway through a five-game season in the recently-created Maximum Potential Elite 10 High School Club Football League that started Dec. 28 in Bullhead City, Ariz. It was co-founded by Jernagin and longtime friend Eric Muhammad, who operates the MP Foundation.
The two local teams are scheduled to play each other Friday at 8 p.m. The game is being livestreamed and is available online at the AG Video Sports Network.
"Everyone is sitting around waiting for CIF … and they aren't going to do it," said Jernagin who used his national contacts with youth football, 7-on-7 leagues to help organize the teams for the league. "Down south, everybody is playing club football. All the high school coaches are letting their kids go play. Some of them don't like it, but how do you tell a 2021 (graduate) and a 2022 (graduate) … who have no film … what are you going to do for them? There's nothing you can do for them."
The idea for the 10-team league began to gain traction in early December, with teams being formed throughout the Inland Empire, Antelope Valley, Long Beach and other parts of Southern California. Three weeks later, players were in action in the league, which will run through President's Day, take two months off and restart in April, Jernagin said.
"I'm happy and blessed to be out here playing football," said Independence junior Evan Peaker, who plays linebacker and running back for the Central Valley Elite. "Not a lot of people are playing football in California.
"I want to get some film for college and I'm trying to get some scholarships coming in. But mainly I've (only been able to) work out twice a day by myself, eating good, and getting in all the work that I can get."
Bakersfield High and CV Elite quarterback Ricky Easterwood Jr. was in a similar situation. He hadn't practiced in a team environment since December of 2019 and was eager to get back on the field.
"Personally, I heard that football season may get pushed back to April and it might be a five-game thing," said Easterwood, who has aspirations of playing NCAA Division I football, but currently has only a handful of D-III offers. "And for me, playing in April, I'm getting ready to leave for college at that point and I could have a season in possibly early September. So playing in April … why would I do that when I should be preparing for what's next for me?
"And then this came up for me and I was like, 'I should jump on this.' I'm not going to get to play anytime soon. I've been bored and missing football because that's what I've done my whole life."
The opportunity to be a part of the league is the perfect motivation for George Factor Jr. to return to the sidelines. A longtime youth, 8-on-8, semi-pro and high school football coach, Factor had been thinking about retiring and was enjoying spending his time with his grandchild. But when he saw a need, he changed plans on the fly, accepting a position as head coach for the CV Elite earlier this month.
"It breaks my heart, and not just these kids, but kids around the world," Factor said. "Just to be able to get out and do something. Like I tell these kids all the time, it's a blessing that they even get a chance to suit up and go to Arizona to play. I'm just proud and glad to be a part of that.
"Especially in this time of need. They needed some leadership. They needed to be out together, disciplined … just the whole fundamentals of football, and just young men characteristics. And I feel like, yeah this was the perfect opportunity and something I needed to jump into."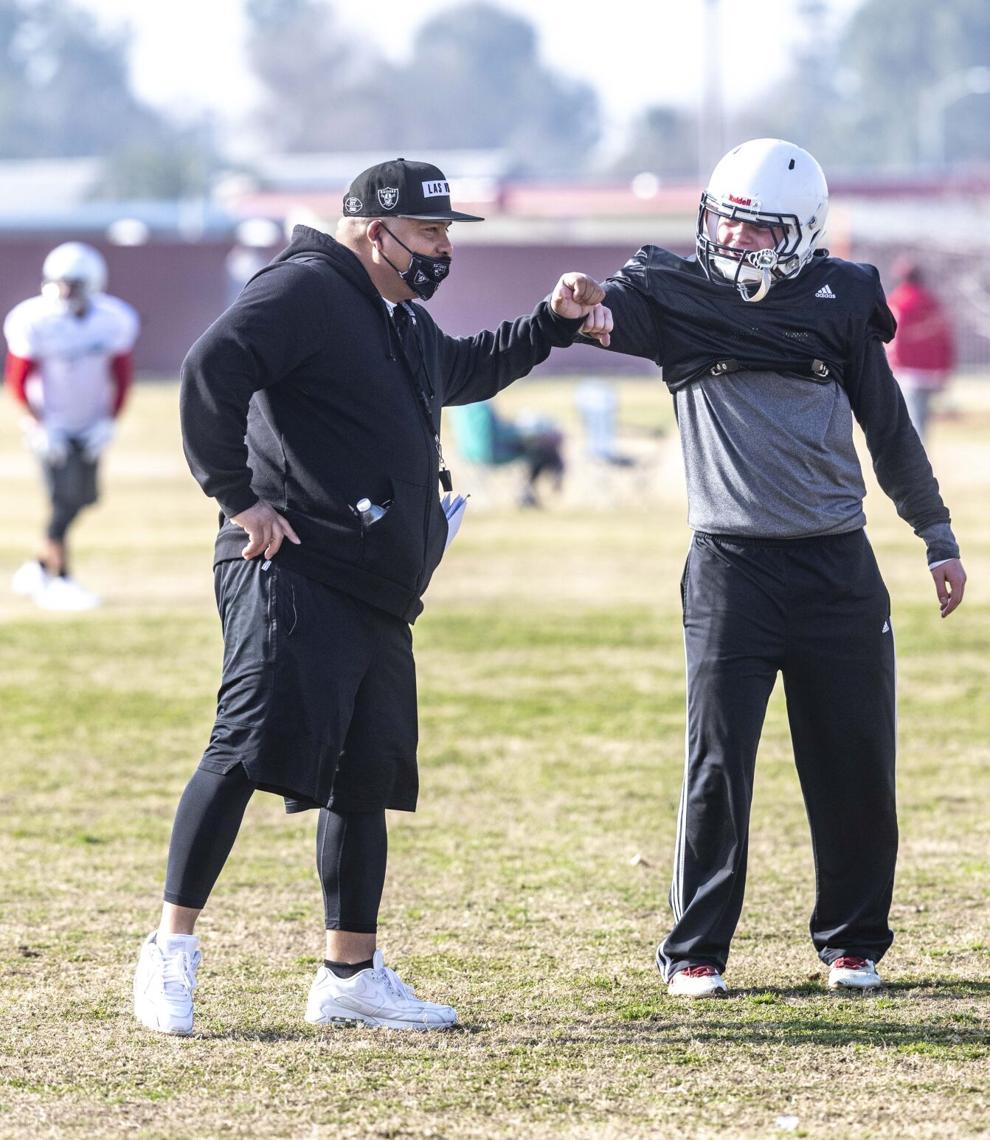 With little preparation time, Factor admits it hasn't been easy. There have been a few bumps along the way. But he's seeing progress and feels like he and his fellow coaches are making a difference.
"It was rough at first because you know change is different, but once they saw results and once they bought into me and the new staff, the sky's the limit for us," Factor said. "We're looking better and better every week, every practice. They really respond, they're a smart group of kids. They're football players and they're great kids."
Factor also realizes that coaching this group of kids is less about winning and more about giving them an opportunity to do what the kids love to do — play football.
"It's really awesome because all the kids are here for one reason and that's to play ball," Factor said. "So they respond well to each other. They pick each other up. The one thing that's a little awkward is that we don't have a full offseason, so everything is kind of on the go. So we have to make things more simple and adapt to our players. It's really challenging for the coaches and we accept that challenge, and the kids respond. That's the great thing."
It's also less about Xs and Os, Factor said.
"The main thing for now is competing," he said. "We need to compete. When we compete, things start happening. Focusing on the little things. If you do the little things right, things start happening. And the No. 1 thing is just unity; working together as a team. Like I said before, they're all football players. They know their holes, they know their formations … and they just need to know how to come together as a team. So that's our focus as of now."
Easterwood has a similar perspective.
"I've only really received Division III offers and a school here and there takes a look at me," Easterwood said. "So I thought let's go out here and see if I can get some good film. Maybe an offer comes, maybe it doesn't, but at the end of the day, I'm going out and having fun playing football."