Paul Golla kept it positive, which is understandable.
After all, it's not about how a team starts, but how it finishes a season. And Bakersfield High enters this weekend's game against Frontier with a 2-4 record. Rattle off some victories, and most if not all is forgotten.
But there's also no denying that last weekend's 20-18 loss to rival Garces must have come with its share of frustrations.
The primary one? Depending upon your perspective, one could say the Drillers lost a game they shouldn't have.
They were doomed by penalties, including three on Garces' game-winning drive that helped set up a 33-yard game-winning field goal by sophomore Peter Delis. It came on the game's final play.
Credit Garces, no doubt. The Rams scrapped out a hard-fought win under head coach A.J. Gass, doing so on grit and guile. They played a good game, and earned the win.
But Bakersfield was also doomed by its own errors and lack of execution.
Golla, the head coach of the Drillers, said he thought his team started slow and sluggish before picking it up in the second half. He was quick to give credit to Garces.
Yet he also allowed, "Hopefully we can learn from the mistakes that we had."
A win this week would certainly help in that effort. The Drillers take on a 5-1 Frontier team, and could face a similar challenge as they did last week, when they were force fed a heavy dosage of Garces' workhorse running back Isaiah Martin. The senior rumbled for 127 yards on 30 carries and added a touchdown to his stat line.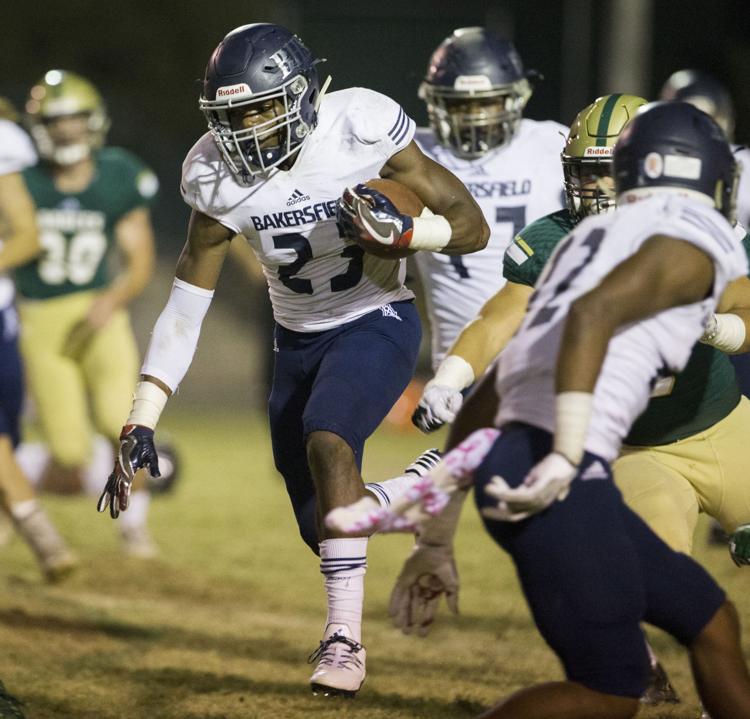 Golla said Frontier is adept at running the ball as well, and pointed to backs Tye Johnson and J.J. Flores as primary reasons why. Golla said Flores is the speed back, while Johnson will pound the opposition on the ground.
"I see a lot of 21 (Johnson) and 1 (Flores). They do a good job. Frontier, they're going to give those two the ball a lot," Golla said. "Those are two good running backs."
For Golla's part, he said the Drillers will stick to their two-quarterback system featuring junior Cameron Williams and senior Caden Ochoa.
While the coach said the offense started slowly, he also said penalties hurt the unit on two drives in particular.
"Last year we had great success with those two kids. And both of them are important to us defensively," the head coach said.
In terms of winning Friday night, Golla said, "I think the scoreboard is for the fans. It's about winning every battle, winning every rep. The process. If you can control the variables and win every rep, take the game one play at a time, you'll be successful. But if you put yourself in bad situations, you won't win."
When asked if by variables he was referring to penalties in particular, Golla said that's been a problem area in recent weeks.
"We gotta cut those down in a hurry," he said.
"Winning is important for the program, the parents, the fans, and media….It's important. But you don't win by just showing up. I would like us to control the variables on every snap."