He ran his first race here, both on the street and at the drag strip, and he had his last crash here.
This weekend, Bakersfield native Rick "The Iceman" Stewart returns home to serve as Grand Marshal of the 26th annual NHRA California Hot Rod Reunion, which will be held Friday through Sunday at Auto Club Famoso Raceway.
"It's a real thrill," Stewart said of being named Grand Marshal of the CHRR, which combines a race with a reunion to honor the early days of hot rodding. "I really enjoyed all my years in drag racing."
Like many youngsters in the post-WWII era in Bakersfield, Stewart, 76, grew up in a hot rod culture. And, like many of those hot roders, his first race was on the streets of Bakersfield.
"I started racing on Chester Avenue," said Stewart, who moved to Texas in the mid-1990s.
Stewart made his first run down the quarter-mile at Famoso in 1958, in a '46 Ford, and and a few years later he was behind the wheel of a Top Fuel dragster.
An engine explosion and fire led to his dragster going off track, tumbling, and ending up broken apart on it's side in a field of weeds. The crash was recorded by various cameras, including one on his dragster.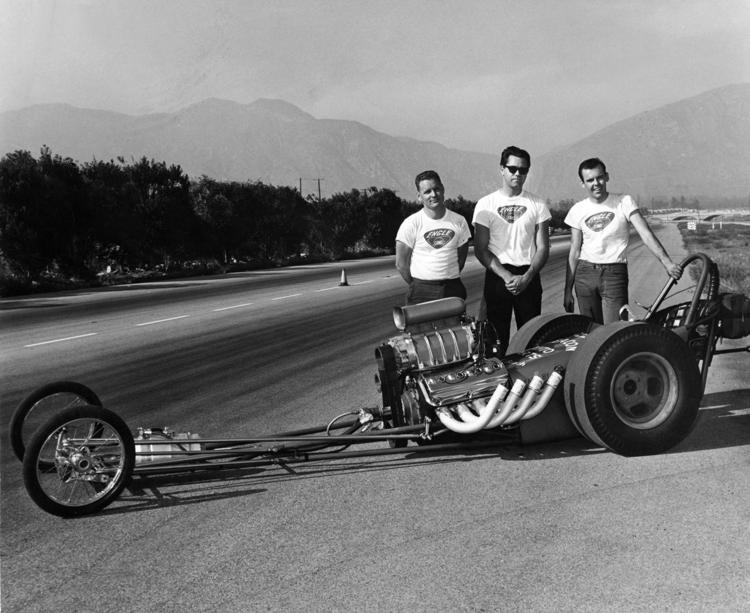 "Get me out, get me outta here pal," Stewart can be heard saying as people rushed to his aid, before being loaded onto a stretcher and into an ambulance.
"I had a Basilar skull fracture from that one," Stewart said. "It kept me out of action for a while."
Two years later, Stewart, whose nickname made his last run at Famoso and he wasn't even in his dragster when it was over.
Metal failure led to Stewart, still strapped into his seat, being pulled out of the car at the end of a run.
"It pulled me and the aluminum seat out underneath the roll cage," Stewart said of what happened after he deployed the parachute after a 200 mph run. "I doubled up in a ball, held on and slid down the track. I had an aluminum seat on me, which kept my skin on me.
"Finally, I stopped sliding, popped my seat belts loose, got out of that aluminum seat and was covered up with the parachute. I walked around in that parachute for a while before I figured out how to get out of it.
The crash was his third major one in a just a handful of years and convinced Stewart that his day job as an X-ray technician, while certainly less thrilling, was much safer.
Stewart retired from racing in 1971 but never strayed far from the sport.
In the 1980s, while serving as director of radiology for Memorial Hospital, Stewart took on the duties of the backup starter for NHRA national events.
Ten years later, Stewart became just the third chief starter in NHRA after the retirement of Buster Couch.
For the next 15 years, Stewart occupied what many call "the best seat in the house," as he stood between the lanes and controlled the start of thousands of races. He retired from that position at the end of the 2011 season.
Stewart said he enjoyed both roles he had in drag racing — competing and then as a starter — but most of all he enjoyed the people he met along the journey.
"I really enjoyed drag racing (and) still do," he said. "I got to meet so many people. It was a great experience."
Stewart, along with racing legends Pete Eastwood, Bill Holland, Bob Lambeck, Bob Panella, Sr., and Jimmy Scott will be honored at the
Hot Rod Reunion Honoree Reception at the DoubleTree Hotel in on Friday at 7:30 p.m. Admission to the reception is free. They also will be recognized on the track on Saturday evening.