For about eight months a year, Octavio Martinez works in Major League Baseball. And for the other four, he's back in Bakersfield, his hometown.
On Thursday night, during a phone interview, Martinez apologized if he appeared sidetracked at times. He was doing what many in Kern County were that evening — taking in the NFL Thursday night game from his home.
"Sorry if you lose me here and there," he said with a laugh. "But the Raiders are playing."
True. Yet this conversation was to focus primarily on baseball, and with good reason.
Martinez, who grew up a Los Angeles Dodgers fan, said he will follow the World Series, which is scheduled to begin Tuesday night. But he's not one to typically watch an entire game on television, he added. And once his season is over — in this case, he's the bullpen catcher for the Washington Nationals — he typically likes to unwind a bit from the full-time job that occupies the majority of his springs and summers.
He said he returns to Bakersfield because he enjoys where he's from, and wants to spend time with his family.
"If I'm going to take some time for myself in the offseason," he said, "I'd rather do it with them."
Martinez was raised playing the game here. He took the field at Highland High School before attending Bakersfield College.
Martinez was selected in the 10th round of the 1999 Major League Baseball draft by the Baltimore Orioles, enjoying 14 years playing professionally before landing his current gig in Washington.
"A man of high character," Bakersfield College coach Tim Painton said. "Highly intelligent, always has a smile on his face, always wanting to help others. Just a very genuine, down-to-earth, good person."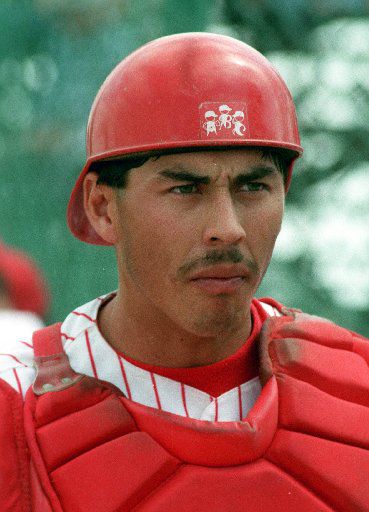 Those in and around Bakersfield recall Martinez's playing days, and his family in particular.
Martinez is one of five sons — the second oldest of the group. Four of them pursued college baseball and, in some cases, professional careers on the diamond.
The middle son, Juan, was a South High School graduate and played at Bakersfield College before attending Oral Roberts University in Oklahoma. He would eventually play in the San Francisco Giants organization, and is now playing professionally in Mexico.
Rolando, the second youngest, has a similar track record. A Ridgeview grad, he also went to Bakersfield College before attending Oral Roberts. He, too, currently plays in Mexico.
And the youngest is Luis, who played at Ridgeview, went to BC as well, and is now a senior infielder in the Cal State Bakersfield Roadrunners' program.
"Very unique," Painton said. "I've had brothers (play at BC). I've never had four of them."
Those close to the family say it starts with the parents — father Jesus and mother Yolanda.
"Absolutely incredible people," Painton said. "They raised five grounded, hard-working, salt-of-the-earth people."
Martinez said his parents' main objective was to be supportive of him and his brothers, and allow the sons "to choose for ourselves."
He said his father helped push the first couple of boys down the path of baseball. "The younger ones followed," Octavio said.
"They are great. A lot of people like them," Octavio Martinez continued. "They've come full circle — from me and my (oldest) brother to my youngest ones. They've been in baseball here, the town ball and what not, for a very long time."
Octavio's baseball career
Martinez was selected in the 10th round of the 1999 draft by the Baltimore Orioles. He played nine seasons of affiliated baseball in the Orioles, Pittsburgh Pirates and Los Angeles Dodgers organizations. Martinez reached the triple-A levels in the Orioles and Dodgers farm systems.
He would eventually move on to five years of independent baseball — one season in the Golden League and four more in the Atlantic League.
"Once you start playing minor league baseball, you gotta love it. It's a tough career," Martinez said. "There's no glamour down there until you make it to the top."
Martinez was preparing for a return to the Sugar Land Skeeters of the Atlantic League prior to spring training of 2013. A case of serendipity rerouted him to Washington, however.
Martinez received a phone call from Bryan Minniti, the Nationals' assistant general manager, who wanted to know if Martinez was interested in being bullpen catcher for the big-league club.
The connection dated back to Martinez's one year with Pittsburgh. Despite the fact Martinez missed much of that season with a broken finger, he held a good reputation, and Minniti — who was in the Pirates' front office at the time — took notice.
"He could really catch and throw. I remembered that," Minniti said. "And he was always smiling, always positive, always outgoing, high-energy. Coaches liked him and people spoke highly of him. And those are things you look for in any business."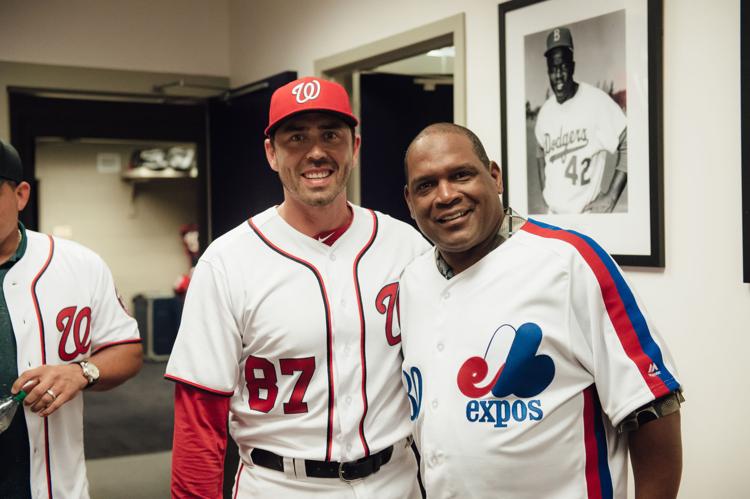 In a sport with many Latin American players and personnel, Martinez said being fluent in Spanish was a benefit.
"It's very, very important in my position. It's helpful," he said. "When I interviewed, part of the questioning was, 'are you bilingual'? It may not have helped (get the job), but it didn't hurt either."
Martinez got hired that February, and has been with the Nationals ever since.
Martinez's work days consist of long hours during the 162-game season. "We get there early, and we stay after pretty much everyone leaves after the game," he said.
Regardless, Martinez described it as "a lot of fun."
Prior to a Nationals game, you might see Martinez hitting fungo grounders to infielders, throwing batting practice or working infield/outfield with individual players. Of course, he could be required to warm up starting pitchers pregame, or get relievers ready in the later innings. He's also the Nationals' primary language translator for Spanish-speaking players.
Colby Lewis, the Bakersfield native who's pitched 11 years in Major League Baseball, grew up with Martinez. The two eventually took the field together as battery mates at Bakersfield College.
Lewis said Martinez was remarkable behind the plate and a good student in the classroom. He added, when considering those characteristics along with his work ethic, it isn't surprising to see Martinez in his current position.
"I thought he'd be a big leaguer for years and years to come," Lewis said. "That's translated into who he is and the job he has right now."
Lewis said the two exchange phone calls and text messages every couple of months.
"I was very fortunate to play with a guy like that — a silent leader," Lewis recalled. "I didn't know what that was until I got to pro ball. I look back and see how he went about things. That's the way things are in pro ball, and that's the way he was back then."
World Series on the horizon
Martinez said his favorite World Series will be when the Nationals are competing in one.
Despite winning the National League East the past two seasons, the team has had tough luck in the postseason over the years. On Friday, the Nationals fired manager Dusty Baker despite his 192-132 record the past two years leading the team.
Regardless, Washington has a talented core. Stars such as Bryce Harper and Anthony Rendon, along with veterans such as Ryan Zimmerman and Daniel Murphy, are the headliners. The team also has a standout pitching staff, anchored by Stephen Strasburg, Max Scherzer and Gio Gonzalez.
On Thursday, Martinez said he needed a few days to settle down after the long season, and tough 9-8 loss to the Chicago Cubs in an elimination Game 5 of the National League Divisional Series.
He added that Los Angeles' great run could be credited, in part, to its quality depth and strong bullpen.
"A very deep team is what they have," he said. "It seems like, they were that team (that) when injuries hit, they had the guys that could fill in."