An unmistakable absence lingers as Brenda Toney hosts members of her extended family on a late April evening.
Normally, Carl Toney, Brenda's husband of more than 46 years, would have been the life of such a party, as people tended to be drawn to him for a myriad of reasons.
Standing an unmissable 6-feet-8-inches tall, Carl was a local legend on the basketball court. After starring at Bakersfield High School, he committed to play on the inaugural men's team at Cal State Bakersfield and scored the first field goal in program history during his freshman season in 1971.
He also drew people in with his big, dichotomous personality. Described as a "gentle giant" in multiple interviews, Toney was known as a jokester who "could trash talk with the best of them," and a flashy dresser known for sporting watches with faces so large "it was like he had Big Ben on his wrist."
He was also someone who didn't hesitate to show fear, as he was known to cross the street to avoid dogs and run inside at a full sprint whenever he heard thunder.
This big personality was tragically lost April 20, when Carl passed away due to cardiac arrest.
"He was one of those guys that's so respected, you almost feel like he's immortal," friend Tim Murphy said. "(You think) 'this will never happen to him.' So that was a huge shock for a lot of us."
His passing was made all the more shocking by how abrupt it was.
On March 5, Carl and Brenda attended the Pac-12 women's basketball tournament in Las Vegas to cheer on niece Nikki Blue, an assistant coach at Arizona State.
Back at the hotel, Carl complained of stomach pains, which persisted upon his return to Bakersfield. On March 15, his 67th birthday, a doctor's visit revealed he had pancreatic cancer.
The cancer quickly reached Carl's liver and on April 20, he collapsed while preparing for a doctor's appointment. Within hours, he was gone, leaving disheartened family members to pick up the pieces.
"I'm making every effort to process it, but it's really hard," Brenda said. "Day-to-day is my approach, but sometimes it more like hour-to-hour."
Though they provide mere cold comfort at the moment, friends and family are grateful for the multitude of memories that will keep Carl's spirit alive.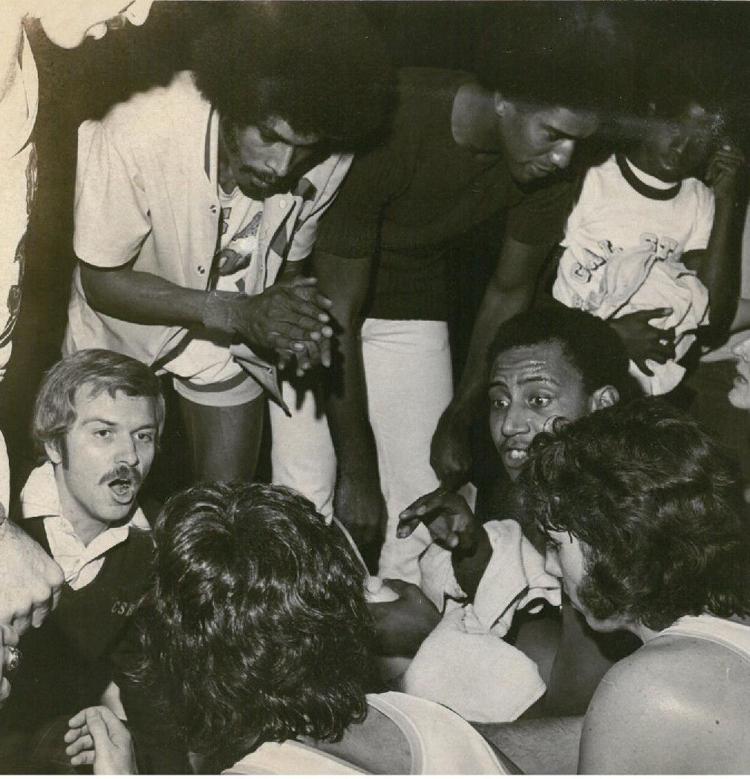 The grandfather of CSUB basketball
When recruiting the first men's team in Cal State Bakersfield history, coach Jim Larson was known to embellish a few facts.
"When Larson was talking about coming down here, he said it was close to the beach," said Rich Ross, a Stockton native who transferred from San Joaquin Delta. "So that kind of lured us down this way, and we get here and it's two hours from the beach."
Selling the program to Toney, a prolific scorer and rebounder at BHS, proved easier.
Referred to as "a bit of a mama's boy" by Ross, Toney's roommate during the program's second year, Toney was happy to play close to mother Doretha and father Carl Sr., who was employed as a groundskeeper at the school, then known as California State College Bakersfield.
"He just wanted to stay home," Larson said. "He wanted to play at the new school, he wanted to make a name for himself. It wasn't a hard sell."
Larson was known for running physical, hard-nosed practices, and Ross, who became one of Toney's closest friends, admits he and his veteran teammates tended to rough up the true freshman at times, hoping to build a physicality to match his natural ability.
"We were a little tough on him, but we knew if he got physical back, he was going to be a great player," Ross said.
Ross was right. On a team full of junior college and four-year transfers, Toney fit right in.
Seven minutes into its inaugural game, Toney connected on the school's first-ever field goal, and helped rally CSB from 10 points down to a 62-60 win over U.S. International University.
That was the start of a surprise run for the Roadrunners, who went 21-5 in that first season before qualifying for the Division-II NCAA Tournament the next.
As he got older, Toney's production only increased.
Playing without a 3-point line, he scored 1,264 career points, while pulling down 718 rebounds, program records that held until 1992. His 536 made field goals are second-most in school history.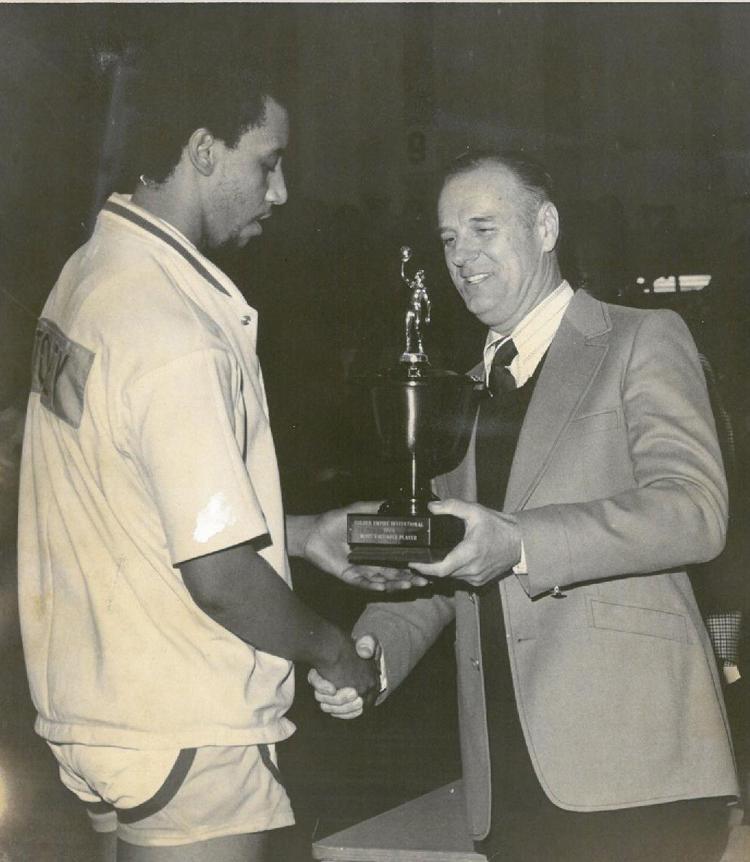 More importantly, Toney helped establish a program that eventually became a Division-II powerhouse. From 1990-97, the Roadrunners played in four D-II national championship games, winning three. From 1982 to 2006, they made 19 NCAA Tournament appearances, paving the way for a 2007 jump to Division-I.
Well after his playing days, Toney remained a regular at Roadrunner games, and was said to have a rather unique outlook on his role in the program.
"When we would go to the games, he would refer to those guys on the floor as his grandchildren, so to speak," Brenda said. "He said 'We were like the grandfathers of this program.' He had a lot of respect for that."
Home sweet home
Toney left college with hopes of playing in the NBA, and even got a tryout with the Golden State Warriors.
While a knee injury halted those dreams, he wasn't done with basketball, as he got to showcase his talents internationally. Playing in the AAU ranks gave him a chance to travel for a tournament in Israel. He also spent two years playing professionally in Chihuahua, Mexico.
But it didn't take long for homesickness to set in. Missing Brenda, who he'd married in 1973, Carl wasn't happy being away from a home that was quickly expanding.
The couple had their first child in 1977, with the birth of son Christopher. Daughter Crystal then came in 1982, with youngest son Brandon being born in 1986.
Though it wasn't as high profile as professional basketball, Carl found time to excel in athletics upon his return to Kern County. In more than a decade playing slow-pitch softball with the Suds Tavern team, he morphed into, as former teammate Murphy puts it, "the most prolific softball home run hitter in Valley history," consistently blasting long balls that turned into traffic hazards.
"He hit so many balls out on the highway," Brenda recalls, adding you would often hear the screeching of tires.
Carl also used the time to oversee the development of another budding basketball star in the family in niece Nikki Blue, who scored a Central Section record 2,934 points at West High and eventually had a five-year run in the WNBA.
In a family that also features a retired NBA veteran — Brenda's brother Fred Boyd played with Philadelphia and New Orleans from 1972-78 — Blue says Carl's athletic triumphs stood out, and his guidance during her formative years helped shape her into the CIF Hall of Fame player she became.
"He's a big reason why our family is known as a basketball family in Bakersfield," Blue said. "He set the standard for excellence and all of us under him tried to reach the standard he put in place." 
After numerous starts and stops on the job market, Carl found a late-in-life passion for education. 
He spent two years as a substitute and summer school teacher at Lost Hills Elementary, and also had two separate stints teaching special needs students at Emerson Middle School in Bakersfield, an experience Brenda called one of the most rewarding of his professional life.
"It was amazing how he excelled, how he changed the whole environment of the classroom," she said. "The students felt like they were part of the school as opposed to an isolated group of kids."
'His legacy was his family'
Jim Larson's favorite memory of Carl occurred nearly 40 years after their time on the court ended.
Larson, whose final year in Bakersfield was Toney's senior season in 1975, made his way back to the city in 2013 as an invited guest for Carl's 60th birthday party.
Knowing him primarily as a competitor, Larson says the party helped him see his former star player in a new light, as dozens of people — consisting of family member, former teammates, students and friends — shared their favorite Carl stories.
"There was so much love in that room that night," Larson said. "You just couldn't help but be so happy for him. He cared about people, he impacted people in such a positive way. He had so much impact as a human being. Nothing (on the basketball court) was as important as what I felt and heard that night at his birthday party."
Sharing similar stories is proving to be a coping mechanism for Carl's family, as relatives have gathered at Brenda's home in recent weeks to reminisce and come to terms with Carl's sudden passing.  
Frequent guests have included Carl's sisters Bertha Thompson, Nellie "Pat" Wright, Sabrina Hunter and Terri Marantos, Carl and Brenda's children and grandchildren Cashmere, Donovan and Tyson Toney, affectionately known as "papa's boys."
"We have each other," Brenda said. "We can sit outside and arrange the chairs in a way where we can still socialize, we can barbecue. Find reasons to laugh and just enjoy that we have each other."
Brenda expects to hear numerous anecdotes from her husband's playing days during funeral proceedings this week. And while she loves those stories, she says people in Carl's inner circle knew he had a much more complex legacy than the one he made as an athlete.
"His legacy was his family," Brenda said. "When all that was said and done, he was a husband, he was a father, and he was a grandfather. That's how he'll be remembered and that's what meant the most to him."
Due to restrictions from the COVID-19 outbreak, a visitation scheduled from 5 to 8 p.m. at the Basham Funeral Care Chapel Thursday will be limited to 10 people per area. At Friday's 10 a.m. funeral service at Union Cemetery, 10 people will be allowed under a canopy near the gravesite, while social distancing measures will be enforced for other attendees.
For those unable to attend, Friday's service will be broadcast on the Basham Funeral Care Facebook page.