While most everyone in his position has dreams of winning a Super Bowl, the images in Solomon Ajayi's head are likely more vivid than those of his peers.
Ajayi, a starting linebacker at Bakersfield College in 2015 and 16, will officially begin his quest to capture a Lombardi Trophy this weekend, when he takes part in a virtual minicamp with the Cleveland Browns, who signed him as a rookie free agent last month.
Going undrafted, Ajayi has a difficult path to landing a roster spot, one made all the more challenging by team's inability to hold in-person workouts during the coronavirus outbreak.
Luckily, he'll have plenty of help navigating the early portion of his professional career.
Jay Ajayi, Solomon's brother, also entered the league with little fanfare, taken as a fifth-round pick at running back by the Miami Dolphins in 2015. Having experienced the rigors of an NFL career first-hand, Jay has been a major sounding board for his brother, who's spent recent weeks working out at his family's home in Dallas.
"I'm not going to be surprised by anything (because of) everything he kind of gave me a warning for," Solomon said. "I still have to go out there and earn it. I've still got to go out there and make plays but I do believe it gives me an upper hand in terms of I know what to expect and I know someone who's been there before and done it."
Jay's on-field results also make him easy to listen to. 
Though he's been slowed down by injuries as of late, Jay, currently a free agent, found great success early in his career, rushing for 1,272 yards — the fourth-highest total in the league — and making the Pro Bowl in his second season in Miami. 
Then, following a mid-season trade to Philadelphia the following year, Solomon got to see his brother capture the sport's most coveted prize in person, as he and his family where on hand to see Jay rush for 57 yards to help the Eagles top New England 41-33 at Super Bowl LII in Minneapolis.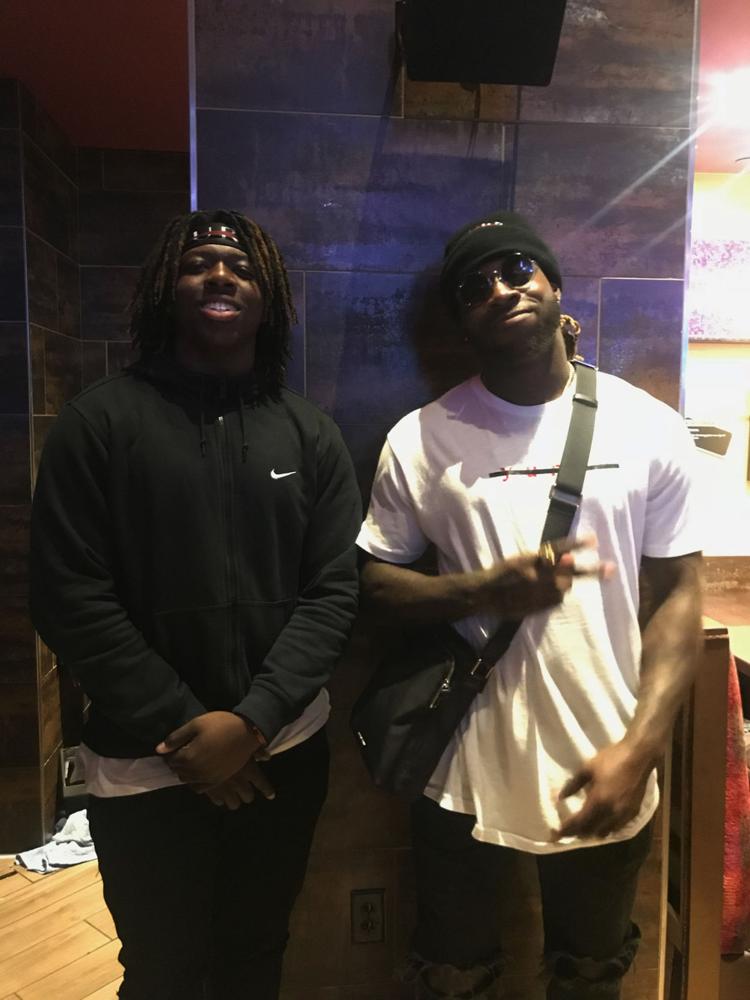 "That was probably one of the greatest days of my life," Solomon said. "Just seeing my brother, one of my best friends, achieve his goal, something we talked about as kids, to actually go on and play and win a Super Bowl, it just shows me I can achieve my dreams too."
Five years after coming to Bakersfield College as a raw, inexperienced linebacker, Solomon is confident he can develop into a viable NFL player.
Despite playing just one year of linebacker at Liberty High School in Frisco, Texas, Ajayi was an immediate impact player with the Renegades. After finishing second on the team with 50 tackles as a freshman, he recorded a team-best 66 stops during his sophomore season in 2016.
His success continued when he transferred to Liberty (Va.) University, which made the jump from FCS to FBS football during the 2018 season.
After redshirting in 2017, he led the Flames in tackles in each of the next two years, capping his college career with a nine-tackle performance in the program's first ever bowl game, a 23-16 win over Georgia Southern in the Cure Bowl last December.
While initially disappointing, going undrafted has done little to crush Ajayi's confidence, and he feels he's found a place where he can stick in Cleveland.
"I feel like the Browns are a perfect fit for me and I'm just ecstatic to be part of this organization," he said. "The fact that I was even able to make it to a Division-I college then sign with an NFL team, it's taught me I can beat the odds. I've just got to keep working, keep grinding and know whatever I can put my mind to, I can achieve."
If he's able to make a roster, there's one big achievement on Ajayi's mind. 
"I'm looking forward to hopefully making it two Super Bowl rings in the family," he said.