There was a time when becoming a first-team all-conference player may have seemed like a far-fetched goal for Taze Moore.
An explosive athlete and tenacious perimeter defender, Moore carved out an immediate role as a true freshman, averaging 10.8 minutes in 24 games on a Cal State Bakersfield men's basketball team that won a Western Athletic Conference regular season title and reached the Final Four of the NIT in 2017.
But late in that season, his college career would be derailed for a significant period of time. In a February game against Texas-Rio Grande Valley, Moore landed awkwardly, sustaining a broken tibia and fibula.
Now, more than four years later, few remnants of the injury remain as Moore's explosion has returned in full and he has developed into one of the most well-rounded players in the Big West Conference.
Moore, who leads his team in several statistical categories, was rewarded for a stellar senior season Monday. In the school's first season in a new league, he became CSUB's first ever First-Team All-Big West selectee.
Moore, an all-league defensive player in the WAC last season, improved in nearly every statistical category this season.
He led the team in scoring for the second straight year, seeing his average jump from 11.5 points per game to 12.2. He also saw a spike in both his rebounding (3.8 per game to 4.1) and assist (1.9 to 2.7) totals.
The injury challenges he faced could likely be enough to break the spirit of many people. So as he was being wheeled in for a fifth surgery, could Moore have predicted such a turnaround for himself?
"Of course," he says in a tone of unshakable confidence. "I grew up in a tough spot. So for me, breaking my leg, it was tough, but I felt like in certain situations, I was blessed to be there and I understood what it meant to fight through an injury (for) something you really want. I've always been that type of person that felt like you've got to prevail through stuff."
If his mental resolve was ever tested, Moore says he was always knocked back on course by CSUB coach Rod Barnes.
"For two years straight, he told me I can't come in the gym moping and feeling sorry for myself because things will always turn up and go my way soon," Moore said of Barnes. "And I always thank him for that." 
With an individual prize secured, Moore and his teammates are now looking to grab an even greater reward this week. The Roadrunners (15-10, 9-7) landed the fifth seed at the Big West Tournament in Las Vegas, and will open play against No. 4 UC Davis (9-7, 6-4)  at 2 p.m. Thursday.
Having already dealt with such major injuries, playing his senior year through a brutal pandemic brought about a different set of challenges, ones Moore and his teammates were happy to plow through.
"It's just good to be in this situation because COVID could have knocked us off," he said. "It's just a blessing. I just liked this team so much and care about everybody so much. The coaches, the staff, I just feel like I'm in a great situation right now. I'm appreciative of everything that's happened."
Fellow CSUB senior Justin Edler-Davis was named an all-conference honorable mention. One of the team's top 3-point options, Edler-Davis finished the regular season averaging 9.5 points and 4.0 rebounds per game.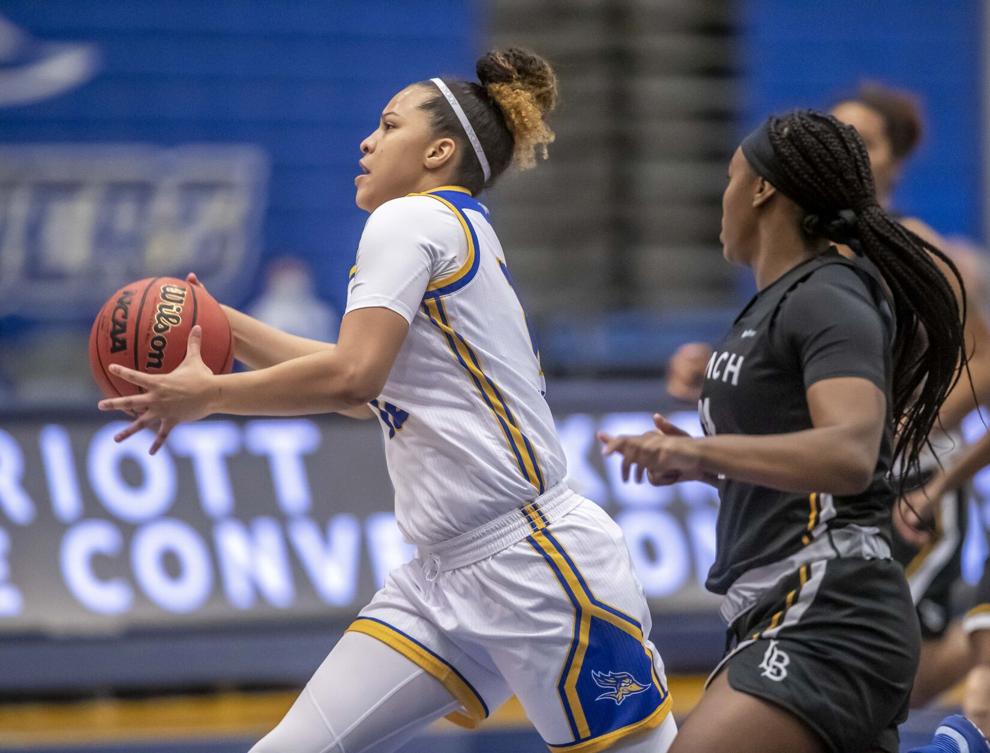 Eggleston earns second-team honors for 'Runner women
The CSUB women were also represented on their all-conference squad, as junior forward Jayden Eggleston was named to the All-Big West Second Team.
Eggleston, who's also dealt with a string of leg injuries throughout her career, bounced back from offseason surgery to lead the Roadrunners with 12.6 points per game.
She also led the team in blocked shots (11) and was second in rebounding, pulling down 5.9 boards per contest.
It marks the second straight year Eggleston has netted postseason honors. She landed on the All-WAC newcomer team in her first season as a Roadrunner in 2019-20.