No one slides for a rule violation at a Ty Rose-led practice. Not even Rose himself.
It's Thursday afternoon and the members of the Foothill boys soccer team are spent. One day after eking out a 1-0 win over Golden Valley, Trojan players aren't exactly getting to relax, as Rose, the program's eighth-year head coach, leads them through a scrimmage filled with fierce battles for loose balls and numerous disputed calls.
While things are intense, they're also highly regimented, which is what makes even the most minor mistakes, such as the one Rose is about to make, stand out.
Still tasked with following strict COVID-19 protocols, Trojan players and coaches are required to have a mask covering their nose and mouth when not in a drill, the punishment for a violation being 10 pushups.
So when Rose approaches his team, mask resting around his neck, players recalling punishments from their own infractions are quick to catch the one their coach is making. Through fatigued, they break out into brief celebration as he drops for his disciplinary pushups.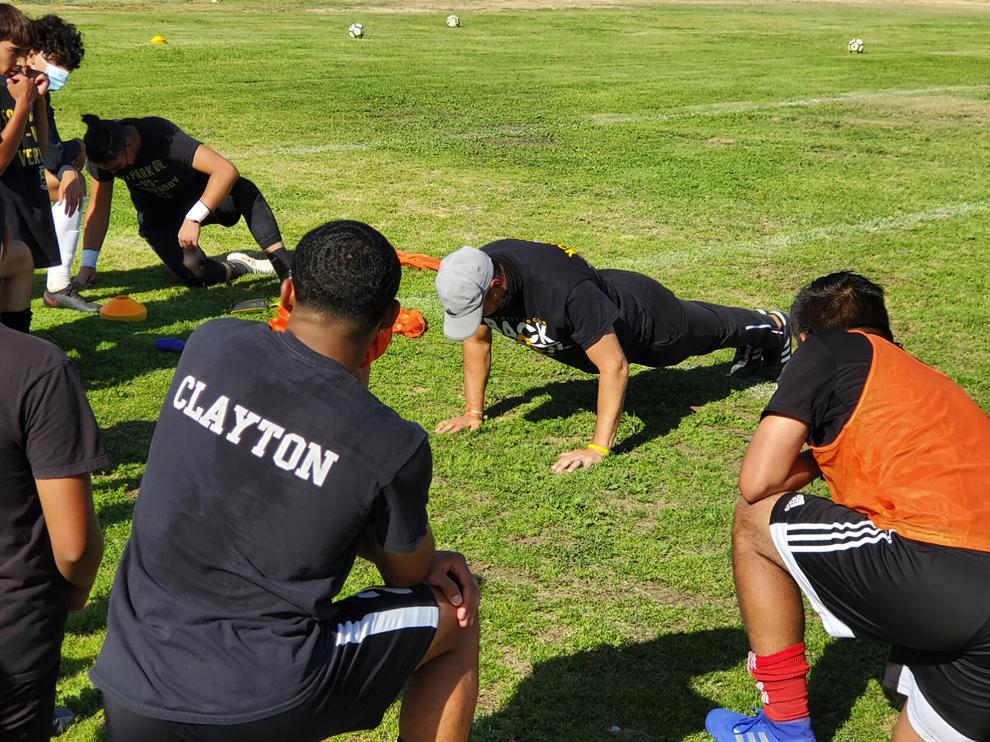 "It's their favorite thing to do," Rose said. "I've got to make sure I follow the rules as well."
Though it seems like a small thing, Rose says the scene highlights a culture of accountability he takes great pride in. One he believes has helped established Foothill into one of the very best teams in the city after some early hiccups.
Five seasons into his tenure, the program wasn't anywhere near where Rose hoped it would be. And after a limping to a 6-15-2 season in 2017-18, Foothill was dropped from Division III to Division IV.
"That was probably the lowest moment for me as a coach," Rose said. "You have these ideas for what your program's going to look like. To drop down ... showed we weren't there yet."
Luckily, Foothill's time in a lower division would be short-lived.
Heading into 2018-19 season, a Trojan team that had taken its lumps as underclassmen began to gel. Led by three double-digit goal-scoring seniors, the Trojans went 22-2-6 and defeated Mira Monte 2-1 to win a Division IV Central Section title, the first Section championship in program history.
What made this stretch all the more impressive is that it came with a huge amount of roster turnover. The 2019 team graduated eight seniors, while Meza was one of 14 seniors to depart after last season.
But early in 2021, the beat continues to go on. Following Wednesday's win over Golden Valley, the Trojans are 4-0 behind a defense that's allowed just one goal and a balanced offense led by the five goals of junior Aron Fabela.
For anyone still surprised by the Trojans' success, players say it's time to adjust their expectations.
"Lots of people thought we were going to suck because we lost a lot of people," said senior right back Alexander Altamirano, who's currently tied for the team lead with three assists. "But we've still got a lot of talent here. It's the program. It designs players to be good."
Often taking on young players very early in their development, Rose has spent his tenure at Foothill trying to establish a strong culture that's easy to buy into, a mission made easier when you lose just three times over a 61-game stretch.
"We don't get many club players. We don't even get many guys that play together outside of school," Rose said. "Having that culture that they walk into, having it not just come from me and the coaches but the players themselves. If it's just coming from the top, a lot of times that falls on deaf ears. But if they see how hard kids are working on a daily basis, how competitive things are, it starts to spread like wildfire."
Players say more personal factors have also helped establish camaraderie.
"We come from lower-income families, you know," said Albert Jimenez Quiroz, a senior center midfielder. "That's probably where we get our heart, our fire."
Now playing in Division II, the Trojans have their sights set on further success in the postseason — provided there is one — after a highly unsatisfying end to 2020.
But there's more at stake for Rose than merely erasing a bad taste from last season. Despite moving up two divisions in two seasons, he isn't ready to halt the upward trajectory.
"Some of the guys in the program have a chance to go from Division IV as freshman to Division I as a senior if we can take care of business," he said. "That's the goal we've always had. That's always been our goal is to constantly challenge ourselves and get to that higher level."
Foothill return to action Monday, hosting Arvin at 5 p.m.