Whenever he visited the home of Efren Ceballos, Cade Lucio hoped he was getting a glimpse into his own future.
For much of his early life, it wasn't uncommon to find Lucio spending his free time at the home of Ceballos, whose wife Melissa is lifelong friends with Cade's mother Natalee.
While the adults would sit and talk, young Cade was free to walk around the premises, where he eventually found a room that caught his eye.
The room in question, Ceballos' garage, contained numerous trophies and medals he'd earned in a decorated wrestling career.
A three-time state qualifier at Manteca High School, Ceballos became one of the most accomplished wrestlers to compete at Cal State Bakersfield, winning 114 matches, seventh most in school history, and earning All-American honors at 125 pounds in 2004.
After asking how he'd secured so much shiny memorabilia, Lucio listened with fascination as Ceballos began discussing his wrestling days. That night, Cade returned home eager to start a new hobby.
"He would tell me stories about wrestling and I'd see his medals and stuff, and then I just decided I wanted to wrestle," Lucio said.
He quickly began to follow through on those ambitions, with Ceballos taking an active role in his development.
Since he was in fourth grade, Lucio, now a senior at Bakersfield High School, has been attending wrestling camps at CSUB, growing under the guidance of Ceballos, who's spent the last 11 years as part of the Roadrunner staff.
Known to compete with an aggressive edge in his wrestling days, Ceballos instilled a similar, attack-heavy mentality into Lucio during their training sessions.
"I tried to teach him to just be aggressive and go after scoring a lot of points," Ceballos said. "That was my style to just go after guys and he was able to adapt."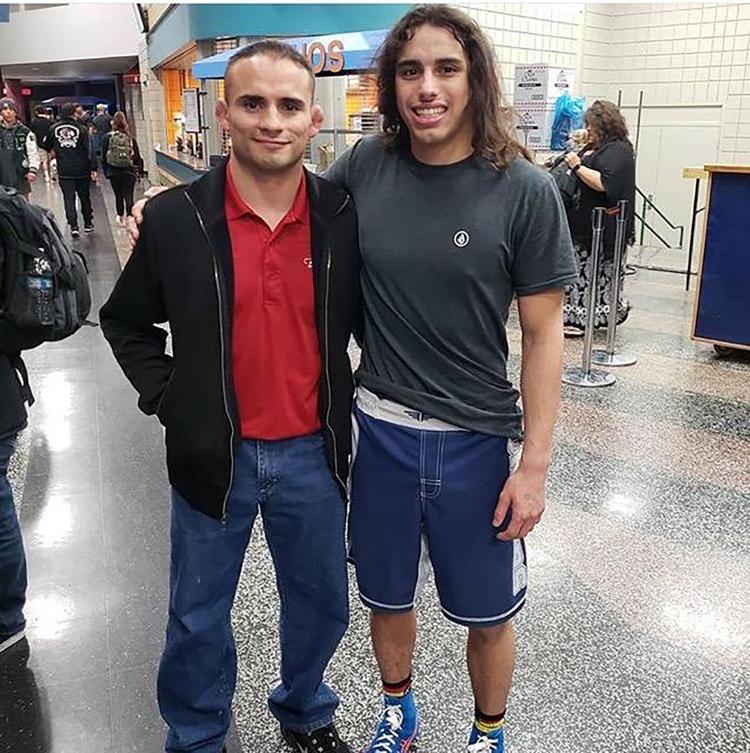 That tenacity has served him well in high school, as Lucio, who competed at 138 pounds last season, is a three-time state qualifier for the Drillers.
"(I) just go out there and let it fly," Lucio said. "The way that I was taught to wrestle by him was just go, go, go. I'm not the best technical wrestler, but I'll beat a lot of guys just by going and going and by the third period when they're tired, I'll slowly start pulling ahead just because they couldn't handle my high intensity and high pace."
Hoping to continue wrestling in college, Lucio was fairly certain his recruitment would end if one particular offer came.
Not only was he close with Ceballos, currently a volunteer assistant at CSUB, Lucio's frequent presence at team camps helped him get close with the entire Roadrunner staff, including Manny Rivera, who took over as the program's head coach in 2016.
"I just loved the coaches there, the wrestlers, the atmosphere. I just liked everything about it," he said. "From the get-go... I pretty much knew I wanted to go to CSUB."
His wish was officially granted last week, when Lucio announced on social media that he'd verbally committed to wrestle with the Roadrunners.
Thankful for God, my parents and all my coaches over the years. Because of them, I was able to get to this point in life and wrestling. I am excited to be continuing my academic and athletic career at CSUB. pic.twitter.com/pDapJltyVT

— Cade Lucio (@LucioC22) September 11, 2020
While open to bringing him into the fold, Ceballos says it was never his stated goal to get Lucio to come to CSUB. But now that he has committed, he sees him as a perfect fit in the program.
"I wouldn't care if he went onto other schools if the opportunities presented themselves," Ceballos said. "My goal was that he became a college athlete and he went as far as he could.
"But I am very excited that he chose Cal State Bakersfield, because I know what we can do, especially since (his style is) the style we like to wrestle. He fits the mold."
Lucio says his commitment does remove some pressure as he heads into his senior year. With COVID-19 putting the state tournament, and even the season as a whole in jeopardy, he likely would have had fewer opportunities to impress collegiate coaches this spring.
But if he and the Drillers are able to take to the mat in 2021, having an established place to wrestle in college will do little to quell his intensity.
"If anything, it makes me feel more determined now, because I have to make my future college proud," he said. "I'm trying to put on a show."