This isn't a future Aidan Meek predicted for himself. For a long time, it wasn't even one he wanted.
The son of an oil man, Aidan has traveled all over the world, and even lived in Almaty, Kazakhstan from ages 9-13.
Aidan, who's also traveled to Germany, England and Indonesia, had played youth football growing up in Houston, Texas. But upon his arrival in Almaty, where the sport was far less prominent, he adjusted to local customs, switching to soccer and rugby.
When the Meeks relocated to Bakersfield in 2015, Aidan maintained a love of sports, saying he was happy "to spend all my time playing baseball." But football? That was a different story.
"I hated football with a passion," he said. "I despised it. Didn't want to play it."
So how then to account for the events of last Sunday? Meek, now a senior at Garces Memorial High School, has not only discovered a buried passion for football in recent years, he's developed into a Division I offensive lineman. 
The transformation took its most noteworthy turn on Nov. 15, when Meek announced on Twitter he'd committed to play at on-the-rise FCS program Sacramento State.
"If you would have told me five years ago I'd be going to Sac State on a football scholarship, I would have called that person crazy," Meek said.
It wasn't just a lack of passion that made Meek a D-I long shot. 
It's hard to imagine now, but Meek, who currently stands a towering 6-foot-6, 275 pounds, grew up undersized. While always tall, he remembers arriving to school in Almaty ultra-lanky, standing 5-9 and weighing between 130 and 140 pounds.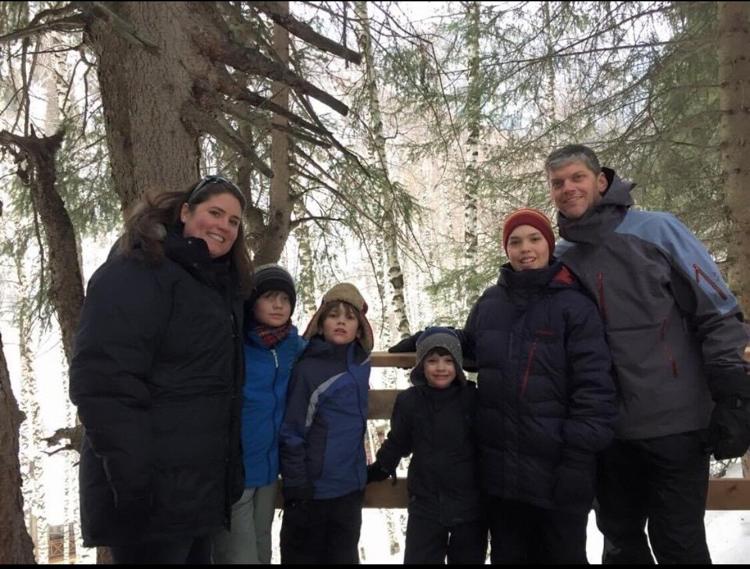 Living in Kazakhstan after his father Justin, a long-time Chevron employee, was transferred there, Aidan enjoyed experiencing a new culture and always had a strong support system at home with his father, mother Becky and brothers Garrett, William and Nolan.
But school was a struggle at times. One of just four American students at the Haileybury Almaty school, he was forced to adjust to language and cultural barriers. Those issues, mixed with his diminutive build, created some difficult times with his peers.
"It wasn't always the best experience," he says. "I did get picked on quite a bit."
When Justin was given a transfer to his hometown of Bakersfield, the family happily returned to the U.S. Aidan felt more at home in both the classroom and on the baseball field, but a return to football proved unsatisfying.
Still undersized, Aidan tried his hand at wide receiver but lacked the speed and athleticism to make the position work. After two miserable years, he successfully lobbied his parents to let him sit out his freshman year.
But knowing he came from a football family, Justin hoped a year away would help Aidan find his love for the game.
Justin and his father Russell each played at both Foothill and Bakersfield College, with Justin eventually transferring to the University of Idaho, where he played right tackle in the late 90s. Though he tried not to pressure him, Justin believed taking in the electric atmosphere of high school football in Bakersfield would make his son reconsider his decision to quit.
"I knew when I was a kid, just seeing the Friday night varsity games, nothing beat that," Justin said. "I thought once he saw that at Garces and gave it a shot, he'd just buy in fully."
It didn't even take that long. 
Having finally added needed bulk to his tall frame, Aidan found his niche on the offensive line after returning to the Ram JV team as a sophomore. Gradually warming up to the game throughout the season, everything clicked in a matchup with Liberty.
Though the end result, a 79-52 Ram loss, wasn't what he was looking for, Meek says playing in such a high-octane affair was the most exciting athletic experience he'd had, and was enough to get him to fully commit to football.
He continued to develop heading into his junior season, when he became a varsity starter for the first time. The physical improvements have continued into what has become a torturously long offseason.
While he and the Rams still await a return to the field that may not come any time soon, Meek has astonished coaches with the gains he's made in the weight room. At a recent workout, he maxed out at 320 pounds on the bench press, a whopping 100-pound improvement from where he was a year ago.
"Out of over 20 years of coaching, he has to be one of the top-10 kids that I've ever seen develop as fast as he has," Garces coach Paul Golla said "He has put the work in. He's a totally different kid than he was last year."
Now he hopes to continue those strides for a Sacramento State team coming off a historic season. Just 2-8 in 2018, the Hornets improved to 9-4 and earned a share of the Big Sky title — the first league title in school history — in the first season under coach Troy Taylor.
"That just says something," Meek said of the quick turnaround under Taylor. "That screams winning program to me. I just want to be a part of it."
Even if the next chapter is a surprising one to him, Meek thinks his shaky past with football will serve him well at the college level, believing he's only scratched the surface of how well he can play and how much enjoyment he can squeeze out of the game.
"I know that some people who've been playing this sport their entire life, they can get tired of it, just want to move onto something else," he said. "So I feel like it's good I started loving it at a late time. Maybe I'll love it for a longer period and want to play longer."