The last time he exited a field after live game action, Darren Carr was experiencing the ultimate high a high school football coach can feel.
The 2019 season ended in ideal fashion for Carr and Bakersfield Christian, which capped off a dominant postseason run with a resounding 42-21 win over Rancho Cotate in the CIF Division 3-A State Championship game in December 2019.
Not wanting the dream season to end, Carr's time away became all the more restless when the COVID-19 pandemic kept his team off the field for well over a year.
So as he prepared for the last practice before the Eagles finally return to game action on Thursday, the always enthusiastic coach was even more amped up than usual.
"We're coming off a high so we would take any kind of football after a year and a half," said Carr, whose Eagles will begin a three-game spring at home against Visalia-Central Valley Christian on Thursday. "This is great for the kids. It's a fun time to get out here and do what you love to do and see the kids do what they love doing."
However, anyone expecting to see a repeat of last season may be in for a big surprise. One of the most senior-dominant teams in the state in 2019, the Eagles suffered major losses at every level. 
Leading rusher David Stevenson, who ran for 1,056 yards and 14 touchdowns, is gone, as is quarterback Dominic Gamboni, who threw for 3,213 yards and 34 touchdowns.
The passing game will also be without a trio that accounted for over 2,500 yards and 25 touchdowns. Wideouts Ronnie Simril (50 receptions, 1,002 yards, 11 touchdowns), and Chris Gutierrez (53-808-7) were lost to graduation, as was current Stanford tight end Ben Yurosek (49-741-11).
The offense may not have even gotten the worst of it.
The team suffered staggering losses on the defensive end, with its top 13 tacklers leaving via graduation or transfer. Included in the group was linebacker Donovan Foster and his 109 tackles and defensive end Yurosek, who had 90 tackles and 18 sacks.
A turnover-heavy unit also lost 15 interceptions with the departures of Gutierrez (7), Simril (4) and Foster (4).
The team's kicker (Julius Salinas) and punter (Yurosek) are gone as well, and even the top scheduled returner won't be back. Fearing California wouldn't have a season, Jess Wattenbarger, who gained 701 yards as a running back and made 60 tackles on defense, transferred out of state, playing for Bozeman High School in Montana last fall.
Acknowledging that things will be different, Carr says much of the spring will be spent trying to develop his underclassmen as they prepare for bigger roles next fall. But after winning the state's top prize the last time out, he isn't exactly ready to lower his expectations.
"If we're competing, we're going to try to win, period," he said. "If any of your players lack energy when they're playing these games, I don't think they should be playing football. These kids have been locked up a long time. They're itching to get back on the field."
Without a postseason to prepare for, Carr is excited to see what a talented, but inexperienced, sophomore group can do this spring.
As usual, the discussion begins with the quarterback position, where Carr expects to rotate three players in and out of the lineup Thursday. Sophomore Bryson Waterman will start the game and split snaps with classmate Jordan Delgado and senior Jayden Huggins.
Fellow sophomore Kresean Krizzy will likely be one of the team's top pass catchers, along with senior Tyler Carr and junior Garrett Stephenson.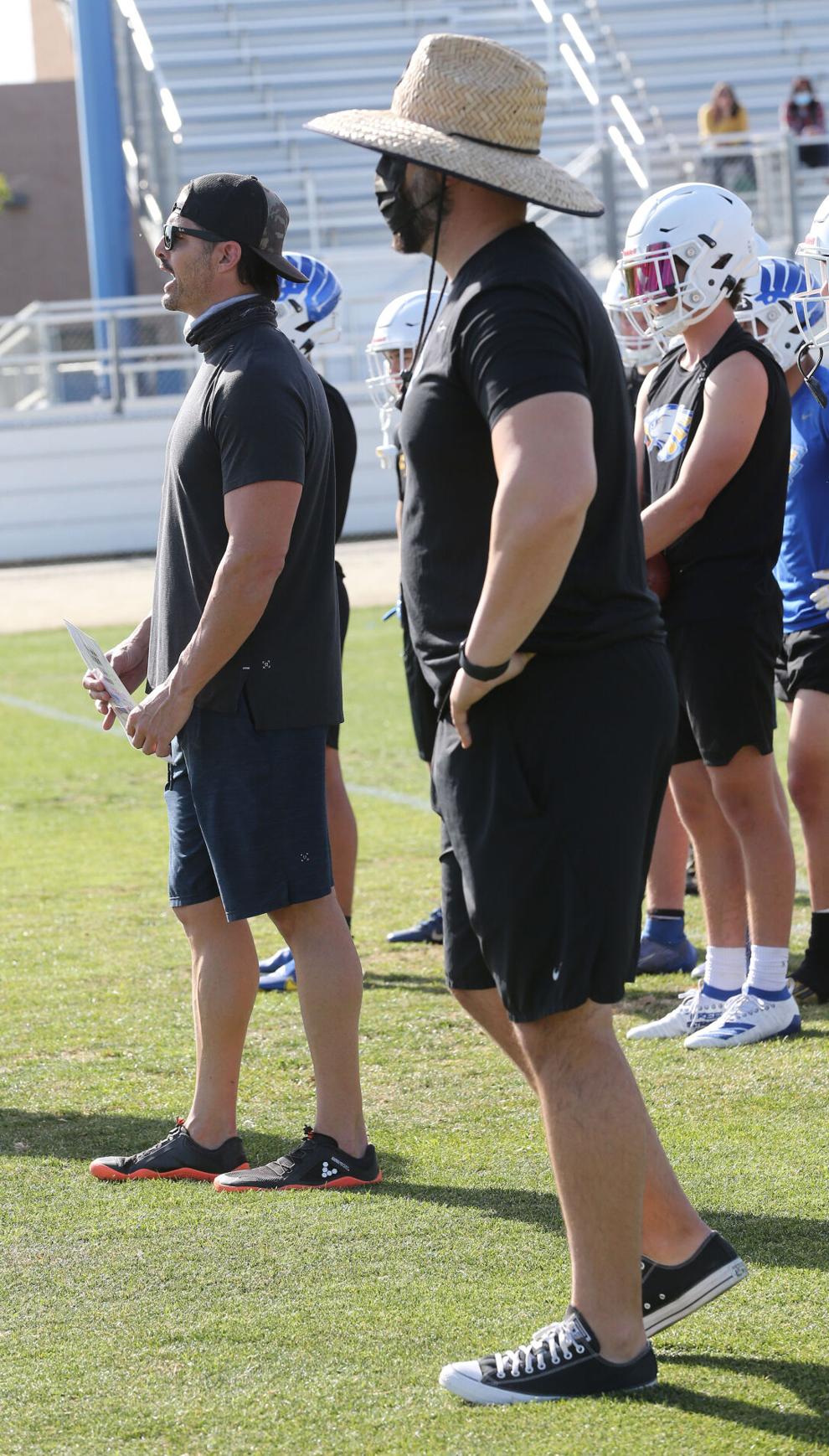 Sophomores will dominate the backfield as well, with bruising, 225-pound running back David Banales teaming with speedy transfer Nathan Perez. Carr expects the group to find plenty of holes behind a talented offensive line, anchored by tackles Ben Bidart and Evan Cloy and center Adam Bun.
Many of these players will also have major roles on the defense as well, with Carr hoping the experience will serve them well when they return for a state title defense in the fall.
But with no other prep opportunities to prepare for, a group of 10 seniors isn't interested in a rebuild, as they hope to make the most out of the shortened season.
"I think we can win these three games and that's what we're trying to do," senior receiver and safety Beau Gamboni said. "It's going to be a dream come true getting back out there and we're as pumped as ever."
If they needed any more motivation, the Eagles will have a chance to relive some of 2019's postseason glory. Thursday's game against Central Valley Christian will be a rematch of last season's Central Section Championship, which the Eagles won 28-14.
Though he plans to keep building on the program's recent run of success, Carr says even having the chance to finally return to the sideline is enough to make him giddy for the coming weeks.
"It's going to be great," he said. "I can't wait to do it, I can't wait to watch them play."
Thursday's game in Bakersfield will kickoff at 7:30 p.m. Only parents, siblings and grandparents will be allowed in attendance, according to BCHS Athletic Director Blake Van Der Schaaf.