There are no jerseys of former greats hanging in the rafters of the Icardo Center, just several championship banners for different sports behind one side of the court. The other side is left bare.
But if Cal State Bakersfield ever starts retiring players' numbers, men's basketball coach Rod Barnes has a seemingly unlikely candidate: Redshirt senior point guard Brent Wrapp.
"If we were to start doing it, he is one that a lot of people would say — when they look at his stat line — 'Man, why is this guy even being considered?,'" Barnes said, looking up at the empty ceiling. "You look at what he's done in our program from a day-to-day basis, he's deserving of it."
Wrapp is the unanimous leader and "heart and soul" of the team. His 4.7 points, 3.5 rebounds and 3.7 assists per game in his career aren't eye-popping numbers, but he's led the team to big wins. As Wrapp has proven that he's a Division I-caliber player, he's established the Roadrunners' place in the national college basketball landscape.
The program's first NCAA Tournament appearance in 2016 and trip to the National Invitational Tournament's semifinal at Madison Square Garden were, in part, behind the lead of Wrapp. Over the last four seasons, he's developed into the embodiment of the program's ideals.
"I think people in the town, they will look at him and say, 'Man, he was on the team with a lot of good guys' and might look at him as a floor general, kind of glue guy to our team," Barnes said. "But they probably can't appreciate him the way that the people that's behind the walls can because it's little stuff that ends up turning out big."
Coming out of high school, Wrapp was desperate. The 6-foot-3, roughly 150-pound player from Boulder, Colorado had no Division I scholarship offers. All the D-I programs recruiting him wanted Wrapp to go to a junior college first.
CSUB assistant Jeff Conarroe, who is from Colorado, heard about Wrapp through a friend, but the Roadrunners didn't have any scholarships left for the 2013-14 season. They offered for Wrapp to walk on and redshirt the first year before earning a scholarship the next year. Wrapp was nervous, but thought he had no other choice.
"I knew I wanted to play Division I and I felt in my heart that I could play at the Division-I level," Wrapp said. "They seemed to be the only ones that were giving me that opportunity right off the bat."
Wrapp got to CSUB and roomed with Ventura College transfer Jaylin Airington, who was also redshirting that year. The two worked out and practiced together while the rest of the team was on the road. They'd sit in their house and constantly talk about making history with the CSUB program.
Within a month of practice, Barnes realized Wrapp had the tools to help the team. But they stuck to the plan of giving Wrapp a year to get bigger and stronger (He's now listed at 175 pounds).
Wrapp played 20.6 minutes per game his redshirt-freshman season with six starts. He studied Barnes — what the coach expected from the players and how he interacted with them.
One year later, Wrapp's teammates named him a captain.
Barnes told the team's new leader to step in and put the team in its place whenever necessary. Wrapp started stopping practice when he noticed the intensity level was off, letting the coaches step to the side, and tearing into the team.
Now, he's simply an extension of Barnes.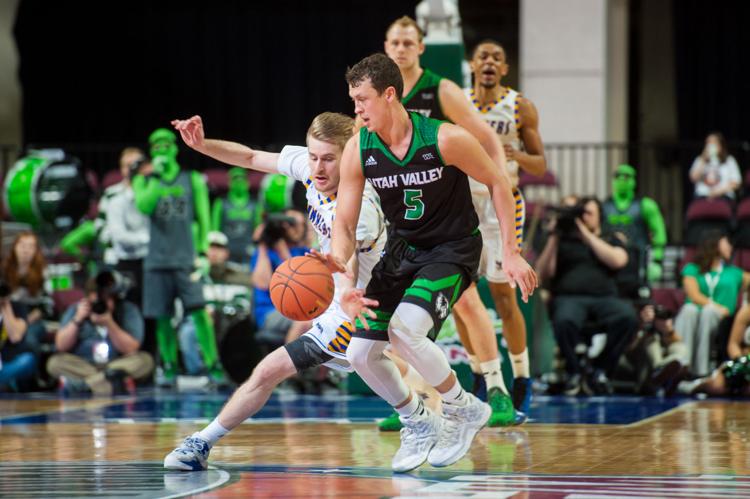 "He takes charge, he's fearless, he's a little bit ruthless sometimes," said redshirt junior Bray Barnes, who is also head coach Rod Barnes' son. "He's a nice guy, but it's like you have no other choice but to respect him and his game and the way he plays and the kind of person he is."
On the court, he manages the team. He delivers crucial rebounds, a tipped pass or a gutsy taken charge when the team needs it, teammates said. And most importantly, his play results in wins.
Bray Barnes points to a game where Wrapp scored on two possessions in a row late in the game while also taking two charges in a row on the defensive end. The head coach has seen it too many times to pinpoint one.
He's been key in the last two record-setting seasons.
"He figures out a way to win," Rod Barnes said, "and as a result, we've won a lot of games because at winning time — you talk about the last two or three or four minutes of a game — he comes up big for us."
Heading into his fifth year, Wrapp is recovering from a misdiagnosed foot injury from last season that kept him out of the team's first practice at the beginning of October. He's about 70 percent recovered from the fracture (along with other possible injuries in the foot) and practicing some days.
There's a duality is Wrapp's relationship with the CSUB men's basketball program. He's been trying to validate the "chance" the coaches took on him. Barnes is determined to have a successful year because it's how the only fifth-year senior Barnes has had at CSUB deserves to go out.
"Pretty much my goal my whole career is to repay them for giving me a chance," Wrapp said.
"I'm so focused on having our team ready so that he can go out and feel good about his senior year," Barnes said. "You just try to put everything you can in because he's put everything into us."
Jon Mettus can be reached at 661-395-7389. Follow him on Twitter at @jmettus.