Ridgecrest residents will soon have a one-stop shop to guide them through the earthquake recovery process.
Emergency officials plan to operate a local assistance center from 10 a.m. to 8 p.m. Thursday through Saturday at the Kerr McGee Community Center located at 100 W. California Ave.
The center will provide a single spot where residents can meet with multiple county, state and federal agencies as well as insurance companies and nonprofit organizations regarding steps they need to take to go through the recovery process.
As residents recover from two earthquakes that rocked the region last week, the recovery process is expected to take months if not years.
"Maybe it's not a difficult process in particular, but just having somebody there to walk you through it provides some comfort," said Kern County Spokesperson Megan Person.
A large turnout is expected at the center as residents begin to file claims with various groups and seek aid as they attempt to get back on their feet.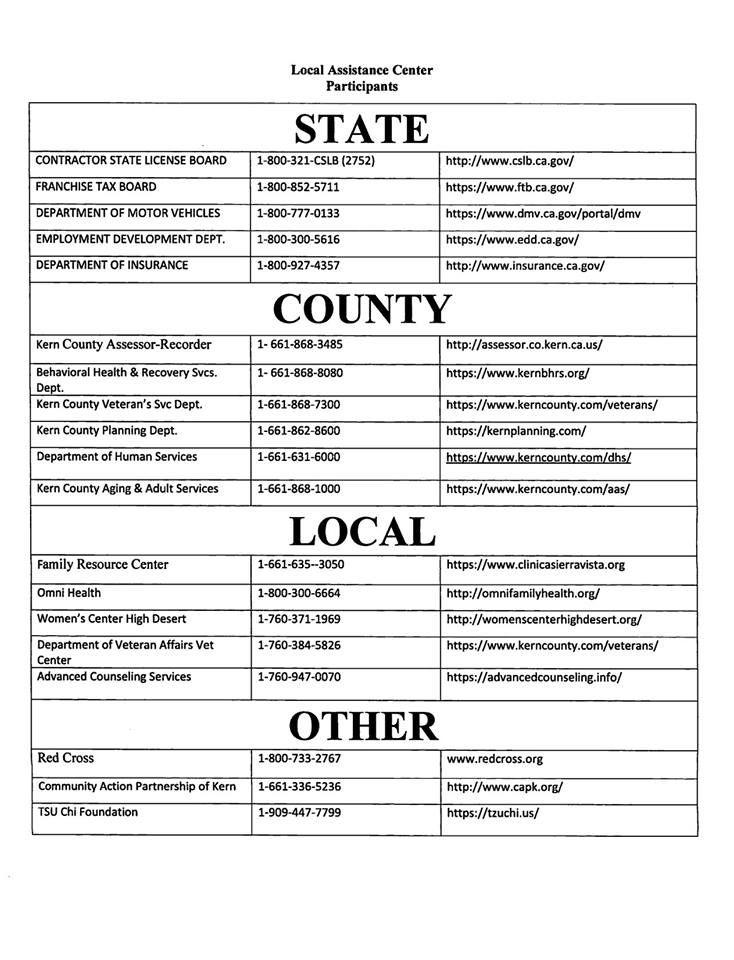 Ridgecrest officials provided the complete list to the public Wednesday evening.
"When you're going through disaster recovery, there's a lot of particulars about how to step through the process and a lot of people are never exposed to that," Person said.
One of the county agencies that will be present at the center will be Kern Behavioral Health and Recovery Services.
The mental health agency has been on scene at Ridgecrest since June 5 with a rotating team of around 15 mental health responders who are attempting to assist people who are feeling traumatized.
"There's a lot of anxiety in the population," said Deputy Director Alison Burrowes. "A lot of people are fearful of returning home even if their homes are not actually damaged."
Although those seeking mental health services have diminished since the two largest earthquakes struck last week, the numerous aftershocks have kept people on edge.
And some may not show symptoms of mental health trauma for some time.
"What we know about trauma is that it doesn't always surface immediately," said Robin Tayler, also a deputy director. "We're going to be seeing aftereffects for a long time."
Children, especially, may show symptoms in unexpected ways, like irritability, the directors said.
The department maintains a crisis hotline for those who need help or have questions. The phone number is 1-800-991-5272.
The city continues to survey the damage caused by the earthquake and officials hope to release a preliminary report soon.