About 15 million years ago: Ancient sea covers the Central Valley.
50,000-15,000 years ago: The McKittrick Tar Pits, one of five natural asphalt lake areas in the world, trap hundreds of Pleistocene animals, including 43 different mammals and birds. American Indians discover several uses for the natural asphalt.
About 8,000 years ago: Archaeological evidence suggests American Indians live in what is now known as Kern County, along the shores of Buena Vista Lake and in Walker Basin.
About 2,000 years ago: Yokuts Indians migrate from the Willamette Valley in Oregon into the Central Valley, eventually settling in the area now known as Kern.
1769: California, including present-day Kern County, comes under Spanish rule.
1772: Pedro Fages becomes the first European to look upon the southern-most region of the San Joaquin Valley.
April 26, 1776: Father Francisco Tomas Hermenegildo Garcés comes to the area now known as Kern County, arriving in the vicinity of a Tejon Indian settlement. He stops on the site later known as Bakersfield.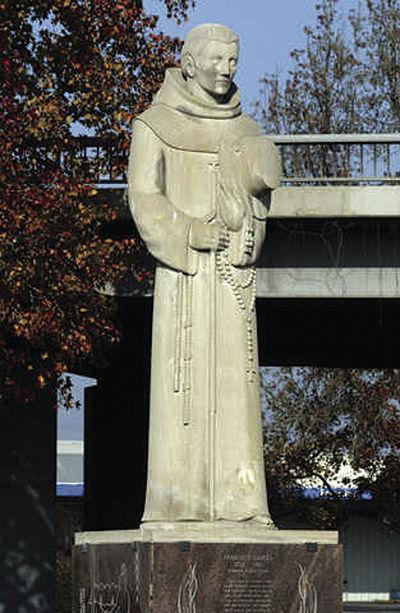 May 1, 1776: Father Garcés comes upon a river he describes as crystalline, bountiful and palatable, which he names Rio de San Felipe, now known as the Kern River.
July 1806: Father Jose Maria de Zalvidea and Lt. Francisco Ruiz lead an expedition into the valley and future Kern County area. Father Jose Zalvidea names the present Kern River "La Porciuncula." Tejon Pass, Tejon Creek and Tejon Canyon (tejon is Spanish for badger) were named by Lt. Francisco Ruiz.
Sept. 16, 1810-Aug. 24, 1821: Miguel Hidalgo y Costilla, a Catholic priest, launches the Mexican War of Independence, calling for the end of Spanish rule in Mexico. Eleven years later, the Treaty of Córdoba is signed, which makes Mexico independent and places California under Mexican control.
April 22, 1822: The area later known as Kern County falls under the flag of the Republic of Mexico.
1824: Mexican soldiers under Carlos Carrillo fight a ferocious battle at San Emigdio with Chumash Indian refugees from the Santa Barbara Mission.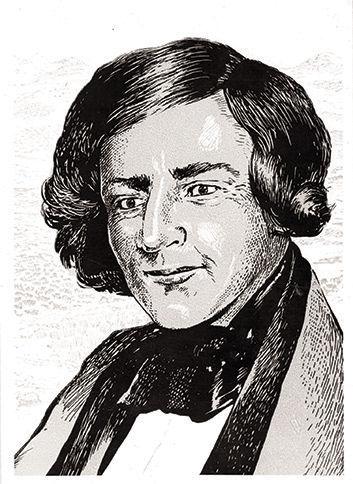 Feb. 1, 1827: Jedediah Strong Smith, leading a party of fur trappers, is the first American to reach Mexican California overland. His party travels north from San Gabriel Mission to enter the southern San Joaquin Valley in the area later known as Kern County.
1830: Ewing Young trapping party, including Kit Carson, passes through Kern.
1834: Walker's Pass, a former American Indian trail, is used by Joseph Reddeford Walker as a path through the Tehachapi Mountains. Walker's Pass is designated a National Historic Landmark in 1961.
Oct, 17, 1837: French fur trapper Peter Lebeck is killed by a grizzly bear in the area later known as Lebec. His companions bury him under an oak tree, the first recorded burial of a person of European ancestry in the area.
1842-1846: Five Mexican land grants are established in the area later known as Kern County: Ranch San Emigdio, Ranchos Los Alamos Y Agua Caliente, Rancho El Tejon, Rancho Castac, and Ranch La Liebre. In the 1850s and 1860s, the latter four land grants are combined to form the Tejon Ranch.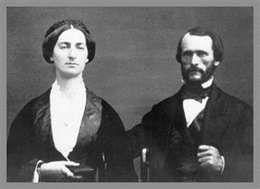 1844: The John C. Fremont party (including Kit Carson and Alexis Godey) passes through the valley on its second expedition.
1844: Elisha Stephens travels through the Central Valley, eventually settling near Bakersfield in 1861.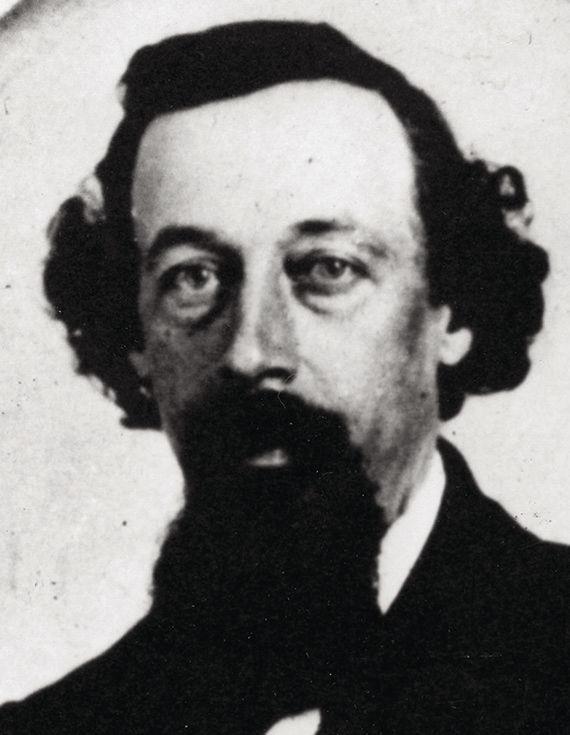 1845: Fremont's third expedition names the Kern River for topographer Edward M. Kern.
Feb. 2, 1848: Mexico cedes California to the United States with the signing of the Treaty of Guadalupe Hidalgo, which ends the Mexican-American War.
Sept. 9, 1850: California is admitted as the 31st U.S. state.
1851: The U.S. opens treaty negotiations with the American Indians of the San Joaquin Valley.
1851: Gold is discovered along the Kern River and, in 1853, at Greenhorn Gulch on Greenhorn Mountain.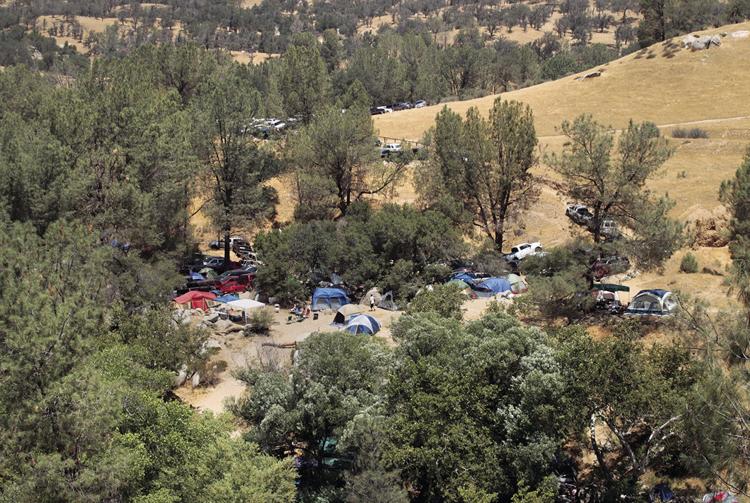 1853: The town of Keyesville is founded, named for Richard Keys.
1853: Major Aneas B. Gordon is granted a franchise to operate a ferry across the Kern River on the Los Angeles-Stockton road. The ferry's location is called Gordon's Ferry.
August-September 1853: Lt. Robert S. Williamson and Lt. John B. Parke conduct a railroad survey of the area. Geologist William Blake, a member of the survey party, discovers marine vertebrate fossils at what is later known as Sharktooth Hill Bone Bed along the Kern River.
Sept. 2, 1853: Edward Fitzgerald Beale, superintendent of Indian Affairs in California, arrives at Tejon.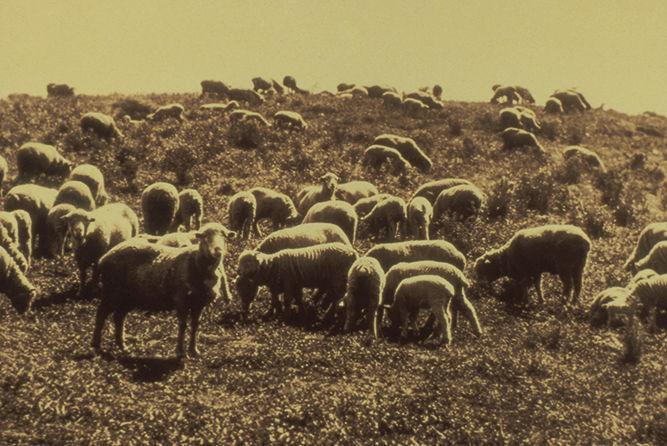 1853: First sheep raised in Kern County, on Tejon Ranch.
1853: The Sebastian Indian Reservation is established by Beale on 75,000 acres at Tejon Pass. The reservation houses 500 to 2,000 American Indians from 1853 to 1864.
1853-55: People seeking their fortune come to the Kern River in the southern Sierra Nevada, sparking a gold rush in the area.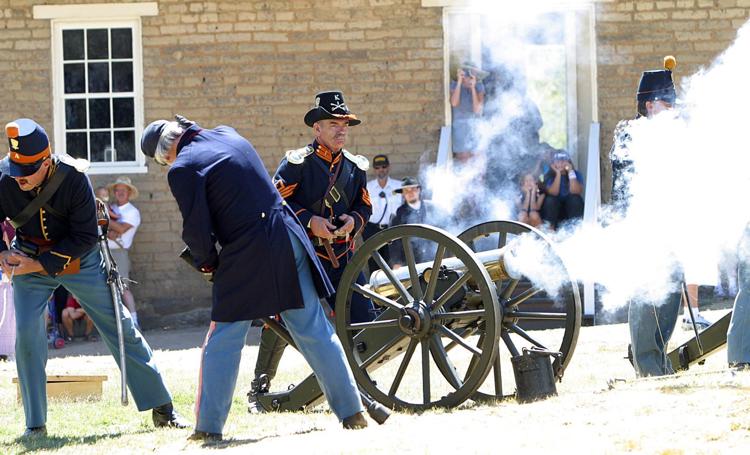 Aug. 10, 1854: Fort Tejon is established as the headquarters of the First Dragoons, U.S. Army, to protect the residents of the nearby Indian reservation and suppress stock rustling.
1855: First attempts to organize Kern County, proposed as Buena Vista County.
Jan. 9, 1857: A 7.9-magnitude earthquake strikes the Fort Tejon area, killing two people. The surface of the earth is ruptured along the San Andreas Fault for approximately 225 miles.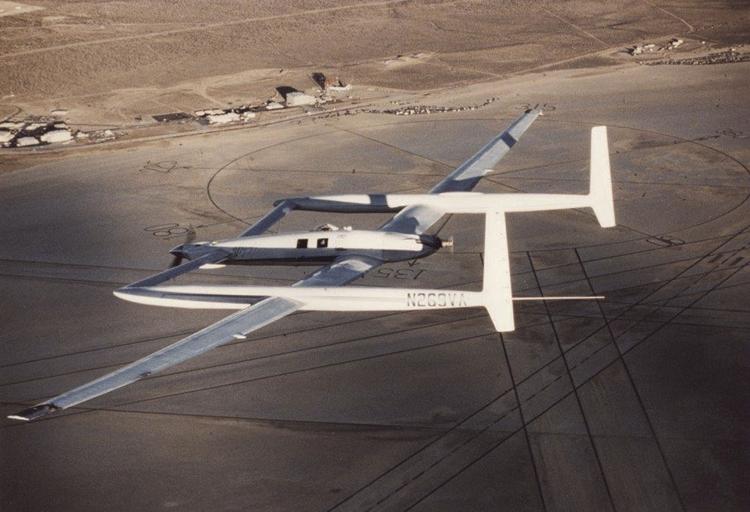 March 11, 1857: The first post office in the area is established at Keyesville.
1858: A telegraph line is built to Fort Tejon from Los Angeles.
October 1858-April 1861: The Overland Mail Company, or Butterfield Line, begins operations through the area now known as Kern County.
1859: Durham cattle are introduced to the area.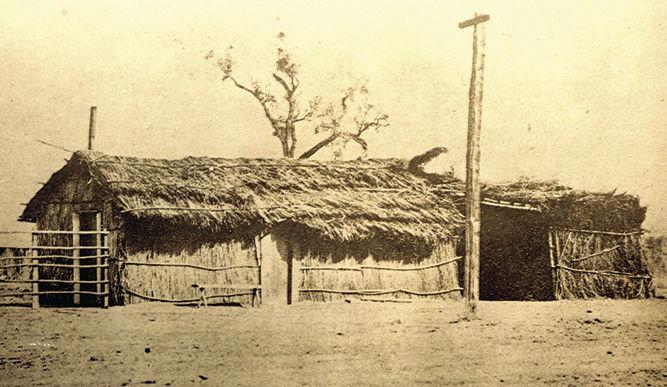 1860: Christian Bohna is the first to settle at Kern Island on the future site of Bakersfield.
October 1860: Telegraph service from Los Angeles to San Francisco through Fort Tejon begins.
1861: The Big Blue Mine is discovered by Lovely Rogers, sparking an influx of people to Whiskey Flat near the present town of Kernville.
June 15, 1861: The last military troops, including the Camel Corps, leave Fort Tejon.
1862: Mining begins on Piute Mountain.
1862: Kern River flood destroys mining operations along the Kern River, as well as the settlement at Kern Island started by Bohna in 1860.
1862: Harvey S. Skiles grows the area's first cotton.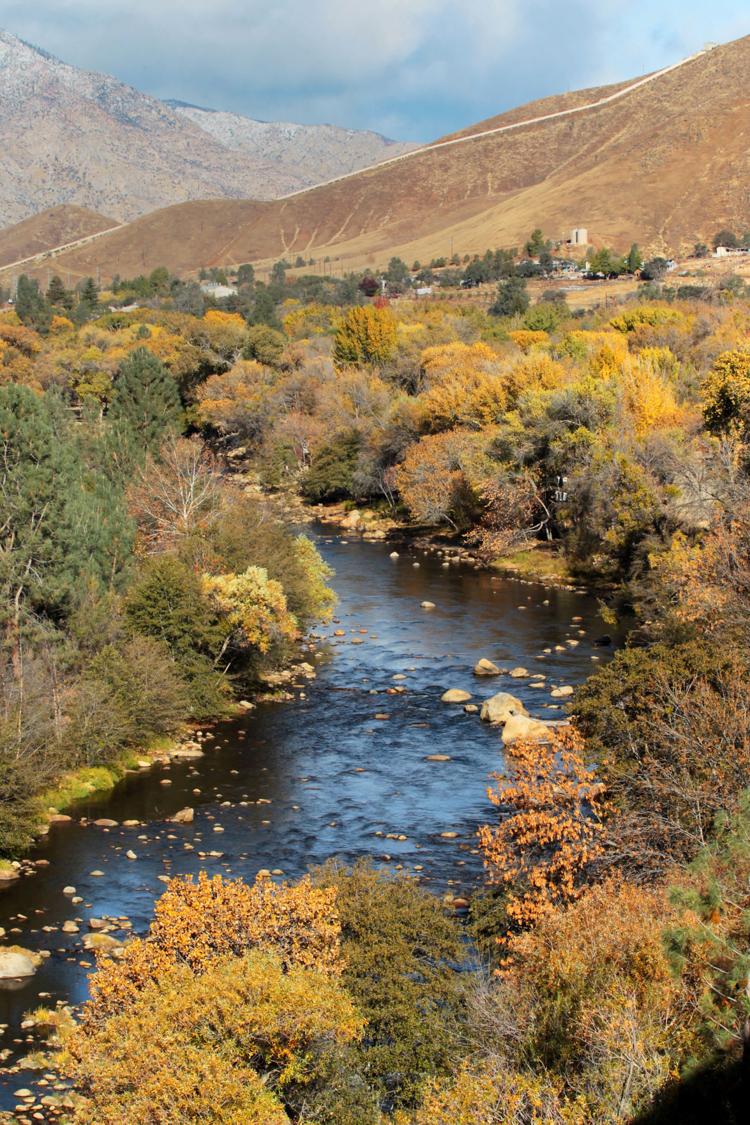 1863: The town of Whiskey Flat is established (also called Williamsburg). The town's name is changed to Kernville in 1864.
April 1863: Keyesville Massacre. During the Owens Valley Indian War, settlers and a detachment of the 2nd California Volunteer Cavalry under Captain Moses A. McLaughlin kill 35 Tubatulabal Indians, Kawaiisu and Owens Valley Paiute men for cattle rustling. The U.S. Army attack occurs on the upper Kern River about 10 miles from Keyesville.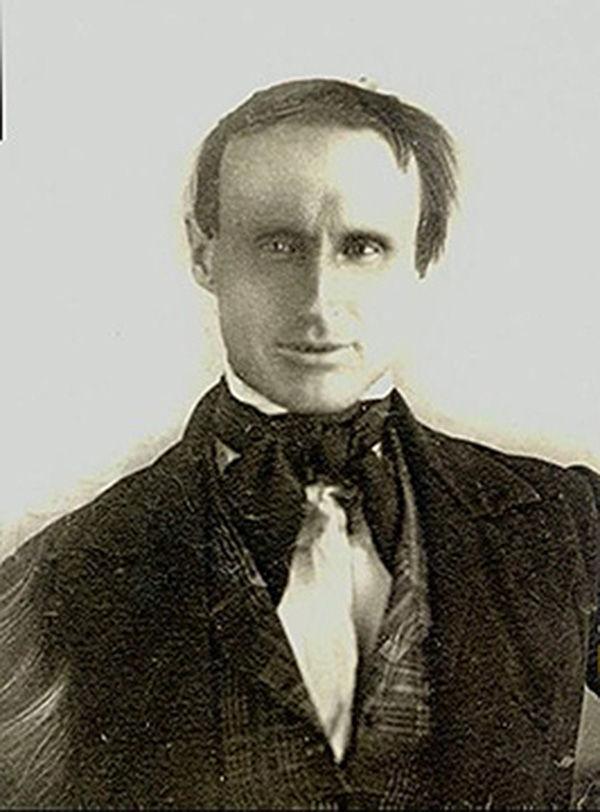 Sept. 10 1863: Col. Thomas Baker and his family arrive at Kern Island and move into the former Bohna home. Baker begins reclaiming the swamplands in the area. In two years, he plants 10 acres of alfalfa in an area roughly bordered by present-day 14th and 17th streets and K and P streets in what came to be known as Baker's Field.
1864: Gold is discovered at Havilah in the southern Sierra Nevada.
1864: Thomas H. Barnes plants the first alfalfa.
February 1864: The Buena Vista Oil Refinery incorporates. The refinery operates in the Temblor area. Four thousand gallons of illuminating oil are recovered by 1867.
Sept. 11, 1864: Fort Tejon is abandoned by the U.S. Army and becomes part of Beale's Tejon Ranch.
1865: Mead and Clark Company begins stage service between Havilah and Visalia.
1865: Philo and Solomon Jewett build the first store in Bakersfield and raise the county's first commercial crop of cotton on their ranch.
April 2, 1866: Kern County is incorporated, having been formed from the southern portion of Tulare County and parts of Los Angeles and San Bernardino counties. The first county seat is in Havilah.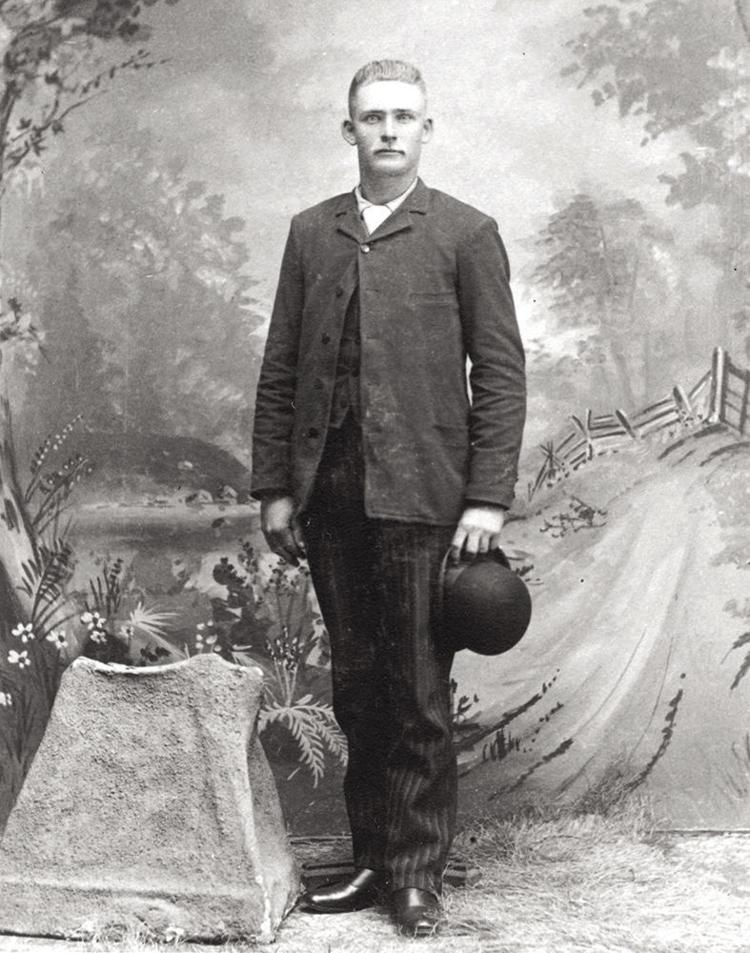 1866: The first county marriage is recorded: Sheriff William B. Ross and Mrs. Martha Skiles.
1866: Peter Gardett, born in Germany, becomes the first naturalized citizen of Kern County.
1866: The first county hospital is established, at Havilah.
1866: The first walnut grove is planted in Kern County.
1866: The Board of Supervisors forms the first school districts, at Havilah and Linns Valley.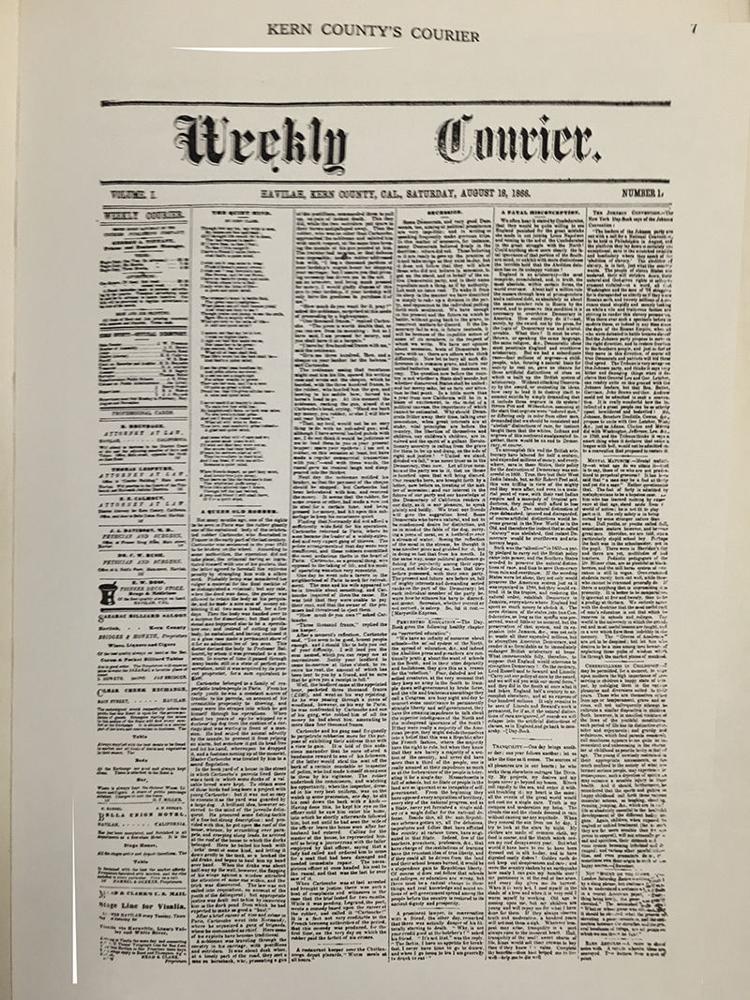 Aug. 18, 1866: Kern County's first newspaper, the Havilah Courier, begins publication.
Aug. 28, 1868: A post office is established and named after Baker in the area formerly known as Kern Island. George B. Chester is appointed Bakersfield's first postmaster.
1870: J.B. Haggin organizes the Kern County Land Company.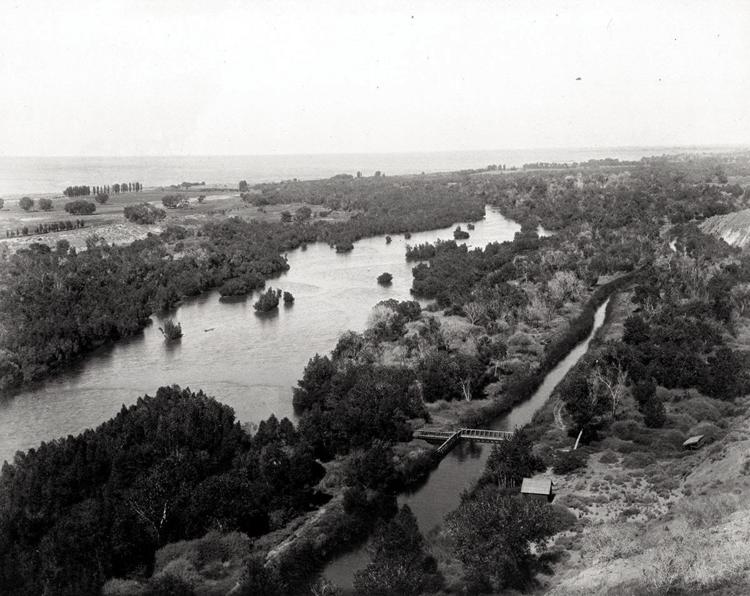 May 27, 1871: Construction of the Kern Island Canal begins.
Nov. 24, 1872: Baker dies of typhoid and pneumonia in Bakersfield.
1873: First county hospital opens in Bakersfield.
February 1874: The county seat is moved to Bakersfield.
Nov. 9, 1874: Construction of the Southern Pacific Railroad to Sumner, now known as east Bakersfield, is completed. Passenger service on the railroad begins the following day.
April 26, 1875: The Southern Pacific Railroad completes construction of the railroad tracks east to the town of Caliente.
1875: Calloway Canal construction begins.
May 1875: The Kern Island Canal Company begins distribution of water through its ditch system in Bakersfield.
1876: New county courthouse is completed in Bakersfield.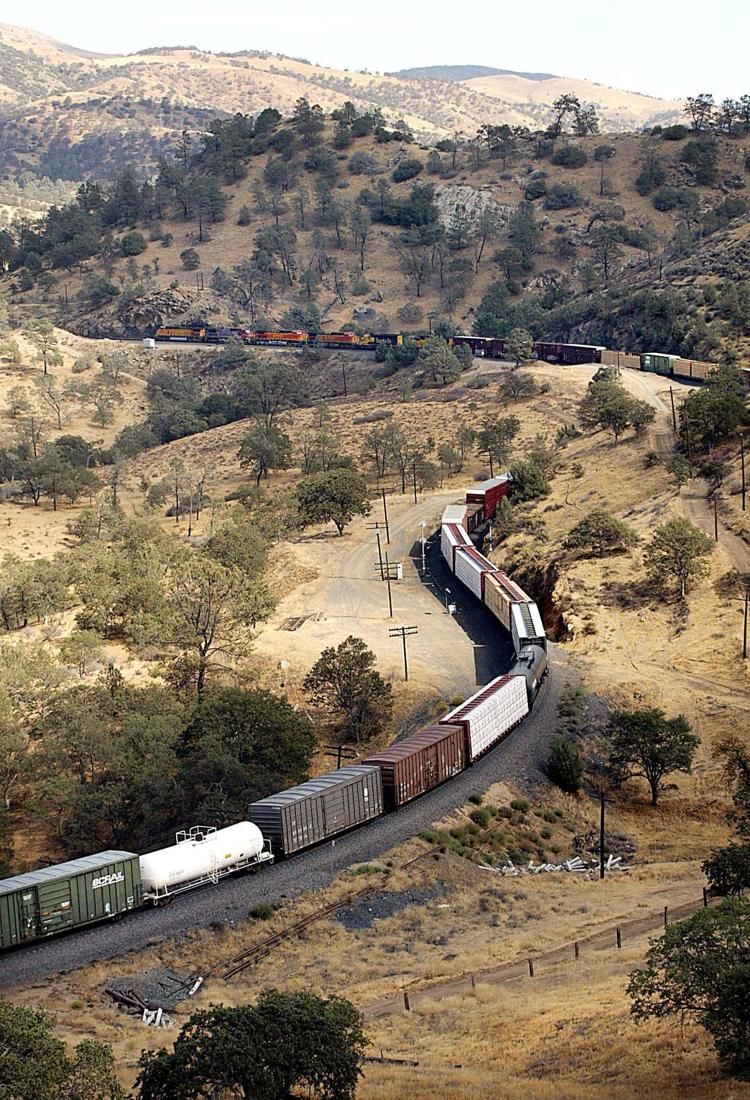 July 10, 1876: The Southern Pacific Railroad line through the Tehachapi Mountains, including the engineering marvel known as the Tehachapi Loop, is completed.
1877: First oil wells are drilled in county, near McKittrick.
March 3, 1877: Congress passes the Desert Land Act to encourage and promote the economic development of the arid and semi-arid lands in the western states.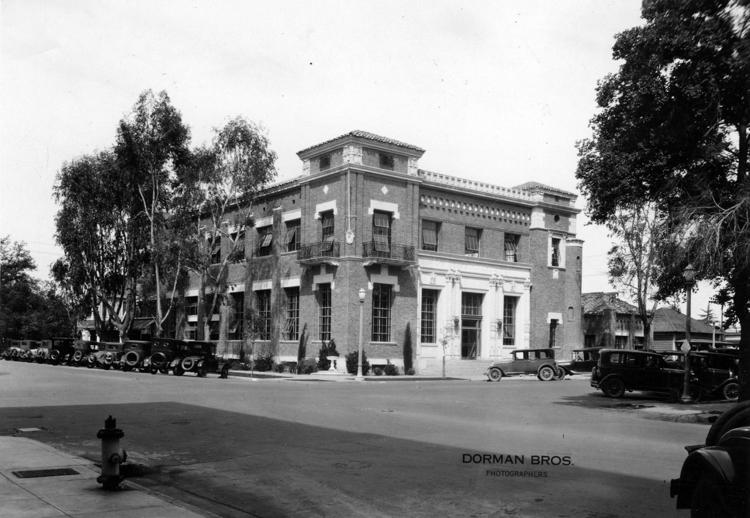 1879: Bakersfield Courier-Californian becomes The Californian.
1880: Commercial apple growing begins in Tehachapi.
Sept. 2, 1880: The Water Wars begin with a lawsuit over water rights between Henry Miller and Charles Lux and James Haggin, Lloyd Tevis and Billy Carr. The dispute over water between the interested parties continues until an agreement is reached on July 28, 1888.
Oct. 11, 1883: The Bakersfield Water Company begins operating Bakersfield's first water system, including an octagonal water storage tower at 17th Street and Chester Avenue.
1884: The Kern County Land Company recruits the first African-American settlers to come to Bakersfield and work on a one-year contract picking cotton on a company farm south of town.
Oct. 1, 1888: The Bakersfield Telephone Exchange is established. By the following year, there are 29 phones in service in Bakersfield.
1889: The first public gas lighting is used in Bakersfield.
1889: Rosedale Colony is founded.
July 7, 1889: Bakersfield's worst fire consumes the downtown area, destroying approximately 200 buildings on 15 blocks in three hours.
1890: The first electric lighting in Bakersfield is produced in a plant built by the Bakersfield Gas Company.
April 2, 1891: Capt. John Barker is the first to use local natural gas for domestic purposes, on his Rio Bravo Ranch near the Kern River.
1892: The first commercial vineyard in Kern County is established at Delano.
Jan. 9, 1893: Kern County High School opens.
1894: The Kern River power transmission line to Los Angeles is completed.
1895: The Yellow Aster Mine is establlished at Rand Mountain. The Rand Mining District is established and the town of Randsburg founded.
Nov 16, 1896: Renowned opera singer Lawrence Tibbett is born in Bakersfield.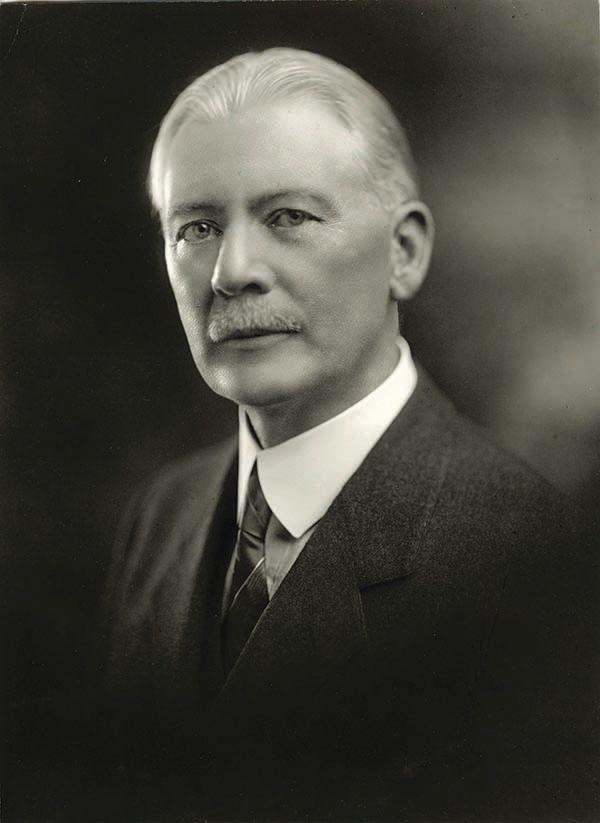 1897: Superintendent of Schools Alfred Harrell purchases The Daily Californian and, in 1907, renames it The Bakersfield Californian.
Jan. 11, 1898: Second incorporation of Bakersfield.
May 27, 1898: The arrival of the San Francisco and San Joaquin Valley Railroad in Bakersfield (later Santa Fe Railroad) is celebrated with a parade in downtown Bakersfield. The first regular passenger train leaves Bakersfield on June 1.
1899: Discovery of Kern River Oilfield.
1900: An electric system is established in Bakersfield.
1900: Midway Oilfield is discovered.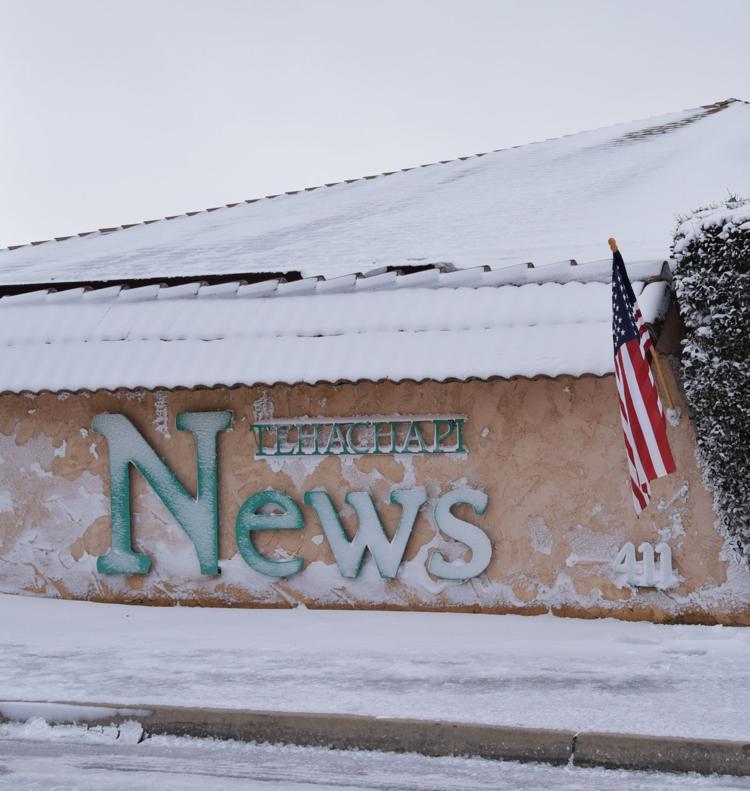 1900: Tehachapi News begins publication.
April 26, 1900: The first track is laid for an electric streetcar system in Bakersfield.
May 1, 1900: Free postal delivery begins in Bakersfield with two mail carriers.
June 2, 1900: The dedication of the Beale Memorial Library, the first free library in Kern County, is held in downtown Bakersfield.
January 1901: Standard Oil Company begins construction on the first oil pipeline in the county. The pipeline, extending from the Kern River field north of Bakersfield to Point Richmond near the San Francisco Bay, is completed in 1902.
1902: The first automobile, a 1902 1-cylinder Oldsmobile, is brought to Kern County by Joe Ferris of Caliente.
1902: Independent Oil Producers Agency incorporates.
1903: Killing of notorious gunman James McKinney in Bakersfield.
1904: The first automobile, a 2-cylinder Logan, is sold in Bakersfield by Hillman Arms, manager of Bakersfield Cyclery, to Mr. McDonald.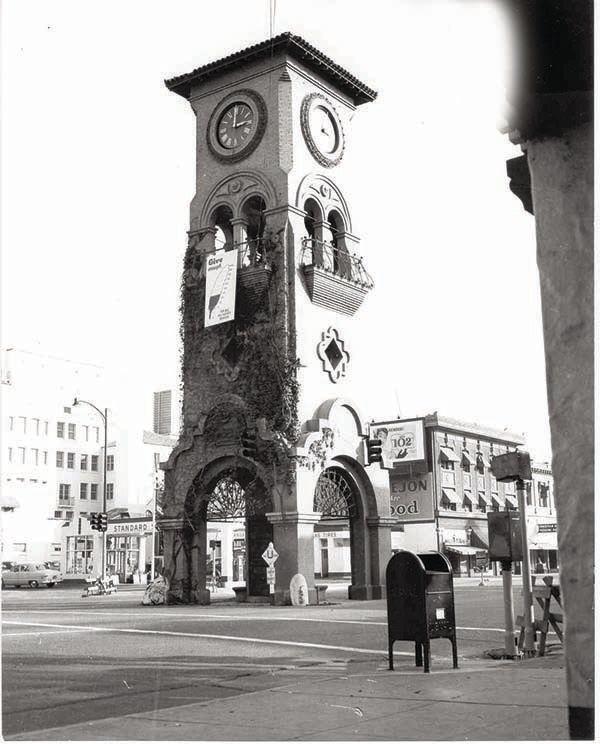 1904: Beale Clock Tower is built in Bakersfield.
1905: Construction begins on the Kern River Canyon Highway.
1906: The first automobile garage in Bakersfield opens. The Bakersfield Garage is owned and operated by E.J. Erb.
1908: Construction begins on the Los Angeles Aqueduct, a 233-mile long water conveyance system. More than 4,000 laborers tunnel through earth and rock to divert water from the Owens River along a path through eastern Kern County to a reservoir in the San Fernando Valley. The aqueduct is dedicated on Nov. 15, 1913.
May 1908: Earl Warren, future chief justice of the United States, graduates from Kern County High School.
1909: First air flight in Kern County in a balloon. First parachute jump in county by Professor Ted Richards.
1909: Buena Vista Oilfield is discovered.
Jan. 30, 1910: The first Air Meet is held in Bakersfield at Hudnut Park. The first male airplane pilot in Kern County is Charles K. Hamilton, flying in a Curtiss biplane.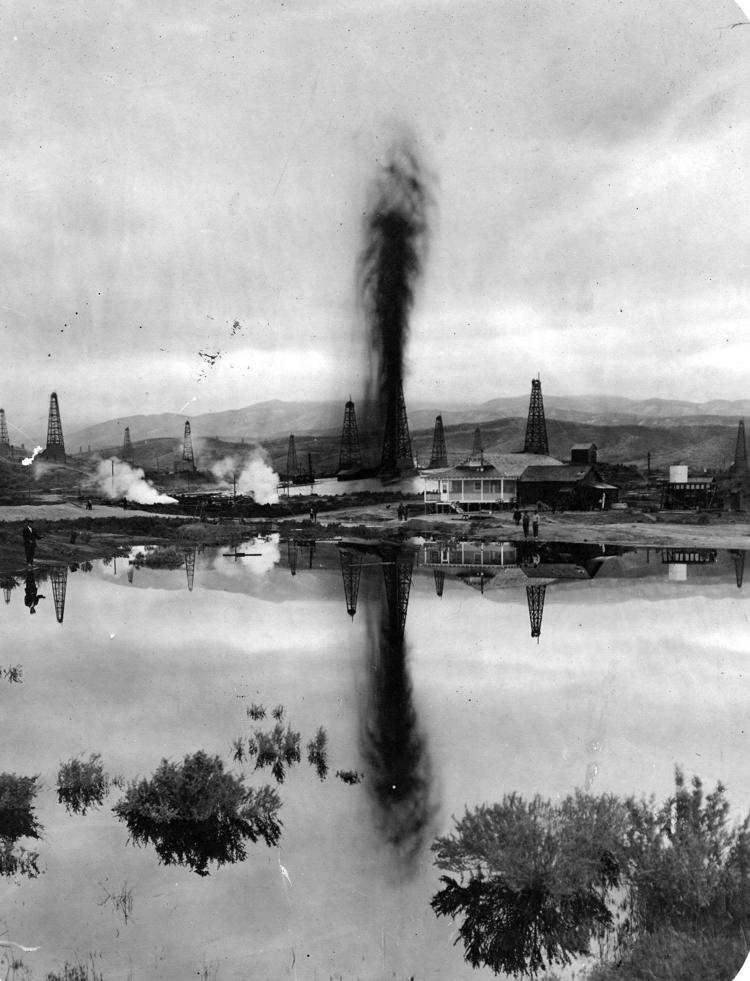 March 15, 1910: The Lakeview Gusher Number One, originally a gas well, erupts when drilling reaches a depth of 2,440 feet. Pressurized oil spills into the well casing, causing a massive blowout and oil geyser. Oil flows from the well for 18 months, spilling 9 million barrels of oil.
1910: Town of Oildale, originally called Waits, is founded.
1911: Electric power service becomes available to rural parts of Kern County.
1911: Belridge Oilfield is discovered.
Oct. 10, 1911: California passes women's suffrage. Four days later, Sybil Chenoweth is the first woman to register to vote in Kern County.
1913: Bakersfield Junior College is established. The first class consists of 20 students from Kern County High School.
April 27, 1913: Barney Oldfield breaks the world's record in a Christie race car, setting a speed record for one mile on a dirt track at the Kern County Fair Association race track.
Feb 16, 1914: Silas Christopherson becomes the first to pilot a plane across the Tehachapi Mountains to Los Angeles.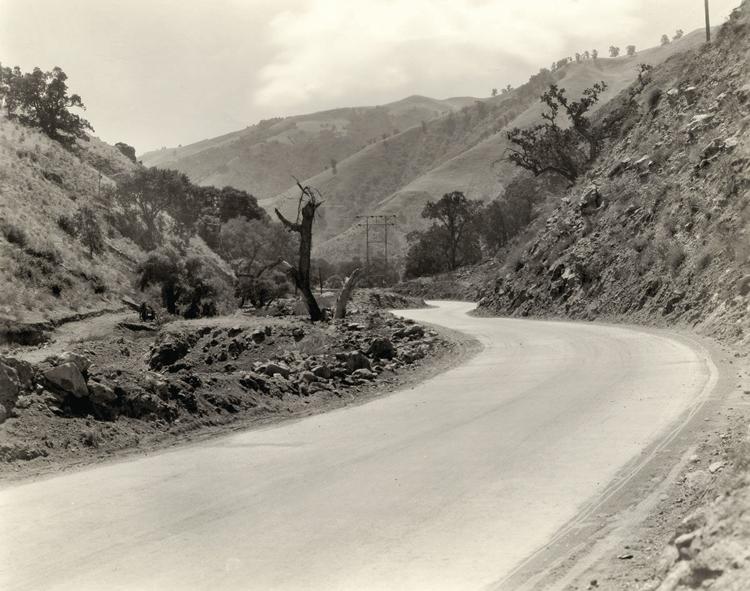 October 1915: Construction of an unpaved road for automobile traffic from Bakersfield to Los Angeles across the Ridge Route is completed.
June 5, 1917: The first major draft registration for World War I takes place in Kern County, with 7,150 men enlisting in one day. The first draftees leave Kern County for duty on Sept. 9. Eventually, 3,676 men from Kern County serve in the military during World War I.
Dec. 11, 1917: The first woman pilot to fly over Kern County is Katherine Stinson on a non-stop flight from San Diego to San Francisco. Stinson is the fourth woman in the U.S. to obtain a pilot's certificate.
1919: Grace Storey Dorris is the first woman elected to the California State Assembly by Kern County voters.
Sept. 12, 1921-Nov. 2, 1921: Oil workers on Kern County's west side strike.
1924: The Kern County Woolgrowers' Association is founded.
1924: The first steel derrick used to drill for oil is constructed in Kern County.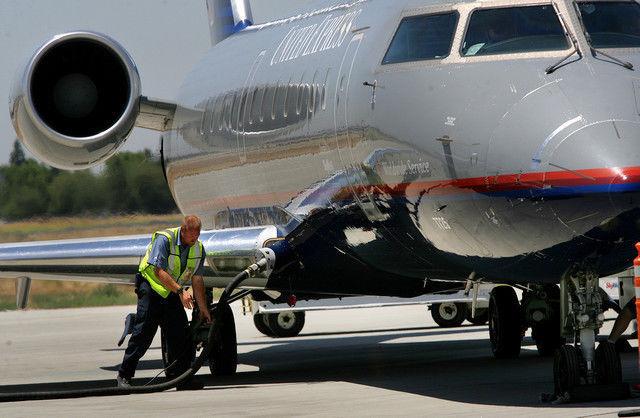 July 1925: Kern County purchases 200 acres northwest of Bakersfield to build an airport, later named Meadows Field after Cecil Meadows.
Sept. 15, 1926: The first airmail flight through Kern County stops in Bakersfield en route from Los Angeles to Seattle. The plane is greeted by 10,000 people.
1927: Henry Eggers, a local merchant, buys the first air-conditioning unit, for his clothing store from the Pioneer Mercantile Company.
August 1928: The first automatic traffic signals in the county are installed on Chester Avenue.
1929: Kern River Park opens. In 1947 it is renamed in honor of Kern County Supervisor John O. Hart.
April 28, 1929: Bakersfield's Hippodrome Theatre is the first movie house in Bakersfield to screen a motion picture with sound. The film is titled "The Ghost Talks."
1931: The first television in Kern County is demonstrated at Weill's Department Store.
Jan. 6, 1932: Bakersfield television station W6XAH makes its first successful broadcast.
1933: Cotton pickers in the San Joaquin Valley strike for better wages in California, recognition of the Cannery and Agricultural Workers' Industrial Union, and an end to contract labor.
1934-42: A gold mining boom strikes in the Rosamond and Mojave areas.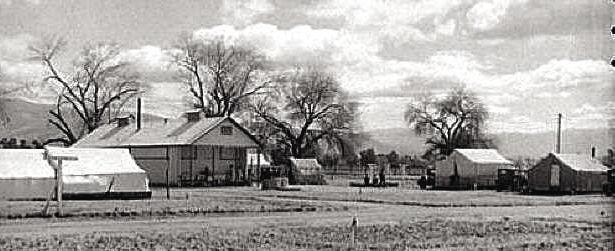 Dec. 12, 1935: The Arvin Federal Migratory Camp (better known as Sunset Labor Camp) opens near Arvin.
1935-40: The height of the Dust Bowl migration occurs, bringing thousands of people to Kern County.
April 6, 1937: Merle Haggard is born to James and Flossie Haggard at Kern General Hospital in Bakersfield.
July 1937: The Shafter Federal Migratory Camp (also known as the Shafter Farm Worker's Camp), the second migratory camp in Kern County, is built two miles north of Shafter to house Dust Bowl migrants.
1938: East Bakersfield High School, Bakersfield's second high school, opens.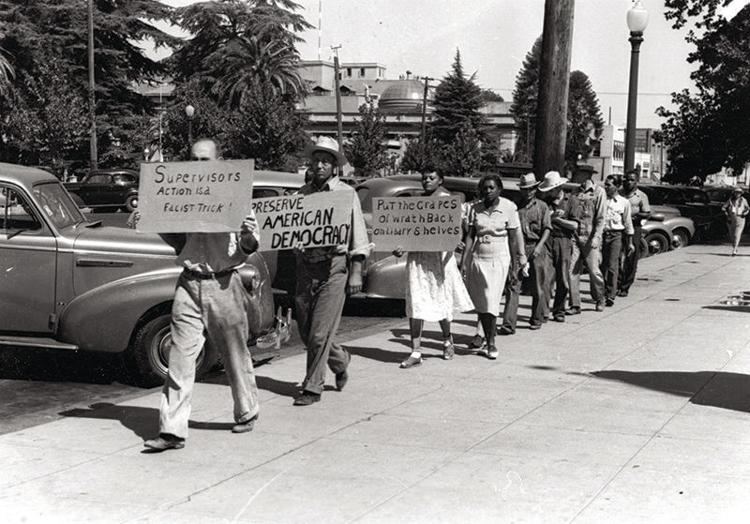 Aug. 21, 1939: Controversy over John Steinbeck's "The Grapes of Wrath" prompts county supervisors to ban the book from Kern County libraries.
April 2, 1940: Eleanor Roosevelt visits Kern County's federal migratory labor camps.
1941: Mary Holman is appointed the first Bakersfield Police Department policewoman.
1941: Kern County Museum is established.
February-March 1942: Japanese citizens of Kern County are rounded up by the federal government for relocation after the Japanese bombing at Pearl Harbor. Detainees are held at the DiGiorgio farms at Arvin and Delano.
July 1942: Kern County's first Women's Army Auxiliary Corps recruit, Mrs. Dorothy Beardsley Johnson, is accepted.
Oct. 2, 1942: Robert M. Stanley pilots the first U.S. jet flight, in the XP-59A, at Muroc Dry Lake.
1942-46: The large-scale growing of guayule on Arvin and Lamont area farms for use as a substitute for rubber during World War II occurs.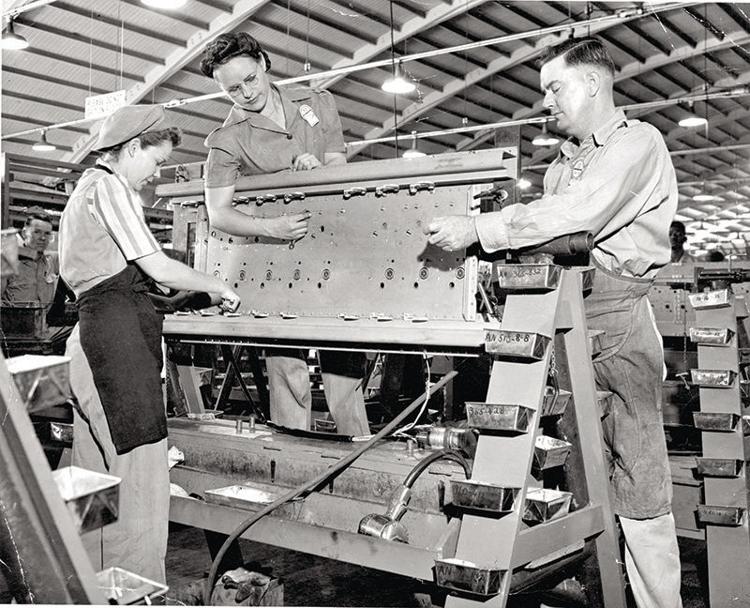 1943: The first aircraft factory in Kern County is built in Bakersfield. The Lockheed-Vega Corp. produces parts for military aircraft.
Jan. 4, 1943: Former Bakersfield resident Earl Warren takes office as governor of California. Warren goes on to be the first California governor elected to three terms and to be chief justice of the United States.
Nov. 8, 1943: The Naval Ordnance Test Station, now known as Naval Air Weapons Station, is established at China Lake.
1945: During World War II, German and Japanese prisoners of war are interned at camps near Shafter and Lamont. They work on area farms.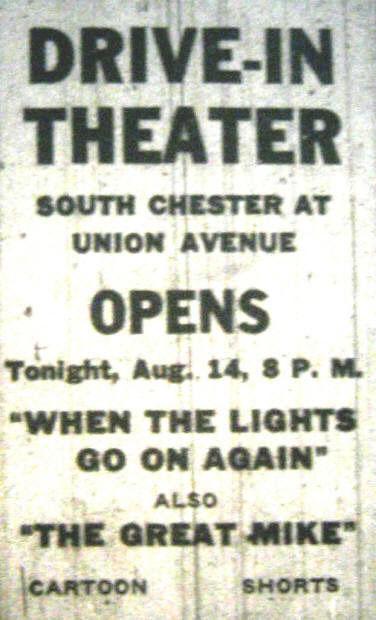 Aug. 15, 1945: Bakersfield's first drive-in movie theater, South Chester Drive-In, opens.
Oct. 14, 1946: The Muroc Army Air Field (now Edwards Air Force Base) is established.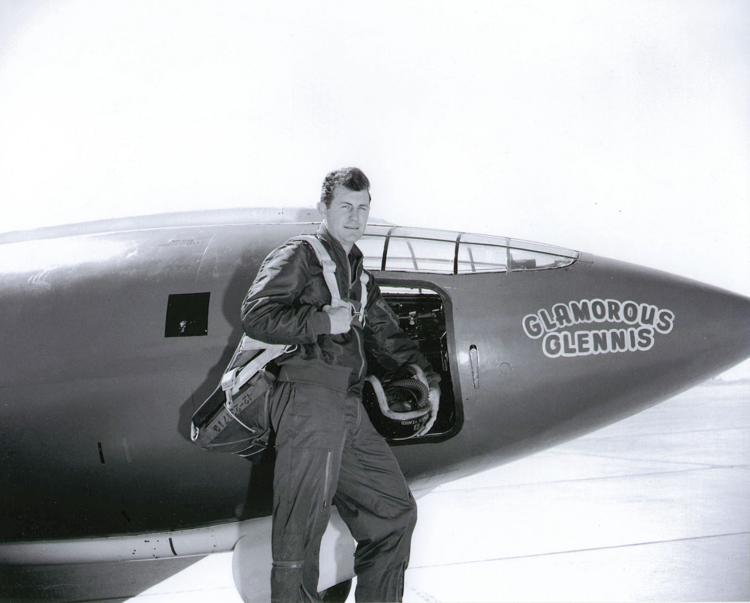 Oct. 14, 1947: Chuck Yeager, flying the Bell X-1 at an altitude of 45,000 feet, becomes the first man to break the sound barrier. He lands at Muroc Army Air Field.
May 29, 1948: Groundbreaking for Isabella Dam is held by the U.S. Army Corps of Engineers.
June 1948: Professional football player and sportscaster Frank Gifford graduates from Bakersfield High School.
June-September 1949: 41st U.S. President George H.W. Bush lives in a home at 2101 Monterey St. in Bakersfield with his wife, Barbara, and first child, George W. Bush (43rd U.S. president).
Jan. 27, 1950: Muroc Army Air Field is renamed Edwards Air Force Base after Capt. Glen W. Edwards.
July 24, 1950: Private Clifford Donald Townsend of Bakersfield is killed in action in Korea. He's the first soldier from Kern County to die in the war.
July 21, 1952: A 7.3-magnitude earthquake strikes Kern County with the epicenter along the White Wolf Fault near Wheeler Ridge. Twelve people are killed and 18 injured.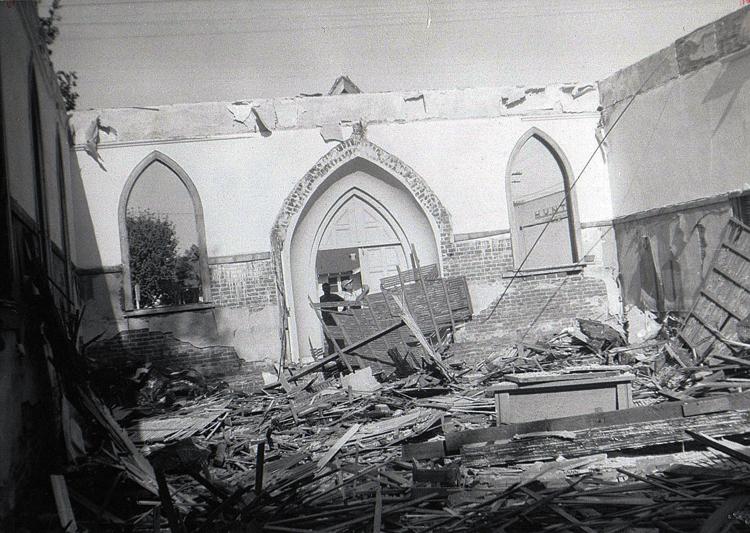 Aug. 22, 1952: A magnitude-5.8 aftershock of the July White Wolf Fault earthquake rocks Kern County at 3:42 p.m., killing two people. Property damage from the earthquake and subsequent aftershocks is estimated at $60 million.
1953: Isabella Dam is completed.
1953: Henry H. Collins becomes the first African-American elected to the Bakersfield City Council; he represents Ward 1.
May 18, 1953: Jacqueline Cochrane becomes the first woman to exceed the speed of sound while flying an F-86 at Edwards Air Force Base.
July 1953: "A Dear John Letter," a duet by Ferlin Husky and Jean Shepard, is released, quickly rising to No. 1 on the country music charts, marking a seminal moment in the history of the Bakersfield Sound.
1954: Uranium is discovered in 1954 in the Sierra Nevada of Kern County along the Kern River, approximately 30 miles northeast of Bakersfield. Two mines, the Kergon and Miracle, make small shipments in 1954 and 1955.
January 1956: The Assembly Plant "Unit 80" at Oildale begins manufacturing the Lockheed U-2, a single-engine, very high-altitude reconnaissance aircraft operated by the U.S. Air Force and previously flown by the CIA.
Feb. 28-March 1, 1959: United States Fuel & Gas Championships (now known as the March Meet) is first held at Famoso Raceway.
Dec. 15, 1961: The United States' first Aerospace Research Pilot School is established at Edwards Air Force Base. The first class has five graduates.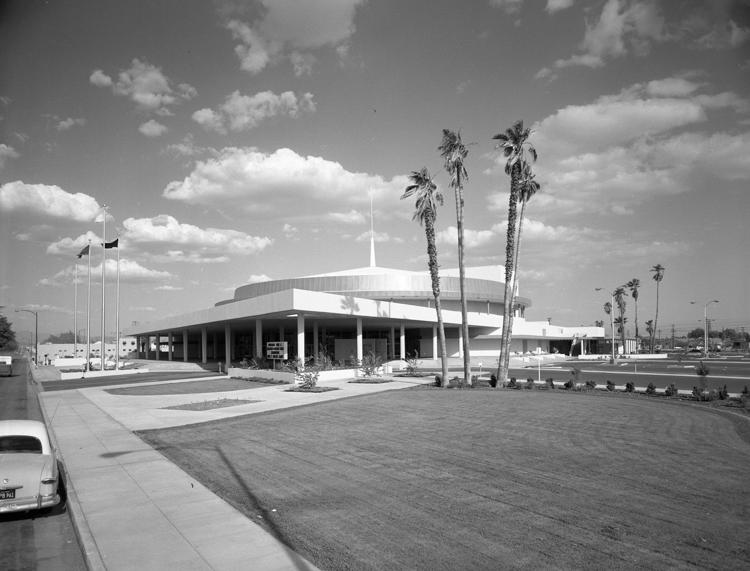 1962: Bakersfield Civic Auditorium is completed.
July 17, 1962: Major Robert M. White, piloting the North American X-15, sets an altitude record of 314,750 feet (more than 59 miles) at Edwards Air Force Base. This flight qualifies White for astronaut status.
Jan. 10, 1963: Army First Lt. Clayton A. Fannin of Bakersfield is the first Kern County serviceman to die in Southeast Asia during the Vietnam War.
Sept. 8, 1965: The Delano Grape Strike begins when members of the Agricultural Workers Organizing Committee, demanding wages equal to the federal minimum wage, walk off the farms of area table-grape growers. One week after the strike begins, the National Farmworkers Association, led by Cesar Chavez, Dolores Huerta and Richard Chavez, joins the strike. Eventually the two groups merge, forming the United Farm Workers of America. The strike and boycott last more than five years.
1966: Bakersfield native Elizabeth Borton de Trevino wins the Newbury Medal for children's literature for her book "I, Juan de Pareja."
June 23, 1967: Jim Ryun sets a world record for the mile at the Amateur Athletic Union championships in Bakersfield.
1968: California State College, Bakersfield, is established by the California State Legislature. A groundbreaking ceremony for the new college is held on April 11, 1969. The first classes are held in September 1970.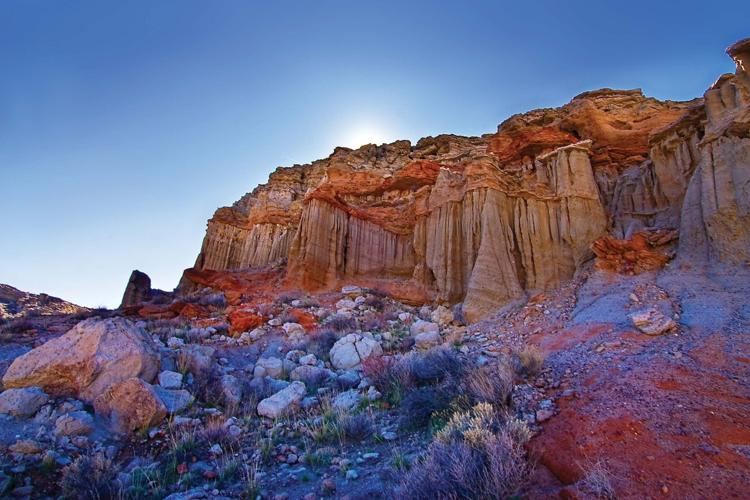 1969: Red Rock Canyon is established as a state park.
July 27, 1972: The first flight of the McDonnell Douglas F-15 Eagle, a twin-engine tactical fighter, takes place at Edwards Air Force Base. It is among the most successful jet fighters, with more than 100 aerial combat victories and no losses in dogfights.
Nov. 4, 1974: The Buena Vista Aquatic Recreation Area opens.
March 26, 1976: The NASA flight research facility at Edwards Air Force Base is named after Dr. Hugh L. Dryden. In 2014, it's renamed Armstrong Flight Research Center after Neil Armstrong.
1977: A dust storm with winds up to 200 mph causes millions of dollars in damage in Bakersfield.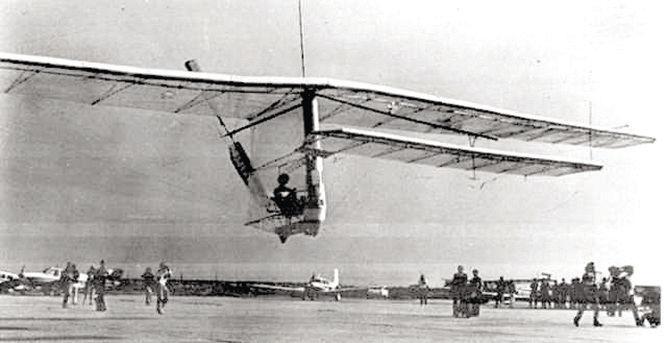 Aug. 23, 1977: Gossamer Condor Flight — the world's first man-powered flight to complete the Kremer Circuit — takes place at Shafter Airport. The Circuit, a figure-eight around two pylons one-half mile apart, is completed in six minutes, 22 seconds. The plane is created by Paul MacCready and Peter Lissaman of AeroVironment Inc. and is flown by Bryan Allen.
1979: Rick Mears, raised in Bakersfield, wins the Indianapolis 500 for the first time. Mears would go on to win again in 1984, 1988 and 1991.
Nov. 4, 1980: Mary K. Shell becomes the first woman elected mayor of Bakersfield.
April 14, 1981: The maiden flight of the space shuttle Columbia ends with a landing at Edwards Air Force Base after a 54-hour flight.
1983: Pauline Larwood becomes the first woman to serve on the Kern County Board of Supervisors, as the supervisor from District 3.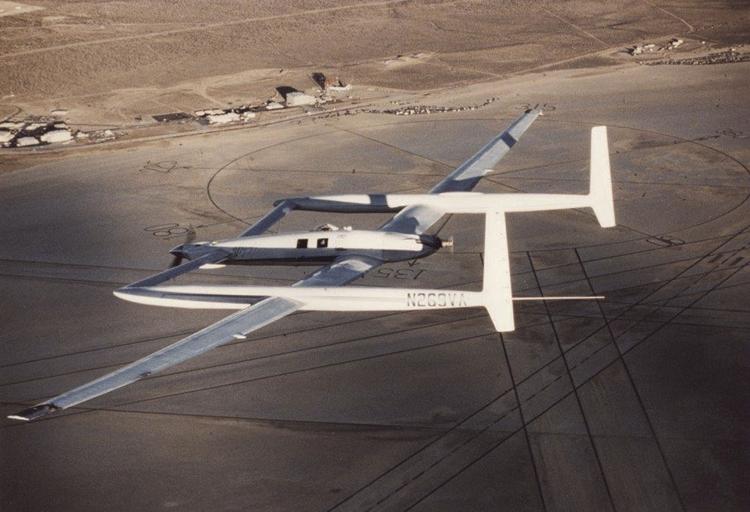 Dec. 23, 1986: Dick Rutan and Jeana Yeager complete the first non-stop, non-refueled flight around the world in the Voyager aircraft designed by Burt Rutan. The Voyager takes off from and lands at Edwards Air Force Base.
Oct. 3, 1988: The space shuttle Discovery lands at Edwards Air Force Base, marking the first successful flight of the space shuttle since the Challenger disaster on Jan. 28, 1986.
1993: The Bakersfield Business Conference brings three former U.S. presidents (Gerald Ford, Jimmy Carter and George H.W. Bush) to the same podium.
April 23, 1993: United Farm Workers co-founder Cesar Chavez dies.
1994: Irma Carson becomes the first African-American woman elected to the Bakersfield City Council, representing Ward 1.
1994: The Fox Theater, built in 1930, reopens.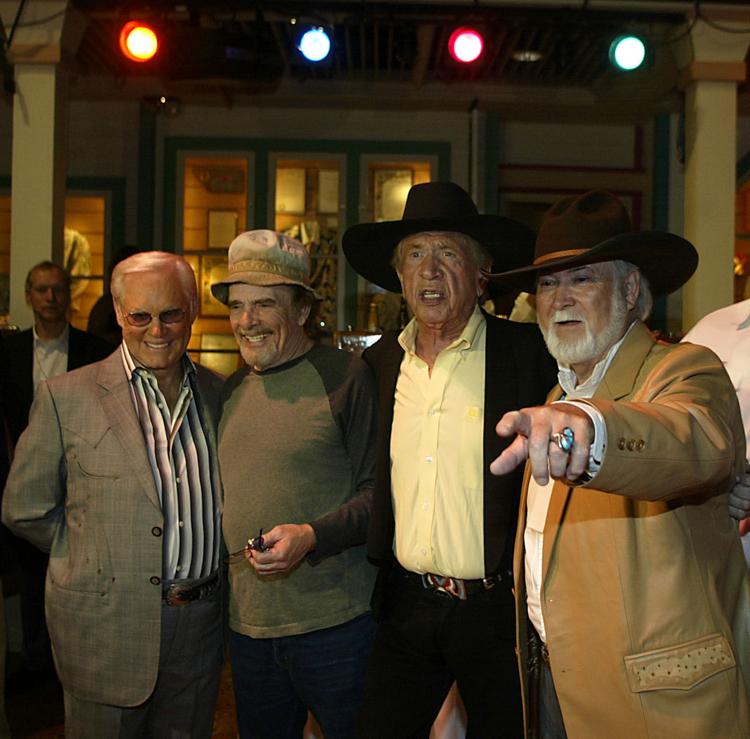 1996: Buck Owens' Crystal Palace opens.
1998: The City of Bakersfield opens its arena, Centennial Garden (now Rabobank Arena), with a performance by comedian Bill Cosby.
1999: Eric Matlock takes office as the first African-American appointed as Bakersfield police chief.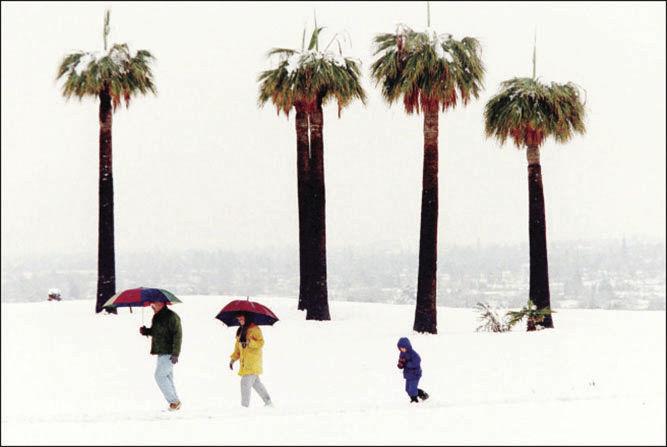 Jan. 25, 1999: Three to six inches of snow blanket Bakersfield, the city's largest recorded snowfall of the century.
2002: Former Stockdale High quarterback David Carr is the first player chosen in the NFL draft.
2004: SpaceShipOne, a suborbital air-launched spaceplane, completes the first manned private spaceflight. That same year, it wins the $10 million Ansari X Prize. The spacecraft is developed and flown by Mojave Aerospace Ventures, a joint venture between Paul Allen and Scaled Composites, Burt Rutan's aviation company.
2005: Bakersfield's housing market soars. Resale prices rise 41 percent in the first quarter of 2005 from the previous year.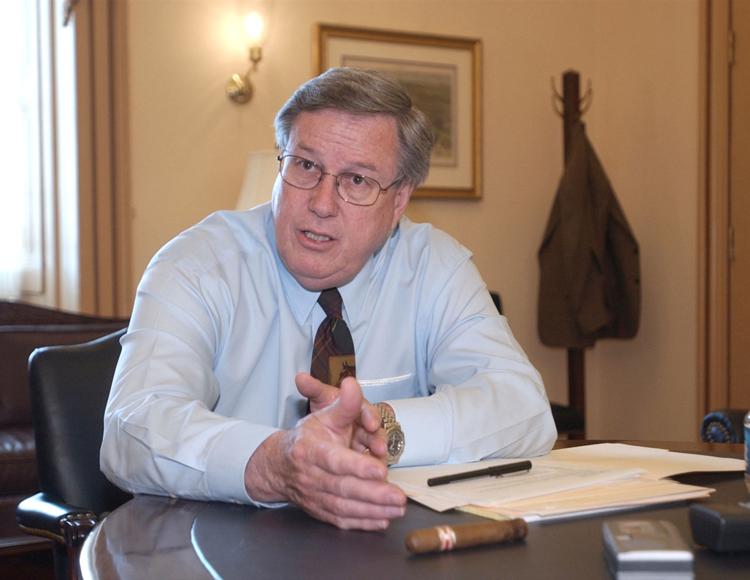 July 2005: Congressman Bill Thomas, R-Bakersfield, gets $722 million for local transportation projects folded into the massive Transportation Equity Act.
2006: Country music legend Buck Owens dies at 77. His ex-wife, Bonnie, dies at 76.
2006: Heat waves, including 15 consecutive triple-digit days, contribute to the deaths of 20 people.
March 2006: Congressman Bill Thomas announces his retirement from Congress after 28 years in office.
2007: A January freeze destroys half of Kern's citrus crops and puts thousands out of work.
2007: The housing market crashes. Kern County experiences triple the national rate of foreclosures.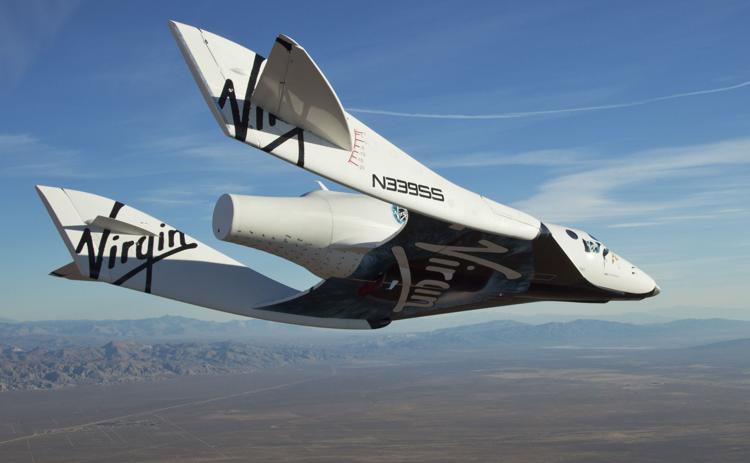 2008: By June, more than 250 people have paid for seats on SpaceShipTwo, aiming to be the first private flight into suborbital space.
2008: Oil prices soar. Local Midway-Sunset crude trades at more than $126 a barrel.
2010: The county's unemployment rate soars to 18.3 percent in March, an all-time high in the state's current record-keeping system.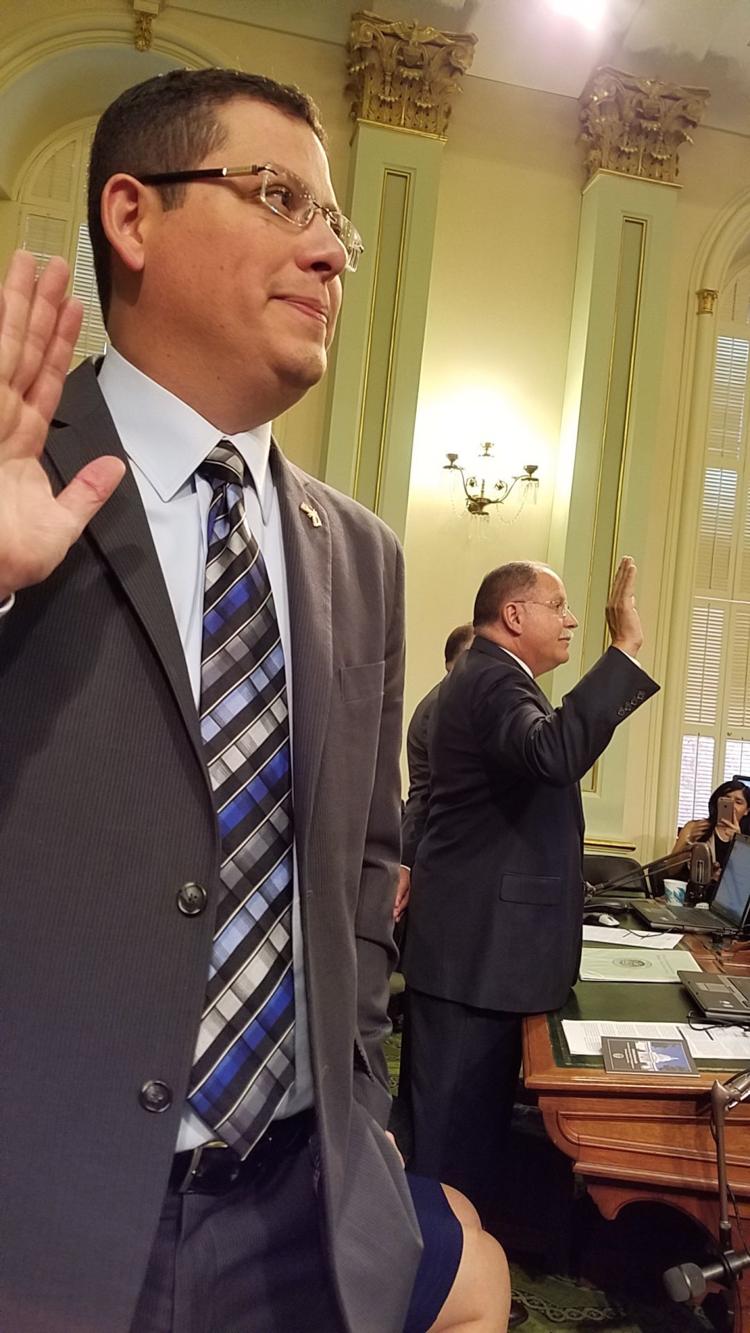 2010: Rudy Salas becomes the first Latino elected to the Bakersfield City Council.
2010: Tehachapi teen Seth Walsh is one of several gay teens nationwide to commit suicide after being bullied. The next year, Gov. Jerry Brown signs Seth's Law, requiring all California school districts to institute anti-harassment policies.
2010: Kristin Perry, who grew up in Bakersfield, becomes a central figure in the legal challenge to Proposition 8, the 2008 constitutional amendment passed by California voters to ban same-sex marriage. Courts later legalize gay marriage in the state and nation.
2010: Historic Padre Hotel reopens in downtown Bakersfield.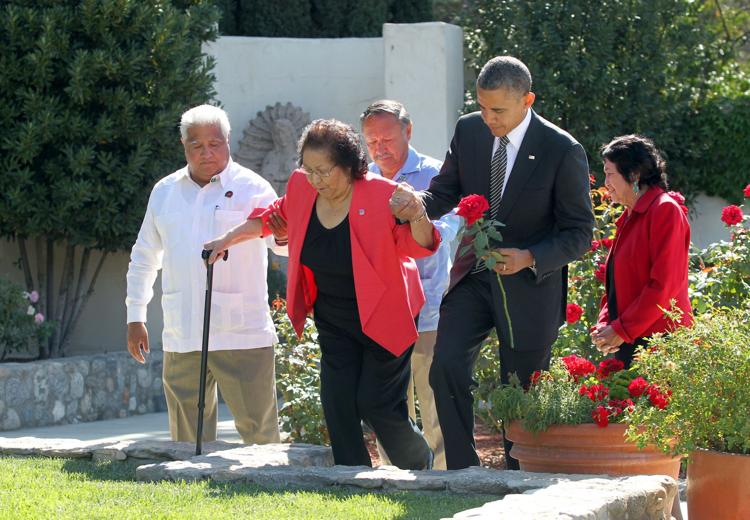 October 2012: President Barack Obama dedicates Nuestra Señora Reina de la Paz near Keene, the home of late United Farm Workers union co-founder Cesar Chavez, as a national monument.
2012: The Bakersfield homebuilding market rebounds, with tracts left unfinished in 2007 buzzing with construction in the second half of the year.
August 2013: The Westside Parkway — Bakersfield's first new freeway in 37 years — opens.
2013: Former business partners David Crisp and Carl Cole plead guilty to conspiracy to commit bank, mail and wire fraud in Bakersfield's largest mortgage fraud scheme, in which 14 people are prosecuted.
Jan. 10, 2013: Kern County experiences its first school shooting. Bryan Oliver, 16, enters a Taft Union High School classroom armed with a shotgun and shoots classmate Bowe Cleveland in the chest, causing serious injuries. Oliver later pleads no contest and is sentenced to 27 years in prison.
Oct. 31, 2014: SpaceShipTwo breaks apart during a test flight out of eastern Kern, killing one pilot and injuring another.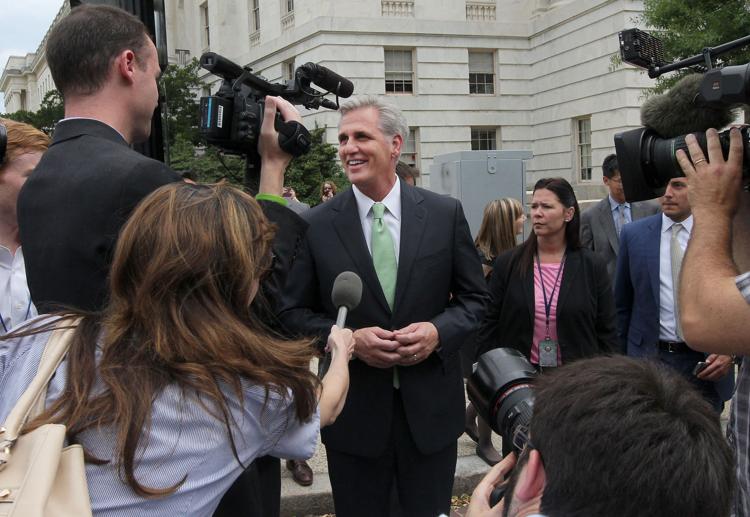 June 2014: Bakersfield Congressman Kevin McCarthy is elected House majority leader, making him arguably the most powerful legislator ever from the San Joaquin Valley.
2015: Low oil prices hit the Kern County economy hard and prompt more than 2,500 local oil-related layoffs.
April 2015: In the fourth year of a historic drought, state and local officials impose the strictest-ever water conservation mandates here.
Aug. 9, 2015: Frank Gifford dies.
April 6, 2016: Country music legend Merle Haggard dies.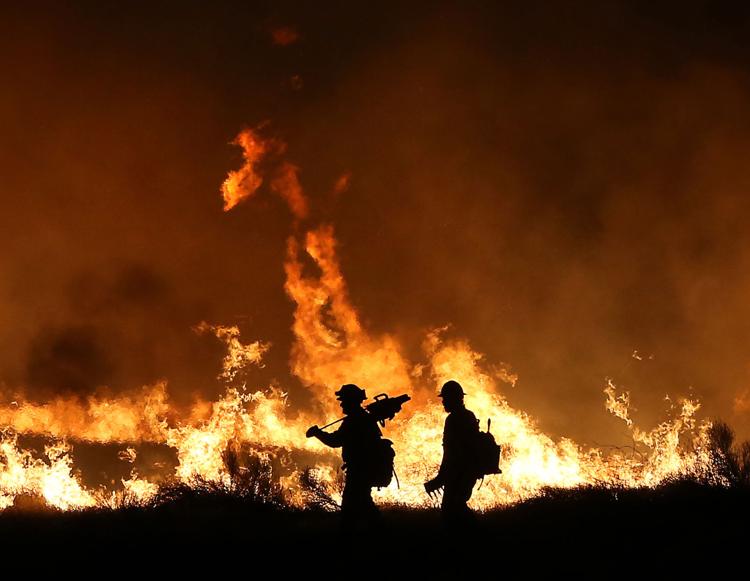 June 2016: The Erskine Fire, Kern County's most destructive wildfire in history, kills two people, destroys nearly 300 structures, and burns 50,000 acres in the Lake Isabella area.
Sources: Kern County Museum, Californian archives, local government websites