Brett Henry, who crashed his AA/Fuel Altered drag racer Saturday at Auto Club Famoso Raceway, died of his injuries Sunday night at Kern Medical Center.
Henry's death was confirmed by the Kern County Coroner's Office. He was 50 years old.
The nature of the accident was particularly unusual, simply because it occurred after the race appeared to be over.
Henry, of Wichita, Kan., reportedly shut off his car before the finish line but it somehow restarted and was under full throttle when it powered down the shut-down portion of the track and crashed into a barrier.
Henry was reportedly conscious and talking after the incident. But it took safety crews several minutes to extract him from the car so he could be transported to Kern Medical Center.
John Keigley, a Bakersfield resident who also races fuel altered cars, was in attendance at Saturday's race. He confirmed that account of the accident.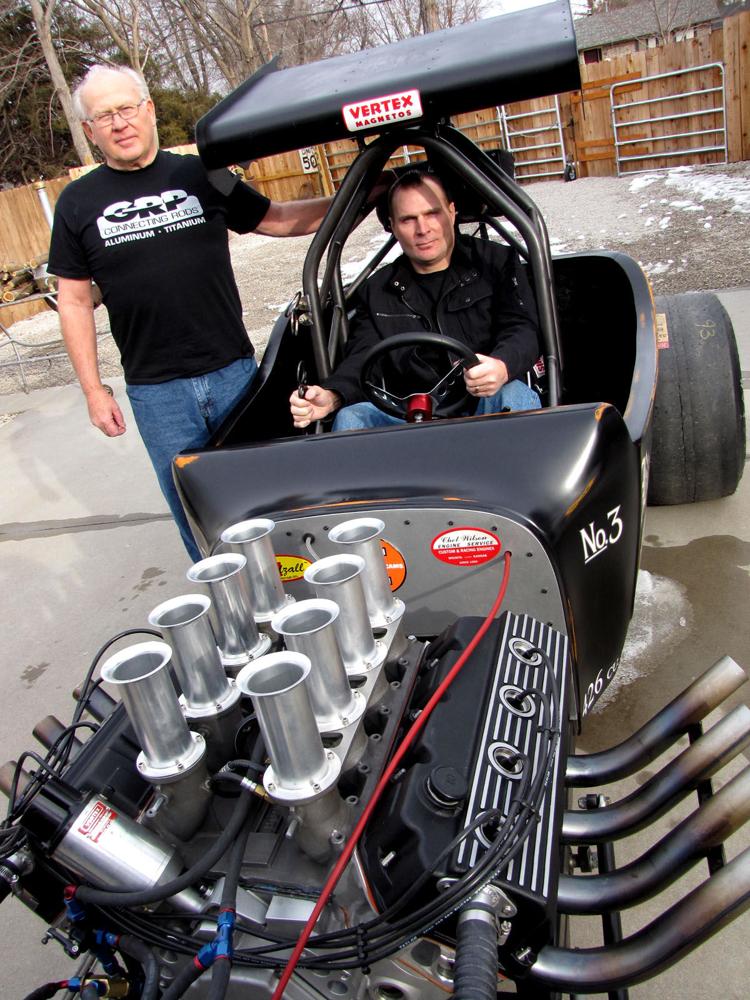 "He had the chutes out and everything when he crossed the line. Sometimes those things just refire because there's fuel in the cylinders," Keigley said. "The car broke into a trillion pieces."
Famoso Raceway's director of media relations and marketing, Charles Myers, referred all questions to the National Hot Rod Association, which sanctioned last weekend's races.
When reached by phone, NHRA Media Relations Manager Sara Slaughter and Senior Director Jessica Hatcher both declined comment out of respect for Henry's family.
In a statement, the NHRA said, "It is with very heavy hearts that we report Brett Henry passed away after a racing accident that occurred Saturday at the California Hot Rod Reunion. NHRA, the NHRA Motorsports Museum, Auto Club Famoso Raceway and the entire racing community extend their deepest condolences and their prayers to the participant's family and friends. We also ask that everyone respect the family's privacy during this difficult time."
AA/Fuel Altereds are short wheelbase cars powered by a supercharged engine that runs on nitromethane fuel.
In order to compete at an NHRA-sanctioned track or event, the car and the safety equipment must pass the NHRA's safety guidelines for the car and the safety apparel, according to drag racing journalist Andrew Wolf.
Wolf, the editor of Dragzine.com, made a point to say he was not at last weekend's races in Bakersfield. Still, he said, Henry's car could cover the quarter-mile track in under seven seconds, at speeds exceeding 200 mph.
"Brett was a seasoned and highly experienced veteran of the sport," Wolf wrote in an email to The Californian. "He and his car were certainly as safe as they could be for the kind of speeds that it was attaining."
Brett Henry is CEO of Henry Industries Inc., based in Wichita, where he lived with his wife Laura, daughters Crystal and Faith, and son Wyatt, according to the company website.
Henry, who came from a racing family, had been involved in the sport seemingly his entire life, said his friend Steve Wilson.
Wilson, who lives in Springfield, Mo., said Brett Henry's father Jim and brother Brent both raced. He added that Henry's son, Wyatt, was also involved in the sport.
"It was a true father-son-grandfather situation," Wilson said. "Three generations — you would see them at the race track."
Wilson added, "He was a family man. His kids and his wife meant everything to him."
Paul Zielsdorf, vice president of Meltdowndrags.com, wrote in an email that his last memory of Brett Henry was hanging out together on the bench while racing late night at the Meltdown Drags in Byron, Ill., last July.
"Brett was a generous person who loved vintage drag racing with his entire family, and the people surrounding the hobby. He will be missed," Zielsdorf wrote. "We are deeply saddened by his untimely death. Our hearts are heavy."
Keigley said Henry would come to Bakersfield a couple times a year, not necessarily seeking qualification or a big payday, but to hang out and reconnect with the racing community.
"He would travel 1,200 miles just to have fun with friends and have a good time," Keigley said. "He just loved to race."
It was the second death at Auto Club Famoso Raceway in just over two years. Funny Car driver Roger Garten died in June 2015 after crashing less than halfway down the quarter mile track.