1 Black Friday, check. Local Saturday, check. Cyber Monday, check. What's next? Welcome to Giving Tuesday and Houchin Community Blood Bank's public blood drive.
Those who want to donate blood, platelets or plasma can head to the Truxtun location (5901 Truxtun Avenue between 9 a.m. to 6 p.m.), the Bolthouse Donor Center (11515 Bolthouse Drive between 9 a.m. to 6 p.m.) or Three-Way Chevrolet Cadillac (4501 Wible Road between 10 a.m. to 3 p.m.).
According to a news release, all donors receive a free premium salad coupon from McDonald's and can enter to win a trip for two to Hawaii. Three-Way Chevrolet Cadillac will have additional drawing prizes at their mobile blood drive center.
2 With the sun going down so early now, it's important to be safe while exercising outside and that particularly includes riding bikes in the dark. To help all cyclists ride safely, Bike Bakersfield's Project Light Up The Night is handing out free bicycle lights in parts of the community where bicycles are used most.
With support from Pacific Gas & Electric and Chain Cohn Stiles, Bike Bakersfield will be at four locations in Bakersfield to hand out and install 500 free sets of lights every Wednesday (except Dec. 14) from 6 to 8 p.m. until Jan. 25, a news release says.
Riders must bring their bikes to receive one set of lights per person. 
The lights will be distributed at Bike Bakersfield (1708 Chester Ave.), the corner of Niles and Mt. Vernon, the corner of Chester and Roberts Lane, and Planz Park.
3 This will warm your heart. In 2016, according to Dictionary.com's data, one word that was searched time and again was "xenophobia," making it the company's word of the year.
That' s probably because it seemed to be a reoccurring theme throughout 2016, what with the Brexit vote, the U.S. election, transgender bathrooms and more.
"1: fear or hatred of foreigners, people from different cultures, or strangers."
"2: fear or dislike of the customs, dress, etc., of people who are culturally different from oneself."
The outlet is "right to make xenophobia the word of the year," Berkeley public policy professor Robert Reich said in a statement, "but it is also one of the biggest threats we face. It is not a word to be celebrated. It is a sentiment to be fought."
4 Since 1927, Time has selected who its editors believe to be the most influential person of the year. Yes, Time's editors make the ultimate decision, but Time says the reader poll is an important window into who people think most shaped 2016.
As of Sunday evening, here's the latest:
Vladimir Putin took the lead with 38 percent of the vote.
Theresa May was in second with 16 percent.
Donald Trump and Kim Jong Un were tied for third place with 13 percent.
And then you have people like Barack and Michelle Obama, LeBron James, Mark Zuckerberg, and Simone Biles with zero to 3 percent of the vote.
Voting on the reader's choice poll ends Dec. 4, and Time will announce the Person of the Year Dec. 7.
5 You know it's Christmas season when your Domino's Pizza gets delivered by reindeer.
Yup, that's right. Domino's in Japan is making deliveries via reindeer. 
This may seem like a joke, but Domino's is very serious about the idea, Fortune says. The company is currently working with reindeer breeders at the Hokkaido Delivery Integrated Research Center to prepare for extremely cold conditions this winter. The deliveries are expected to begin in December.
So far, Domino's is working on a plan for each reindeer to be fitted with its own GPS driver tracker so that its progress can be monitored in real time, according to Fortune.
But if it's that cold outside, won't you just get a cold pizza? 
6 An airline passenger got just a little too enthusiastic about President-elect Donald Trump, and it got him banned from Delta Airlines for life.
The man launched into an expletive-filled rant in support of Trump while the plane was aloft, Time says.
"The individual displayed behavior that was loud, rude and disrespectful to his fellow customers," Delta Chief Executive Officer Ed Bastian said in a note to employees. "He will never again be allowed on a Delta plane."
Another passenger captured a video of the man's rant, which showed him yelling at others on Flight 248, which was traveling to Allentown, Pa., from Atlanta.
"Donald Trump, baby," the man yelled at other passengers on the plane, according to video footage posted on Facebook. "We got some Hillary expletive on here? Come on, baby. Trump!"
The airline said the man "should not have been allowed to continue on the flight."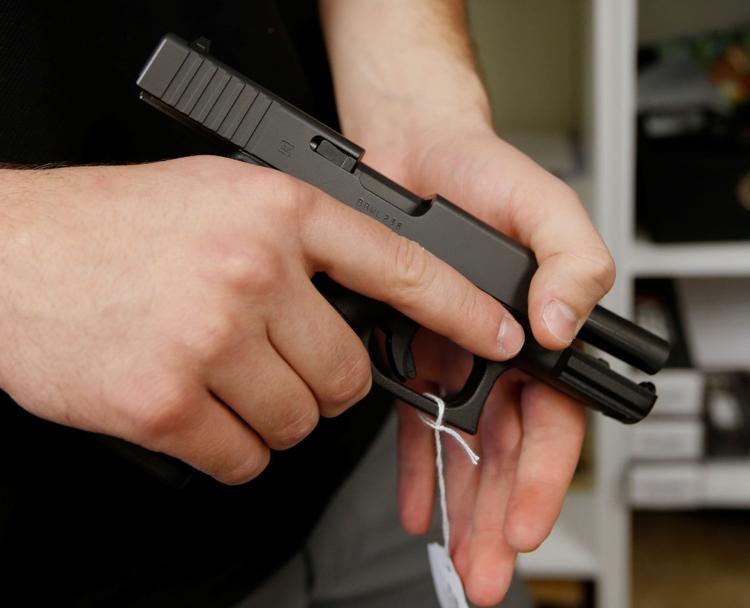 7 Black Friday was a record-breaking day for gun background checks in America, with the FBI processing 185,713 background checks for buyers through its National Instant Criminal Background Check System, Business Insider reports.
That was nearly 400 more transactions than on Black Friday in 2015, the bureau's Stephen Fischer Jr. told Business Insider.
Business Insider says Black Friday is usually the biggest day of the year for gun sales, but after Donald Trump won the election, gun stocks plummeted. Investors said customers were no longer in a rush to buy out of fear that Hillary Clinton would make ownership harder.
8 Bud Light is going all Willy Wonka on us.
The company is offering one lucky fan a chance to win Super Bowl tickets for life — up to 51 years, CNN says. In order to win, you must find a golden beer can.
The promotion began Monday and runs until Jan. 13.
Anheuser-Busch InBev has distributed 37,000 golden Super Bowl 51 cans to stores across the U.S., except for California. But don't worry, you can still participate by heading to BudLight.com and printing the gold label.
Then CNN says the participants must take a photo with the label or can and post it on a social media site with the hashtag #SBTix4Life and #Sweeps.
The big winner will be selected mid-January.
Super Bowl 51 is slated for Feb. 5.
9 Someone at Google might be in trouble. For a few hours, Trump Tower in New York City was showing up as "Dump Tower" on Google Maps, CNN reports. The Trump International Hotel & Tower in Columbus Circle was also renamed with the word Dump.
Both were changed back to the original names Sunday morning.
The president-elect's home for now is at Trump Tower. 
10 Didn't your mom teach you to clean up after yourself? Well, the mothers of some Black Friday shoppers didn't, apparently.
A Nike outlet store in Washington looked like it had been hit by an earthquake on Black Friday as shoppers left hundreds of opened shoe boxes all over the floor.
According to BuzzFeed, more than 20,000 people visited the Nike factory store at the Seattle Premium Outlets in Tulalip, Wash., on Friday, and while many shoppers walked away with some new kicks, many changed their minds and left their messes behind.
Photos and videos circulating on social media show customers leaping over piles of boxes in the aisles.
On behalf of those messy shoppers, we would like to say we're sorry to those Nike employees. 
Compiled by The Californian's Elizabeth Sanchez.