MY MONDAY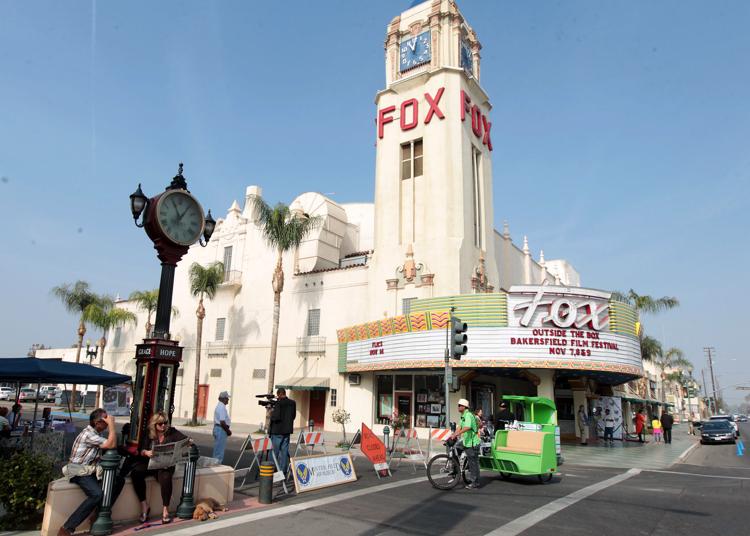 To watch: The Fox Theater is showing "Footloose" as part of its Cults and Classics series. The 1984 film, rated PG, is about Ren McCormack, who discovers the small Midwestern town he now calls home has made dancing and rock music illegal. As he struggles to fit in, Ren faces an uphill battle to change things. The films begins at 7 p.m. Tickets are $5. 
To learn: Check out the new Soft Skills Workshop, where you can learn how to communicate effectively verbally and nonverbally in the workplace; how to be an active listener; the importance of team work and more. The workshop runs from 1:30-3:30 p.m. every Monday at America's Job Center, 1600 E. Belle Terrace. 
To craft: Join 1933 for its Easter Swag Wreath Night, where you can create your own festive wreath. The cost of event is $45 with a $25 non refundable deposit due to secure your spot. The $20 balance is due the evening of the event. Call 623-4829 for reservations. The event begins at 6:30 p.m. at 7900 Downing Ave. 
---
TBC TIME CAPSULE: March 5, 1963
Potato Men to Advertise Early Spuds: Kern County potato grower-shippers will contribute about $2,500 for a trade publication advertising campaign to let the nation know Kern's early potatoes will be ready to market about three weeks ahead of last season.
The announcement was made after a meeting of 60 growers, shippers and handlers last night at Bakersfield Inn.
Joe Phillips, Bakersfield potato handler presiding over the meeting, said it was called to determine the best method of altering market channels throughout the United States and Canada of the early potato deal which will begin moving about April 8 from the Edison district, with heavy shipments after April 20.
The advertising campaign will be handled through the Potato Growers Association of California and Arizona, with plans for full-page advertisements is four successive issues of the Pacific Produce Packer.
Phillips said many buyers in the eastern markets and in Canada were "freeze-conscious" and under the impression the cold snap in January and early February had cut back Kern's production in the early growing areas.
"We want them to know this was not the case," Phillips declared, "and get them prepared for our early potatoes."
Discussion prior to the meeting had hinted a possible break between the potato growers association and some shipper-handlers who suggested formation of their own association. The rift, however, failed to materialize. 
---
OSCAR SWAG BAGS WORTH $100,000
Every year, actors and actresses attending the Oscars go home with a very large gift bag. This year, the bags, named "Everyone Wins" Nominee Gift Bags, are valued at $100,000, according to personal finance website WalletHub.
This year's bags, put together by Distinctive Assets for the past 16 years, include a number of goodies, like a 12-night Tanzania Adventure for two by International Expeditions, including private air travel within the country, meals, spa treatments, hot air balloon safari with champagne breakfast, private safari guide, wild game drives, stay at Serengeti Migration Camp, to name a few. Forbes reports the trip is valued at $40,000.
Forbes says there is also a weeklong spa retreat for two at Golden Door in San Marcos, California valued at $17,700, a six-night stay for two at the Koloa Landing Resort At Poipu, Hawaii, a lifetime supply of cosmetics, a custom-built wooden shipping crate filled with locally grown California oranges, plus a gift card for a year's worth of free deliveries, and so much more.
What do we have to do to get our hands on one of those? 
---
JOLLY KONE CLOSES AS CITY PREPARES TO START CONSTRUCTION ON CENTENNIAL CORRIDOR PROJECT 
The Jolly Kone located at 800 Wible Road permanently closed Thursday.
Kasey Choi, the owner of the establishment along with the Jolly Kone at 924 34th St., confirmed the news to The Californian Friday.
Choi said the drive-in was shut down after the city of Bakersfield bought it through eminent domain as the city prepares to move forward with the Centennial Corridor project, a multi-million dollar project that plans to connect Highway 58 to the Westside Parkway. The $41.2 million bridge project will modify the east end of the Westside Parkway and its bridges as well as add some bridges.
Choi, who has owned the establishment since 2000, found out about a year ago, and planned on opening up a new Jolly Kone nearby the location, but eventually decided against the idea.
The Jolly Kone on Wible Road opened in the mid '60s, and served the Bakersfield community milkshakes, burgers and more, until Thursday.
It seems customers are extremely sad to lose this location because the drive-in holds many memories for them.
"There goes another one of my teenage (memories)," said Sonny Taylor on Facebook.
Ken Clement said, "Say it ain't so! That was the main stopping place on the way home from Curran Junior High in 72-74. I stopped there a year ago for a chocolate dipped cone and a real vanilla Coke. Great memories!"
"I use to work there in 1978. I served a ton of Curran students," said Robin Beason. "My ex of 31 yrs lived on LaFrance! My cousin loves to go there!! Lol!! Gonna miss it!"
Two Jolly Kone locations remain in Bakersfield. There is the one at 924 34th St. and another at 2140 S. Chester Ave.
In January, the Bakersfield City Council approved an agreement with the California Department of Transportation to move ahead with Centennial Corridor plans to rebuild the bridge at Belle Terrace and Wible Road to accommodate a widening of Highway 99. The Belle Terrace/Wible Road intersection will be modified to accommodate the new overcrossing.