MY THURSDAY
To listen: Don't miss a A Tribute to Van Halen at 7 p.m. at the Bakersfield Music Hall of Fame, 2230 Q St. Tickets start at $30 and can be purchased at ticketing.us.veezi.com.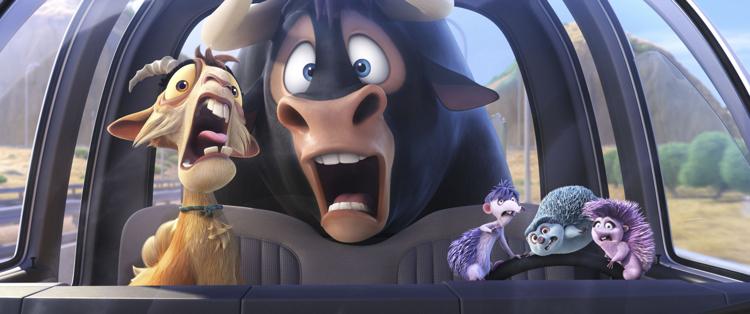 To watch: Spend some time with the kids and watch a family friendly movie today. The Kern County Library is showing "The Rescuers Down Under" at 4:30 pm. at Northeast Branch, 2671 Oswell St. Our Lady of Guadalupe School is also holding a Family Movie Night, with a showing of "Ferdinand" at 6 p.m. at the school, 609 E. California Ave.
To drink: Join the The Petroleum Club, 5060 California Ave. 12th floor, for a night of wine tasting, where guests can sample a variety of rosé wines. The event runs from 5 to 9 p.m. There will be complimentary appetizers. Reservations are required. Cost: $10-$20. To make a reservation, call 324-6561.
---
OUR KIND OF PEOPLE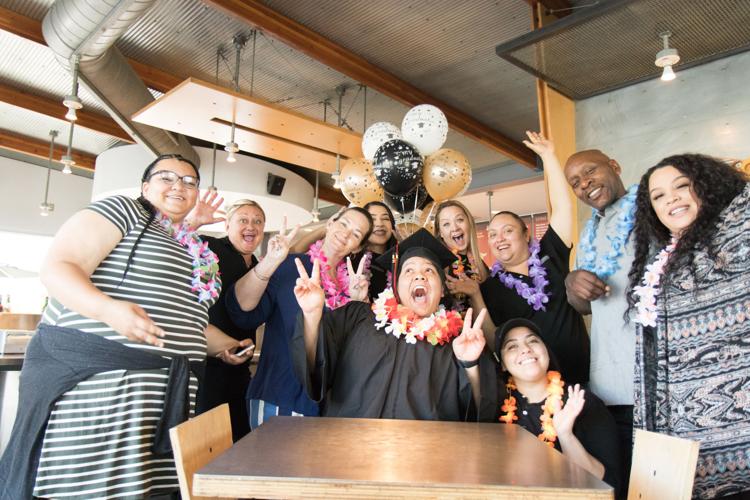 Family and co-workers gathered Wednesday to celebrate the graduation of Chandra Worley, 26, from an online program through Colorado State University. Through tuition money from restaurant Chipotle, Worley was able to work as a store manager and complete her bachelor's degree debt-free in under two years.
Worley has worked at Chipotle for more than three years and at 12 different locations. She is the first in her family to graduate from college, and the first person in California to graduate under Chipotle's tuition program.
"It was definitely a long journey, and I've been waiting for this day for so long," Worley said.
During her time going to school, she said one of the biggest challenges was learning to balance the fast-paced classes with her work, but that she was helped by her co-workers.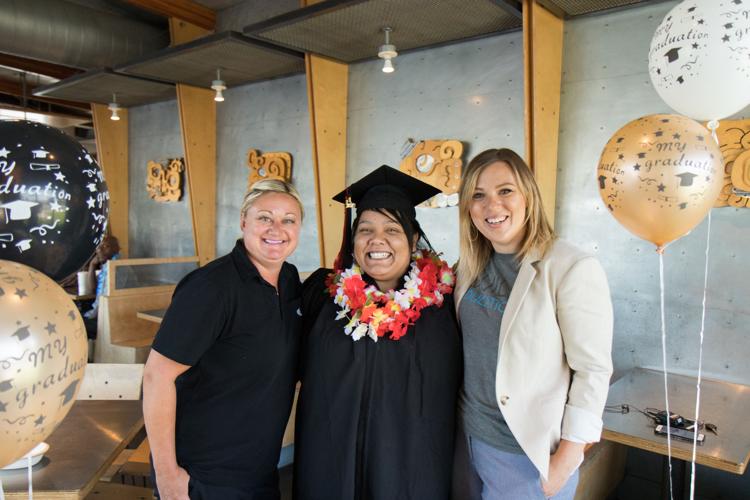 "Everyone's been super supportive in helping me," said Worley, who was able to adjust hours for finals and projects.
Now that she has her bachelor's degree in educational leadership, Worley said she soon hopes to start working toward a master's degree in math education in the hopes of becoming a math professor. And to help pay for her master's, she is starting a second job.
Chipotle began partnering in 2016 with Guild Education to offer $5,250 toward tuition per year to employees, said Zach Rowe, director of strategic partnerships at Guild. Worley was also helped by advisers at Guild who offered their support and helped her find a program.
Worley said that out of $11,000 in tuition costs, she only paid about $2,000.
"It does take a lot of time and effort on her part trying to do school and work at the same time, it's a big deal, so we worked around her schedule so she was able to do that," said Vikki Castillo, one of Worley's co-workers.
---
TRAIN ROBBERS HAVE SOME DANCE SKILLS
The Bakersfield Train Robbers aren't just baseball players — they're dancers.
Some of the players partook in a dance-off against children at the Boys & Girls Club, and the club declared the athletes the winners. 
"Bakersfield Train Robbers Win Dance Off at the Boys & Girls Club," the club wrote on Facebook. 
In a video posted to Facebook, you'll see one player doing the shopping cart move, while another does the sprinkler move.
But the crowd of kids went wild when one of the players did the floss and another did the worm. 
You may not know what all of these dance moves are, but if you're interested in learning them, go to Bakersfield.com, where you'll find the video of the players showing off their moves.
---
QUOTE OF THE DAY
"We have to be able to build trust ... to be able to show what happened and what didn't happen."
— Capt. Joe Mullins, on the Bakersfield Police Department's new body-camera pilot program.