MY FRIDAY
Budweiser Pavilion: Smash Mouth is performing at 8 p.m. 
Chinese Acrobats of Heibi, 4, 5 and 6 p.m.
Piano Madness, 7 and 9 p.m.
Something Ridiculous (jugglers), 4 p.m.
Magic of Frank Thurston, 4:30 p.m.
Pierce Family Bluegrass, 5 p.m.
Beverly Bells, 6:30, 7:30 and 8:30 p.m.
The Alley Cats A Cappella, 7 and 8 p.m.
Marcus Leary and 50 Buck Band, 9:30 p.m.
Powerhouse Percussive Dance, 4 and 5:30 p.m.
B-Town Bang Dance Team, 4:30 p.m.
Stella Hills Glee Club, 6 p.m.
Something Ridiculous (jugglers), 6:30 p.m.
Bakersfield Drillettes and Co., 7 p.m.
Reloaded Drill Team and Drum Squad, 7:30 p.m.
Morgan S. Roy (singer), 4 p.m.
Something Ridiculous (jugglers), 5 p.m.
Magic of Frank Thurston, 5:30 p.m.
Centre Stage Dance, 6 p.m.
Powerhouse Percussive Dance, 6:30 p.m.
An Evening of Belly Dance, 7 p.m.
Mariachi San Marcos, 5 to 7 p.m.
Banda La Marinera, 8 to 10 p.m.
Dancers Turnout Academy of Dance, 5 p.m.
Hypnotist Tina Marie, 7 and 9:30 p.m.
Last Call, 8 p.m.
---
SUCH A SMALL WORLD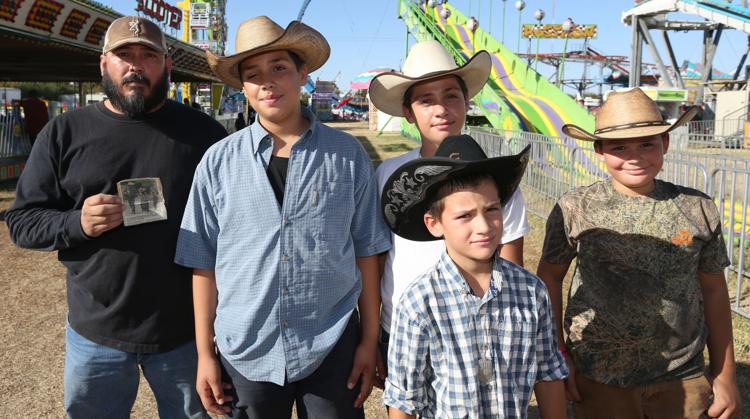 Californian photographer Felix Adamo was sent on assignment to photograph the Kern County Fair Wednesday afternoon when he was stopped by a fairgoer. 
Juan Flores called out to Adamo, asking him for his name. Adamo gave Flores his name, and after, Flores pulled out a 6-year-old Bakersfield Californian clipping (protected with Scotch tape!) from his pocket. It was photo of Flores' family at the fair. 
Flores asked Adamo if he took the photo of Flores and his three sons all wearing cowboy hats at the Kern County Fair from 2011. It was indeed Adamo who took the photo!
Flores then thanked Adamo for the photo and told him that an enlarged version hangs in their home. 
Of course, Adamo, being a genius photographer, snapped a current shot of the family, which now has a fourth son. 
Just like before, the sons are all in cowboy hats. We wouldn't want it any other way. 
---
MEET KOBUK, THE FEMALE ALL-ALASKAN RACING PIG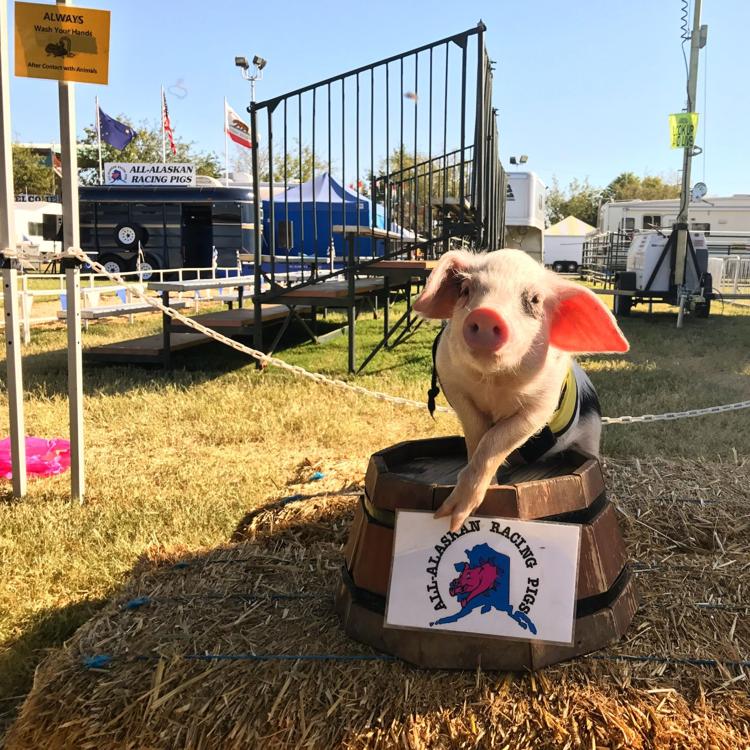 The All-Alaskan Racing Pigs at the Kern County Fair are absolutely adorable. And they live such an interesting life. We wanted to give you a little idea of what the life of a racing pig is like, so we talked to Kobuk the piglet and her trainers. 
Q: What type of piglet are you?
A: Gloucestershire Old Spots Pig
Q: If you're from Oregon, where does the "Alaskan Racing Pig" title come from?
A: According to our website, the Fairbanks Daily News-Miner had a front page story featuring my ancestors on opening day of the Tanana Valley State Fair in Fairbanks, Alaska, in August of 1987.
Since then, us racing pigs have been featured in the Wall Street Journal, Los Angeles Times, San Francisco Chronicle, The Oregonian, Seattle Times and Post Intelligencer and now, The Bakersfield Californian. 
But Fairbanks will always be "home."
Q: What brought you to the Kern County Fair?
A: I am a track star (an Alaskan Racing pig) and performer. I have been competing for three weeks now. I compete in the flat track race and the high hurdles. I can run up to 15 miles per hour. 
Q: What's the hardest part about your job?
A: The starting gates are hard.
Q:  What are your hobbies when you're not performing?
A: My trainers describe me as a late night party animal. 
Q: What is your favorite snack?
A: Chocolate chip cookies
Q: Describe your best qualities.
A: I am an independent woman who is described as a diva. I'm pretty much always sassy, and I am the star of the show, at least that's what one of my trainers, Antone Urie, said. I do what I want.
Urie says it best: "If you can't handle me at my worst, you don't deserve me at my best."  
Q: Do you like your trainers?
A: Let's just say, I have them trained.
If you would like to see Kobuk and her friends Strawberry, Sloppy Joe, Bob, Ricky Hobby and more race, head to the KC Loop at the Kern County Fair. They will be performing on Friday at 5, 7 and 8:30 p.m. and this weekend at 1, 3:30, 5 and 8 p.m.
---
TBC TIME CAPSULE | Sept. 29, 1950
Record Crowds See Livestock, Flower Judging: Today 49,770 persons have answered the call of "Come to the Fair" with attendance breaking records, and point to the 100,000 gate expected by the time the lights go off Sunday night.
Flowers, music, judging, melodramas and the gaiety of the fairway kept throngs busy today with entertainment, while the community booths, educational exhibits, minerals, copper work, commercial exhibits, Hall of Health drew their share of visitors.
The horse show will build up the fair attendance again tonight. There were 14,528 who passed through the gates Thursday and as many or more are expected today.
Highlight of today was the judging of the floriculture exhibit in the office building of the fair, where dozens of entries made spectacular story of beautiful fall gardens.
---
FYI
Opening and closing times: 3 p.m. to 11 p.m.
Admission: Adults are $12, children ages 6-12 are $5, children 5 and younger are free, seniors are $9 and active and retired military with ID are free.