MY WEDNESDAY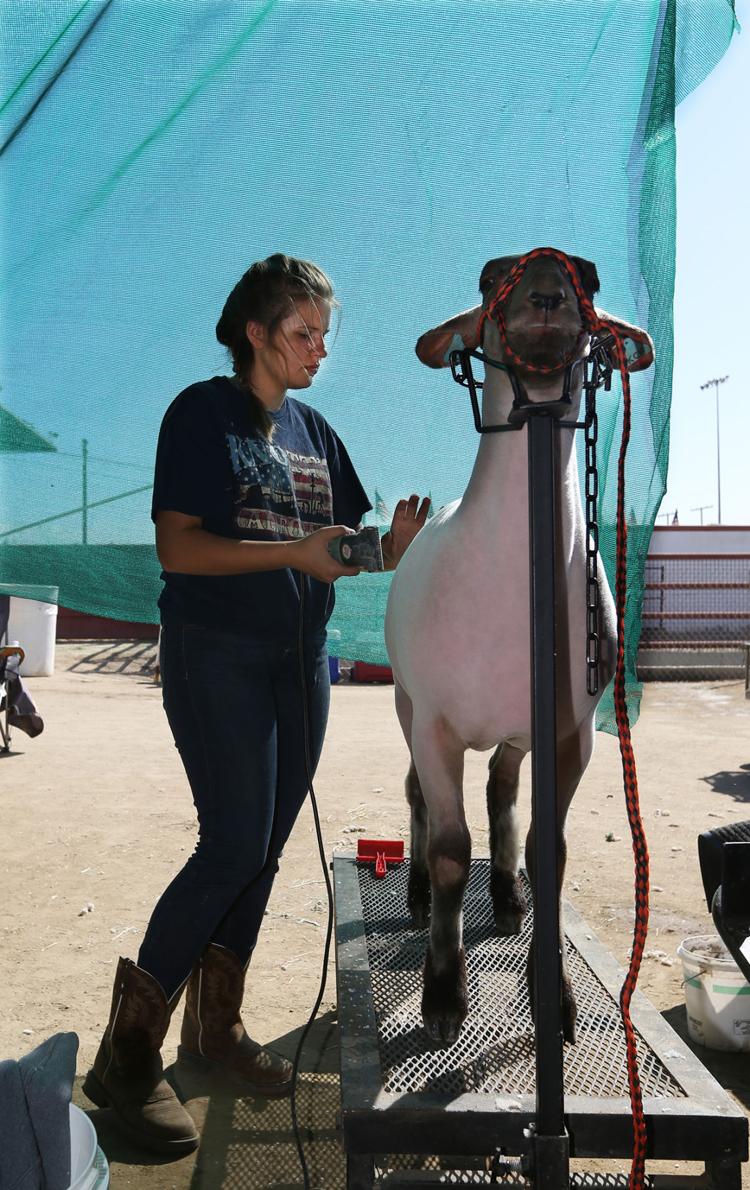 Budweiser Pavilion: En Vogue performs at 8 p.m. 
Chinese Acrobats of Heibi, 4, 5 and 6 p.m.
Piano Madness, 7 and 9 p.m.
Something Ridiculous (jugglers), 4 p.m.
Magic of Frank Thurston, 4:30 p.m.
Shafter Big Band, 6 p.m.
Beverly Belles, 7:30, 8:30 and 9:30 p.m.
The Alley Cats A Cappella, 8, 9 and 10 p.m.
Powerhouse Percussive Dance, 4 and 6:30 p.m.
Mighty McKinley Mustang Drill Team, 5 p.m.
Love Dancing Bakersfield, 6 p.m.
Melodic (pop and rap), 7 p.m.
Powerhouse Percussive Dance, 5 p.m.
Magic of Frank Thurston, 5:30 p.m.
Something Ridiculous (jugglers), 6 p.m.
Rodeo Band, 7 p.m.
Recreacion Musical, 5-7 p.m.
Mike Y Su Furia Costena, 8-10 p.m.
Lost Hills Wonderful Dance Troupe, 5:30 p.m.
Hypnotist Tina Marie, 7 and 9:30 p.m.
John Hollins Band, 8 p.m.
---
KMC'S DA VINCI XI ROBOT EXCITES KIDS AT KERN COUNTY FAIR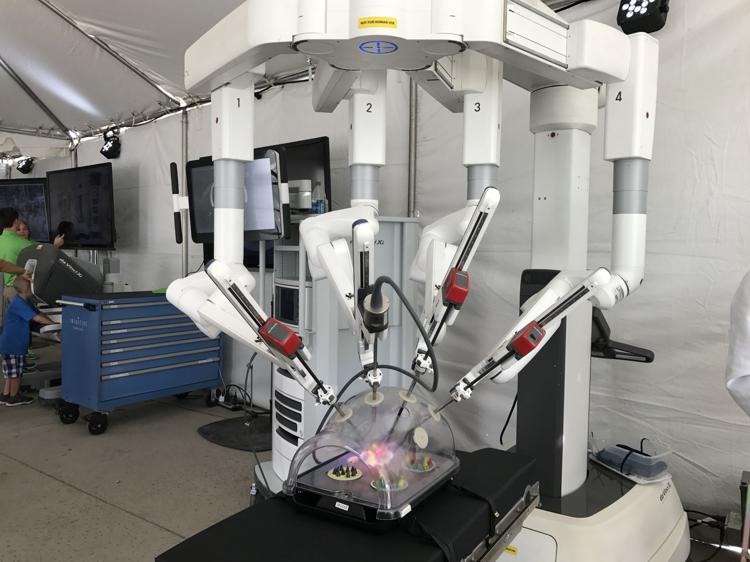 Kern Medical Center celebrated Marvelous Monday at the Kern County Fair with a virtual hospital in a tent at the fairgrounds.
This year marks the hospital's 150th anniversary, so in the tent, the KMC staff displayed photos throughout the hospital's history. The photos show when the hospital first opened in 1867 in Havilah to provide medical aid to miners. 
There were also displays of old medical tools such as large dissecting scissors, used to expose tissues and organs, an old wood handle hammer, which helped with bone manipulation, surgical staplers and old cancer medicine. It's safe to say medicine has come a long way since those tools. 
Speaking of medical advancements, one of the coolest new tools KMC had on display was the Da Vinci XI Robot, a tool worth $2.5 million. Kids couldn't wait to step up to try it out.
The robot, used to perform surgery, has four arms that are controlled by a video-game like controller. And those controllers are operated by the surgeon who is looking through lenses that give a clear picture of what is being operated on.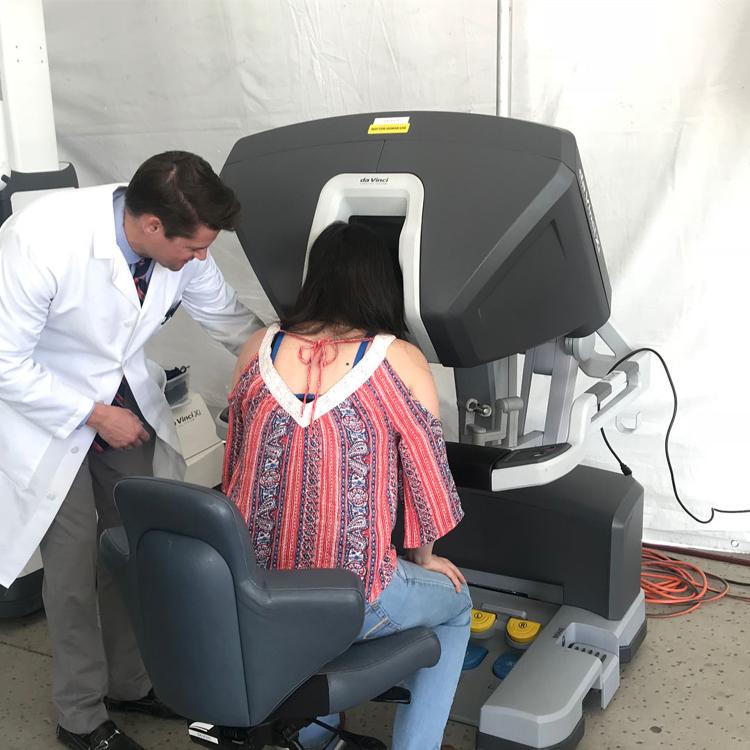 Dr. Jeffrey Nalesnik, a urologist and the director of robotics at KMC, said the robot can be used for procedures like the removing of a kidney for kidney cancer, repairing the ureter, a tube that carries urine from the kidney to the bladder, restoring the bladder with pieces of the intestine, and helping with prostate cancer-related surgeries.
The machine is especially neat because it allows patients to undergo a minimally invasive surgery, and results in less pain, less blood loss, faster recovery time and fewer and smaller scars.
Nalesnik has become accustomed to using the robot. He said since 2008, he was performed a few hundred surgeries with the machine. He also said that KMC has taken cases that were rejected by UCLA and USC and used the robot for these cases. 
But Nalesnik wasn't the only fan of the Da Vinci XI. Children were having a blast peeking in the lenses and controlling the arms of the machine.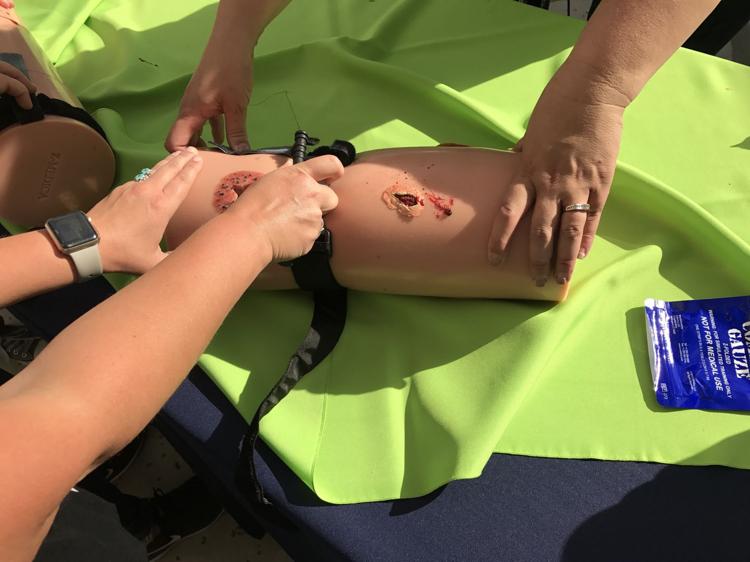 The virtual hospital also had a giant game of operation, a simulated patient that could blink, bleed and twitch, and a table where fair-goers could learn how to make a tourniquet on a bloody leg. 
Outside the tent, KMC staff offered tips on bicycle safety, home safety for babies, carseat/road safety, healthy eating tips and more.  
Thank you, KMC, for providing a fun, educational experience. 
---
GOATS AND GOLD COMPETITION IS A FAIRY TALE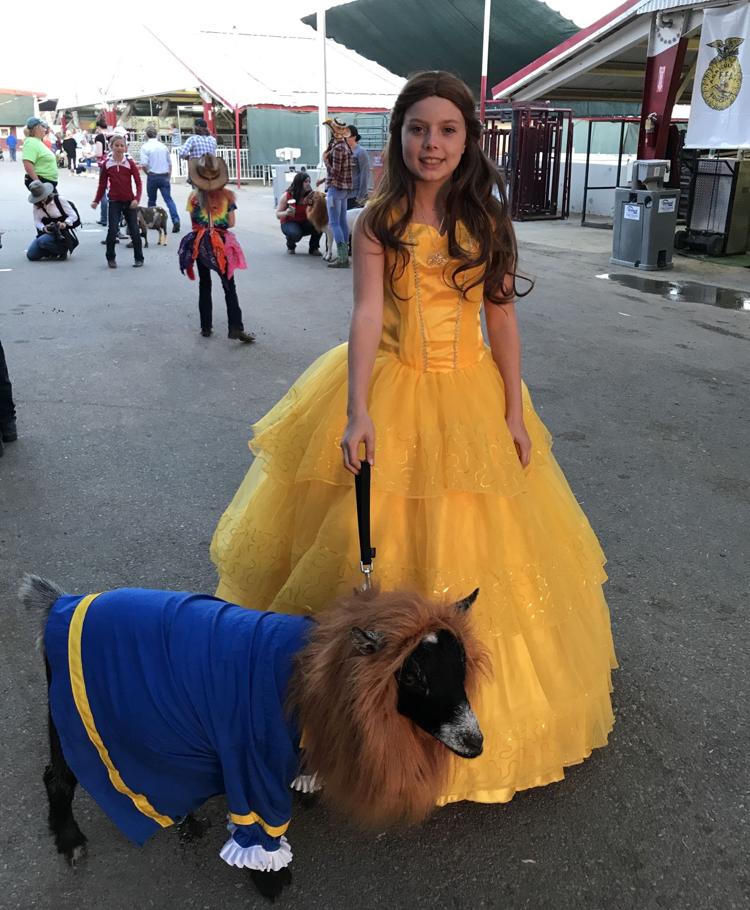 Kyndle Vice and her goat, Marlyn, were ready to make their debut Friday night in the Goats and Gold competition at the Kern County Fair, and they were adorable!
Kyndle, dressed up as Belle from the Disney film "Beauty and the Beast," in a beautiful gold gown, and Marlyn dressed as the Beast with a blue and gold coat and a lion's mane on his head. An hour before the competition began, the two prepared for their performance.
The annual competition features children dressed up in costumes with their goats, and the costume must have gold in it. The teams are judged on their performance. (There is another similar competition called "Pigs and Plaid.)
Kyndle said she and Marlyn decided to compete because, "It looked fun."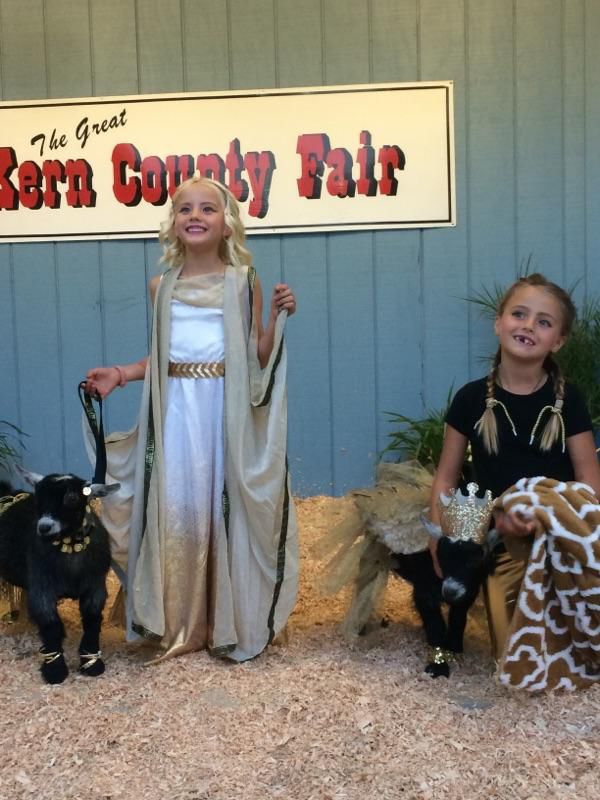 Some of the other participants' costumes consisted of Elvis Presley and Maleficent, the villain in "Sleeping Beauty."
Twins Teagan and Talula Hathaway also competed. Teagan was dressed as an Arabian Princess and her goat, Theodore, was dressed as a belly dancer. Talula was dressed as a child who lost her first tooth (Her mom blacked out her tooth with a marker.), and her goat, Timothy, was the tooth fairy.  
Although these goats are cute, they aren't always easy.
Talula's goat, Timothy, got stubborn and decided to sit down as she entered the show ring and wouldn't budge. An Assistant had to cary him while Talula modeled. 
"Sometimes goats have a mind of their own, in showmanship or any event," said the twins' grandmother, Lynn Finch. 
Despite their stubbornness, goats are adorable, especially when dressed in costumes. 
---
ENJOY WILD WEDNESDAY
Celebrate Wild Wednesday today with a $6 voucher available at one of the Les Schwab Tire locations in Bakersfield. The vouchers, available at the following locations, are good for today only:
3012 Buck Owens Blvd.
901 Ming Ave.
5411 Calloway Drive
2512 Oswell St.
6725 Panama Lane
---
FYI
Opening and closing times: 3 p.m. to 10 p.m. 
Admission: Adults are $12, Ages 6-12 are $5, children 5 and younger are free, Seniors are $9 and active and retired military with ID are free. 
Parking: $10