Joseph Lopeteguy, the whistleblowing police chief who discovered that his bosses at the Kern High School District were for decades misusing a sensitive police database to spy on students, job applicants and others, filed a civil suit Friday in what could be the first of several related complaints.
Lopeteguy's suit — filed by law firms Carpenter, Zuckerman & Rowley; Swanson O'Dell; and Young & Nichols — alleges KHSD administrators pressured Lopeteguy to run illegal background checks on students through the California Law Enforcement Telecommunications System (CLETS), and when he refused, retaliated by placing him on administrative leave and had other officers surveil him.
"We have a corrupt school district. Absolutely corrupt," Nicholas Rowley, Lopeteguy's trial lawyer, said. "There is a conspiracy to violate the law, a conspiracy to lie to the attorney general. A conspiracy to lie when they're getting audited. It's unheard of — you would think. But the depth that this goes when you start digging involves the whole system. It's not just one individual."
KHSD officials declined to comment for this story because, according to spokeswoman Lisa Krch, they had not yet received a copy of the lawsuit.
The legal complaint alleges a culture of illegal practices, cover-up and retaliation within the state's largest high school district. Administrators routinely culled through a criminal information database to run rap sheets and background checks on thousands of people that even sworn officers need good reason to access. They deployed so-called "Rambo squads" to ensure student athletes lived within high school boundaries. And they falsified Department of Justice audits about the CLETS use, according to the suit.
Damages could be more than $100 million, Rowley said.
The announcement of the civil suit marks the first legal action related to CLETS misuse taken against the district since the issue became public last year. The district responded back then by launching an internal investigation with no fixed price ceiling and hired Chicago-based Hillard Heintze to evaluate best practices for the police department.
The misuse has been investigated by multiple agencies, including the Tulare County District Attorney's Office, the Kern County District Attorney's Office and the Kern County Sheriff's Office, which recommended criminal charges against Director of Pupil Personnel Otis Jennings and former KHSD Police Chief Mike Collier, who acknowledged the fraud in a sheriff's report and whose call sign was used to run hundreds of CLETS checks.
The state Department of Justice has also been involved. So far, no criminal charges have been filed and the Kern County District Attorney declined to prosecute, citing a lapsed statute of limitations and lack of evidence.
Rowley warned that more civil suits could be forthcoming.
"If they don't respond the right way, more lawsuits will come because people are going to come out of the woodwork and talk about what happened to them. There will be more. Lawsuits will keep coming. The DA may have limited resources to prosecute this," Rowley said. "We don't."
Misuse stretches 'as far back as records' go
Despite district officials continually saying they had no knowledge of widepsread misuse of the police database, evidence of administrative misuse of CLETS dates back decades, according to Seth O'Dell, Lopeteguy's lawyer.
His firm holds handwritten logs dating back as far as the late 1990s that note which department was asking for illegal checks to be performed, potentially implicating Superintendent Bryon Schaefer, who from 2011 to 2014 was the assistant superintendent over personnel, the same department where scores of requests for CLETS checks originated.
Administrators routinely used the database to run individuals' arrest records and background checks on job candidates, O'Dell said. Those confidential records reveal all convictions and arrests, regardless of whether the individual was ultimately absolved.
"They had those searches run by civilian employees of the police department, and then they used call signs of actual police officers to cheat the audit that they had to give to the Department of Justice so the DOJ wouldn't know," O'Dell said.
Schaefer has denied knowledge of the practice.
The district checked at least 3,000 rap sheets and roughly 250 license plates annually, per the records in O'Dell's possession.
"That's 3,000 people whose constitutional rights were violated," Rowley said.
California Department of Justice officials wouldn't comment on this story and would not "confirm or deny any potential or ongoing investigation."
The district has also been violating the state education code for years, the suit alleges. Education Code 38000(b) was amended in 2012 to require that school districts maintaining police departments do so under the direction of a police chief as a way to insulate them from the influence of school administrators.
The district disputed that reading of the law when The Californian inquired about it this year. The district said Superintendent Schaefer was indeed playing by the rules in overseeing the department, as he has done since August.
"The defendants continue to ignore California law in this regard as they have done for years," the complaint states.
Scapegoating the district
Lopeteguy spent his career in law enforcement with the Kern County Sheriff's Office before leaving about 10 years ago to join the KHSD police force.
But when Lopeteguy blew the whistle on the district, he wasn't applauded; instead, district officials attempted to set him up as a scapegoat, O'Dell said.
When Lopeteguy reported the misuse after he had been promoted to chief in August 2015, KHSD Director of Pupil Personnel Otis Jennings — who oversaw KHSD's campus police department — told him it was routine and "something we've done in the past through the chief for the purposes of the district," according to a Kern County sheriff's report obtained by The Californian.
"Mr. Jennings threateningly told (Lopeteguy) to let him know if 'he had a problem with that,'" the complaint states.
By May 2016, district officials placed Lopeteguy on administrative leave.
"They wanted him to be part of the conspiracy to violate the law, and they wanted to use his good name to do it," Rowley said.
When the alleged CLETS misuse became public three months later, Lopeteguy was reinstated.
That's when a member of the superintendent's cabinet, Mike Zulfa, filed a sheriff's report against Lopeteguy, alleging in August 2016 he was the one behind the illegal background checks. The Tulare District Attorney's Office, which investigated the case, declined to press charges and cleared Lopeteguy of any wrongdoing months later.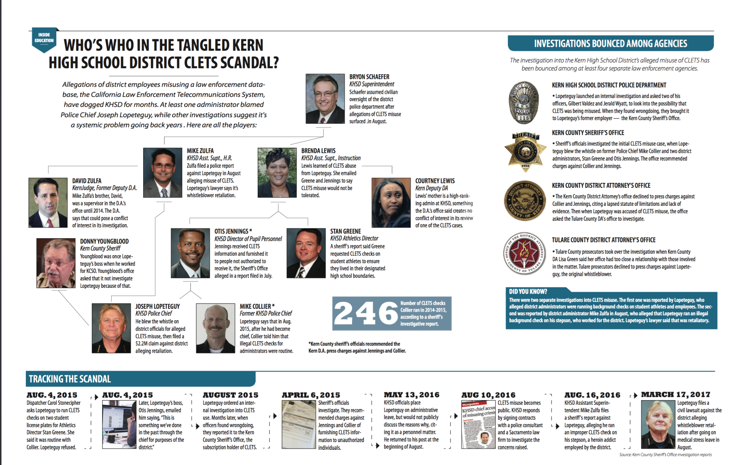 After returning to work, Lopeteguy was harassed and intimidated until the workplace became so unbearable that he went on medical stress leave, the suit alleges.
Lopeteguy's blood pressure spiked as a result of the stress he endured, leading to an aneurysm that nearly burst, O'Dell said. Lopeteguy was rushed into emergency open-heart surgery, the attorney said.
Stacking sports teams
At the heart of the CLETS scandal and Loepteguy's lawsuit is the district's sports department and its years-old practice of aggressively ensuring student athletes were living within their proper high school boundaries.
Many of the alleged background checks were carried out in order to trace the license plate numbers of student athletes and were authorized by the office of Athletics Director Stan Greene, the suit alleges.
"The School Support Services Division, which determines athletic eligibility of students, deployed so-called 'Rambo Squads.' Rambos would go to the residences of targeted student athletes, scan for license plate numbers and then direct civilian secretarial staff to run the plate numbers through the CLETS system to see if the students actually lived in the jurisdiction of the school where they played," the complaint states.
The practice was intended to ensure individual teams weren't being stacked with talented athletes from outside their proper high school boundaries, O'Dell said.
It isn't the first time administrators have been accused of interfering with campus police duties.
In a July 2016 civil trial, a KHSD officer testified that when Mitchell Carter, a Bakersfield High School football player, was mobbed during a pep rally in 2010, he didn't take witness statements, despite being the sole investigating officer. Instead, school site administrators filled those out.
Rowley represented Carter in that case, donning a chicken suit during closing statements. They won a $10.5 million settlement against the district.
This time, Rowley is seeking 10 times that amount, but he said the district could end the suit on one condition.
"Apologize to the public," Rowley said. "Admit the corruption, admit what they've done wrong, apologize to this man for what they've done to him. Apologize to everyone else publicly. Offer this man his job back and pay him for what was done to him, and everybody else that they hurt. Apologize to this community and admit that what you did was unlawful and promise us that it will never, ever happen again."