When 17-year-old Bakersfield High School student Tyson Reed was taken to the ground by a Kern High School District police officer and tased twice in 2015 after being tardy to class, the district was resolute in defending itself.
But internal communications among administrators after the incident reveal disagreement about how the situation was handled, including whether the force was excessive, according to dozens of emails The Californian obtained through a California Public Records Act filing. It took the district six months to fulfill the request.
"Who the f ok'd the purchase of tasers in the first place," KHSD Director of Pupil Personnel Otis Jennings asked Brian Mendiburu, a fellow administrator, in an email dated March 12, 2015. The quotes in this story have not been altered for grammar or spelling.
Jennings is a civilian police commissioner overseeing all law enforcement matters, and is in charge of student discipline and security. He's currently on paid self-initiated leave from the district and could not be reached for this story.
Meanwhile, a group of teachers made light of the incident in emails. East Bakersfield High School speech and debate coach Eric Osborne joked, "Why taser the black kids when you can just force them into free labor?" Another joked about a "new tardy policy" and "pistol whipping" late kids after the district finalizes a policy passed last year allowing staff members to carry concealed weapons on campuses.
Osborne, Cody Bema and Jerald Pierucci, three of the teachers included in the second email chain, told The Californian the exchanges were satirical and that they don't agree with the way the district handled the Reed incident, either.
The emails, some 40 pages worth, shed light on how the district, which has been criticized and sued for alleged discriminatory practices against minority students, handles incidents like this and how they play out behind the scenes.
Reed has since filed a lawsuit against the district alleging it violated the Americans with Disabilities Act, discriminated against him based on race and falsely arrested him. Neither Reed nor his lawyer could be reached for comment.
The Kern High School District said in a statement that it has hired a former Los Angeles Police Department commander to investigate the Reed incident and can't comment further on police personnel matters. It did answer other questions from the paper.
It also said it was disappointed with the teachers' email exchanges, "especially those comments that appear to be racially-motivated and insensitive."
'QUIT RESISTING, OR I'M GOING TO TASE YOU'
Reed's tasing took place March 6, 2015, after he had returned to class from a visit to the principal's office, where he was being questioned for another incident that he said he wasn't involved in, according to his lawsuit filed in September. It said he was given a late pass, but instead of going straight to class, Reed's anxiety was giving him trouble so he went to the bleachers to calm down, drink water and listen to music for about 40 minutes.
His teacher, Brett Bonetti, wouldn't mark Reed as present, but said in an emailed statement to Dean of Students David Carter that he offered to allow Reed to go to the office when he heard of his anxiety issues.
"There's no problem, just go ahead and go on back to the office and just chill down there," Bonetti said he told Reed.
But Reed wouldn't go. He told school safety officer Bridgette Leung that he had a probation officer, and that if Bonetti didn't mark him as present he would go to juvenile hall, according to an email Leung wrote.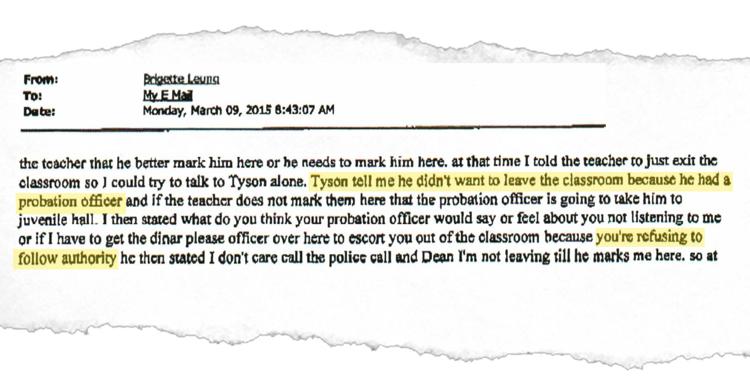 The Californian could not independently confirm Reed's probation status because most juvenile criminal records are not public record.
After Reed refused to leave a few more times, Leung threatened to call the police, according to Bonetti's statement.
"Tyson challenged, 'go ahead, call the cops. I'll go to juvenile hall before I leave. I'm not leaving until he marks me here,'" Bonetti wrote.
When the class was cleared, Bonetti left Reed in the room with Leung, a second safety officer, Roman Fabian, and KHSD Police Officer Luis Pena.
"Once out the door, I could hear all involved trying to get Tyson to comply," Bonetti wrote. "I opened the door, and I saw a group of people on the ground."
Leung said in her statement that Reed appeared to be kicking Pena in the crotch and that he told him at least five times: "quit resisting or I'm going to tase you."
In the end, Reed was tased twice, then led out of the classroom in handcuffs to a patrol car, according to accounts of the day in the lawsuit and the emails obtained by The Californian.
Administrators were clearly concerned about the fallout, according to emails.
Among the first questions administrators began asking about the Reed incident was whether a student might have captured the interaction on video. Assistant Superintendent of Instruction Brenda Lewis emailed Jennings the morning after and asked, "Any outside inquiries?"
"There have not been at this point and hopefully [redacted] has calmed the situation with the kids that were around the car. I will follow up on Monday to see if their have been any inquiries or talk of video," Jennings wrote back. "I believe that teacher [redacted] was effective in diffusing the students, but just in case this hit the media I wanted you to know."
DISAGREEMENT AMONG DEPARTMENTS
In an email to Supervising Administrator Mendiburu dated March 12, 2015, Jennings pointed to the tasing as an example of improper training among teachers, and seemed to question why an officer was deployed for a student behavioral issue. He placed blame on Bonetti, who he said should have known to mark Reed as present in accordance with state educational code.
"Case in fn point ... The recent incident at BHS which resulted in a taser being deployed, began as a classroom issue where perhaps if the teacher recognized that the student should've been marked present, per Ed code, then others would not have been called into his room," Jennings wrote.
A similar situation occurred just days earlier, he added, "without a taser being deployed."
In an email labeled "confidential," Mendiburu sent Jennings an order for training that Assistant Superintendent Lewis established for police, security officers, school leaders and eventually, teachers. Mendiburu said Lewis wanted to bring in "Tia," who could be Jennings' wife, to conduct the training. Tatia Hunter-Jennings is a school counselor in prevention services at the Kern County Superintendent of Schools Office who coordinates the Mental Health First Aid program.
It's unclear from the emails what the training would entail, however Jennings disagreed with the order. Lewis is Jennings' boss.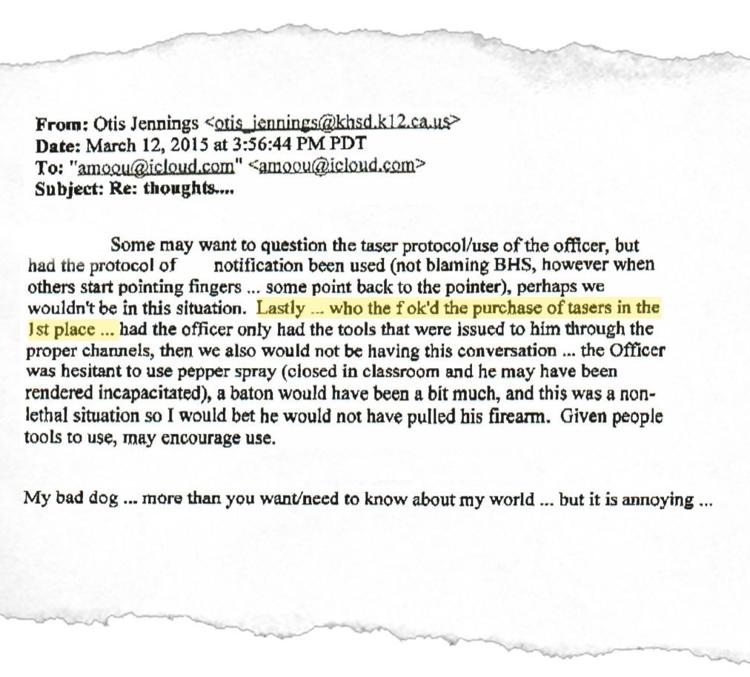 "My department is continuously being bombarded with 'innovative [series of symbols] that does not make sense," Jennings wrote to Mendiburu. Most office referrals originate from the classroom, Jennings wrote, adding that it's a nationwide trend.
"That's where the freakin elephant is ... in the classroom," Jennings wrote.
Jennings talked about the need for teachers to go through TETRIS, or Training Educators Through Recognition and Identification Strategies, a program focusing on confronting student mental health issues in a respectful and culturally responsible manner. He also mentioned the need to implement "EBIs," or evidence-based interventions.
Had Bonetti been trained in those programs and heard Reed complain of his anxiety issues, "then the teacher would have known that the student mentioning this would have raised a red flag and prompted him to consider some other measures," Jennings wrote to Mendiburu.
KHSD spokeswoman Lisa Krch said that teachers have received, and continue to receive, "considerable" training in TETRIS and EBIs.
"Even if he didn't know what to do, training would have prompted him to contact a counselor or admin to ask about this reve-fn-lation," Jennings wrote.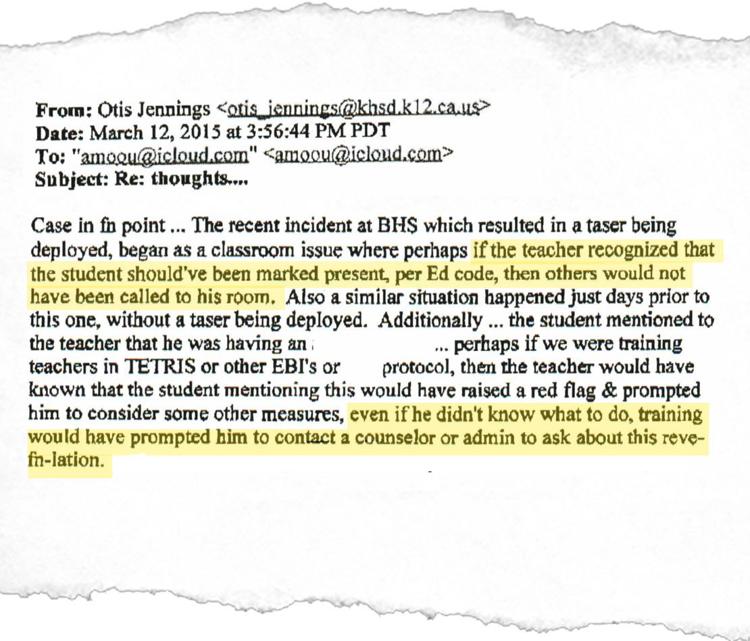 "Some may want to question the taser protocol/user of the officer, but had the protocol of [redacted] notification been used (not blaming BHS, however when others start pointing fingers ... some point back to the pointer), perhaps we wouldn't be in this situation," Jennings wrote, adding that he disagrees with school officers being issued tasers.
"Had the officer only had the tools that were issued to him through the proper channels, then we also would not be having this conversation," Jennings wrote.
Meanwhile, BHS Principal David Reese told KHSD Superintendent Bryon Schaefer and Lewis in an email that Reed was defiant.
"You guys can talk me off the ledge but I am about ready to come to you and say this is wrong. This kid deserves an after school [redacted] for defiance of authority. He should not be up for [redacted]. You want true transparency there it is. This is morally and ethically wrong. I have not said this to anyone else but the two of you," Reese wrote March 11.
"We agree," Schaefer wrote. "I will get involved in this."
It's unclear what the context was because the district redacted some emails including information that, if released, could violate various laws regarding student privacy, police investigations, attorney-client privilege or personnel matters, according to the KHSD lawyers who handled The Californian's records request.
'LOOKS LIKE BHS HAS A NEW TARDY POLICY'
Meanwhile, a group of teachers from throughout the district poked fun at the incident, emails show.
East Bakersfield High School English teacher Cody Bema sent a link to a news story about the incident's resulting lawsuit to seven others in September 2016 with the subject line: "Looks like BHS has a new tardy policy."
From there, teachers piled on.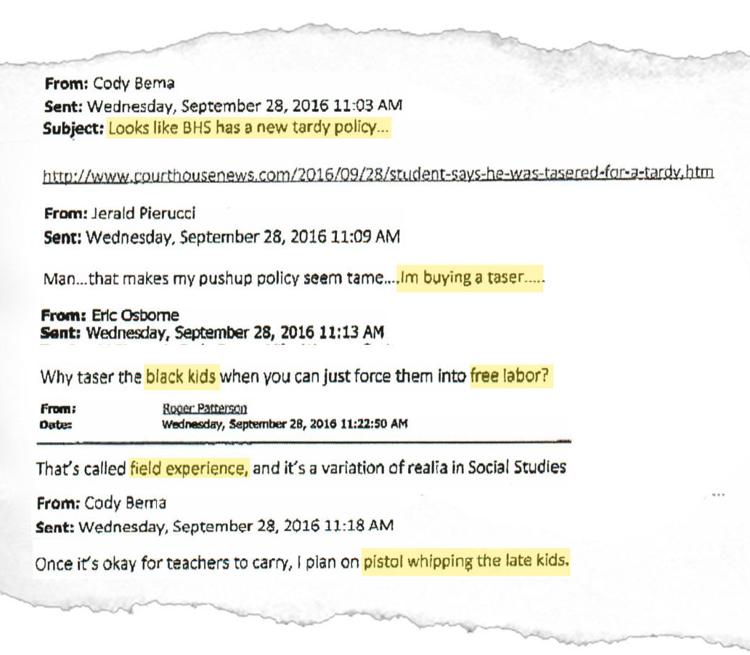 "Why taser the black kids when you can just force them into free labor?" Osborne, the East High speech and debate coach, asked.
"That's called field experience, and it's a variation of realia in Social Studies," Roger Patterson, a Shafter High teacher, responded. He didn't return The Californian's emails seeking comment for this story.
Jerald Pierucci, a Shafter High School football coach, said the tasing "makes my pushup policy seem tame. ... I'm buying a taser."
Bema then made a joke about planning on "pistol whipping the late kids" once the district finalizes a decision made last year allowing teachers to carry concealed firearms on campus.
Those involved say the remarks were sarcastic jokes among friends never intended to be publicized, and that they don't agree with the way the district handled the Reed matter.
"The email was amongst co-workers that worked together at one time, and now we've all branched out to different campuses. Usually this conversation would have been made when we were sitting around having lunch," Pierucci said. "It's all sarcasm."
That sarcasm, Pierucci said, was brought on by the district's extreme response to the situation with Reed.
"As an educator and somebody who deals with kids every day, I have no idea how anybody could ever respond in that manner. It's almost comical ... because I don't know how you could get to that point," Pierucci said of the tasing.
Osborne said his remark about forcing black students into free labor was a satirical commentary on East Bakersfield High's practice of holding Saturday detention work camps, which he said are disproportionately filled with African-American students.
"I don't think we should force African Americans into forced labor ever, of course," Osborne said. "It was a satirical remark based on what I view to be current practices within the Kern High School District."
The Dolores Huerta Foundation alleged in 2015 that minorities at KHSD were suspended and expelled at disproportionately higher rates than those of any other race.
Osborne added that he would never make such a joke to his students because it's "a different audience."
Likewise, Bema said he's been critical of the district's decision to allow firearms on campus, and he was being satirical in his email.
"It was very much said in jest," Bema said. "I've gotten accolades for my relationships with students of all colors. I've tried my entire career to bring those who have been marginalized to the center."
Bema expressed fear about whether the district would retaliate against him for potentially bringing negative light to KHSD.
"I'm tenured, but I do understand how the district works, and one of the things the district reacts to is bad press," Bema said. "I'm just afraid of the unintended consequences."
KHSD discovered the emails while fulfilling The Californian's PRA, and as a result, Pierucci said, a human resources official wrote those involved letters of reprimand.
"The District is extremely disappointed and concerned by the inappropriate comments made by some of its staff members in their emails and the poor judgment exhibited, especially those comments that appear to be racially-motivated and insensitive," Krch said in a statement. "The District does not condone such attitudes or behaviors and has addressed this conduct with the individual staff members."