Carlo Magno was wary of moving his family back to Bakersfield in 2002 after being away from home for so long.
The reason? Valley fever, the insidious respiratory disease that Magno grew up hearing about, but never contracted. He knew how serious it could get, though. His cousin caught it years earlier and was hospitalized for weeks. He didn't want to expose his daughter, Hannah, 5, to the possibility of that illness, which he knew could be caught with one unlucky breath.
Then, during a late September windstorm that swept through Bakersfield, Hannah caught valley fever.
"It was a windy Wednesday and we left the house, and just getting to the car and back it happened," said Magno, adding that he's been vigilant about valley fever, keeping his kids in on windy days and avoiding dusty areas. "It just happened so fast."
But finding a pediatrician who specializes in infectious diseases, like valley fever, isn't easy in Bakersfield, despite the fact that more people breathe in cocci spores in Kern County than anywhere else statewide, health officials say.
So Magno's doctor recommended he and Hannah head to Valley Children's Hospital in Madera. Hannah doesn't mind the trip, which is a bit of an adventure for her, but it's a long haul for a doctor's appointment.
That's why Valley Children's launched a pop-up clinic once a month in Bakersfield where doctors who specialize in the disease can treat kids. It's been so successful that hospital officials are planning to host more pop-ups in Kern County, said Nael Mhaissen, an infectious disease specialist who works in the clinic.
"These counties where there's the majority of these cases, there's no pediatric infectious disease specialists. They're considered underserved from the healthcare standpoint," Mhaissen said. "They need access to healthcare specialized in this condition right away, and waiting on a transfer or referral or something like that might take a while."
A Valley Children's spokesperson said the clinic opened in response to local pediatricians' requests and that they are hoping to open a year-round Bakersfield-based clinic dedicated to valley fever in the future. 
"That's the goal," said Zara Arboleda, a spokeswoman for Valley Children's Hospital.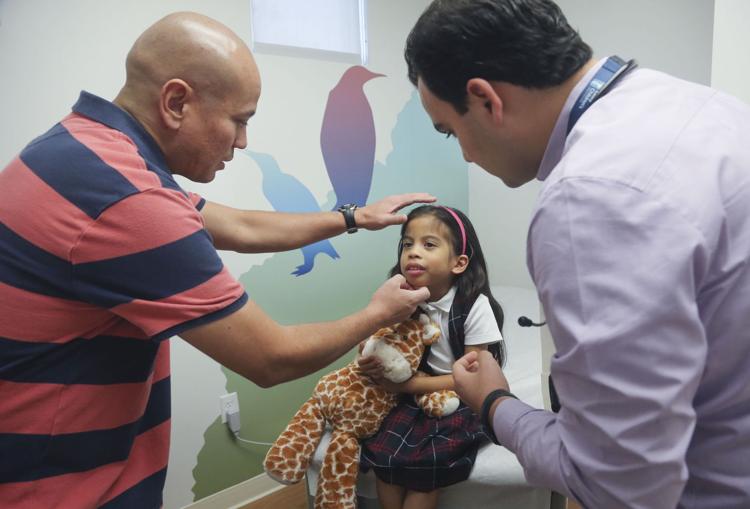 Seeing a doctor quickly is important because the longer valley fever goes untreated, the greater possibility complications will develop, experts say. It's especially dangerous for children and the elderly, and commonly is misdiagnosed.
That was the case for Hannah, despite the Kern County Public Health Services Department sending out a bulletin to health providers in September warning them be vigilant after it observed an uptick in cases. The county is now experiencing epidemic thresholds.
Hannah's doctor tested for valley fever, however the lab results came back negative because the antibodies people develop to fight the disease hadn't formed yet. That's not uncommon, Mhaissen said, but it shouldn't be an excuse for misdiagnosis, either.
"The test isn't perfect. When you have pneumonia and a lung infection in this part of the state, especially when you see someone with a prolonged fever … it's almost always in the context of valley fever," Mhaissen said. "It's diagnosed based on clinical suspicion and CT scan findings, and we support that with laboratory results."
Better awareness of the disease among doctors, especially those new to Kern County, is key to battling the debilitating respiratory disease, Mhaissen said. Because Kern has a revolving door of new doctors cycling through, which could contribute to that problem, Mhaissen said.
"Doctors come and go and aren't familiar, then they come in here, see it often and then by the time they're experts, it's time for them to pick up and go somewhere else," Mhaissen said.
Valley Children's Hospital arranges a couple of seminars annually in Bakersfield, including one last week, that educate doctors on how to spot valley fever. If the clinic pops up in Bakersfield on a more routine basis, as officials are planning, doctors could be leading seminars more often, Mhaissen said.
And when it comes to misdiagnosis, Magno's aware that you're your own best advocate. Before Hannah was diagnosed with valley fever, hospital workers were hesitant to admit her to the emergency room. They wanted to continue treating her on an outpatient basis, he said.
"This little girl had been poked so many times, I couldn't subject her to more of it," Magno said at the pop-up clinic as Hannah played with a stuffed giraffe.
He insisted she be admitted, and "as soon as we got her in there, she was diagnosed."