After three weeks of trial, the prosecution has rested its case against accused murderer Sabrina Limon, who took the stand in her own defense as she tries to convince jurors she was not involved in her husband's death.
At this point, dozens of witnesses have been called, tens of hours of wiretapped evidence played and numerous photographs published in court as the prosecution presented its case that Limon conspired with her lover to kill her husband.
Following are some observations leading up to next week, during which the case is expected to be handed to the jury.
---
Some witnesses remain stone-faced, while others run through a gamut of expressions while on the stand. Limon is one of the latter.
During her testimony, she smiles, pouts, frowns, cocks her head and goes through a range of emotions during frequent pauses as she responds to attorneys' questions. While remaining soft-spoken — quiet enough that Judge John R. Brownlee has reminded her to speak clearly into the microphone — her facial expressions change often.
Kern County sheriff's Detective Robert Meyer, the lead investigator in Limon's case, was also expressive while on the stand. As with many experienced witnesses, he turned often and spoke directly to the jury during testimony as he described evidence or interviews with the defendant. He appeared at ease throughout. 
Sometimes he joked. For instance, a camera on a vehicle he drove recorded the route to the Burlington Northern Santa Fe Railway office in Tehachapi where 38-year-old Robert Limon was fatally shot. 
The video gave the impression Meyer was speeding along the roadway, but he assured the jury that, while it may not look like it, he was driving the limit, eliciting a few laughs. 
---
It became apparent in multiple recorded interviews with Sabrina Limon and investigators that Meyer also attempted to come off as someone she could trust. He was patient, spending hours alone with her during an interview after her arrest before other, less amiable, investigators began making appearances and demanding she answer truthfully.
Defense attorney Richard Terry called it a "good cop, bad cop" routine, but Meyer denied that was the effect they were going for.
Still, especially near the beginning of the interview, he tried putting her at ease as they discussed how she first met Jonathan Hearn, the former Redlands firefighter who has admitted to killing her husband, at a Costco in Victorville. 
Sabrina Limon told him her job was handing out free samples.
"I always feel guilty when I grab those samples," Meyer said. 
Later, he told her, "I go to Costco once a month and I'm like 'Ohhhh,'" he said as he threw his hands wide in a gasp, apparently in reference to the overwhelming variety of items available at the store. 
As these portions of the recording played in court, Meyer smiled to himself on the witness stand.
He smiled again during the following exchange where Sabrina Limon joked she wasn't going to try to escape from where she was being questioned at sheriff's headquarters:
"I promise I'm not going to run (Meyer)," she said.
"I bet I could outrun you," Meyer responded.
"I bet you could, too," she said. 
---
Media covering the trial received a stern warning Thursday after jurors complained for a second time of TV cameramen filming in their presence just outside the courthouse.
Some jurors felt they were almost captured on camera as they left the front entrance of the courthouse, Brownlee told the media. A third complaint would result in shutting down video coverage of the trial, he said. 
Also, the bailiff told media the next time a phone goes off in the courtroom he's either going to seize it or order that person to leave. Multiple phones went off Thursday on the side of the courtroom reserved for media. 
---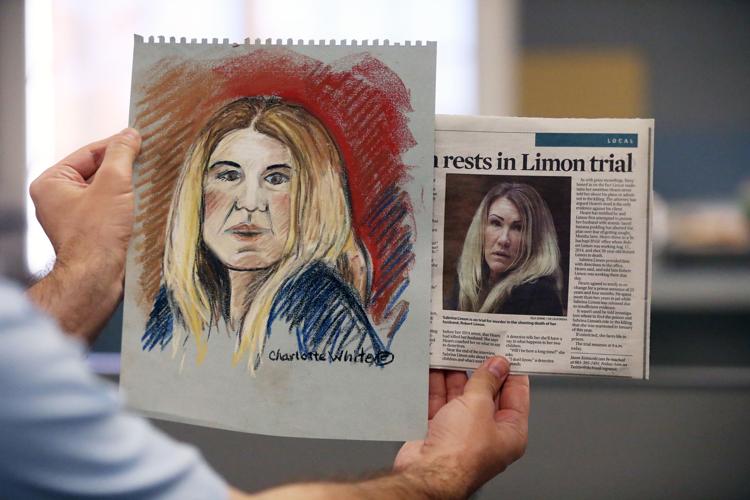 The Californian has published multiple photos and livestreamed video taken inside the courtroom since the trial began Sept. 11. 
But on Thursday, the paper received its first sketch, courtesy of local artist Charlotte White. She dropped off a pastel sketch of Limon at The Californian's Eye Street offices. 
We're publishing it as it's a new take on the subject of Kern's most closely watched trial of the year.