After a woman was found dead in a Costco parking lot on June 16 and police discussed the possibility of a dog attack-related fatality, readers expressed concerns about the prevalence of dog bite-related attacks and packs of dogs roaming around Bakersfield. 
Despite public fear of dog attacks and criticism of bully breeds, the data doesn't lie: dog bite-related fatalities are not that common. Packs of dogs are not roaming the streets of Bakersfield — if anything, one or two stray dogs spotted running around are reported to Bakersfield Animal Control, but not packs of dogs. 
The cause of death of the woman who was reportedly attacked by dogs is still unknown. It's not certain that her death was even caused by a dog attack — it could have been many other things, Bakersfield Police said. 
Despite that, one of the three dogs apparently involved in the attack has already been euthanized. The other two are expected to be put down as well, though it is still unknown whether they had any involvement in the woman's death. 
"Once they deem an animal is property of the shelter, the shelter can do whatever they deem fit," said Sundee Martineau, co-founder of Bakersfield Boxers & Bullies Rescue.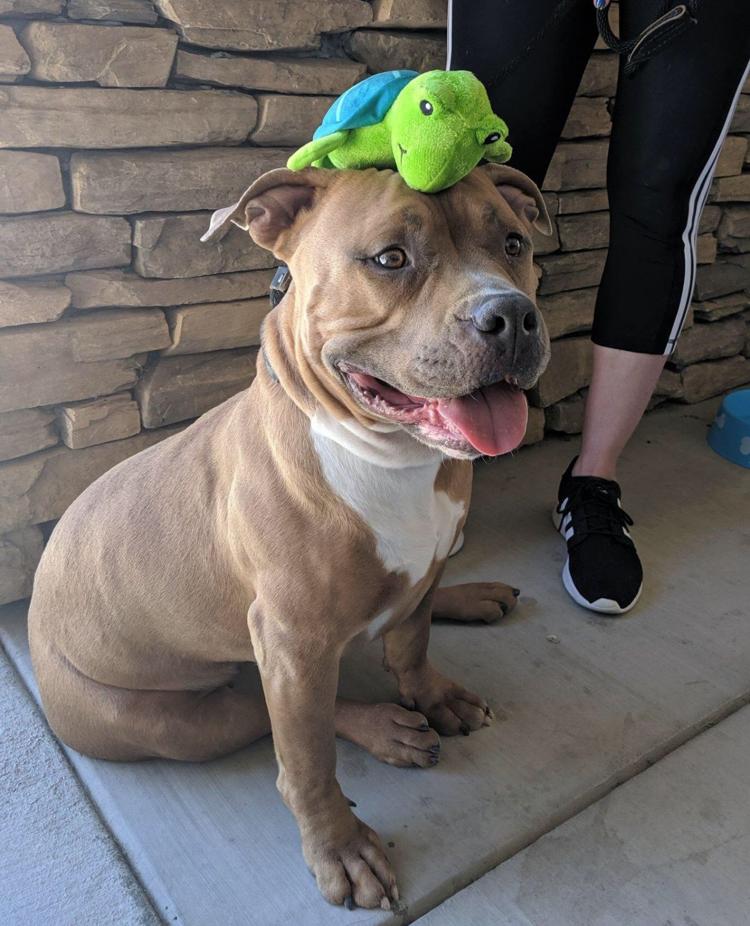 According to the National Canine Research Council, dog bite-related deaths are "exceedingly rare" —  in 2017, there were only 40 verified deaths caused by dog bites in the U.S. Janis Bradley, Director of Communications & Publications at the Council, said that deaths caused by actual dog bites are "extremely, extremely rare." 
Comparably, 970 people died in unintentional pedestrian accidents in 2017, and 19,510 people were murdered. People were 488 times more likely to be murdered than to be bit to death by a dog, according to the council. 
"You can't really make a visual to show how rare that is," Bradley said. "It's roughly comparable, though a bit lower, than the amount of people being struck by lightening."
But that's the reason dog bite-related deaths are talked about so much when it does happen — people don't necessarily associate death with dogs, so when it happens, it draws attention, Bradley said.
"Nobody's ever known anybody who's died from being bitten by dogs," Bradley said. "Everybody knows somebody who's died of cancer or died from a car wreck."
According to BPD, there were three dogs involved in last week's attack. Two pit bulls, and one mixed breed. The fear of pit bulls and attacks by the breed is common. Pit bull bans have even been called for in many states by advocates who claim pit bulls are naturally aggressive and dangerous. But the correlation between breeds and dog attacks is just not based in any data, Bradley said. 
"Whether people like it or not, the pit bull breed is one of America's favorite dogs," Martineau said, adding that people in Kern County especially like pit bulls — and breed them a lot. "I just think those dogs, had they been human aggressive, it would have been an instant issue. They would have ran to the first person right away."
A 2013 study published in the Journal of the American Veterinary Medical Association about dog bite-related deaths in the U.S. from 2000 to 2009 — which was later updated to include data up until 2015 — showed that there is no correlation between dog breed and dog attacks.
Dogs Bite, an organization that is dedicated to preventing serious dog attacks, claims that breed is one of the factors in fatalities caused by dogs. According to Colleen Lynn, spokesperson for Dogs Bite, the organization's "research and data shows that this remains true more than ever today."
"A number of factors are involved in a fatal dog mauling," Lynn said. "Breed is one of these factors, as is the victim's age, and a host of others," including the gender of the dog and the dog's violent history.
The organization looks at news reports, photographs and police reports about the alleged dog attack. Based on their research, pit bulls make up 66 percent of dog bite-related fatalities from 2005 to 2018. 
"If there was going to be evidence (on breed correlation) anywhere, it would be in dog bite fatality," Bradley said.  
But there isn't, because "visual breed identification is notoriously unreliable," Bradley said. These are typically made from law enforcement, bystanders or animal control, and "people just aren't good" at making those identifications.
Martineau said the dogs involved probably weren't even pit bulls, but they were labeled as so. 
"The prejudice that's looming over the breed is causing hundreds of dogs to die every month," Martineau said.
According to that 2013 study, there were seven controllable factors present in all dog bite-related fatalities. These included: 
no able-bodied person being present to intervene with a dog bite
the victim having no familiar relationship with the dog 
the dog owner failing to neuter or spay the dog
a victim's compromised ability, whether based on age or physical condition, to manage their interactions with the dog
the owner keeping the dog as a resident dog, rather than as a family pet; this includes keeping a pet on a chain outside or keeping a dog locked in a basement
the owner's prior mismanagement of the dog
the owner's abuse or neglect of the dog
All of these circumstances observed in the 2013 study show preventative factors, Bradley said, adding that there are millions of dogs in the country who live under these types of conditions every day and don't kill anybody.
"As an owner, we have a responsibility to protect our dogs from causing damage to others," Martineau said. "It's a responsibility, just like our kids can't run around and set things on fire, we have to teach our dogs right from wrong in a loving and responsible way."
"When you see a cloud in the sky, do you hide in the house all day because you think you're going to be struck by lightening? No, you really don't," Bradley said. "There are 80 plus million of them, and they like us. Otherwise there wouldn't be 80 plus million of them. We wouldn't keep them around."