Three weeks ago, Daniel Morales was largely untouched by the stranglehold U.S. Immigration and Customs Enforcement has had throughout California as they've pumped more agents into the state and stepped up enforcement.
That's when his father — an undocumented 44-year-old man from Delano — went south for work, was picked up by ICE, detained in a Santa Ana detention facility and then deported back to Mexico, Morales said.
He had no criminal background, Morales said.
"I was devastated because my family was torn apart," Morales said.
For days, he had no idea where his father was or whether he would ever see him again. An unintended victim of a massive scaling-up of immigration enforcement operations throughout California, Morales said he felt helpless.
So he did the only thing he could to fight back Thursday — he marched on the streets in Delano with dozens of other immigrant youth fed up with an increased ICE presence that has spread fear throughout their community.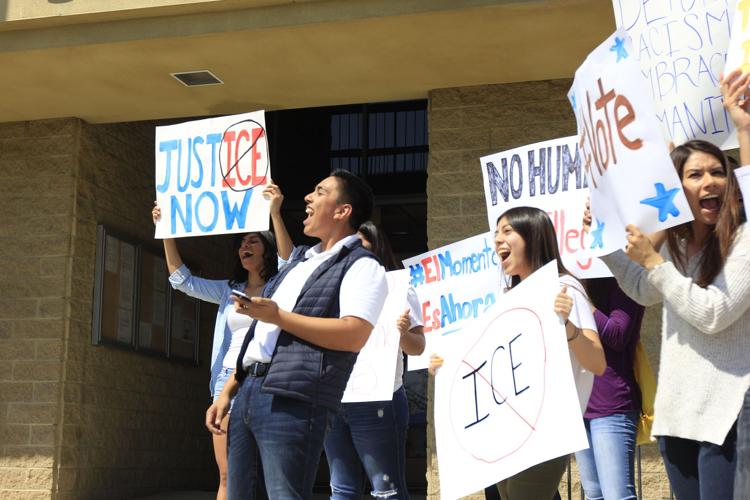 Just two weeks ago, Santos Hilario and Marcelina Garcia were approached by federal agents, then fled in their car for fear of being deported. They crashed and died just a few blocks from their home, leaving behind six children.
ICE Spokesman Richard Rocha described the Garcia's deaths to The Californian as "an isolated and extremely unfortunate incident," and urged all individuals encountered by federal agents to cooperate. He placed the blame on sanctuary-state policies that have made it more difficult for ICE agents to detain undocumented immigrants in jail, forcing officers to conduct more operations in communities.
"Our officers and agents want to conduct our operations as safely as possible for all involved," Rocha said.
During the march, protesters described again and again the fear that they and their families are enduring in Delano, a town of about 50,000 people surrounded by agriculture.
Here's the scene from Delano City Hall, where a group of youth are protesting ICE's increased presence in their town following the death of Santos Hilario And Marcelina Garcia, who died while fleeing agents this month. pic.twitter.com/i565ByrDzZ

— Harold Pierce (@RoldyPierce) March 29, 2018
Fatima Ceja said that she's not scared for herself anymore — she gained her citizenship about three years ago along with her father and siblings. Now, she worries about older members of her family who are still undocumented. She can't blame them for not getting their citizenship — it took her father 12 years and more than $14,000 to straighten out their paperwork, she said. During that entire process, her family was fearful that they would be deported.
That fear has re-emerged, she said. Just the other day, her grandmother wanted to go to Walmart, but heard that there were ICE agents in the neighborhood. She sent Ceja out first to see if it was safe.
"It's getting closer to home every single day," Ceja's sister, Estefany, said.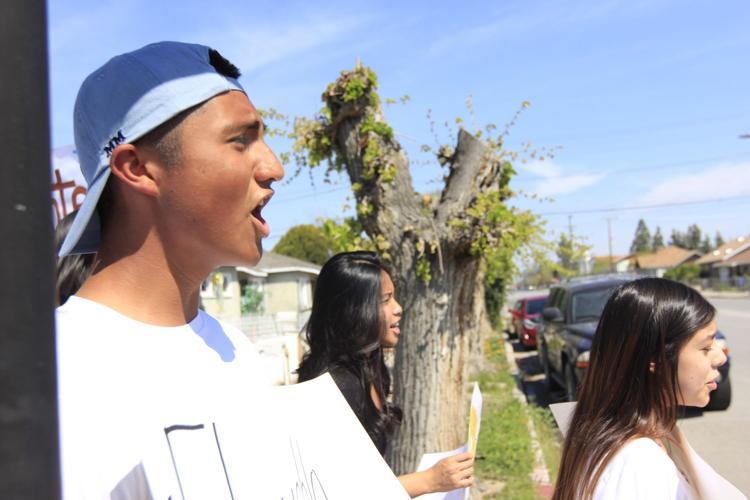 Hector Jimenez, a 17-year-old high school student, said it's the same story for those in his neighborhood. He knows undocumented farmworkers who are afraid to go to work. The day the Garcias died, many stayed home, he said.
Local legislators and elected officials can do more, Jimenez said.
Protesters Thursday called on city councilmembers to stand with immigrant youth, and demanded they pass a sanctuary city policy. California already has such a policy statewide.
"They'll take a stance, but they won't take a stand," said Angelica Rodriguez, a UC Berkeley student and Delano native who helped organize the youth protest.
Delano City Council members did not return calls seeking comment Thursday, but a city staffer did say that Delano Mayor Grace Vallejo was planning on attending the Garcia's funeral procession Monday.