In recent years, communities in Connecticut, Florida and, yes, California have borne the awful toll of mass shootings. Few, if any, have touched Bakersfield.
That changed on the first day of October when scores of Kern County residents found themselves in the sights of a gunman who fired more than 1,000 rounds of ammunition from the 32nd floor of a resort hotel down onto concertgoers at a music festival in Las Vegas.
As police closed in, the gunman, Stephen Paddock, 64, turned a gun on himself. He was found dead inside the hotel room.
Also dead were 58 others, including three Kern County residents: Bailey Schweitzer, 20, Jack Beaton, 54, and Kelsey Meadows, 28, as well as Victor Link, 55, who grew up in Shafter. 
Estimates suggest roughly 200 Kern County families were impacted by the shooting at the Route 91 Harvest music festival, and at least 60 local people had signed up as of mid-October for state victim compensation funding for injuries, burial costs and mental health counseling.
The incident marked the deadliest mass shooting in U.S. history. 
In addition to that grim milestone, Kern County in 2017 experienced a tabloid-ready trial featuring murder, sex and a twisted interpretation of Christianity; a ban on commercial cannabis approved by county supervisors after Proposition 64 legalized adult recreational possession and use of marijuana throughout the state; and a Center for Health Journalism Collaborative project that uncovered the fact that, despite an increase in valley fever infections throughout California, not a single state dollar is allocated toward awareness efforts focused on the fungal disease.
These, in the judgment of The Californian's reporters and editors, are some of the top stories of the year: 
LAS VEGAS MASSACRE

It may never be fully explained why Paddock opened fire on the crowd of festivalgoers on Oct. 1. What's clear is his actions will haunt survivors and victims' relatives for years to come.
Schweitzer, at 20, was the youngest person to die in the shooting, according to the Clark County coroner's office. Her mother, Crissy Schweitzer, accompanied her to the music festival. The two became separated during the chaos after the gunfire began. 
Friends of the family said the world is worse for the loss of the funny young woman, who would befriend anyone and brighten everyone's day.
Beaton was with his wife and four close family friends at the festival. He pulled wife Laurie Beaton to the ground and gripped her in a bear hug as bullets hit the ground around them. 
When the shooting stopped for a moment, Beaton felt her husband slumped over her. He'd been hit in the chest and was later pronounced dead.
Link, a loan processor who lived in Aliso Viejo, was in attendance with his fiancee and some longtime friends when he was shot and killed at the concert, his family said. He was described by a nephew as a welcoming person who would give you the shirt off his back and could be relied upon for guidance.
Meadows was a Fresno State graduate who had returned to her hometown in 2012 to work as a sub for the Taft Union High School District. Some 500 people turned up for a candlelight vigil held in her honor at the high school. 
COUNCILMAN DIES BY SUICIDE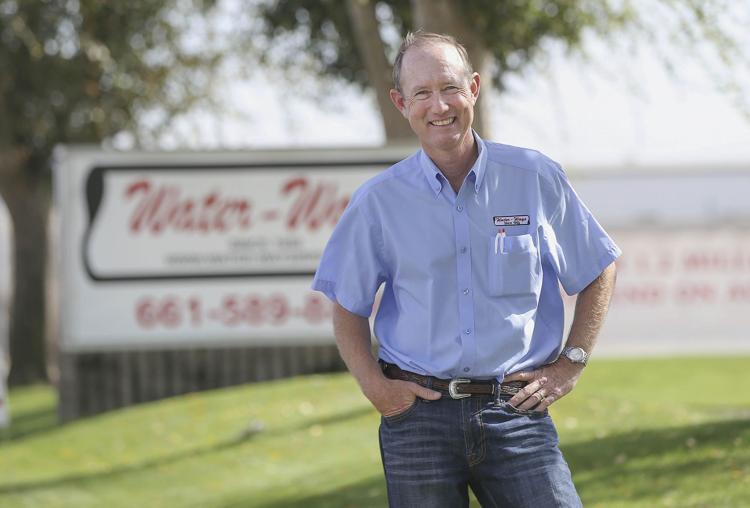 Newly elected Bakersfield City Councilman Jeff Tkac, 53, took his own life on Jan. 5 in his southwest Bakersfield home.
Tkac, an irrigation company owner and longtime Bakersfield planning commissioner, had just been sworn in after having been elected to the council in November 2016.
Monsignor Craig Harrison of St. Francis Church said, at Tkac's funeral, that the councilman had been having trouble sleeping and had been taking a prescription sleep aid that had triggered depression and other behavior uncharacteristic of the smiling, happy man the public knew.
Police reports state that, according to his wife, Heather, Tkac had been under extreme stress due to financial trouble at his business, Water-Ways Irrigation, the additional, unexpected work from the City Council position and marital difficulties.
His death set up a contentious special election to replace him on the council, a contest that was eventually won by former Castle & Cooke executive Bruce Freeman.
INVESTIGATIVE REPORT SHOWS KHSD VIOLATED LAW
Undertaking a monthslong investigation, The Californian began answering a critical question looming around the Kern High School District this year: Whose names did high school district officials run through a sensitive police information database, and why?
The scandal surrounding the district's misuse of the California Law Enforcement Telecommunications System, or CLETS, has been ongoing since 2015, but it wasn't until May — when The Californian published its first report on the subject — that the full scope of things came into view.
District officials ran thousands of names through CLETS, including police officers, job candidates and students. Some explanations, according to log listings conveyed to The Californian by a confidential source, included pre-employment background screenings — something the California Department of Justice told The Californian has been illegal since 1985.
Among those whose names were reviewed: retired Bakersfield Police Chief Greg Williamson; Bakersfield City School District board member Russ Shuppert; and Tyson Davis, a Kern County Sheriff's Office commander. It's a violation of DOJ policy to use CLETS to obtain information on a peace officer.
When presented with The Californian's findings, Kern County sheriff's officials confirmed that KHSD was out of compliance with policies governing the database's use.
Despite that, there's little local law enforcement can do to quell misuse, The Californian found, and the Attorney General's CLETS Advisory Committee, which is tasked with disciplining agencies for misuse, has been historically lax.
KHSD officials responded to the story by launching an internal investigation into whether the information obtained by The Californian was obtained illegally.
COUNTY MARIJUANA BAN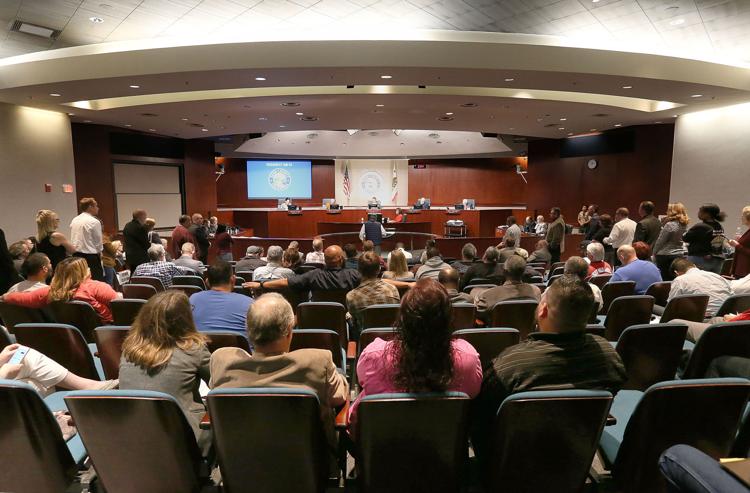 The Kern County Board of Supervisors and the city of Bakersfield voted in late 2017 to ban the cultivation, processing, and sales of both commercial and medical cannabis in advance of the January legalization of the adult-use marijuana industry.
The county developed a full environmental impact report on cannabis and offered supervisors either a ban or a controlled regulatory scheme that could bring — with a voter-approved cannabis tax — $30 million or more into county coffers.
But four of the five supervisors rejected the idea, saying they didn't want marijuana businesses threatening communities and children.
City officials didn't do a report but simply recommended the ban as a continuation of a policy which forbade medical marijuana businesses within city limits.
Supervisors later agreed to explore the idea of a mobile delivery business model that would serve medical marijuana patients.
The personal cultivation possession and use of small amounts of marijuana is currently legal under state law and cannot be banned by cities or counties.
CITIES PASS CANNABIS ORDINANCES
Several cities passed ordinances addressing commercial cannabis this fall.
The Bakersfield City Council approved an ordinance during its Oct. 11 meeting banning all commercial cannabis activity in Bakersfield. Most cities have approved similar ordinances.
The City of Arvin is one of the few that is allowing some commercial cannabis activity. During its Nov. 21 meeting, the Arvin City Council approved an ordinance allowing for the indoor cultivation of both medical and recreational marijuana, up to 1.3 million square feet. Dispensaries are still banned in the city.
The Mojave Desert community of California City allows the indoor commercial cultivation of medical marijuana.
All cities across the state that want local control over cannabis must have an ordinance in place before the end of the year because starting in January the state will begin issuing permits to manufacturers, dispensaries and other businesses following the passage of Proposition 64 in November 2016.
POLICE ARREST 49 IN GANG BUST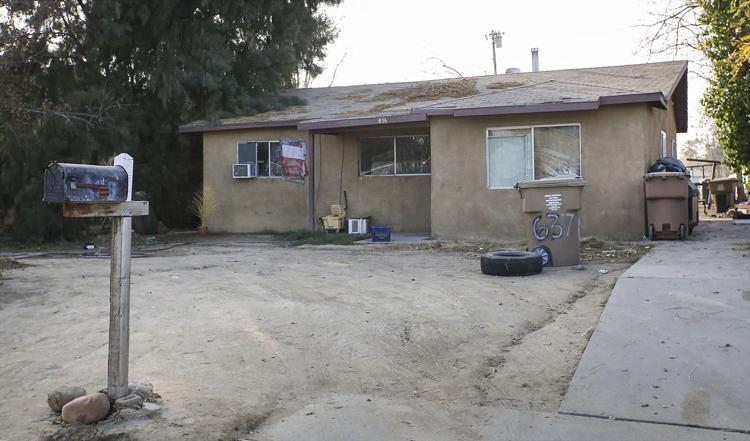 Police officials working with federal agents orchestrated a massive gang bust targeting more than 40 West Side Crips, including some of those believed to be responsible for the deaths of two children this year.
FBI investigators began coordinating with the Bakersfield Police Department in February, after 5-year-old Kason Guyton was struck by gunfire and killed. In November, 3-year-old Major Sutton was killed after someone broke into his family's apartment and opened fire. Both children are the presumed victims of gang violence.
Investigators tapped phones, surveilled houses and tailed gangsters and their associates to build a case against 49 people, whose warrants were served Dec. 12 by hundreds of law enforcement officials in a daring, citywide, pre-dawn raid.
They called it "Operation Blind Mice," presumably a nod to three gang members with rodent nicknames who police suspect played a role in Guyton's death.
Bakersfield Police Chief Lyle Martin said that the massive sweep was meant to send a message: "If you want to get out of the gang life, there are avenues for you, but if you continue down that violent path, we will investigate, arrest and prosecute you."
During the course of their investigation, police thwarted what could have been one of the worst mass shootings in the county's history.
Officers overheard on wiretapped calls several West Side Crips orchestrating a shooting at Martin Luther King Jr. Park, where almost 200 members of the rival East Side Crips had congregated.
Moments before the suspects could execute their plans, officers attempted a traffic stop, which led to a pursuit. Two alleged gang members were arrested and a third escaped. He was subsequently arrested during the Dec. 12 raid.
VALLEY FEVER BILL VETOED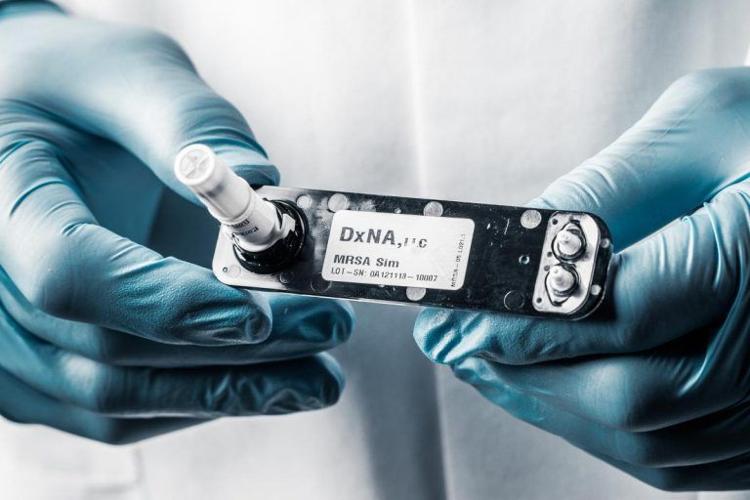 It's been a banner year for valley fever, but not for the right reasons.
Even as the number of valley fever cases have sharply increased in California, where a near-epidemic rages, Gov. Jerry Brown vetoed legislation in October that would have created a program to inform the public about the little-known respiratory disease.
That bipartisan bill, authored by Assemblyman Rudy Salas, D-Bakersfield, and championed by legislators throughout the Central Valley, began as a robust and comprehensive piece of legislation that would have brought millions of dollars to awareness efforts and straightened out flawed disease reporting guidelines first uncovered by The Californian and the Center for Health Journalism Collaborative.
Instead, nearly every meaningful element of the bill was stripped away during the legislative process.
Meanwhile, local public health departments are doing what they can to raise valley fever awareness with no funding whatsoever from the state, something first uncovered by The Center for Health Journalism Collaborative this year.
The Kern County Public Health Services Department this year launched a robust billboard, television and print awareness campaign starring Kern County Sheriff Donny Youngblood, for which The Californian donated advertising space.
For valley fever, historically underfunded and largely forgotten, it's a first-of-its-kind campaign featuring a local celebrity champion for the disease.
State public health officials expect that when valley fever cases are tallied, 2017 will be one of the worst years for the disease since tracking began.
CITY OF ARVIN REVEALS FINANCIAL CRISIS
News broke in October that the City of Arvin is facing a budget deficit of up to $2 million because accountants overstated certain revenues and double-counted others.
The city said it has unknowingly had a deficit since the 2015-16 fiscal year but didn't know about it until an audit of that year was released earlier this year. To help resolve the deficit, the city is looking into making cuts, using donations and other methods.
During its Dec. 13 meeting, the Arvin City Council also approved a resolution allowing council members to reject their monthly stipends in light of the city's position. The city is also looking into increasing revenues, such as through a sales tax increase.
CITY OF BAKERSFIELD FACING BUDGET DEFICIT
Due to increasing health care and retirement costs, declining sales tax revenues due to online shopping and other factors, the City of Bakersfield will experience a budget deficit that could reach $16 million by 2023 if action isn't taken to reduce costs and increase revenues.
The city is looking into the possibility of a sales tax increase. At the Dec. 13 City Council meeting, the council narrowly approved a $54,000 contract with Fairbank, Maslin, Maullin, Metz and Associates to conduct a survey to see if voters would support a sales tax measure, likely for the November 2018 ballot.
The city has also discussed a hiring freeze or position eliminations as well as closing a fire station and/or a community center. There has been no update from the city on whether they are pursuing any of those options.
POLICE MISTAKE WOMAN FOR MUCH LARGER MAN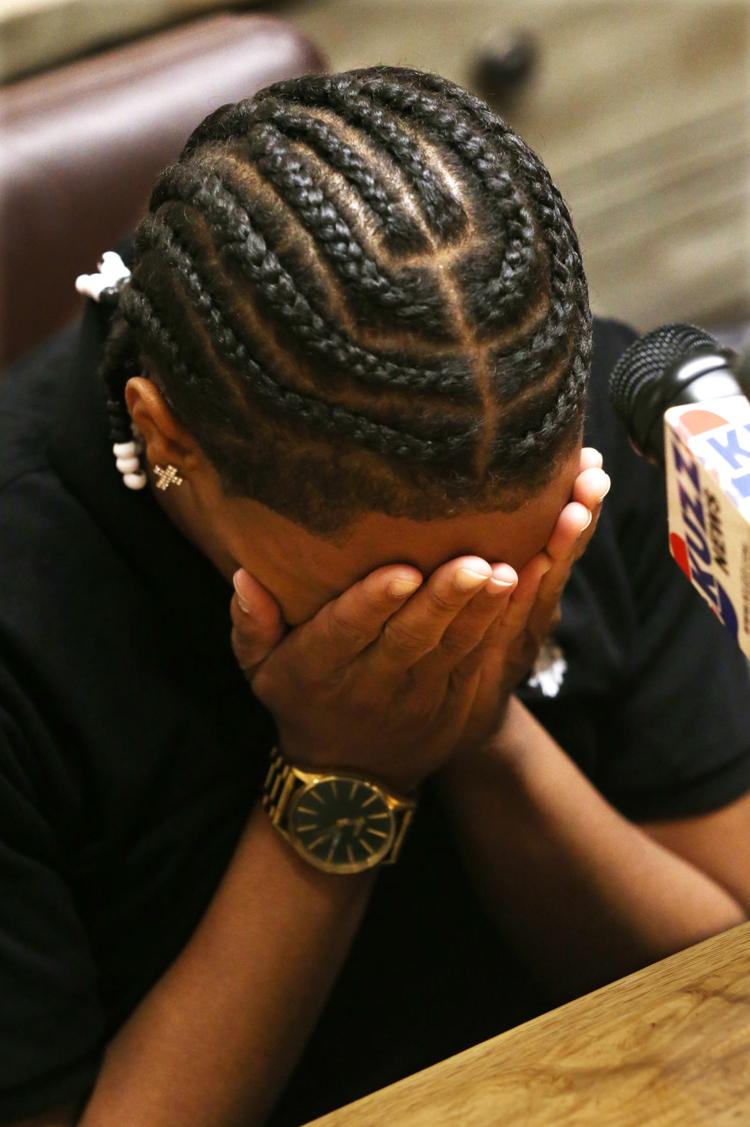 Bakersfield police were looking for a machete-wielding suspect described as a "black male, white shirt, carrying a pink backpack" when they came upon Tatyana Hargrove, according to a report by Officer Christopher Moore. 
Moore wrote he stopped Hargrove, believing she was a man, and he and his partner tried to detain her. When his partner grabbed her hands, he lost his footing and fell to the ground, according to Moore's report, and Hargrove landed on top of him.
Moore's partner then punched Hargrove, got on top of her and placed his knee on her back and then her head, according to a civil claim filed on behalf of Hargrove by attorneys at Chain Cohn Stiles alleging excessive force on the part of police. 
Moore then gave his K-9, Hamer, a command to engage Hargrove. The dog "bit her leg severely as she screamed for help," the claim states.
It wasn't until the officers handcuffed her and placed her in the back of a patrol car that they asked her name and realized she was a woman.
District Attorney Lisa Green dismissed all charges against Hargrove on Aug. 2, saying she did not believe prosecutors could convince a jury beyond a reasonable doubt that Hargrove committed a crime. She said both Hargrove and police handled the incident "poorly."
LIMON CONVICTED OF MURDER IN HUSBAND'S DEATH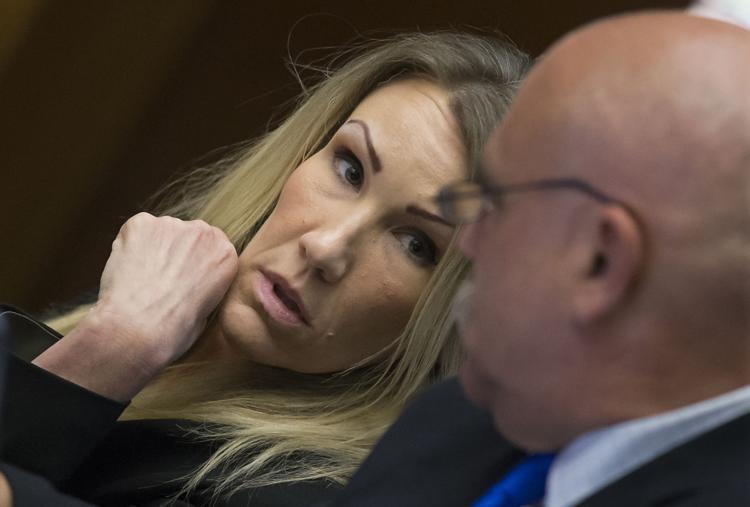 Following a trial rich in sordid details that involved a fatal shooting at a Tehachapi railway station, swinging couples and allegations of poisoned pudding, Sabrina Limon was convicted in October of first-degree murder in her husband's death.
The case drew nationwide attention, the proceedings livestreamed and later featured on an episode of NBC's "Dateline." And there was no shortage of drama, particularly when Limon's former lover, ex-firefighter Jonathan Hearn, took the stand and testified to his role in the killing and how he and Limon had long planned her husband's death.
The two had been carrying on an affair for years. While the Limons had an open marriage and engaged in sex acts with other couples, Limon tried keeping her relationship with Hearn from her husband. 
A jury found true allegations that Limon, 38, told Hearn how to get to her husband's Tehachapi workplace and told him what hours he would be working on Aug. 17, 2014, the day of his death. It also found true that she used a disposable "burner" phone to communicate with Hearn in an effort to avoid detection by law enforcement.
During three days of testimony, Sabrina Limon admitted to the affair but said she knew nothing of Hearn's plans to kill her husband. She explained her failure to tell investigators about Hearn, even after they repeatedly asked if she or her husband had lovers, as an effort to preserve her and her husband's reputations.
Hearn admitted he gunned down Limon's husband, Robert Limon. He also said he and Sabrina Limon had previously tried to poison her husband by lacing banana pudding with arsenic, but abandoned the plan over fears of getting caught. 
Limon faces 25 years to life at her Feb. 16 sentencing. 
COUNTY CLASHES WITH FIREFIGHTER UNION
The Kern County Administrative Office and the Kern County Fire Fighters union engaged in heated debate over how to eliminate a $9.1 million gap between Kern County Fire Department spending and the money it has to fund that spending.
In January, the county proposed eliminating one of three firefighters stationed at nine of the most remote fire stations, which have traditionally had a lower volume of calls.
The union protested and the county agreed to hold off pending the completion of an independent audit of Fire Department operations.
Union officials objected to the audit but supervisors approved a $150,000 contract with the Center for Public Safety Management.
In December, that controversial report came back with recommendations to cut $12.75 million in costs and change policies. The majority of those cuts would come from reworking firefighter pay, benefits and overtime systems including extra pay for holidays, educational achievement and fitness.
COUNTY SUPERVISORS VOTE TO END PACE PROGRAM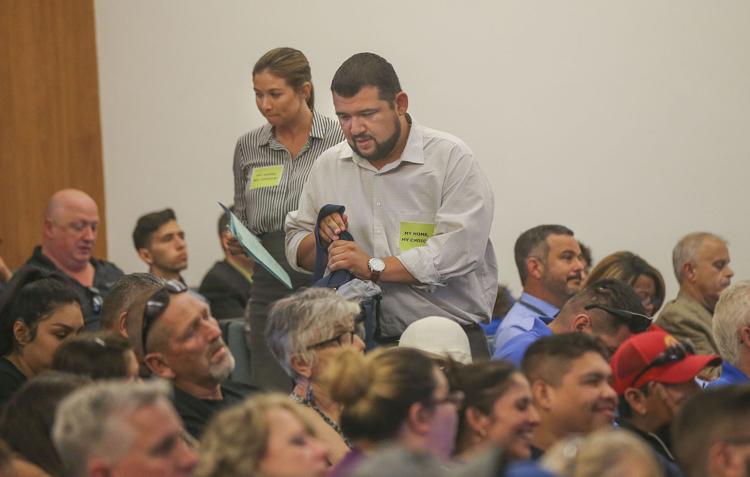 In July the Kern County Board of Supervisors voted to end the Property Assessed Clean Energy program in unincorporated Kern County.
The PACE program, which funds energy-saving improvements to homes through tax liens, drew fire for the way it has been sold to residents and for the way the liens trump mortgage loans on property.
Companies that administer and market the federal loan program fought hard to preserve it. They claimed that supervisors were bought off by the Bakersfield Association of Realtors, who opposed the PACE program because, real estate agents said, it was making it impossible to sell homes.
Some homeowners claimed they were misled by the solar, window and air-conditioning companies that sold them on the PACE program and they ended up paying far more than they planned.
The program, they said, made it hard to sell or refinance their homes.
In the end, the Realtors won.