When one parent felt frustrated with administrators in the Panama-Buena Vista Union School District who she felt were not doing enough to stop alleged instances of bullying involving her son, she took to social media.
Kami Buchanan's post which describes bullying, name calling, inaction from the district and her son's recent hospitalization has captured the attention of the community and has been shared by more than 4,200 people as of Friday.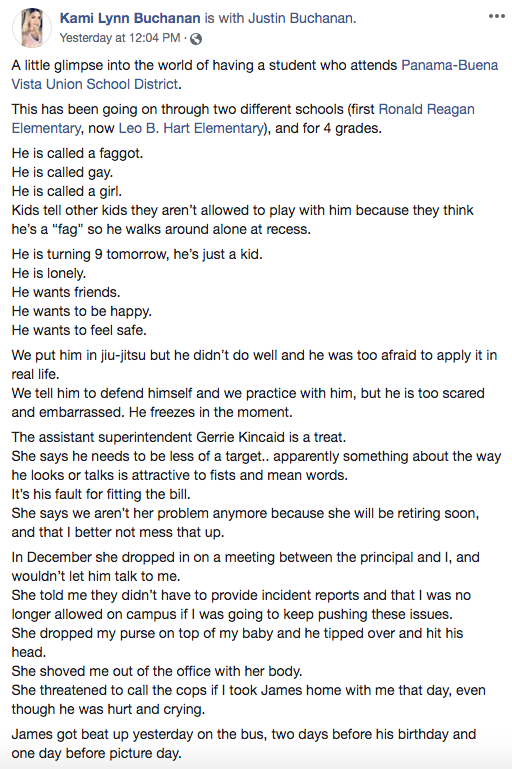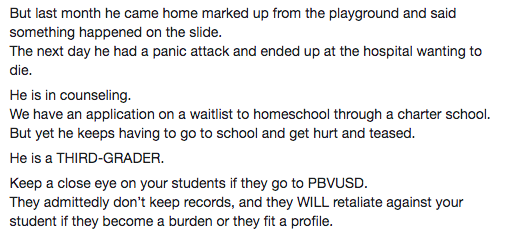 From it all, she is looking for a silver lining. 
"All I want is for everyone to be safe and that the school goes through the necessary steps to inform parents (of bullying)," Buchanan said Thursday.
Since enrolling her son, James, into the Panama-Buena Vista Union School District for kindergarten, Buchanan said bullying has been an issue. 
"He went to Montessori preschool for years and thrived," she explained.
When he began kindergarten at Ronald Reagan Elementary School, she described there were initial instances with children calling him "gay" and "pushing him around," but most concerning was an alleged instance on the playground.
After more instances of alleged bullying took place, Buchanan decided she had enough. She met with Gerrie Kincaid, assistant superintendent of educational services, to discuss transfer options.
"I heard good things about (Leo B. Hart Elementary School), and I heard good things about how the principal dealt with bullying," Buchanan said.
Since the transfer, however, Buchanan says "it's been chaos."
"It seems like weekly I am hearing of something that's happened," she said. "James used to like to go to school, now he doesn't. He cries himself to sleep at night, he doesn't sleep at night, he has anxiety, he's talked about how he wishes he could be in heaven where everyone would love him.
"He's had kids put their hands on him — pushed, hit, just little things that kids do. Mainly, he's incessantly name called," his mother added. He came home one day and asked her what the word "gay" meant because he heard kids at school calling him that, along with a homophobic slur.
"If he ends up being gay, that's part of his identity, and I don't want it to be negatively associated with of all this."
Although she and her husband have followed up with the school on several of these instances, she says school administrators do not get back to them or provide incident reports.
Hart Elementary School did not respond to requests for comment Thursday and Friday.
After the most recent bullying incident — James was allegedly beat up on a school bus on Monday, two days before his ninth birthday — she decided to share her frustrations on Facebook.
In the post, she recounts a meeting in December 2018 with Kincaid where "she dropped in on a meeting between the principal and I, and wouldn't let him talk to me. She told me they didn't have to provide incident reports and that I was no longer allowed on campus if I was going to keep pushing these issues. She dropped my purse on top of my baby and he tipped over and hit his head. She shoved me out of the office with her body."
Kincaid on Thursday said she was aware of the Facebook post and the way she is characterized in it "is false in its entirety."
"She has reported instances regarding her son, like someone has been mean to him, unkind and a recent incident involved on a school bus where a first-grader hit her son," Kincaid said. "The principal, in all cases, has investigated it and taken appropriate action. He's very concerned about the child's safety."
Kincaid explained if a child is experiencing issues of any kind, they are encouraged to tell their teacher, a supervision aide or another adult. Parents can make a report, and the school's principal will investigate the situation to determine what consequences would follow if appropriate. Kincaid also said employees are trained on ways to deal with bullying effectively.
"We try to be very timely. We want to make sure every child feels safe," said Kincaid. "Their social and emotional well-being is our priority."
She visited the school site Wednesday to speak with faculty about any other alleged instances of bullying among students, but she said there are no concerns currently.
Social media has also expanded the district's view on bullying, with Kincaid saying older students are experiencing it more online. Students are still encouraged to let adults know about any and all types of bullying. 
After her post reached thousands of people, Buchanan thought it would lead to more action from the district, but she said Thursday she did not receive any calls from administrators. Regardless, the family is moving forward and currently on a waitlist to homeschool James through Inspire Charter Schools.
A direct result of the post, however, was James coming home on his birthday Wednesday with a backpack full of cards and words of encouragement. Buchanan said she could not stop crying. A little kindness goes a long way, not just for her family, but children everywhere.
"When I know that parents read it, they must have spoken to their children about it," she said. "Other kids are still at school, feeling how he feels. I felt so proud of our community and the parents and students when I opened his backpack. I have faith that at least the kids are going to help protect other students."