Although the official results have yet to be released from the Bakersfield Tennis Open, one couple came out feeling like winners.
Jeff Gilin, 37, left the tournament an engaged man after he proposed to his girlfriend Tori Heidie, 36, Sunday night at the tournament on Center Court at the Bakersfield Racquet Club during the Pro Exhibition match between USTA Men's Tournament participants. And Heidie said yes!
"It's great! I'm so happy," Heidie said. "I'm over the moon!"
Gilin and Heidie, who are both members of the Bakersfield Racquet Club, attended the event for the second year in a row this past weekend, but obviously this year's event was a little different for Heidie than last year's.
The moment happened in between matches when Heidie was chosen to play a game for a chance to win $500. The goal of the game was to throw three tennis balls into a bucket blindfolded. So she walked onto the court, put on her blindfold and started tossing. On her third throw, the crowd cheered, making her think she just won $500. But she won something much greater than that.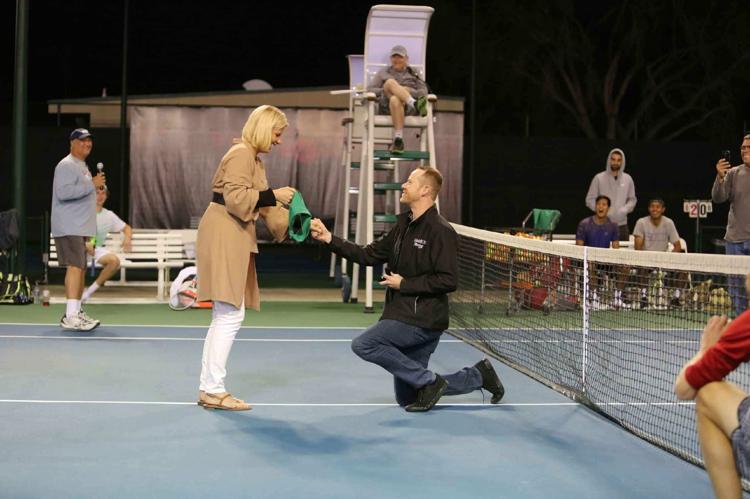 She took off the blind fold and turned around to find the man she loves most on one knee.
"At first I was thinking, 'Is he ok? Why is he on the ground," she recalls. "Then I thought, 'This is it!'"
"It was a very raw moment between us, and I said yes, and he stood up, and the whole crowd went wild."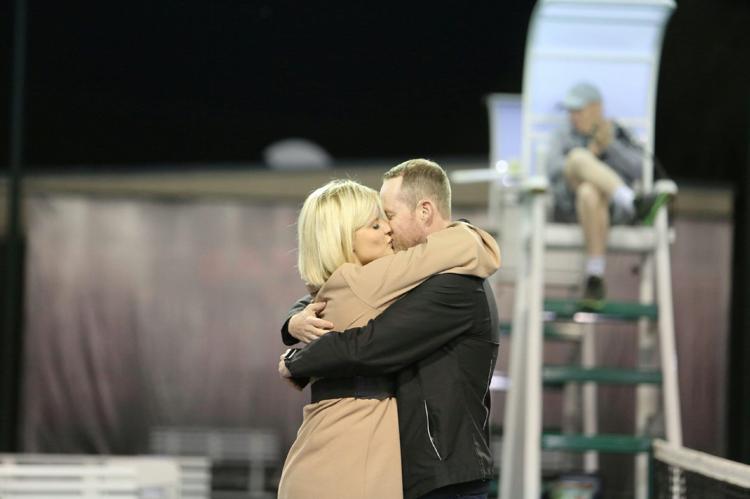 The couple met two years ago just after Heidie moved to Bakersfield from Chicago. They were both at Eureka Burger on a very busy night. Heidie was getting drinks with a friend, but there was no place for her to sit down, until Gilin came up to her and offered her his seat. They got to talking and the rest is history.
Then on their second date, Heidie invited Gilin to BRC and since then, they have enjoyed playing tennis together.
"(The proposal) was a wonderful experience," Heidie said. "It was great of the Bakersfield Racquet Club took time out of a huge busy schedule to make us feel special!"