Community Health Centers, including those operated locally, are facing a devastating financial cliff this week that could lead to layoffs of healthcare workers, shutter healthcare centers and damage the economy if Congress does not renew federal funding by Saturday, when it's set to expire.
The issue has been largely overshadowed by the Graham-Cassidy bill, the latest legislation proposed in an ongoing debate over how to repeal and replace the Affordable Care Act, also known as Obamacare.
Local healthcare leaders gathered Tuesday at the East Niles Community Health Center, spelling out just how dire the consequences could be if funding isn't renewed.
"We are facing a myriad of threats," Steve Schilling, CEO of Clinica Sierra Vista, the region's largest Federally Qualified Healthcare Center, said at the rally before a crowd of community advocates.
On the chopping block are four major programs:
Community Health Center funding, which provides money for FQHCs 
Teaching Health Center funding, which funds residency programs for medically underserved areas, of which Kern County qualifies.
National Health Service Corps funding, which provides reimbursement grants to doctors who train and stay to work in medically underserved areas.
Children's Health Insurance Program, which provides health coverage to kids whose parents earn too much to be eligible for Medi-Cal, but still cannot afford healthcare. The program enrolled almost 9 million patients in 2016.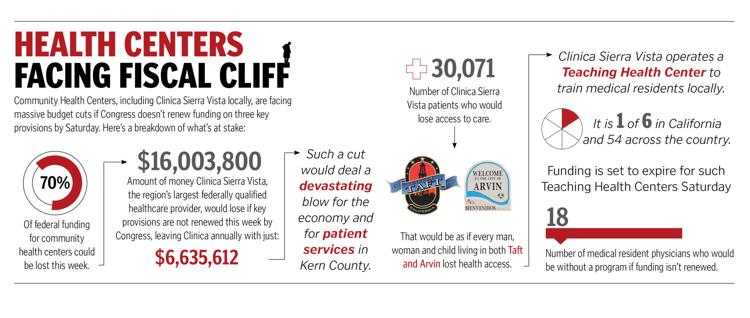 Roughly 70 percent of federal funding for federally qualified health centers comes from the Health Centers Fund. That equates to an immediate $16 million cut to Clinica Sierra Vista, the San Joaquin Valley's largest FQHC, according to company estimates. Roughly 30,000 patients would lose access to coverage.
Schilling singled out the Community Health Center program Tuesday as the most vital to Clinica's mission, and the missions of 1,400 other FQHCs across the nation doing similar work.
"It needs to be renewed," Schilling said. "If it doesn't … that will cost jobs, that will cost delivery locations, that will cost the ability of the program to continue serving patients."
Arvin Mayor Jose Gurrola, who spoke at Tuesday's rally, decried bipartisan bickering in Washington, D.C., and continued efforts to pass legislation that strips away key provisions of the ACA.
"Healthcare must be a right," Gurrola said. "Not a privilege."
Gurrola said he has spent his time in Arvin fighting for clean water, clean air and more open spaces so families can have a safe environment to be active and healthy.
"All that doesn't matter if things like Graham-Cassidy pass, or cuts to the CHIP and THC program continue," Gurrola said. "We can't cut these programs. Bills like the Graham-Cassidy bill are bad for our country, especially here in Kern County."
The Graham-Cassidy legislation — which seemed poised for failure Tuesday after key lawmakers, including Sen. John McCain, R-Ariz., stated they wouldn't support the bill — would have led to the end of the individual insurance market in California, Schilling said.
"It would have caused the death of Covered California almost immediately, and in the Central Valley alone, 775,000 people would have lost Medi-Cal coverage," Schilling said, calling on community members to advocate for health access for all. "Do not believe for one instant that the parties in Washington who are opposed to the Affordable Care Act will stop at the end of Saturday. They will simply regroup."