Jason Quinn Kelly had a plan when he began his studies at CSUB: He would major in biology and become a veterinarian. But then, as so often happens, he met a professor who opened his eyes to other possibilities, and everything changed.
The class was Critical Approaches to Literature, and the teacher was Monica Ayuso.
"There was this earnestness about him, this seriousness," said Dr. Ayuso, who believes Quinn ultimately would have become a writer, and a good one. Quinn's last assignment for Ayuso, an essay on the concept of "home," will be published in the upcoming issue of CSUB's literary journal, Calliope, which is being dedicated to Quinn.
"I read it after his passing. He did fantastically. He showed a lot of promise."
Dr. Ayuso, like others in Quinn's life, is haunted by thoughts of what might have been for this young man of uncommon promise and creativity as they process the tragedy of his death on April 2. While walking from the bus stop at Bakersfield College, following an evening class at CSUB, Quinn, 18, was struck by a truck a block from the home that he shared with his father and three brothers.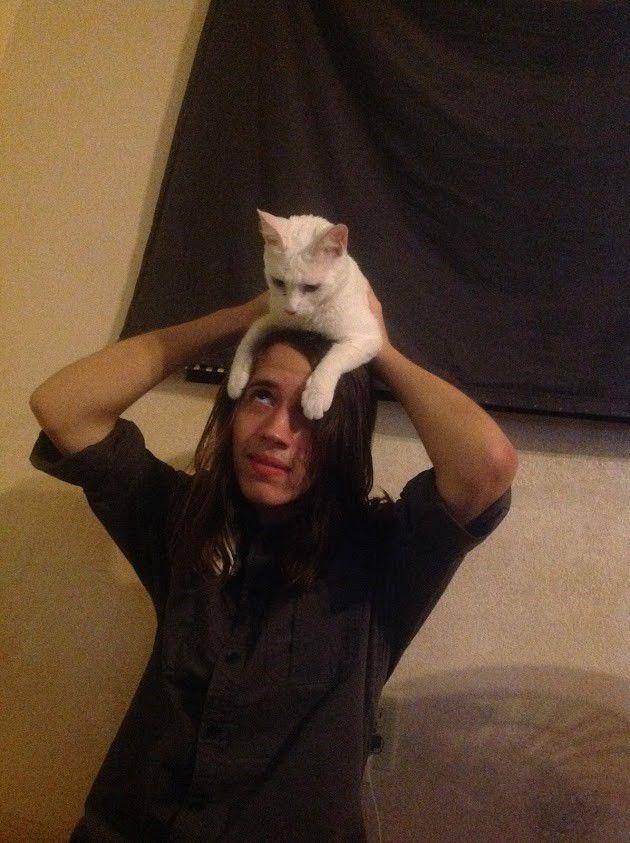 "He was happy the day he died," said Andrew Kelly, Quinn's brother and fellow CSUB student. "All his friends said he was really happy, and just like there was not a care in the world for him."
"He was a great, sweet kid - wide-eyed," Ayuso says. "Angelic. That was my dominant impression of him."
California State University President Lynnette Zelezny has ordered campus flags to be flown at half-staff on Wednesday, when the university will host a memorial ceremony.
"It is heartbreaking when CSUB loses a member of our family," Dr. Zelezny said. "Quinn will be remembered for his passion to be fully engaged with the college experience, becoming an honors student and participating in groups and activities that make CSUB a better place for all of us."
Those who knew him best describe Quinn as an introvert of incredible depth and sensitivity, who overcame debilitating social anxiety to be voted to the homecoming court – twice. Determined to be outgoing in college, the teen invented a new persona, introducing himself as "Quinn," his middle name, instead of Jason. Though the family always called him Jason, "Quinn" caught on with classmates and teachers. He loved sci-fi, particularly "The Last Question," a short story by Isaac Asimov that starts as a dystopian fable but ends on a note of hope. He was a fan of musicals, especially "Be More Chill," the story of an outcast who goes to great lengths to fit in. He cared a lot about fashion, for its power to express individuality, and he always knew where the best food truck deals were.
But Quinn's most striking virtue was his empathy, according to Andrew Kelly, his brother.
"He didn't think there was any such thing as a bully or bad person. He just thought it was a person who had been hurt and that they just needed a friend. He would break down their walls until they were his friend. That kind of amazed me because it takes a lot of compassion to be able to do that. If they were not kind to you and you had no reason to be kind back, he would be kind anyway."
College was something of a culture shock for Quinn, after having been home-schooled with his brothers by their father, Leviak, a writer, who immigrated to the United States from Ireland as a teenager.
Mr. Kelly raised his sons – Sean, 24, Andrew, 22, Jason Quinn, 18, and Liam, 10 – in the College Heights section of northeast Bakersfield and believed he could provide a better education for them than the public school system.
Dr. Ayuso was impressed with the results. She noted that Quinn, who had taken two classes from her during his two years at CSUB, was a standout. It is rare, she said, for an under-classman to be invited by faculty to publish work in Calliope.
"This is what we learn from the Humanities, how to memorialize things, how to move beyond the pain, and this is the way in which I chose to do so."
The Kelly family, too, is coping with the pain of Quinn's loss by reliving their memories of him.
"The last time we were all together was breakfast that morning," Andrew said. "We talked about normal things, like school and how we wish the schedule didn't require us to get up so early. I remember he had given our dad a hug. And Dad said, 'That's it. I enjoyed this hug so much, you can't go to school now.' They played this game. My dad would act like he was so overcome with emotion that he couldn't function. He'd tell (Quinn), 'I'm done now. I can only be revived when you come back home.' But he never came home."
Yet Quinn also had an impish, fun-loving side that, even in his grief, makes Andrew smile. There was the time that Quinn, who usually dressed in style – a waistcoat, button up, nice slacks and an Eldredge-knotted tie – went to school as a clown, complete with rainbow wig and bright red nose, for no particular reason other than he thought the reactions would be priceless.
"And then one time he talked me into buying pancakes in the morning. We went to the Curbside (Kitchen) truck. They had $1 pancakes. He said, 'You'll regret it for the rest of your life if you don't get $1 pancakes.' So we got them and went to his favorite spot on campus, under the stairwell at the library, and ate them there and listened to musicals on YouTube on his phone.
"Sometimes we would sit in silence and try to figure out how many people were walking up and down the stairs based on the vibrations in the stairwell."
Quinn spoke with his brother from time to time about his mortality. His fear wasn't death but that he would be forgotten.
"Death wasn't something that disturbed him like most people. He saw death as something that naturally happens to people eventually. He knew what he wanted his final arrangements to be.
"He always wanted to go to Ireland. He said he wanted to be buried under a tree. We're going to Ireland sometime in the next few years and we're going to bury his ashes under an Oak sapling so the tree can grow from his remains."
This story was written by staff in the Office of Public Affairs and Communications at Cal State Bakersfield.