Morgan Burnard had dreamed of owning her own coffee shop for quite some time. She eventually turned that dream into a reality, but not in a way she might have envisioned.
She went to a two-week coffee school called American Barista and Coffee School in Portland, Ore., where she learned the ins and outs of specialty coffee, barista basics and the business side of what it takes to own a coffee shop.
Then Burnard researched. She studied countless coffee shops, their products, their interior designs and their atmospheres.
In the summer of 2016, she was ready to start her very own coffee shop. The 22-year-old college grad put together a business plan and sought out investors, but none of them were interested.
"They didn't see the vision," Burnard said. 
On her own, she couldn't find a building to rent within her budget.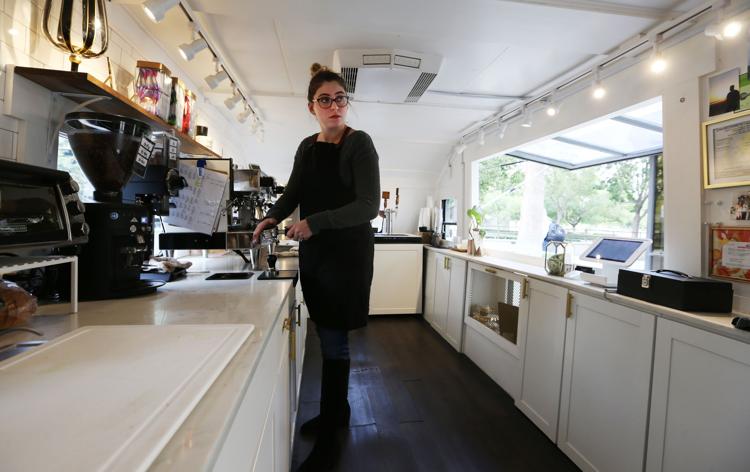 It was time for a Plan B. With help from a friend, she found a 1991 Prowler trailer on Craigslist, remodeled it, and turned it into Cloud 9 Coffee Co., a mobile coffee shop in Bakersfield, which opened in April.
While the old business model used to be saving up money or taking out loans for a storefront, it's becoming increasingly common across the country for millennial business owners to start with something more affordable — a mobile vehicle.
And the trend has hit Bakersfield.
Business owners throughout Bakersfield have repurposed tortilla delivery vans and junky trailers and transformed them into beautiful and trendy businesses, like Burnard's, which she outfitted with marble countertops and hardwood floors.
But mobile businesses aren't just for coffee and food. 
TRAILER BUSINESSES YIELD BIG SAVINGS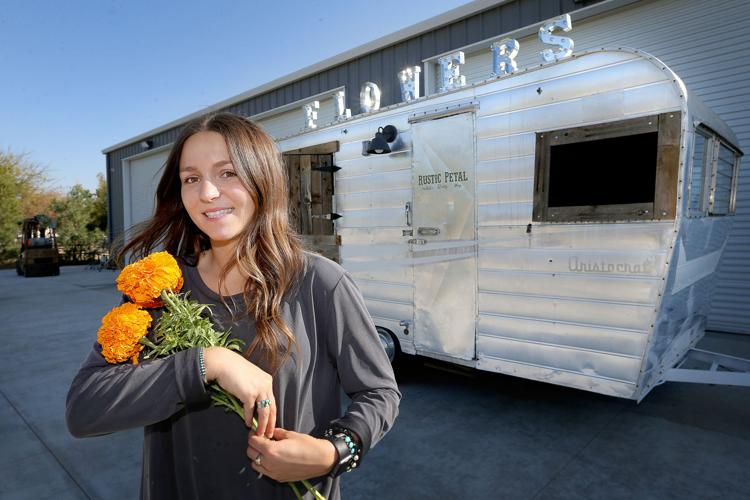 Morgan Tasos, 22, turned her favorite hobby of making flower arrangements into a business with The Rustic Petal, a mobile flower shop that operates out of a 1959 Aristocrat trailer, which she found in Lake Isabella. It opened in late October.
And sisters Maraiah Bermudez, 19, and Mia Lopez, 14, have transformed an old La Bonita Tortilla delivery truck into Melange Boutique, a mobile boutique, which opened in August.
Tasos said her trailer and renovations cost her a total of $5,000, and Bermudez and Lopez found their van in the parking lot of Los Tacos De Huicho in February for just $3,900. Burnard found her trailer online for $800.
Before Burnard settled on a trailer business, she found a building she liked in downtown Bakersfield for a storefront. Her decision to go with the trailer was crystallized when she learned the owners were asking for $8,000 a month in rent.
"That's out of this world," she said. "That's a few grand for rent I definitely don't have to pay now."
Not only does the cost relieve some stress that usually comes with owning a business, but the three women have less overhead, which is an advantage, said Drew Sharples, a financial investigator at the City of Bakersfield's Office of Treasury who handles business permitting. 
MOBILITY BRINGS ABOUT BUSINESS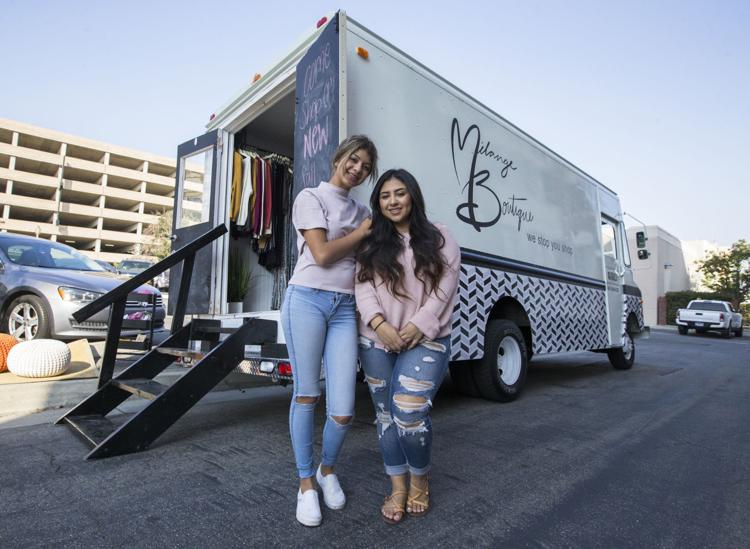 Beyond cost and overhead, the businesses are more nimble than brick-and-mortar establishments. They can go where their customers are. 
When Cloud 9 Coffee isn't parked in front of Stockdale Tower, it's selling coffee at a Condors game or at church.
Bermudez, who plans to go to school for business and accounting, and Lopez, a freshman in high school, drive and park their van in downtown Bakersfield for Third Thursdays, First Fridays and Second Saturdays. 
"You are going somewhere where people actually shop," said Bermudez.
And when Tasos isn't parked by The Round Up, she is co-hosting pop-up events with other businesses.
"You can go where it's convenient for the community. And it's easy to travel and hook up and go," said Tasos, who works full time and is going to school part time to become a teacher.
NEW WAYS OF MARKETING INCREASE POPULARITY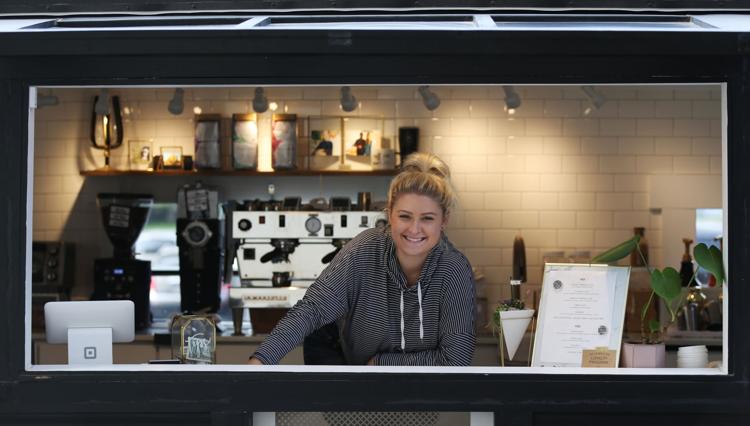 The uniqueness of the mobile businesses has been gaining steady popularity, especially on social media with hundreds of followers. 
Burnard admits her trailer is very "Instagram-able," often posting photos of her trendy coffee mugs and her "shop dog," Lemon.
Tasos feels the same way.
"(The Rustic Petal) is so different and unique, I think I have a good shot at making it," Tasos said, of her mobile shop, which opened in late October.
The women update their schedules and events and show off their new products on Facebook and Instagram. 
"It's new in Bakersfield and it's the only one in Bakersfield," said Bermudez of Melange Boutique, which hosts Facebook Live pop up events. "We are getting a lot of recognition."
Cloud 9 has become so well-known that investors who turned down Burnard for her unique vision a year ago have come back, and have asked to invest and expand, but she couldn't be happier with where Cloud 9 is today.
"I think the whole trailer concept has been the best thing for my business because it's so different," said Burnard. "People come just to see it."
"I wanted to go above and beyond because it's so different. I wanted that 'wow' factor."
THE CHALLENGES OF BEING MOBILE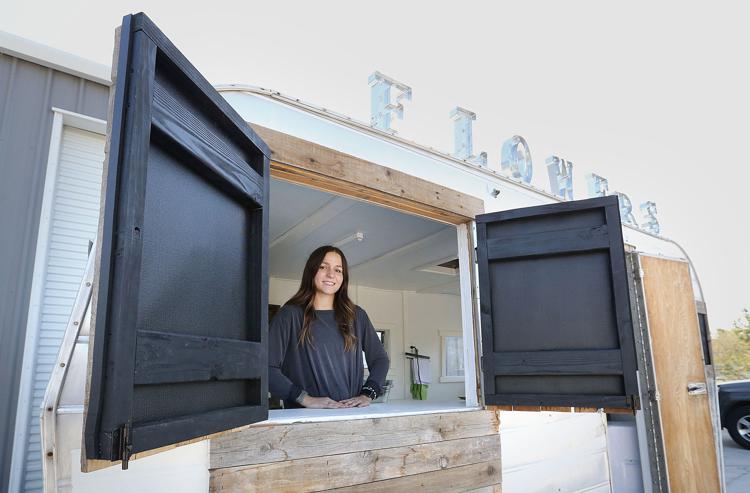 Of course, owning a mobile business comes with its challenges and disadvantages.
Some mobile business owners have to fill up and drain tanks daily. They also need to change tires, charge batteries and clear countertops when moving so equipment doesn't break.
Space can be an issue, too.
There is no refrigeration for excess flowers in The Rustic Petal, so Tasos can't overstock.
In Burnard's trailer, there is room for a maximum of four people, which can be a problem on a busy day when she needs more helping hands. Fewer employees means the customer wait time can go up. However, Burnard's team takes advantage of the time to get to know the customers.
And on windy or rainy days, the owners may not want to leave their doors and windows open, or they may decide to shut down for the day.
Being small can make them more vulnerable to break-ins, which is what happened to Cloud 9 in late October.
"My team and I work really hard on what we do, and it's discouraging to have someone take what we worked so hard for," Burnard said.
MOBILE MEANS BUSINESS IN THE FUTURE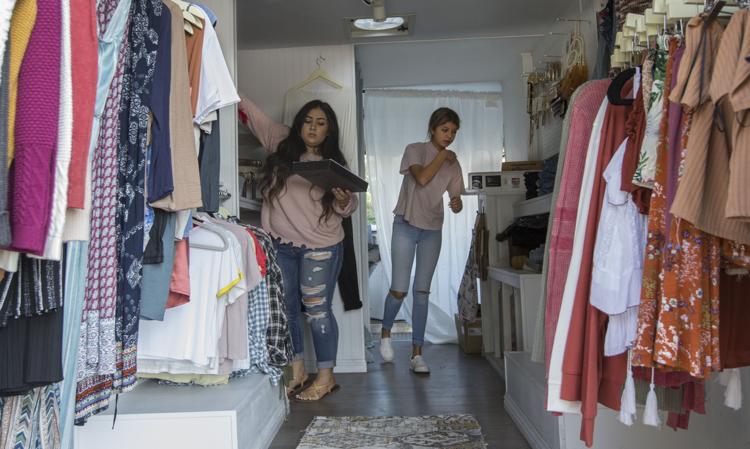 However, these disadvantages didn't stop the young businesswomen from pursuing their goals. For Burnard, Bermudez and Lopez, going mobile made the business possible a lot faster.
"(Starting a storefront) would have been a lot harder. Bakersfield is not super-progressive and so sometimes people don't see the vision until it's right in front of them," Burnard said. "It's a proven concept today. (Investors) believe in my product now. A year ago, people would say it's too risky."
For Tasos, if her trailer business wasn't an option, she probably wouldn't have opened The Rustic Petal.
"I don't think I would have done a storefront because there are already so many of those," Tasos said. "I don't think I would have made it."
Burnard plans to expand Cloud 9 Coffee to a "fleet of mobile units" sometime in the future, while Bermudez and Lopez hope to someday open up a storefront Melange Boutique.
But for now, the mobile businesses are staying on the streets.
Burnard said, "Mobile is the way of the future. I totally believe that."