The meeting took place in an out-of-the-way coffee shop just after 9 p.m. — an hour before massage parlors in Kern County are required to close.

Sources had tipped off the three men — one faith leader in the community and two of his parishioners — that massage clients were being propositioned for sex at a west-side parlor. Neighbors had heard screaming. Others witnessed a naked man running out of the parlor's back door to his truck for his wallet. It was time to investigate.
Doug Bennett, the founder of Magdalene Hope, a faith-based program that provides outreach services to prostitutes and human trafficking victims, briefed his team.
He told them what to look out for: female Asian masseuses — they're most frequently trafficked; men who enter the parlor and leave quickly — too quickly for a massage; and masseuses who don't leave at the end of their shifts — a sure sign they're sleeping on premises, and could be human trafficking victims.
Then they joined hands and Bennett prayed: "Let what's done in the dark be brought to light."
Usually, such a stakeout would be left to law enforcement, but massage parlor operators suspected of engaging in illicit activity outnumber those assigned to conduct such time-intensive operations.
So Bennett and his team of volunteers conduct ongoing stakeouts, spending their evenings watching the parlors, tailing masseuses after they leave and gathering evidence to pass on to their law enforcement contacts.
"If we want to give them a solid case, we need solid evidence," Bennett said.
Massage parlors have been called "modern-day brothels" and "prostitution rings." They are considered by many to be storefronts for a complex network of human traffickers shuffling victims throughout the region, multiple victims rights advocates and law enforcement officials said on and off the record.
They are proliferating across Kern County.
In Bakersfield, there are 74 active massage parlors and 16 others with pending permits, said Sgt. Ryan Kroeker, of the Bakersfield Police Department. There are about 75 more parlors operating within unincorporated county land — more than half of which public health officials suspect engage in illicit activities.
Local leaders are coordinating efforts to thwart their operations. In the past two months, there's been an unprecedented amount of might placed against illegitimate massage parlors by city officials drafting restrictive ordinances; local faith groups conducting stakeouts; public health officials investigating suspected prostitution parlors; and law enforcement, which has been conducting stings.
---
CITY DRAFTING MASSAGE PARLOR ORDINANCE
---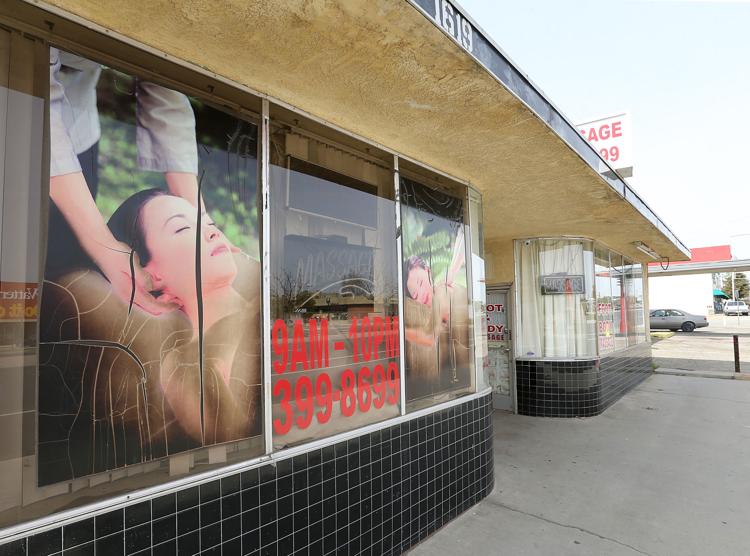 Those efforts began gaining steam after the Kern County Board of Supervisors passed an ordinance in August barring massage parlors from operating within unincorporated areas unless masseuses carried certifications from the California Massage Therapy Council.
If a parlor is found violating the ordinance, or if prostitution is found to be occurring on premises, county officials can shut down the parlor, pull the license from the business owner and decree that a massage parlor can never be opened at that location again.
Those repercussions, however, are only in place in Kern's unincorporated regions.
Without Bakersfield adopting the same ordinance, parlor owners could hopscotch into the city and open up shop to take advantage of less restrictive regulations, said Assistant Public Health Director Brynn Carrigan, whose agency provides parlor oversight.
The City of Bakersfield has been considering such an ordinance, said City Councilman Chris Parlier, who sits on the committee overseeing the development of the new policy. Although it's still being drafted, Parlier said the ordinance would mirror the county policy that requires masseuses to be certified by the California Massage Therapy Council. 
Such a requirement could discourage scofflaws, said Parlier, a former special agent with the California Department of Justice.
"Other municipalities have adopted this to try and prevent sexual trafficking and massage parlor operators using these as a front for prostitution," Parlier said. "It has helped elsewhere to curtail that activity."
More than 200 municipalities have adopted regulations across California requiring massage therapists to become CMTC-certified, with many acting upon concerns of prostitution, said CMTC Chief Executive Officer Ahmos Netanel.
"We work extensively all the time with local government on ordinances and enforcement to support them in their fight to eradicate this phenomena of massage parlors being used as a front for prostitution," Netanel said. "Protection of the public is our only objective."
In order for a masseuse to become certified, they must pay $150, pass a national exam, go through 500 hours of training at a CMTC-approved school and undergo a LiveScan background check, Netanel said.
If a red flag appears on the background check, for example, a charge for disturbing the peace, CMTC officials will investigate further, Netanel said. They'll pull court records to determine if that charge was pleaded down from a prostitution charge; talk to the arresting officer; and get a declaration from law enforcement about whether any unprofessional conduct was observed that could disqualify the therapist from certification.
The entire process can take as long as two years, Netanel said.
If certified masseuses are convicted of any sex-related crimes, their certifications are revoked permanently, Netanel said, essentially blackballing them for life from working in the industry in any municipality with an ordinance requiring CMTC certification. The CMTC has revoked at least 9,000 certifications, although not all are for prostitution or sex-related crimes.
Parlors in Bakersfield would have one year to come into compliance with the city ordinance, and massage therapists with appropriate training and 10 years of experience would be excluded from the new certification requirement, Parlier said.
"We don't want to exclude legitimate massage therapists from making a living," Parlier said.
---
ONE INSPECTOR TASKED WITH INVESTIGATING PARLORS
---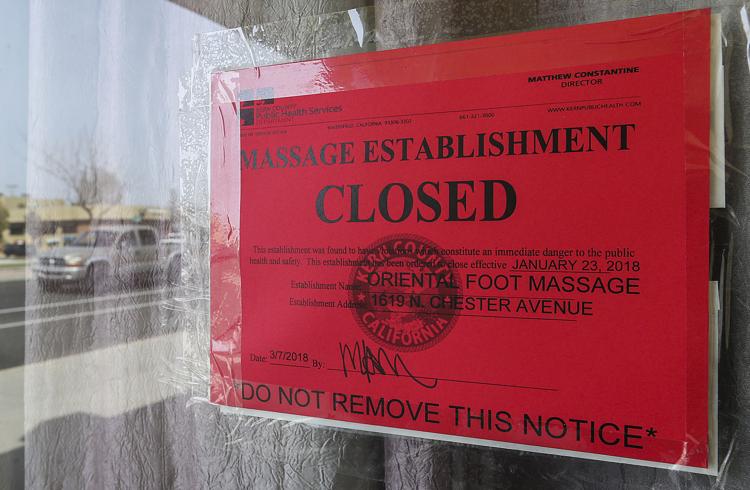 The main agency tasked with overseeing massage parlors and enforcing the new county ordinance is an unlikely one — the Kern County Public Health Services Department.
Last year, the department hired one nearly full-time inspector to launch its program and begin the onerous task of locating every massage parlor in Kern's unincorporated regions, contacting the owners, and conducting initial inspections of the facilities within a 90-day window.
The inspector's job duties involve conducting routine inspections to ensure cleanliness and sanitation of massage parlors, but it has seemed to morph into the starting point for law enforcement sting operations.
Carrigan and the inspector spend their time searching internet review websites where johns rate their experiences with prostitutes working in massage parlors. On one such site, more than 30 parlors in unincorporated Kern County are reviewed, Carrigan said.
When the inspector conducts her first visit to the property, she looks for signs of illicit activity, then the department asks Kern County sheriff's officials to conduct a sting operation. So far, it's been effective in arresting suspected prostitutes.
Sheriff's officials have charged six women since January on suspicion of solicitation for a variety of sex-related violations, including prostitution, and ordinance violations. Public health officials shut down the five parlors where those women were working.
Meanwhile, BPD vice units have conducted 29 inspections, resulting in 16 prostitution arrests and 17 citations for licensing violations, Kroeker said.
Part of the power of the public health department's involvement, Carrigan said, is that an inspector is more disarming than a police officer, and victims of human trafficking could be more willing to talk with those inspectors.
"They may have more success communicating with these women and finding signs that maybe somebody is scared to say some of these same things to an officer with a badge and a gun," Carrigan said. "There's some power in somebody coming in and having a casual conversation with women working there."
The plan is for the inspector to build trusting relationships that could potentially help uncover a human trafficking operation.
When the county passed its ordinance last year, Kern County Supervisor Mike Maggard described prostitution in massage parlors as a "scourge" to the city, and held the ordinance up as a way to help victims of human trafficking who are being exploited by those operating illegitimate parlors.
But so far, that hasn't been happening.
To date, county officials have arrested masseuses for prostitution, but have not been successful in identifying any human trafficking operations, Carrigan said. Among those arrested, just one was a parlor owner suspected of prostitution.
---
POLICE SUSPECT TRAFFICKING, BUT CAN'T PROVE IT
---
While law enforcement officials and victims' rights advocates agree that they have suspicions about the vast majority of massage parlor workers being victims of human trafficking, it's difficult to prove. It's even harder to convince a jury that a parlor owner had knowledge of suspected illegal activities.
When conducting sting operations, a detective who has specialized training in how to identify human trafficking takes part. That detective assures the masseuses they are safe, and then conducts interviews to determine if they are victims.
"From talking to investigators, there hasn't been any indications (of human trafficking)," said Cmdr. Adam Plugge, of the Kern County Sheriff's Office. "Do we have our suspicions? Potentially, yes."
The women who have been charged gave no verbal indication that they are victims, Plugge said. However, Kroeker said women in such a situation might not be willing to admit to being trafficked for a number of reasons.
"Oftentimes the victim in that case may be a prostitution situation, but there's a potential that person is a victim and is being victimized by somebody forcing them to perform that kind of act," he said. "To get somebody to come forward and say 'I'm a victim of human trafficking' is difficult because they don't have many other options."
Human trafficking victims may be fearful to speak up or may feel they will lose financial stability, Kroeker said. For many, psychologically broken, it's the only life they know.
Bennett, of Magdalene Hope, said traffickers might threaten to harm victims' families if they talk. Or victims might be fearful of being deported or may be paying off a debt.
Despite the lack of willingness to speak up, agencies and advocates have seen signs of trafficking.
Public health officials, for example, have found beds and kitchenettes in one parlor, Carrigan said — an indication people were illegally bedding down there.
---
'LET YOUR VICTIMS TRUST YOU'
---
So, if the masseuses are victims, how can law enforcement encourage them to speak out against their trafficker — their sole provider?
Dustin Contreras, a spokesman for the Kern Coalition Against Human Trafficking, said building trust between the women and the investigators is a good start.
Candice Shepard was just 23 years old when she jumped out of a two-story San Jose hotel window. Carrying the few items she owned in a grocery …
"More time needs to be taken in those investigations," Contreras said. "You need to let your victims trust you."
Bennett agreed, but said he doesn't think that will come easy if an armed officer is asking the questions. A third-party advocate and translator is less intimidating, he said.
The masseuses also need to be treated like victims — not criminals, said Andrew Keligian, a Kern County deputy public defender who has represented women in these situations.
"These women don't have voices," Keligian said. "Once you're swept in the criminal system, you're viewed as a criminal, not a victim."
Although advocates and agencies have different ideas on how to tackle the problem, they can agree on one thing: "The work needs to be done collaboratively," Contreras said. "We can't expect law enforcement to do it all."
That's why Bennett has been investigating massage parlors for the past four years. The information he gathers can help law enforcement determine whether human trafficking is taking place. 
After watching three massage businesses over a matter of days, Bennett has concluded his investigation and is convinced human trafficking is taking place in those parlors. He saw multiple warnings signs. 
Now, there's just a few more steps to take to complete the process: "Put it on paper and pray for the right timing and the right people to put this in front of," Bennett said. "Somebody with a victims-centered approach."