1 The spookiest time of year is upon us, and we can't wait to join in on the festivities. But these festivities don't come cheap. To do it right, you have to buy the candy and the costumes and the decorations and the pumpkins. And that doesn't begin to include the cost of throwing a Halloween party, which 34.1 percent of Americans plan to do.
According to WalletHub's "Halloween 2016 by the Numbers" report, Americans are projected to spend $8.38 billion this Halloween. And out of the 69.1 percent of Americans celebrating the spooky day, each person will spend on average $82.93 for the celebration.
2 That $82 could be used for many Halloween-related things, including costumes, and 47.1 percent of Americans plan on dressing up. 
So how much is the costume business making this year on all those Superman, kitty-cat and Donald Trump costumes?
According to WalletHub, Americans are projected to spend about $3.14 billion on costumes. The report says we will be seeing a lot of little furry friends roaming the streets this year, with 2.5 million children planning on dressing up as cats, dogs, bunnies and other animals. We will also see a lot of Peter Parkers and Bruce Waynes since 3 million children plan on dressing up as their favorite superhero.
We thought we might also see way too many Donalds and Hillarys this year for Halloween, but WalletHub says only 4 percent of Americans 35 and older plan to suit up as one of the presidential candidates.
And we can't forget about our pets, of course. WalletHub says 16.2 percent of Americans will dress their pet in a costume, most likely a hot dog, bumblebee or pumpkin. Those are the most popular pet costumes. Fido can't wait.
3 WalletHub isn't the final authority on Halloween costumes, however. Another way to research this all-important topic is by way of Google's new creation, Frightgeist.
According to Frightgeist, the top three most searched costume ideas in the nation are Harley Quinn from "Suicide Squad," the Joker from "Batman" and, in general, superheroes.
Out of the 11 cities Google is tracking in California with Frightgeist, eight cities' most searched costume is Harley Quinn — and Bakersfield is one of them. The other top searched costumes in California are Catwoman, Octoberfest, and Ninja.
We suppose Arnold Schwarzenegger has fallen out of favor.
4 We know people are searching for popular costumes, but are they actually buying them? We called Fantasy Frocks Costumes to see what its sales are like, and Jennifer Keller, the owner of the Bakersfield store for the past 36 years, found exactly what Google found.
Keller said she is getting really low on "Joker" and "Harley Quinn" costumes, and she had ordered dozens of them in many different styles. She also said "Star Wars" and Day of the Dead are popular this Halloween season.
One thing that surprised Keller, with this being election year, is that presidential candidate masks don't seem to be selling. She said such masks usually fly off the walls during election season. But she said people are putting together their own costumes that make fun of the candidates.
Does this mean we'll see some Hillary Clintons in jailhouse-orange jumpsuits? Count on it.
5 WalletHub says there will be about 14.1 million trick-or-treaters between the ages of 5 and 14 this year, and all of those kids are projected to ring 118.2 million door bells.
When, you might ask, did the phrase "trick or treat" and the act of begging for goodies start in North America?
According to WalletHub, the first time the phrase was used in the U.S. was in 1927. Smithsonianmag.com says the November 4, 1927, edition of the Blackie (Alberta, Canada) Herald, read, "Hallowe'en provided an opportunity for real strenuous fun. No real damage was done except to the temper of some who had to hunt for wagon wheels, gates, wagons, barrels, etc., much of which decorated the front street. The youthful tormentors were at back door and front demanding edible plunder by the word 'trick or treat' to which the inmates gladly responded and sent the robbers away rejoicing."
6 Trick-or-treaters usually learn quickly which houses give the king-size candy bars and which hand out loose candy corn. You see, trick-or-treating is an art that many take very seriously. Clearly, 2015 proves that. In 2015, WalletHub says, Halloween candy sales reached $547.9 million.
That's some cavities waiting to happen, because, the Huffington Post reported in 2014, the average American consumes 24 pounds of candy a year.
Anyway, 70.9 percent of Americans plan to hand out candy to little witches and goblins this year, and 72 percent of parents will more than likely steal a few candy bars from their little ones, so it's important to buy the good stuff.
We wanted to know what was considered the best and worst Halloween candy out there, and here's what we found: The choice stuff, according to USA Today, are Reese's Peanut Butter Cups, Kit Kats, Crunch Bars, Starbursts, Butterfingers, Snickers, Nerds, and Skittles. If you provide one or some of these, you're guaranteed to have happy trick-or-treaters. Mashable's list of the worst Halloween candy includes Necco Wafers, Smarties, Candy Corn, Tootsie Rolls, Twisslers and Milk Duds. No one wants those, apparently.
Well, we'll take your leftover Twisslers. Just leave them at the front counter.
7 Candy shouldn't be the only thing that attracts people to your doorstep (although it generally is). Those celebrating the day are also attracted to Halloween decor, including pumpkins.
WalletHub says 1.5 billion pounds of pumpkins are produced in the U.S. each year, many of which come from California, New York, and Pennsylvania.
A lot of space is required to grow these pumpkins — 49.5 million acres in 2014 to be exact, according to the U.S. Department of Agriculture. The USDA also reports that pumpkin revenue from 2015 was about $26 million.
There's a lot that goes into preparing for pumpkin season. History.com says the seeds should be planted between May and June since pumpkins take between 90 and 120 days to grow.
How long do you suppose it took the heaviest pumpkin ever recorded to grow? It weighed 1,810 pounds and 8 ounces, and was harvested in October 2010.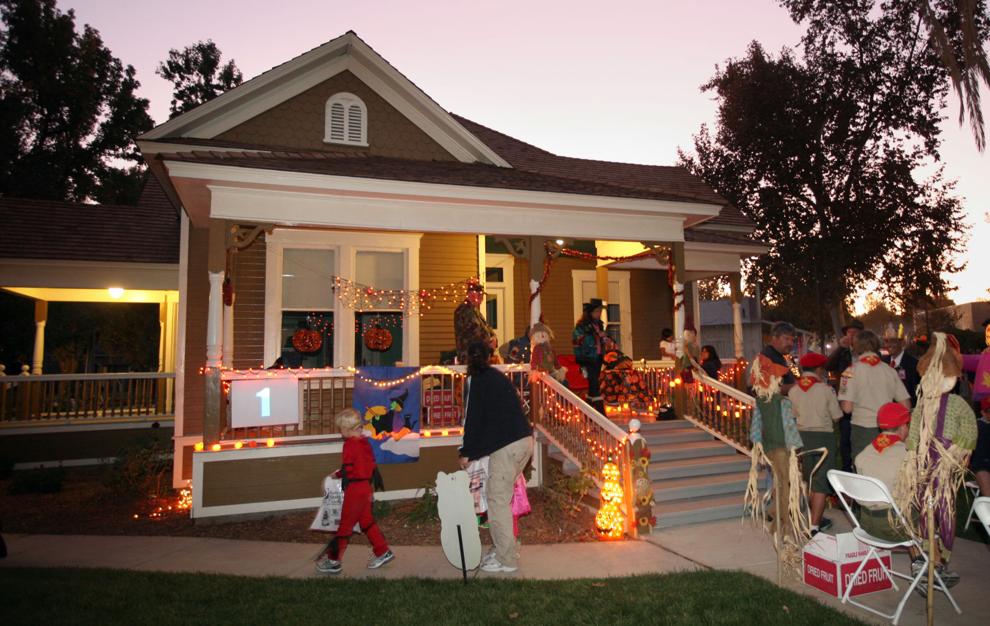 Out of 100 of the largest U.S. cities, Bakersfield ranked 29th. How, you ask?
The report shows that Bakersfield ranked 30th in the category of "Trick-or-Treater Friendliness" and 45th in the "Halloween Party and Activity" category.
Hooray for us! Pass the steaming green punch.
9 Be safe this Halloween. Seriously.
WalletHub says that, on average, 860 houses catch fire on Halloween every year, usually from decorations going up in flames. From those house fires, 41 people are injured, and the property damage is worth $13.4 million.
Take precautions when driving on Halloween. Not only do 52 percent of Halloween-night motor vehicle deaths involve drunken driving, but twice as many children are killed as pedestrians that night than on the average day.
So slow down and pay attention.
10 The first Halloween celebration in the U.S. was in 1921 in Anoka, Minn., the self-proclaimed Halloween capital of the world. And since that first celebration, people have figured out plenty of ways to enjoy Halloween.
Two million people watch the world's largest Halloween parade, New York's Village Halloween Parade, in which 60,000 people participate.
We also enjoy getting spooked in haunted houses, corn mazes and more. According to WalletHub, haunted attractions generate $300 million in revenue from ticket sales.
And you should feel good about spending your money to get scared and (figuratively) pee your pants, since 80 percent of all haunted attractions across America are operated by charities.
If you don't have your costume yet, you'd better go buy one, preferably not Harley Quinn. And if you don't have candy, stop by the store and get the good stuff. Don't go cheap on that. Lastly, just have fun — safe fun.
Compiled by The Californian's Elizabeth Sanchez.