We are well into wildfire season, with more than 2 million acres burned in the state of California, and the San Joaquin Valley is seeing tremendous impacts from PM2.5. When these situations arise and air quality reaches unhealthy levels, it's best to stay indoors if possible, in an air-conditioned, filtered environment, and check air quality often by visiting www.myraan.com. Please note that cloth face coverings are effective at slowing the spread of COVID-19, but they will not protect you from wildfire smoke.
The Valley Air District provides many resources that can help you stay safe and informed:
Visit the Wildfire Resource page which has links for current air quality, current press releases, incident websites for each fire and valuable health protection resources www.valleyair.org/wildfires
Follow us on social media – Facebook, Twitter, Instagram under "Valley Air District"
Download the free "Valley Air" app on a mobile device
All of the tools listed are free to the public and a great way to stay informed about current air quality situations. Not only does the Valley Air District provide useful resources during wildfire season, but they also provide grant funding for Kern County residents to help lower PM2.5 emissions during the winter through their Burn Cleaner Grant Program.
Before you know it, the winter months will be upon us. Now is the time to take advantage of the Valley Air District's Burn Cleaner Grant Program. Not many people are thinking about fireplaces while it's still warm outside, but fall is the perfect time to make your appointment with one of our hearth retailers to help get qualified for this grant program.
The Burn Cleaner program offers incentives to residents throughout the San Joaquin Valley, including in the Valley Air Basin portion of Kern County. Recent amendments to the Valley Air District's Rule 4901 require stricter residential wood-burning curtailments for the three counties with the biggest air pollution challenges. These "Hot Spot" areas are the counties of Madera, Fresno and the Valley Air Basin Portion of Kern. Due to the stricter curtailment thresholds and to encourage participation in Burn Cleaner, enhanced incentives will be provided for participants regardless of income level who replace their old wood-burning devices in the "Hot Spot" counties. Participants who have residential property in the remaining counties within the Valley Air Basin, including San Joaquin, Stanislaus, Merced, Kings and Tulare, are eligible for standard incentives.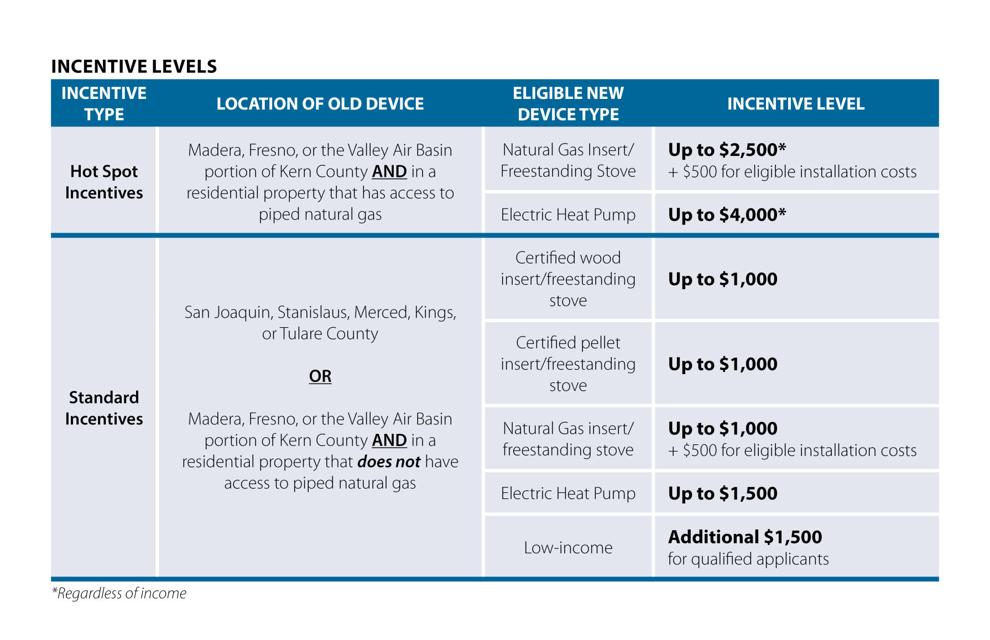 Hot Spot Counties
If the old device is located in the Madera County, Fresno County or the Valley Air Basin of Kern County, the eligibility of new devices are limited to the following: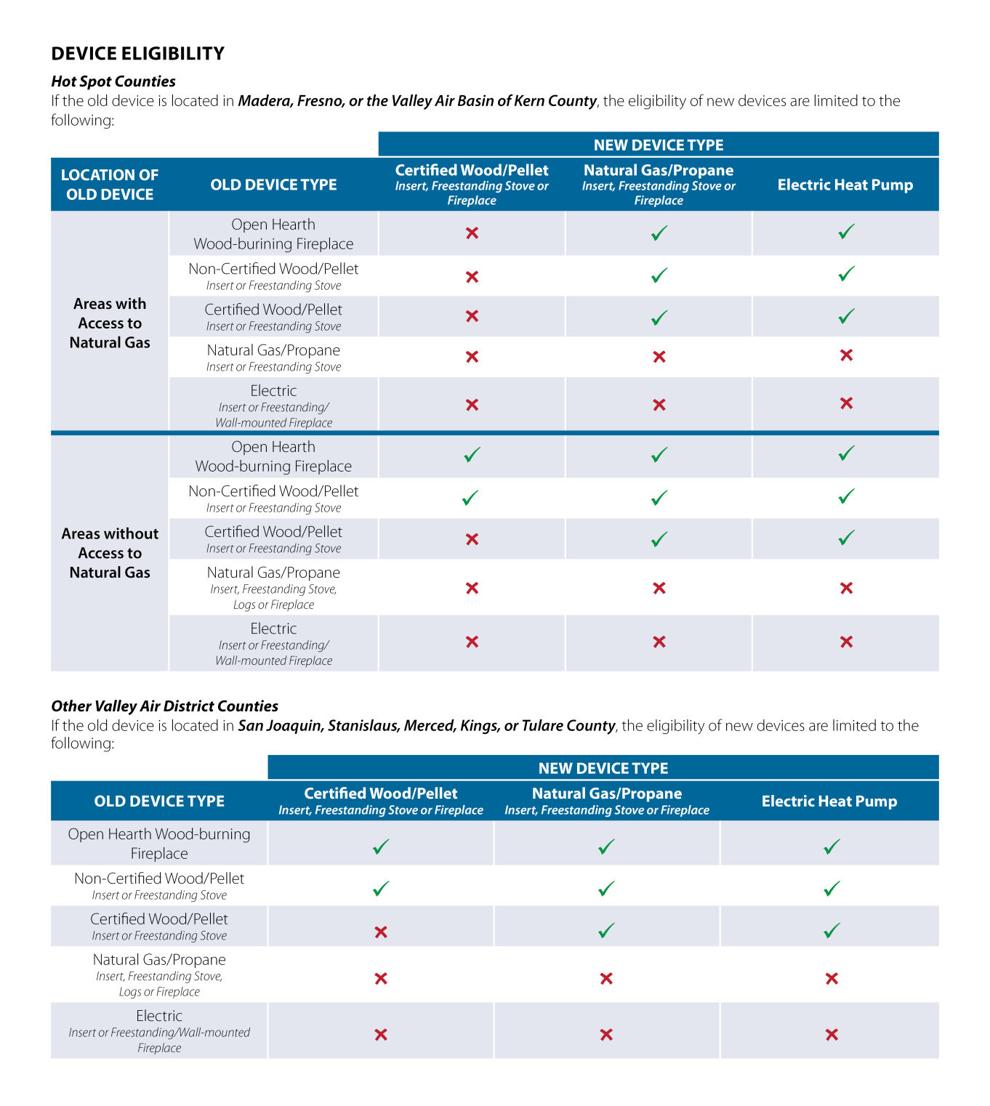 To participate in this program, residents can apply online by visiting www.valleyair.org/burncleaner. All applicants must work with a participating retailer for the purchase and installation of their new device. Please note, new devices cannot be purchased until you receive a Burn Cleaner voucher from the Valley Air District. For additional details, contact program staff at (559)230-5800. Funds for this program are on a first come first serve basis.
Cassandra Melching is an outreach and communications representative with the San Joaquin Valley Air Pollution Control District.