2 cups chopped strawberries
1/4 cup water
1/3 cup sugar
2 tablespoons cornstarch
1 tablespoon lemon juice
1 tablespoon white vinegar
1 cup milk
1 cup softened butter
1 and 1/2 cups granulated sugar
4 eggs
1 tablespoon vanilla
2 and 3/4 cup flour
1 tablespoon baking powder
1/2 teaspoon salt 
1 cup butter- softened
4 cups powdered sugar
2 teaspoon vanilla
1/4 cup milk or heavy cream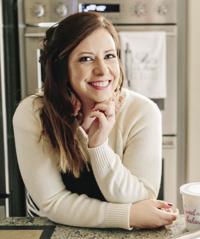 Step 1: Prepare your strawberry filling. Simmer strawberries, lemon juice and 1/4 cup of water in a saucepan on medium heat stirring often. You may need to mash the berries a bit as they cook. Once the berry mixture appears to have come together, add sugar and cornstarch. The sauce will thicken. Once it has the consistency of a jam, turn off the heat and set aside to let it cool.
Step 2: Preheat the oven to 350 and line two muffin pans with cupcake wrappers.
Step 3: Take 1 tablespoon of vinegar and pour it into a 1 cup measuring cup. Use milk to fill the rest of the 1 cup. Put this mixture aside and let sit for five minutes.
Step 4: In a large bowl, beat butter and sugar together on high until light and fluffy, about three minutes, then add in eggs and vanilla.
Step 5: Combine flour, salt and baking powder into a medium-sized bowl. Add it to the butter/sugar mixture alternately with the vinegar/milk mixture, beating well after each addition. The batter will be thick.
Step 6: Use a 1/4 measuring cup to scoop and pour cake batter into your cupcake wrappers — they should be a bit more than halfway full. Take a small spoon and scoop some of the cooled strawberry mixture and spoon it into the middle of the cupcake batter. Try to keep the strawberry mixture from touching the cupcake wrapper. Once you have added strawberry to each cupcake, they're ready to go into the oven.
Step 7: Bake at 350 for 16-20 minutes. Use your judgment and the toothpick method to take care not to over or under-bake.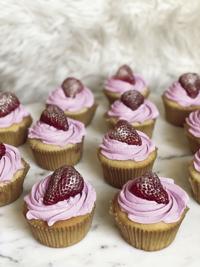 IMG_0352.jpg
Strawberry-vanilla swirl cupcakes
Step 8: Frosting: Beat butter on high for 5 minutes until smooth. Add in powdered sugar, milk and vanilla. Beat on low until smooth and creamy. If you have extra strawberry, you can choose to add it to the frosting, or you can keep it vanilla flavored and add pink food coloring. If you're feeling fancy, use a piping bag and an icing tip to frost your cupcakes. But if you like to keep life simple, a butter knife works too! Enjoy!
Linsee Hennessy is owner and operator of Sweet Nine Bakeshop, which offers fresh-baked cookies and take-and-bake cookie dough to the Bakersfield community. Find out more at sweetninebakeshop.com!