Whether you're looking for a breakfast/brunch spot or a place to take a special someone out, you can count on New Vintage Grill day or night.
Owners Jed and Melissa Larson were always interested in bringing those unique dining experiences that you see in other California to Bakersfield with a family-friendly atmosphere. The result was their first location on Hageman Road four years ago, and they haven't looked back since. In fact, the couple said they are "in it" for the long haul and are ready to serve customers for years and years to come.
Right before the COVID-19 pandemic affected how restaurants could operate, the couple opened a second location on Truxtun Avenue. There are always challenges associated with expansions, but the pandemic tested them in new ways, but they said community support helped them get through the difficult and confusing times. 
Today, the staff is ready to serve customers a number of breakfast and lunch favorites that will keep them coming back for more. Everything from omelets to pancakes, spuds, burgers, nachos and pizzas are available on the menu. And it doesn't matter what time you stop by because happy hour is all day long.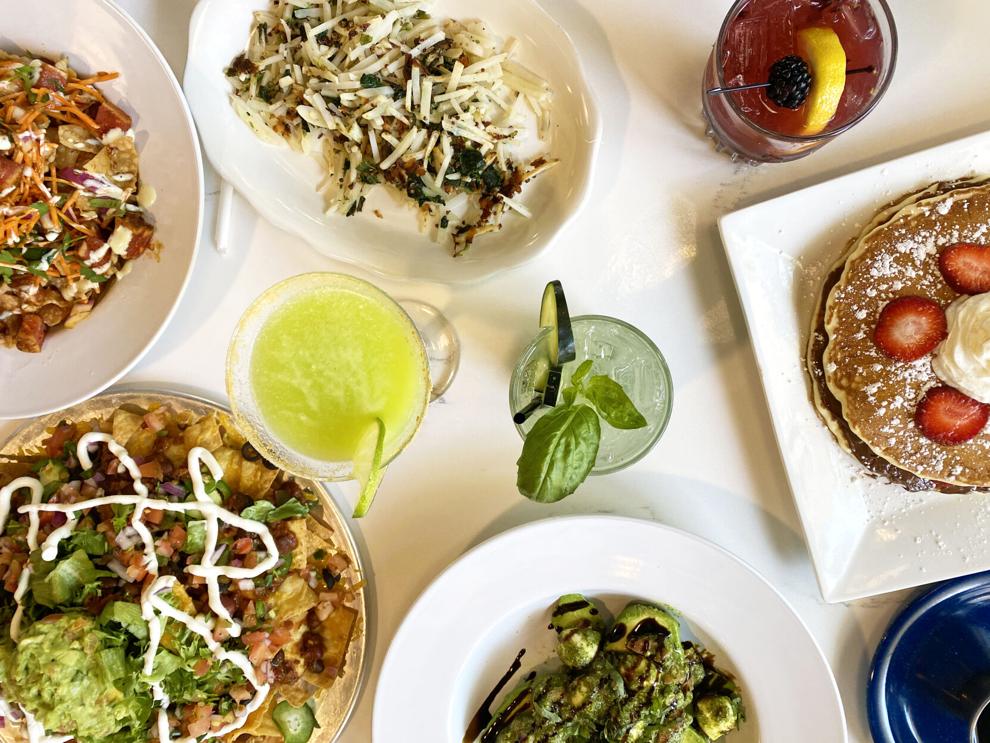 Breakfast
Julie Mana-ay Perez on the Seize the 'Dilla: There's nothing I would rather have for breakfast than eggs, eggs and more eggs. As scrumptious as it looked, this breakfast quesadilla was savory with every bite. Between a wrapped tortilla was fluffy scrambled eggs, country sausage, cheese, topped with avocados and sided with sour cream and pico de gallo.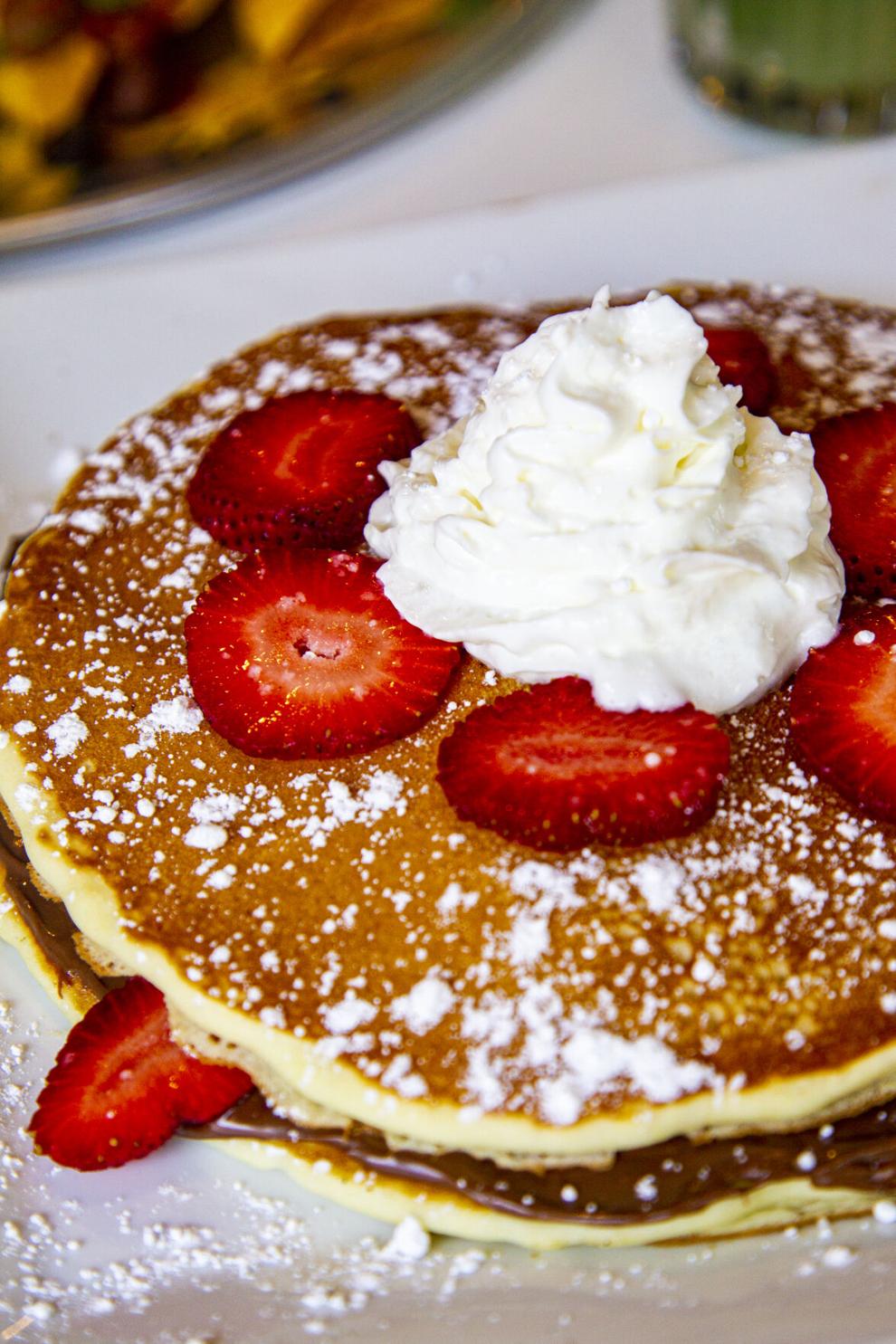 Ema Sasic on the Nutella Jacks: I'm a European girl so I grew up eating Nutella every weekend with my breakfast. Clearly I was a big fan of these pancakes! The pancakes themselves were super light and fluffy, and the strawberries and whipped cream on top were the best combination with my favorite chocolate hazelnut spread.
JMP on the Lara's Benedict: One of my weaknesses is ordering eggs Benedict at any breakfast spot so I had to try the Lara's Benedict. To say the least, I was impressed — a toasted English muffin stacked with fluffy scrambled eggs, creamy and savory hollandaise sauce, tomatoes that bring a sweet taste and topped with bacon and sliced avocados. Side it with fruit to keep it on the lighter side or country potatoes and spuds.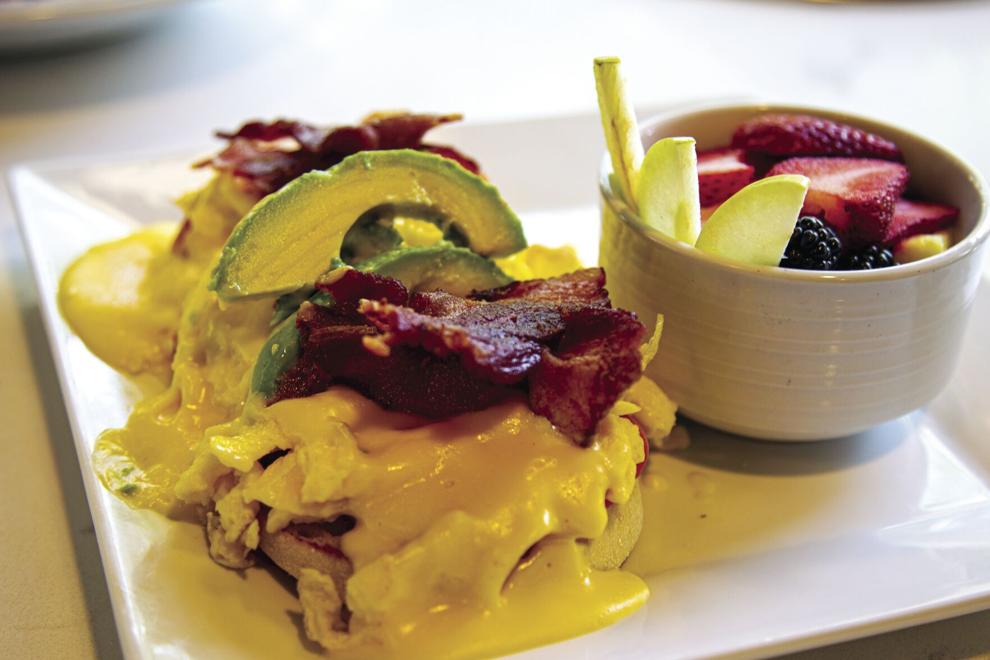 ES on the Spuds: New Vintage Grill's take on classic hashbrowns standout. These are a blend of shredded potatoes, red quinoa, garlic, spinach and white aged cheddar, and all of these flavors blend beautifully together. They make a great side with any breakfast dish.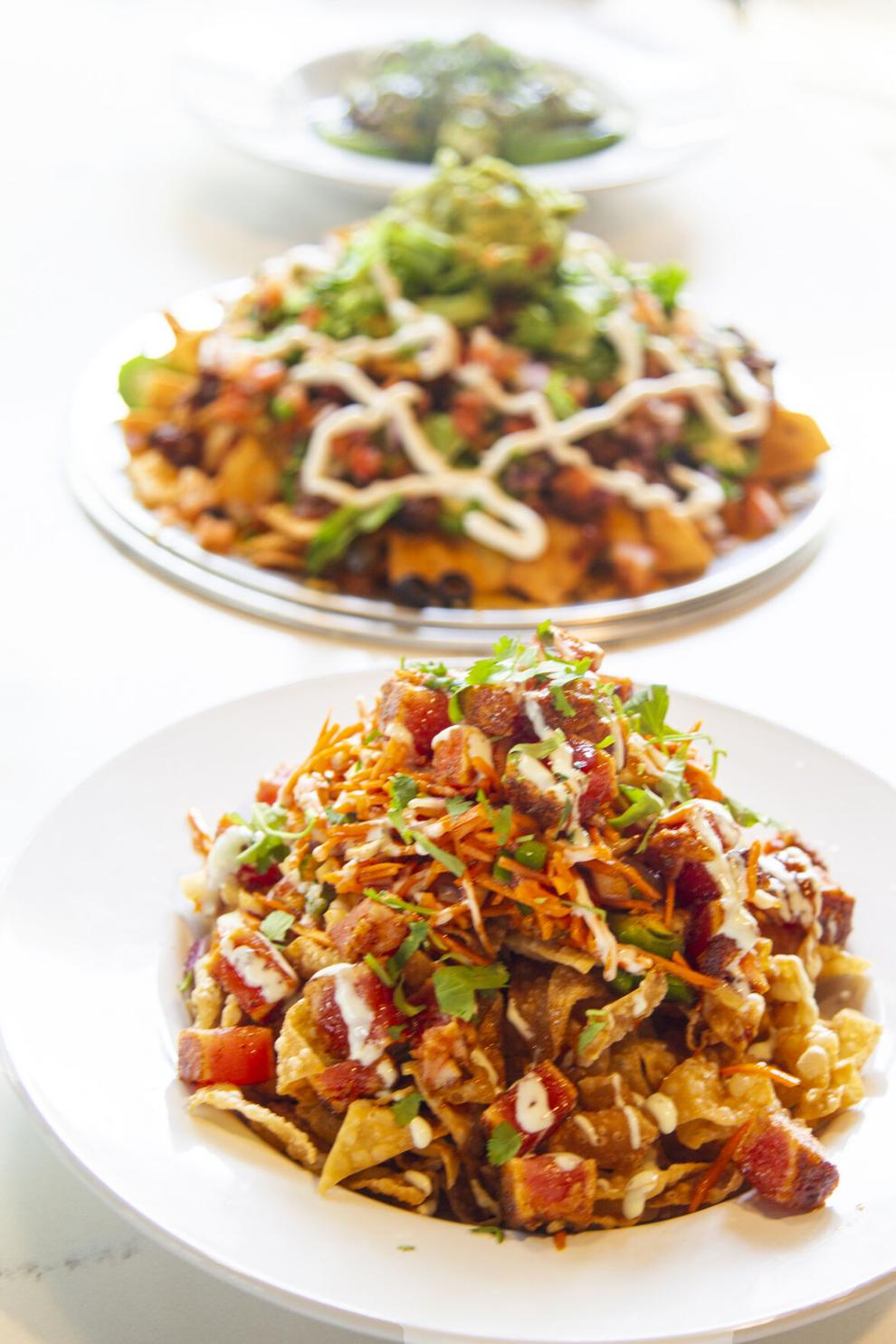 Lunch
JMP on the Poke Nachos: Sitting on a bed of fresh wonton chips is tender and marinated ahi tuna, which is seared rare, thinly sliced onions, fresh jalapenos, grated carrots, cilantro all tossed in poke sauce and drizzled with cucumber wasabi. The Poke Nachos are good enough to share with the rest of the table! 
ES on the Nacho Average Nacho: As the name suggests, these nachos are not average. Crispy flour chips, uncle Kurt's chunky chili, cheese, black olives, lettuce, pico, sour cream, guacamole and fresh jalapeños come together to give you a mouthful of flavor and a bit of kick. This table starter is giant, so make sure you have a couple of hungry friends by your side to help dig in.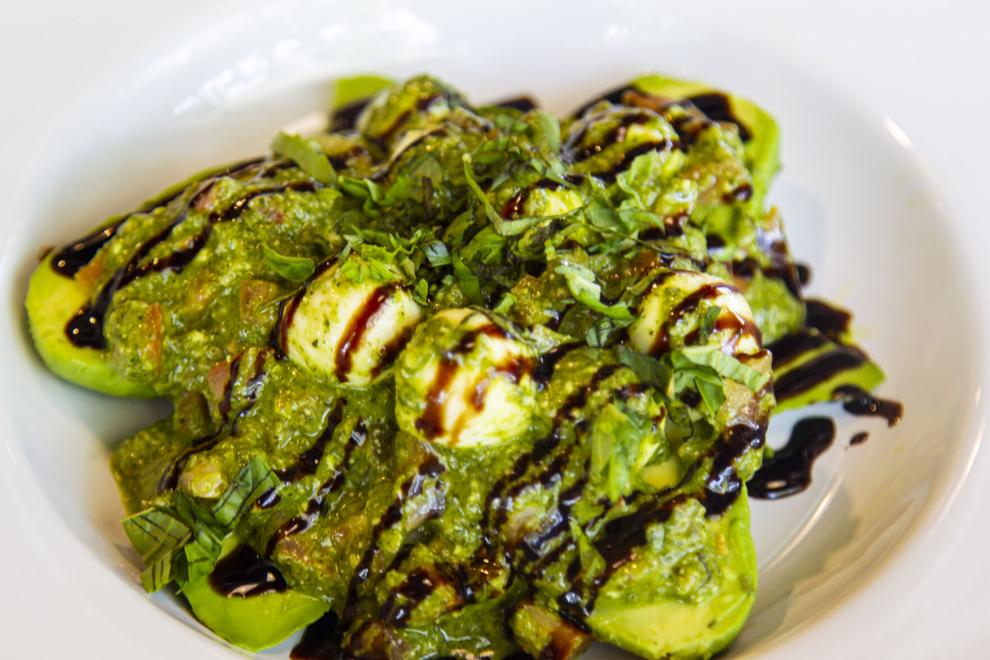 JMP on the Stuffed Avocados: When I say this is the best thing I've ever eaten, I truly mean it. The second this dish hit my mouth, my eyes opened and I couldn't stop thinking about my next bite. This dish was packed with creamy pesto sauce, diced tomatoes, little mozzarella balls, drizzled with Balsamic vinaigrette stuffed in between avocados. It was a perfect light dish packed with a lot of savory flavor! 
Drinks
ES on the Lynchburg's blackberry lemonade: Two of my favorite tastes in one drink! This was a very refreshing drink that I would enjoy any time of day. 
JMP on the cucumber melon spritzer: One thing I liked about the cucumber melon spritzer was that it reminded me of being on vacation — it was refreshing, light and full of mint and cucumber flavors. It's good enough to have on a warm day, sitting and enjoying New Vintage Grill's relaxing ambiance, or sitting outside and soaking up the sun.