For decades Jerry's Pizza in downtown Bakersfield used to be the place where you would go enjoy live music and not really think about the food offered.
That is until new owners Corina and Ernesto Topete took over in April 2018. 
The longtime eatery — opened in 1992 by Jerry Baranowski — has long prided itself on bringing in a variety of artists, from Paramore to Korn to Wheezer. But the Topetes knew they also had to step up their food offerings to have customers hungry for more. 
That proved to be handy once the coronavirus pandemic hit and music performances stopped. Corina Topete said in order to make Jerry's Pizza and Pub stand out during these last few months, some creative decisions had to be made in the kitchen.
That creativity is one of the restaurant's biggest assets. Everything from their chile verde and Mexican pizzas, brunch items and sides are loaded with creamy cheeses and various toppings that your tastebuds will be thanking you long after you finish your meal.
Staff members are also friendly and very welcoming, and you can tell they care about the food they're giving out to their customers. They make a fresh batch of Corina Topete's famous chile verde recipe daily, as well as carne asada.
Pizzas
Julie Mana-ay Perez on the chile verde pizza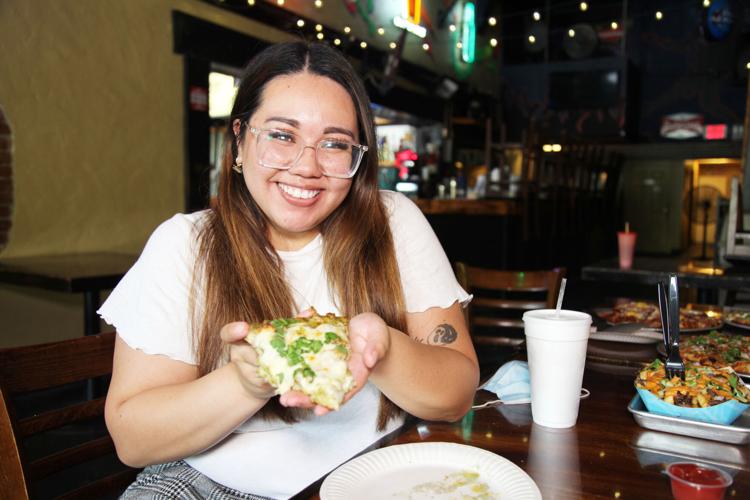 One of Jerry's Pizza & Pub menu favorites is the traditional chile verde pizza, but what makes this classic pizza so different is Corina's secret chile verde recipe. With some chile verde pizzas, there's either too many or too little toppings. Jerry's Pizza & Pub does it right with a well-balanced portion of gooey mozzarella cheese, spicy and hearty chile verde garnished in cilantro. Each mouthful was a savory sensation. 
Ema Sasic on the triple bacon and egg breakfast pizza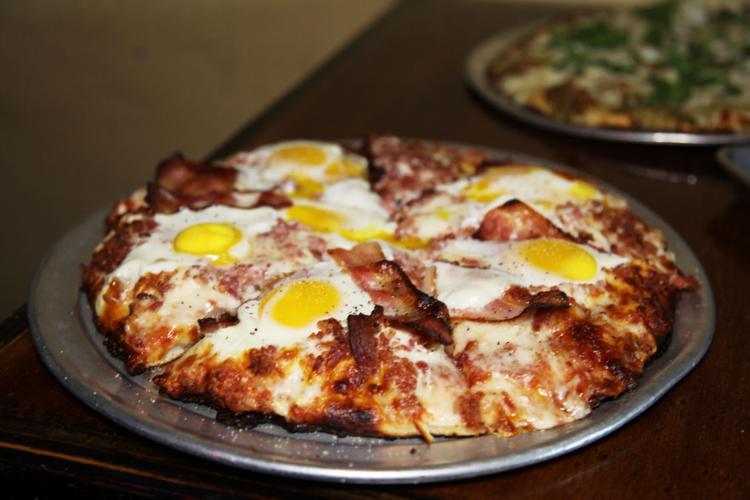 Contrary to popular belief, the triple bacon and egg breakfast pizza can be eaten any time of day. Topped with sliced and diced bacon as well as eggs of your choice (I had them over-easy), the combination of those two flavors, along with melty cheese and sauce, had me falling in love with each bite. Corina said every pizza that comes out of the oven should be picture perfect, and this one gets top picture and palate honors. 
Everything you would expect on a taco comes on this pizza: onions, jalapenos, cilantro, cheese, carne asada and chipotle sauce. Rather than having a typical pizza sauce, this pizza has a refried beans base, which was the first thing that stood out to me when I took my first bite. It was something totally new for me, and it worked perfectly with the dish and complemented all the other flavors. This is Ernesto's creation, and I'm sure her and Corina are always in a rivalry over who has the better pizza.
Burgers
JMP on Mama C's hangover burger: 
Jerry's spins a take on a different kind of burger: Mama C's hangover burger. Packed with a toasted sesame bun, onions, a patty cooked perfectly, jalapenos to give the taste a kick, smothered in chipotle sauce, an egg topped off with a bacon wrapped jalapeno popper — it's a memorable dish with every bite. The dish is accompanied with crunchy, fluffy fries. 
ES on Mama C's hangover burger: 
I'm not usually one that has onions or jalapenos on my burgers because of my sensitive stomach, but even without these items I still enjoyed this dish. You can taste that the patty was fresh and just made to order, and the chipotle sauce on the bun stood out with every bite. For those who love a little kick, those extra ingredients will make this a standout dish.
Specialty items
Because the carne asada is made fresh daily, I was most excited to take a bite into the meat, and boy, I was not disappointed. It's chewy, juicy and seasoned and cooked just right. Similar to the Mexican pizza, this crinkle cut fries dish  features chipotle sauce, cilantro and onions. It fills you up pretty quickly, so it's the perfect sharable item if you're eating with a couple people.
JMP on potato wedges gone wild
The restaurant also serves endless choices of sides and appetizers, but one of their popular menu items, potato wedges gone wild, is a party in your mouth. The potato wedges are smothered in cheesy mozzarella goodness and crispy bacon bites.