Though this year's live action short films may be different, the feeling of being on the shortlist for the 93rd Academy Awards is the same.
"It's surreal," said "Da Yie" ("Good Night") writer and director Anthony Nti. "I always felt we were doing something special. It was this family on set and everyone was so passionate about the story. I saw magic happen."
"Da Yie" follows the story of Matilda and Prince, two young children from Ghana, who are taken on a life-changing trip by a stranger named Bogah. He gets an assignment from his gang to recruit kids for a risky job that will take place later that evening. After spending the day with them, he starts to question his decision and how it will affect their future.
The short tackles childhood innocence and peer pressure, which leaves many on the edge of their seat throughout the 20-minute runtime. "Da Yie" is the most awarded short film this year, according to a press release.
"White Eye" writer and director Tomer Shushan, who drew inspiration from a personal encounter to make his one-take emotional rollercoaster short film, "couldn't believe" his film made it on the shortlist out of 174 qualifying films.
"It took me a moment to realize how big of a deal it is to make it to the shortlist and that we were moments away before the nominations," Shushan wrote in an email. "I believe we can do it, it will be very difficult because this year really all the films are very good and everyone deserves it."
In "White Eye," a man finds his stolen bicycle one night in Tel Aviv and is on a mission to reclaim it. In the process, he meets the new owner, an African migrant named Yunas, who pleads with him to not get the police involved. So concerned with getting his bike back, the man doesn't realize the consequences his actions have on the migrant's life.
The two filmmakers shared their cinematic journey and plans for the future.
"Da Yie"
ES: How did you find Matilda and Prince for this film? I read that they're both non-actors, but they were so great in the short.
AN: Yeah, it was their first on-screen appearance. They were in a primary school, and my cousin knew the headmistress. He was like let's check out the school, we explained what we wanted to do and the school was immediately down.
We met the teacher and we gave characteristics of what the characters embody. He said there's this kid, it's a girl, but I think she fits (The film initially had two young male leads). Matilda came in and killed it. I was so blessed to have worked with such talented people.
ES: Where did the idea for this film come from? Why did you choose to make this a short film?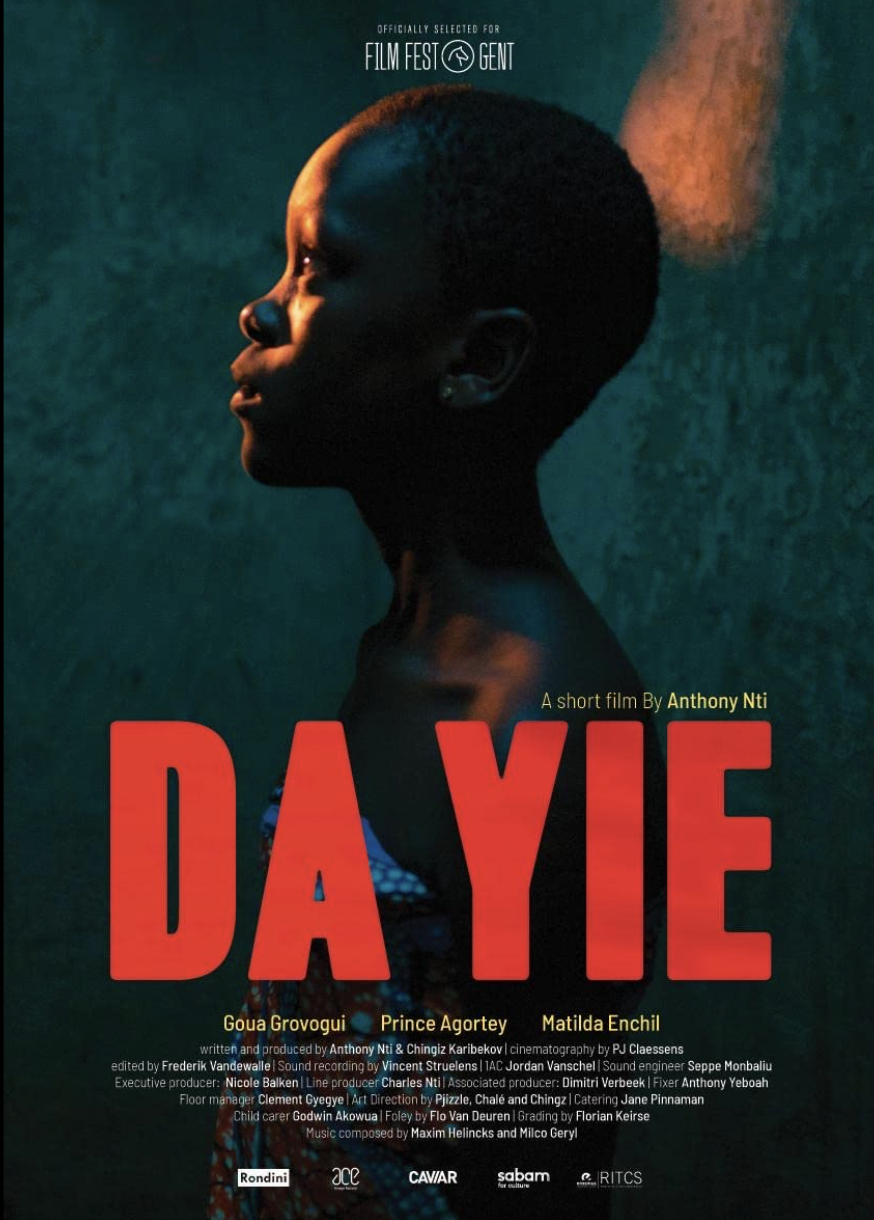 AN: "Da Yie" was my graduation film, and I got a master's degree for that. In school, they encourage you to do a short film.
There was very little money. I was working at the Pizza Hut, Chingiz Karibekov (co-writer) was doing Uber Eats. I was doing some commercials to collect some money to get the film made. Once we got that amount, we figured OK, let's try to do it.
We shot it in 2017, and like I said, we didn't have a lot of financial aid. I just wanted to go shoot. I have to shout out an amazing editor, Frederik Vandewalle. He did it for almost nothing. When he wasn't so busy, we'd find two hours to sit down and edit it.
There were always two things we wanted to tackle. One was peer pressure and innocence of children coming in danger when it collides with the adult world. With peer pressure, we used scenes that I had encountered when I was in Ghana. I felt like I could do anything. I was playing football, doing backflips.
One day, I had to do the chores at home, but a friend came to get me because they were losing in football. There was a lot of pressure. I said, "No man I have to finish." But I went, we won, I came back home late and my auntie wanted to slap me and I dodged it, which is even worse (In the short film, audiences see similar events unfold). Chingiz suggested, "What if they run off and they wait for the mom to calm down?"
I was always hanging out with much older people. This is something I encountered in Belgium. Later I realized it wasn't such a safe place but the perspective was different.
Kids that would watch the film, they would see this amazing adventure, but adults, as soon Bogah comes in, are like, "Oh no." Not necessarily about what would have happened, but this tension when you mix children and adults. People have different motives. Bogah, we don't know much about him. And in the movie, he changes his mind. Maybe he's a chameleon and he's going day-by-day.
ES: What were your hopes with this film?
AN: I just hoped to get good grades and to graduate. I had to graduate a long time ago so that was the first purpose.
But when it premiered at the Clermont-Ferrand International Short Film Festival and won the Grand Prix (for the international competition), I couldn't believe it. Everything that came after was just a bonus because we never saw that far. It's touching.
I get messages from people in India who saw the film and are connecting with it. For me, it was like, "Oh wow, this is why I make films." I was born in Ghana, I live in Belgium, I speak Dutch, Ashanti, English. I can speak to the whole world through film. I found my language.
ES: What did you learn from doing "Da Yie"?
AN: I learned so much. I became a better and wiser person. That made me also a better director and let me understand some stuff because we were on the ground and we had to do a lot by ourselves. I'm quick now because I'm following my gut. I can do my blockings quickly and just go for it. In the edit sometimes it doesn't always work out, but just being quick and trusting your gut feeling is important.
ES: What is your favorite part of the filmmaking process?
AN: I love directing. Just being on set and being in there. I love casting too and editing, but being on the ground and making it happen is amazing.
ES: What would it feel like to wake up and see you have an Oscar nomination?
AN: I don't even want to think about it. It would just mean so much to me because of the process of this film. This is a very small film and it means so much and film can travel the world.
I really would be speechless. It'd be like anything is really possible. It's funny to say that and it's cliche, but it's true.
ES: What are some future projects you're looking at?
AN: Currently we're working on a feature film inspired by a book. Nigerian writer Chika Unigwe wrote about Nigerian women who ended up in prostitution ("Black Sisters' Street"). We knew her, and she saw the film and the production company that helped us, Caviar, they came to us with the book and Chika and if we wanted to adapt it. We felt like it was Chika's research, so we did our own too.
It's about a girl who comes to Europe, but on her way she loses her best friend, she blames her auntie who is the madam. She wants to become her own madam.
We always love stories that aren't black and white. In "Da Yie" with Bogah, you get to know him as a person first. With this, we get to know a girl before she becomes a madam.
That's something we find interesting and it gives more layers. Not everything is black and white.
"White Eye"
ES: I read that "White Eye" was based on an incident that happened to you. If you're able to share, what was it about that incident that impacted you so much? How did your real-life incident end?
TS: In real life it ended up a bit better, the police left without taking Yunas but he got so scared and humiliated because of me and to know that I caused that to another human being just crashed me. I couldn't think of anything else, all my values were gone in that situation and I needed to control my actions.
The story of "White Eye" changed me as a filmmaker but more than that it changed me as a person.
ES: There are a lot of emotions and issues tackled in just 20 minutes. Why did you decide to make this a short rather than a feature film?
TS: I am a big fan of short films. For me it's the biggest challenge to touch people's hearts with short stories.
"White Eye" is a story about a young person who gets a lesson in life in such a short time. I think it's perfect for short film.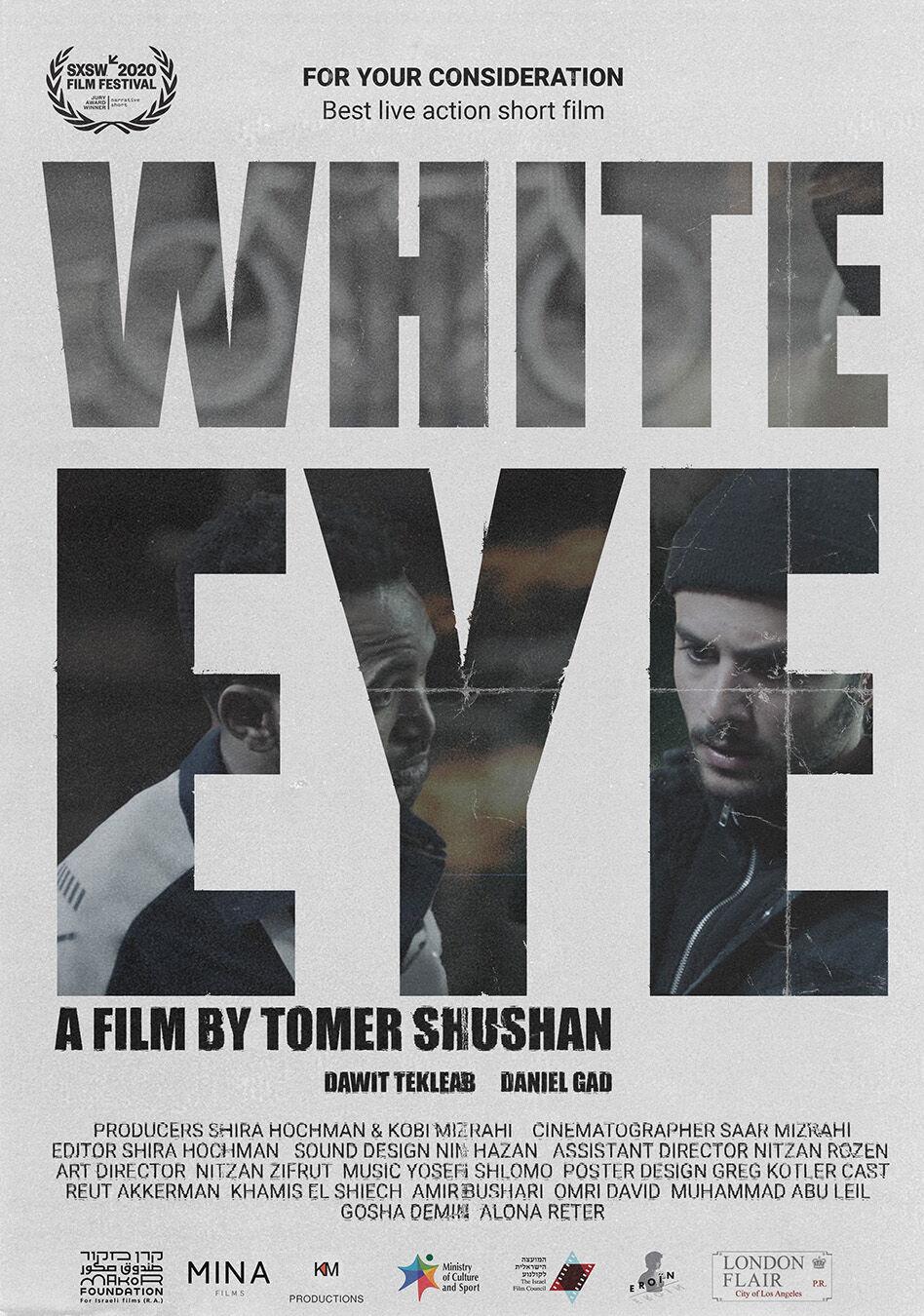 ES: Why did you decide to do this film in one take? How do you think that adds to the overall tone and feeling of the film?
TS: This story is about a person who experiences a stressful and intense moment. Instead of acting from a rational place he gives into an egoistic rage. Everything happens to him in a short time without a moment to stop, reconsider, breathe. I wanted the same effect for the audience to really feel the main character's situation. But between every take in a film, the viewer has a tiny little break to catch breath. I wanted the camera to connect the viewer and the main character in a never-ending motion like tension that doesn't give you a break.
ES: How challenging was it to capture this in one take?
TS: The production itself was very exciting. Shooting ONE SHOT in one night is definitely challenging. In order to make the one shot work in one night, we had to make a lot of rehearsals. Each department knew exactly what to do and when. We became a very accurate machine that worked together.
The fact that you can't see materials and accordingly prepare for the next shooting day is something that you give up when you choose to do a one shot film in one night.
The good side is that at one take, the whole team is experiencing the film from the beginning to the end, and you actually watch the movie live so you can see at one take what works and what doesn't.
While we were filming, I still changed the script and took out parts of it because I saw that they were slowing down the rhythm.
ES: What type of reaction do you hope audiences get when they see this film?
TS: I hope that after watching this movie, every person will ask themselves what they would do in such a situation, or from that point, when a person is facing the weaker, they will try to look at the situation from a different angle and not just from their own place and ego. Eventually, the material is biodegradable, it has no value without the human psyche that defines it. What defines a person is his actions in the world.
ES: How does "White Eye" compare to some of your other work?
TS: I guess that so far I chose to deal with conflicts between people from different sides of the society. Even if it's subconsciously.
All my life I saw it in front of my eyes. As a kid I grew up in the richest area in Israel, but my family was poor. So my everyday life felt like two worlds that made me keep asking, why is it like that? I am still looking for the answer. That's why I am making films about it.
ES: What are some other projects you're eyeing?
TS: I'm developing two projects these days. The first one is my debut feature film, "Between the Sand Grains."
The film is about an unexpected love story that happens one night in a wedding celebration between a 30-year-old waiter and a rich young woman, that comes from two different classes and carries them to a wild night journey of passion which raises a threat of existence.
The second one is a T.V series named "TORSO." It is about Leon, a private investigator who was hired by the suspicious wife of a police detective. Instead of discovering the husband's unfaithfulness, Leon reveals his complex secret. Going deeper and deeper in the trace Leon gets the chance to save the life of innocent people.
Nominations for the 93rd Academy Awards will be announced on Monday. The Oscars will be held on April 25.