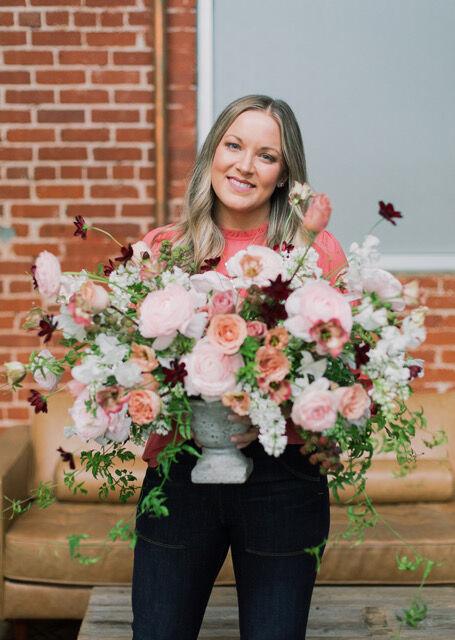 BL: Can you tell us about yourself and your business?
MB: I was born and raised in Bakersfield and graduated from Garces Memorial High School - Go Rams! My husband, Blake, and I actually met at Bakersfield College 14 years ago and we have been married for a little over five years now. Blake, too, has remained grounded to Bakersfield; he is an attorney and recently opened his own law firm in Bakersfield called Bakersfield Law Group just around a year ago. We have two little dachshunds, Dukes and Dane, who I'd admit we may spoil a bit too much and undoubtedly treat as humans, but we wouldn't have it any other way.
I am the owner and lead floral designer of Birchwood Floral Design. I primarily provide florals for weddings and events but also enjoy styling for intimate settings as well.
Prior to becoming a florist, I received my bachelor's degree in kinesiology and was a personal fitness trainer for many years as well as a case manager for chiropractors and a chiropractic neurologist. As you can see, just a few years ago, I was nowhere near becoming involved in floral design. I have always enjoyed art and design, but I didn't realize my love for floral design and wedding coordinating until I began planning my own wedding.
BL: What made you want to get into floral design?
MB: I planned and designed my own wedding in 2015 and fell in love with the whole process. I enjoyed the attention to detail and the excitement of it all. So after our wedding dust settled, I decided to give wedding planning a try! I was in the middle of planning a wedding and my bride was concerned on how to stretch a small floral budget. I simply offered to do the florals myself and I haven't turned back since!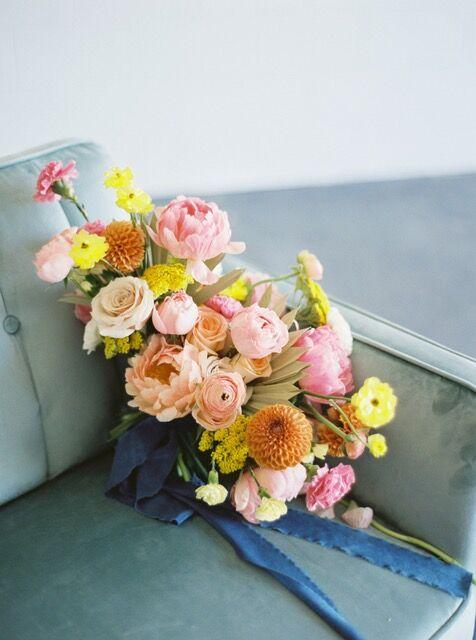 BL: Why do you think a gift of flowers is special?
MB: To me, the act of giving is special on its own. When you receive a gift that reflects someone's heart and memory of you, you are reminded that you are loved and appreciated. When you receive the gift of flowers, you are reminded that someone thought of you. Not only did they order or design the arrangement for you, but they selected the flowers that they felt reflect you. Maybe they remembered your favorite flower or simply your favorite color, but they were thinking of you when they chose that arrangement and that to me is very special.
BL: How do you come up with different floral designs and what is your process?
MB: My process always begins with getting to know my clients on a personal level. One reason weddings are so special is that the day reflects who they are as a couple. I not only want to understand what their dream wedding flowers are, but I want the flowers to tell their love story.
After I get to know my client as well as their floral needs, I begin the process of designing. Designing an arrangement is similar to designing a room or putting together an outfit; I am looking for specific flowers to be my focal point and then deciding on coordinating a color palate that creates balance and flow within the arrangement. After the design and palate have been decided, I begin to add in texture to create depth and bring the arrangement to life.
The beauty of floral design is that there is no wrong way, there is just your way. That is why it is extremely important to me that if someone hired me to be their florist, that they get me, which is why I am personally involved in the design of every single item.
BL: Aside from being a floral designer, you're also a stylist. How do you come up with different stage designs for your photo shoots?
MB: Designing for photo shoots is when I get to truly be myself. I love designing for my clients, but I always put their wants and needs before my own. When styling a shoot, I get to put myself first and just get lost in the creative process. Usually the initial inspiration for a shoot comes from a place I have been, a place I'd like to explore or a color palate I have come across. I also do florals for many shoots that have been designed by very talented wedding coordinators. When I am invited into a pre-designed shoot, I lead with inspiration from their color palate and design influence and then add my own design and perspective to the shoot to make it my own.
BL: What is your most favorite bloom, filler and foliage?
MB: My favorite bloom would have to be the clematis (kleh-muh-tuhs). I love unique florals and I love vines; this flower brings those two items together and I think that is beautiful. However, my go-to flower in most arrangements would have to be the ranunculus (ruh-nuhng-kyuhluhs). The detail of this flower always blows me away; it comes in many colors and variations along with layers upon layers of petals. One variety is called the cloony ranunculus, which I am actually using as a focal point in today's Valentine's Day inspired arrangement.
My favorite foliage is blueberry. The leaves are perfect on their own, but with the mixture of unripened blueberries hanging from their stems, ahh, I fall in love every time! However, jasmine vine, southern smilax and Italian ruscus have a special place in my heart as well.
My favorite filler would have to be majolica spray roses. I love these roses because they resemble miniature garden roses and add texture to any arrangement. I have to say though, using filler flowers is not my forte. Sometimes, fillers give the impression that they are a cheaper product used to fill the empty space, but to me, every flower has been selected to stand on its own to accentuate the arrangement, not to hide in the background.
BL: What is one supply item you can't live without when you set up your designs?
MB: Oasis wet floral foam is definitely a product I cannot live without! When creating an arrangement, I have been known to be a bit of a perfectionist, OK, definitely a perfectionist. I touch every single flower and every piece of foliage that goes into an arrangement, and I continue moving each item until it finds its perfect place — even if that placement is only half an inch from where it was before. Floral foam allows me to place a flower exactly where I would like it to be and then holds that placement even through transport.
BL: What exciting things are you working on this year?
MB: This year I am excited to be working on creating packages for small, intimate weddings and elopements. Along with many other florists, almost all of my weddings in 2020 were either canceled, postponed or downsized. As heart-wrenching as it was to see couples have to place their weddings on hold, having to downsize a wedding definitely has its benefits. Small weddings and elopements allow couples to focus on every detail that makes their day special to them, instead of becoming consumed with the needs of their guests. Weddings are a celebration of two people and their love for one another, and I am so excited to help them plan their perfect, intimate day!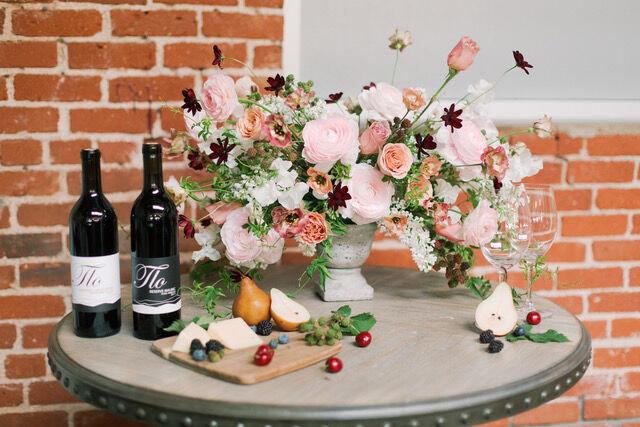 BL: With Valentine's Day around the corner, what kind of flowers do you suggest someone buy or arrange for their special person?
MB: My first suggestion would be to make your floral arrangement unique to that person by selecting flowers that they love! However, if you're looking for flowers that are simple to arrange, hydrangeas are always a great option. Hydrangeas fill a lot of space and are very forgiving while arranging. If your special someone loves tradition, roses are always a great Valentine's Day flower as well. However, if your significant other is sentimental, maybe arranging potted flowers in a unique vessel would be a great route for you too!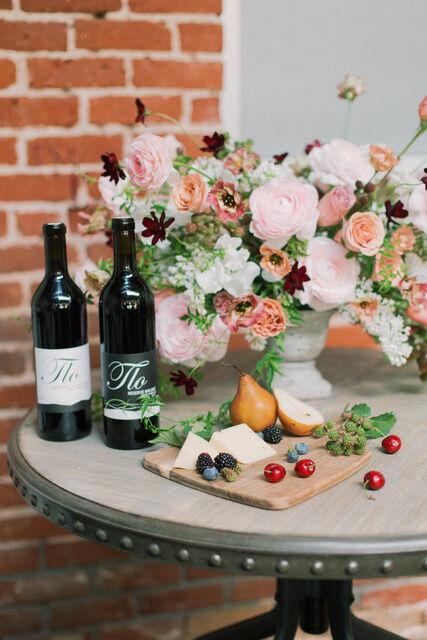 BL: Aside from giving the gift of flowers, what else do you suggest someone buy for their special person on Valentine's day?
MB: Gift ideas should come from the heart, especially on Valentine's Day. One idea is to consider your significant other's love language. In a book called "The Five Love Languages," author Gary Chapman discusses five ways to love or experience love with your significant other.
Those five languages include: words of affirmation, acts of service, receiving gifts, quality time and physical touch. My suggestion would be to consider your special someone's love language and then make a thoughtful choice on what they may like to receive. Bakersfield is full of creative businesses that can design custom made gifts such as a sign made with your anniversary date or custom baked goods. Creating something personal might be all you need. But my husband knows a little cheese and Tlo wine is all I need to create a perfect Valentine's Day.
BL: Are there any popular floral trends people should follow?
MB: A very popular trend at the moment is dried florals and foliage. In some arrangements, dried florals and/or foliage are just used to add texture but some florists are creating arrangements made completely of dried product. This trend is especially unique if you are a sentimental person and want to hold onto your bouquet as a keepsake or create something entirely new with it afterward!
BL: What is your favorite floral design style, look and vibe?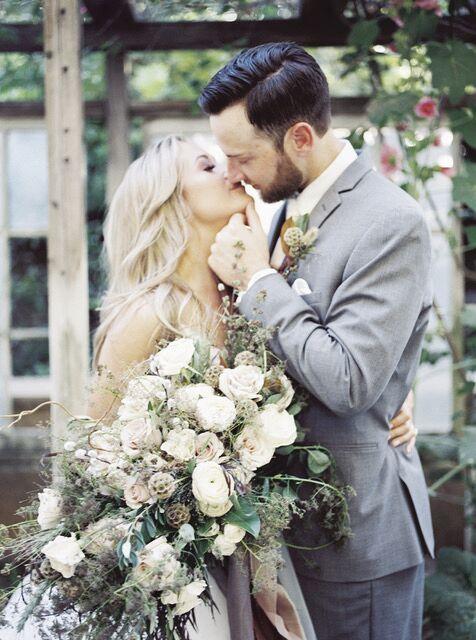 MB: My favorite floral design style is a semi-loose, whimsical, garden-style which creates a freshly picked look. I also love when my arrangements have movement; placing flowers with dimension creates depth but also allows the arrangement to move as if it was in its natural environment. However, the perfectionist in me cannot place a flower without creating balance as I go along; so although my style can seem relaxed, it is in fact very methodical.