Tahlia Fischer was was only 4 years old when she took care of her first animal. She spotted an injured monarch butterfly behind a planter in her backyard. Realizing its wing was broken, Fischer's first instinct was to care for it. With the help of her mom, Fischer created a safe space inside a glass cabinet in her bedroom filled with flowers, sticks, honey and water. 
"I would take it out and put it on my shoulder and we would go outside so we could get sun and it lived forever," Fischer said. "It flew around my house and my room. That was my first animal. That's where it all started."
Fischer has had a connection with animals since an early age, but it wasn't until she saw a reality television show and "saw the donkey that was going to be shipped to slaughter. I didn't know anything about donkeys. I just had my two rescue horses but I wanted to save the donkey," she said. 
She said animals are listed through auctions, and she outbids kill buyers who go around the country that try to find horses for cheap prices. 
Fischer established more than just a horse rescue, though. 
Fast-forward a few decades later: Fischer is one of the founders of All Seated in a Barn, where their mission is to rescue horses, donkeys and other animals from slaughter, provide them with medical attention and find them a home. Aside from being a horse rescue, Fischer and her team of volunteers use different community programs to further rehabilitate the horses and in return, heal individuals. 
When All Seated in a Barn began three years ago, Fischer said the cause was small. They started with just 25 horses the first year, and now rehabilitate 127 horses between two properties. 
Through this local nonprofit, people are able to volunteer, care for the animals and even foster a horse. 
"People get ahold of us and tell us what they're looking for. We try to get a good feel of who they are and what their experience level is, what the horse is going to be used for and the size of the rider. That way we can see if we have something that suits them. We want it to be just as successful for the horse as it is for the person," she said. 
Fischer saw what rescuing animals can do for the people — heal. And she wants to spread awareness to the community.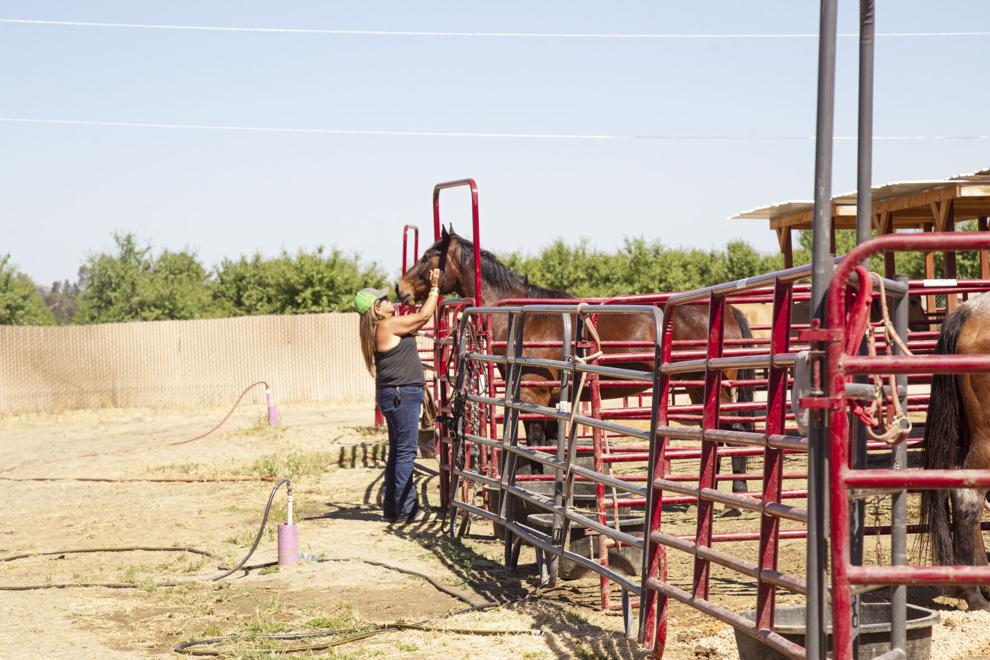 Eleanora Kattus was one of those people who walked in All Seated in A Barn and watched her life change for the better. Recently, Kattus adopted a horse with Fischer and volunteers at the rescue to receive therapy by just being around the animals.  
"The boys in the group home come out here and they heal through horses, so do women in sober living, people who suffer from PTSD and anxiety come out here, too" she said. "We want this to be the spot where if you're having a bad day or going through something, we want them to volunteer at the barn for a little bit and it gives back to you."
"This has been my dream since I was little. Did I ever imagine it would be this? No. Did I dream it? Yes. If people thought about what makes them happy, their quality of life would be so much more. If I could do anything in the world, it would be to rescue animals and give them a second chance," she said. 
Fischer plans to expand All Seated in a Barn and involve the community by introducing more programs. 
"It's a really special place and everyone is special," she said. "I want people to see what we do and not just think it's just a horse rescue, because it's so much more than that. I want to change that perception. Figuring out a way to see that we're here for the community and not just a rescue."