Aug. 17 was a bittersweet night for Laila Qudsi, Ruby Thompson, Jodie Riley and Licelle Yuzon.
The members of Johnny Cage, a rock band named after a character in the popular fighting game "Mortal Kombat," found themselves overwhelmed with emotion as the crowd belted out the lyrics to "Thirteen," a song they wrote about immature boys.
So many voices echoing off the walls – male, female, all different backgrounds, all different ages – singing the chorus.
"You're 13, you gotta be 13. You're 13, oh you gotta be 13."
At one point, Ruby, who plays bass, turned to Jodie on the drums unable to hold back her smile. In turn, Jodie started tearing up. Amid the chaotic environment that is a rock concert came a moment of beauty and insight.
This was when the quartet knew they weren't just a band – they were reaching out and connecting to faces in the crowd they did not know and may never know.
"Do you know how it feels to write something and have the audience sing it back at you?" Jodie asked. "That's very special."
But it was also the last time the band would consist of four members.
At 18-years-old, the band members must navigate life after high school. For Licelle, the band's lead guitarist, the road led to San Francisco State.
"Our first practice without her was the hardest thing," recalled Laila, lead singer and rhythm guitarist. "We were so lost."
With future shows already scheduled, the band must determine whether to rewrite its songs to fit a trio or replace someone whom they described as the backbone of Johnny Cage. Even if that means adding a boy.
"Girl guitarists are very hard to come by," Jodie said.
"Girl anything," Ruby added.
Johnny Cage is an all-girl band that had no intention of being an all-girl band.
Composed of Bakersfield High School and Centennial High School alumnae, the band's formation was rather serendipitous.
Laila and Licelle always wanted to make music together and when the idea of starting a band came up, Laila put up flyers on social media. After listening to Laila's music on SoundCloud, Ruby, whose dad is also in a band called Modern Wives, messaged her saying, "If you need a bassist, I can do that."
Jodie initially contacted the band to be its manager but taught herself to play drums shortly after, using her hands at home and hitting desks at school. When she picked up the sticks and played for the other members of the band, they were blown away.
Officially formed in February, Johnny Cage played its first show in March and released an EP titled "Honey" on June 13.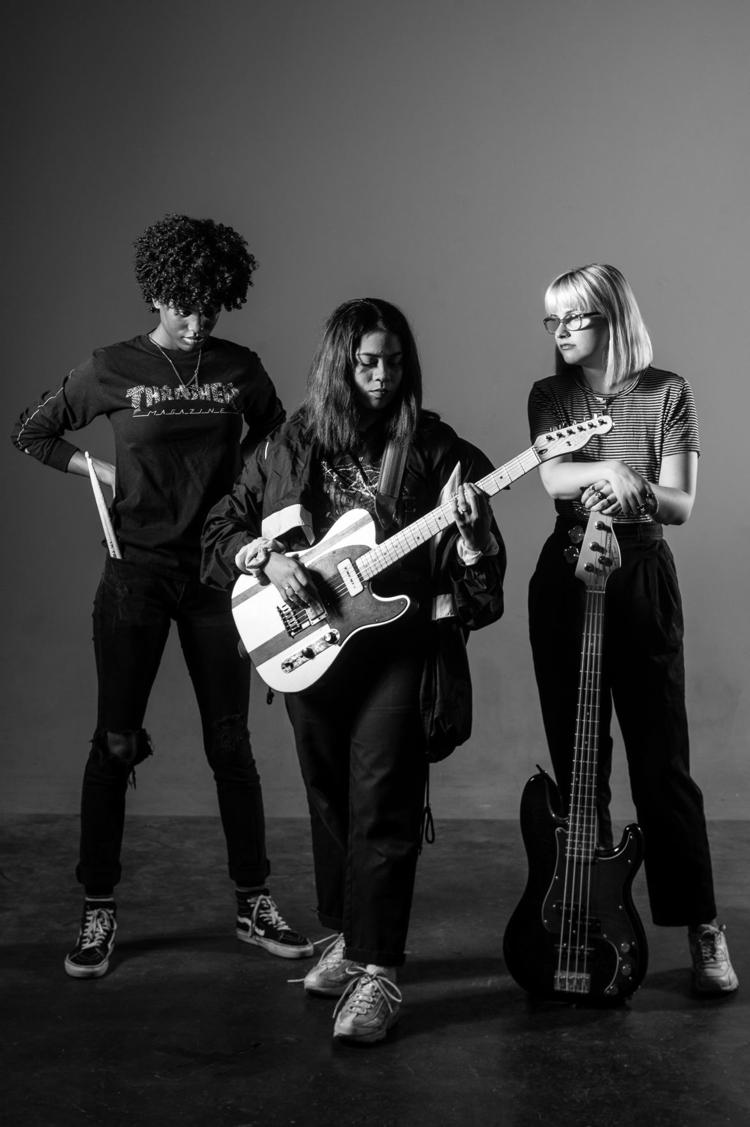 With songs like "Chicken Pot Pie," which has nothing to do with the savory dish; "Jenny," about a neighbor who filed noise complaints and forced the band out of their jam spot in Licelle's garage; and "Blue," which delves into how those you love can make you so happy, yet so sad, the band's musical style is not easily labeled.
If anything, not fitting into a particular genre is the band's niche.
At a recent practice session, the trio experimented with hardcore elements with Jodie providing more aggressive vocals, which is a sharp contrast to Laila's laid-back singing style.
The one common element is the lyrics are inspired by actual stories.
"Even though it seems like there's no story, it was inspired by something," Laila said.
The makeup of a rock band is rather formulaic.
There's the lead singer, one to two guitarists, a bassist and a drummer. Sometimes a keyboardist will enter the mix. Either way, the breakdown is predominantly male.
But an all-girl rock band is not something people see every day. And because of that, audiences can be rather critical.
"We get a lot of hate," Laila said bluntly.
Some are quick to assume that the band only wants popularity when they see the youth and gender of its members. They've been told their music is just mediocre and sounds the same. They've heard they're "good for being a girl band."
But like its namesake, Johnny Cage rolls with the punches. Yes, they are young. But they are also growing and maturing – as musicians and as individuals – and as a result, their music grows and matures with them.
"We would love for people to introduce us and not say, 'An all-girl band from Bakersfield,'" Jodie said. "Just call us Johnny Cage. All we want to do is make music. Being a girl is just an added benefit of it."