In the span of 10 years, 33-year-old Bakersfield native and Garces Memorial High School teacher Ashleigh Rossi has gone from the sidelines of the school's football field coaching cheerleaders to the front line founding its first-ever agriculture program and chartering the school's new Future Farmers of America club.
"Garces has such a rich agriculture-family base. I thought at the time that it was crazy that there wasn't a want for it," Rossi said. "So I wrote a letter to the administration with a plea that the school needed a program like this."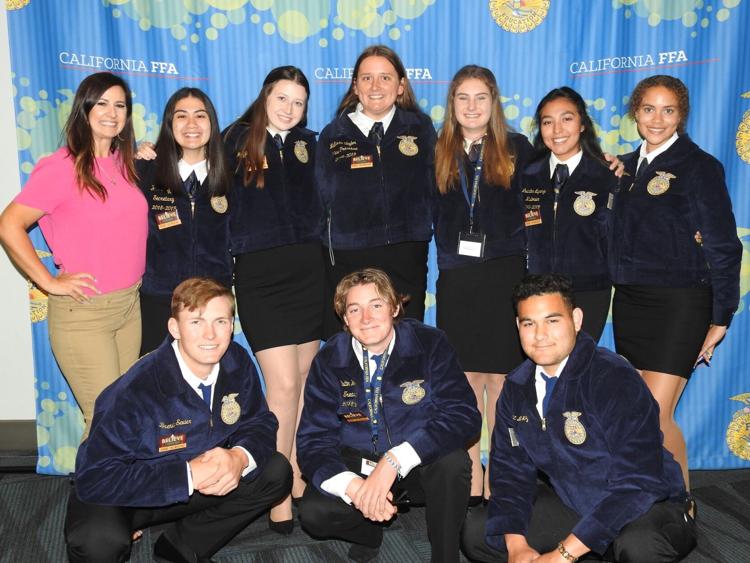 Indeed, in the institution's 73 years, where so many prominent farming families sent their children, none existed until the forward-thinking and ambitious granddaughter of a Basque rancher set out to make her vision into a reality.
"Like most Basque families, sheep were a big part of our lives," she recalled of her childhood. "My grandfather had his own herd that became my first love and second nature. As I got older, I started showing, breeding and marketing sheep at livestock shows here and throughout California with 4-H and FFA."
Armed with agriculture-related degrees from Bakersfield College and Fresno State, she returned eager to establish herself. After seven years with Bolthouse Farms, she was hired by Garces in 2015 with the understanding that eventually a program devoted to one of Kern's main industries would be established.
After she received her Career Technical Education credential, the school became FFA-chartered in the spring of 2018.
"It is a program like no other with benefits beyond measure that prepare students for the real world," she said of the club. "It is so rewarding to see light bulbs go off as the students find their niche. It also opens doors for students that they never had before, like showing livestock, speaking competitions, hands-on agriculture learning and much more."
For sophomore Lillian Raytis, who raised and entered a Pygmy goat in last year's Kern County Fair, the experience has been enriching.
"I heard about it from friends and it sounded like a super-exciting opportunity for me to learn and do something I had never done before," Raytis said. "Ashleigh has encouraged me to explore outside of my comfort zone and I have learned that I can succeed at things I never would have thought of trying."
Not surprisingly, parental support for the program and club has been overwhelming.
"Many of our students come from a farming family, with a passion for agriculture," said Principal Myka Peck. "Ashleigh helps shape these students and their love for ag into a path for their future."
This year, 60 students are expected to participate, despite a pandemic that is making hands-on learning challenging.
"Some students don't know what they are getting themselves into, and to watch them fall in love with it is very rewarding," Rossi said from her empty classroom, where she is teaching and advising virtually for now.
In May, Rossi was awarded the faculty's Rising Star award.
"Ashleigh has been an absolute gift to Garces," Peck added. "The national FFA slogan 'Learning to do, doing to learn, earning to live, living to serve' is truly what she has accomplished here and we could not be more proud."
Rossi never imagined a program without hands-on instruction, but there is no doubt that the same conviction and resolve that brought her dream to fruition will help her find a way around the current pandemic-imposed teaching restrictions.
Rossi isn't among this year's class of 20 Under 40, but her work at Garces certainly makes a strong case for her inclusion next year. 
Opinions expressed in this column are those of Lisa Kimble.