A wall of a conference room inside Bakersfield City Hall South is adorned with the portraits of council members and mayors over the past 120 years. Of the 138 photos, however, only seven are women.
On the other side of the wall is the office belonging to someone who will be the eighth.
Sworn in on Jan. 3, 2017, Bakersfield Mayor Karen Goh will bring much-needed diversity when her photo is added to the collection at the end of her service. Not only is she Bakersfield's second female mayor, she is also the first elected official of Asian descent, which stands out among the collection of old white men.
"When we look at this wall, starting back in 1898, there were men on the city council all the way until 1957 when Kathryn Belfanz became the first female council member," said Karen. "And then there's a huge, huge gap until 1981 when Mary K. Shell became mayor. In between all of that are men. I am very, very grateful for the opportunity to be the second female mayor."
It was an unexpected turn for someone who did not plan on life of service in her youth. But in time, it sought her out.
AN EXTRAORDINARY OPPORTUNITY
Born in India and living in England prior moving to Bakersfield at 7-years-old, Karen graduated from Bakersfield High School before attending the University of Southern California for her undergrad and graduate degrees.
During her time at USC, where she studied music education, Karen drew the attention of Katinka Daniel, who was a protege of Zoltan Kodaly, a Hungarian composer who created the Kodaly Method. Katinka regularly invited Karen to her home in Santa Barbara and teach her about life. When Katinka was brought in to be a keynote speaker at a national music conference, she asked Karen to come with her and do a demonstration.
That demonstration caught the attention of a publisher from New York who invited Karen to New York City to work for MacMillan Publishers, a Fortune 500 company.
During her time there, she worked her way up from a consultant to vice president of publishing operations.
"I'm just really grateful that an ordinary person was given the opportunity for this extraordinary life because of extraordinary people who mentored me and gave me opportunity," Karen said. "And also because of an extraordinary God."
An ordinary day turned into the realization that life would never be the same as Karen watched a plane crash into the World Trade Center through floor-to-ceiling windows on Sept. 11, 2001.
It was an eye-opening moment that helped her realize that, despite being in an office with people who had money, power and education, they were all the same on the inside.
When Karen returned to Bakersfield to be with her mother during her final days after a cancer diagnosis, she got involved with Garden Pathways, a nonprofit that mentors at-risk children and adults and teaches them to build productive lives. The organization was without an executive director at that time and its board asked Karen if she would consider coming back to Bakersfield to take the position.
That meant leaving a Fortune 500 company.
"As I pondered this opportunity, what I came to realize is that the value of human lives is so much greater than the ability to buy a pair of $500 Prada shoes," Karen said, adding that the first pros-and-cons list initially had a lot more cons than pros. "As I was mentored by many people, at Garden Pathways, where mentoring is the focus, it was an opportunity to give back to a community where I had grown up."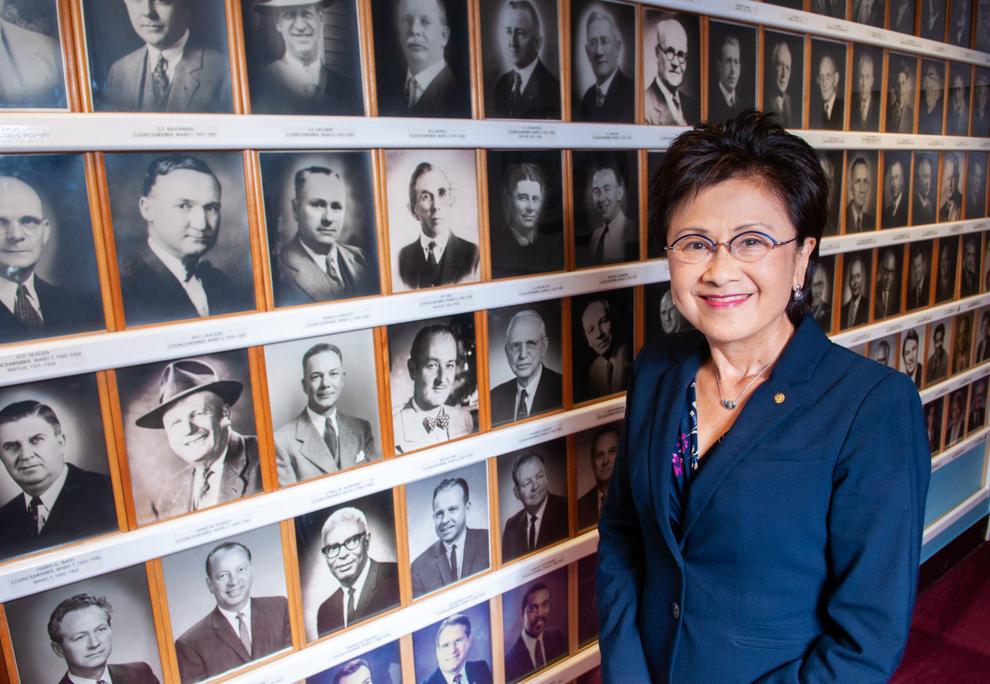 When Michael Rubio was elected to the California Senate, it left a void in the Kern County Board of Supervisors 5th District.
Karen initially balked at the idea of political office, but given that some of the areas of the district were relatively poor, she saw it as an opportunity to expand the work she was doing at Garden Pathways.
"I submitted my application but really didn't expect to get chosen," she said.
She was sworn in on Dec. 10, 2010.
Several years later, Harvey Hall announced he was retiring after 16 years as mayor of Bakersfield and Karen, along with 24 other individuals, ran for the opportunity to lead the city. She became the 26th mayor of the ninth-largest city in California on Jan. 3, 2017.
"While I didn't seek leadership, leadership seemed to come to me because I cared greatly," Karen said. "Those kinds of things translate all through your life when you genuinely care about people."
From childhood, Karen was taught the core beliefs of family, education and serving others that centered around faith in God. Today, she leads the city of Bakersfield during a time when multiple efforts are taking place to change the narrative surrounding the city to address the misconceptions of the place she and nearly 400,000 others call home.
"I'm excited about changing the narrative of our great community," she said. "Our community today is not the community of many years ago that some people imagine that we are.
"It's not about a logo, it's not about a tagline, it's about really discovering who we are and telling our story so that internally we know who we are and externally people know who we are. We are Bakersfield."