The Branson household has a lot of glowing computer screens these days. 
Christina Branson, a 21-year veteran teacher, has been teaching classes virtually since mid-August for her students with mild and moderate disabilities. Calvin Branson, who works in the oil and gas industry, has also transitioned to working from home due to the COVID-19 pandemic. Their daughter, Mikaila, is an elementary school clerk who has been helping students with technical difficulties as they log into their classes.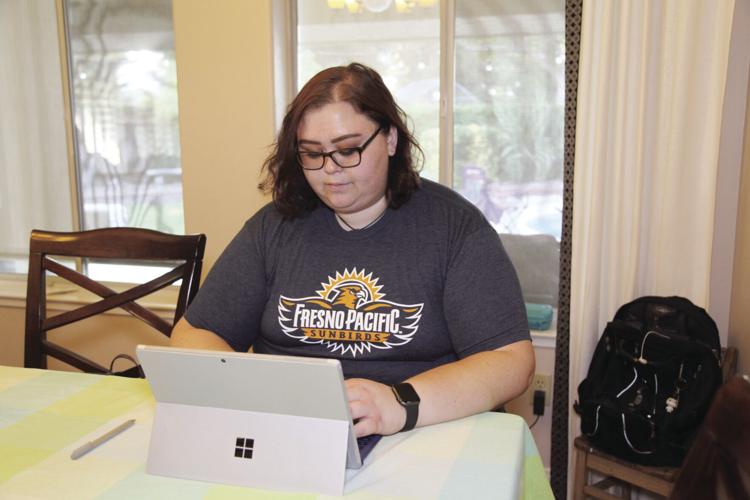 On top of their daily work responsibilities, all three are also engaged in distance learning themselves — as students at Fresno Pacific University. 
Calvin Branson is earning his master's degree in school psychology and counseling; Christina Branson is studying for an administrative credential; and Mikaila Branson, a junior, is majoring in liberal arts. All three hope to either move up in their careers or start a new chapter in education once they graduate. 
As many Kern County families learn the ins and outs of distance learning from home this school year, the Bransons have had the chance to experience it in various forms.
"It's the normal for me. My degree from BYU Idaho was earned solely online," Calvin Branson said. "I've been Zooming and (using) Google Meets and Hangouts, I've been doing it for four years. While other people are trying to figure it out, I slid in as the one person most comfortable in this situation."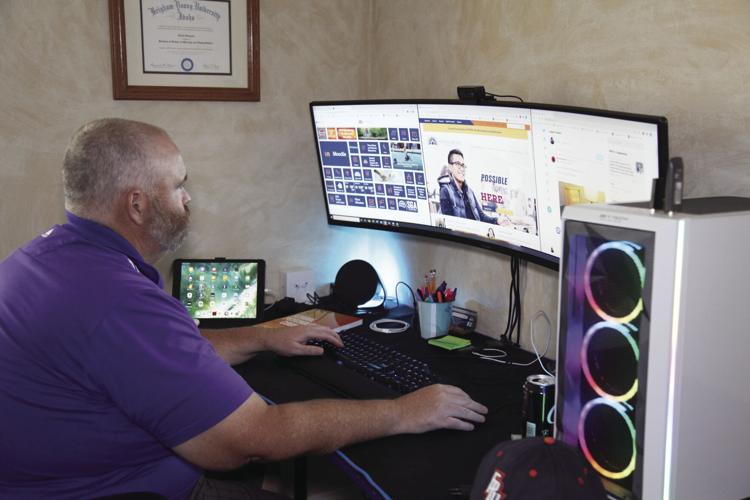 After completing his bachelor's degree in marriage and family studies online, Calvin Branson said he was a bit disappointed to hear the school year would be starting off virtually, mainly because he was finally "looking forward to sitting down with a teacher and classmates and people I was going to be in the program with for three years." While he'll have to wait a bit, he said he's still looking forward to his new academic journey.
During the day, Christina and Mikaila Branson are on one side of the computer screen assisting students. Every morning there is a "pump up" period for Christina Branson so that she can pump up her students in return and get them excited about learning. 
"If they see you're down, they're down," she explained. "If you have a bad attitude, they have a bad attitude." 
On top of assisting students with technical difficulties, Mikaila Branson is also focused on attendance and keeping them involved in their education as much as possible. Often, the job also requires contacting parents or making visits to see why students aren't logging in. 
Being on the other side of the screen as students themselves has allowed the two to empathize and understand how difficult distance learning might be at times.
"It's frustrating when you feel like the teacher isn't giving you what you need to learn. I'm a hands-on learner, I like seeing them do it and then doing it myself," Mikaila Branson explained. "It's hard doing that virtually because I'm looking at a certain angle or they're doing it verbally."
"Seeing them, knowing what they're going through, helps me help them," added Christina Branson.
Overall, the three said distance learning has been doable. It's important to set a schedule during the week so assignments and other projects can be completed. Forming relationships with professors, counselors and classmates and being able to contact them frequently is also key. 
As a teacher, Christina Branson said her relationship with parents has already been better this year compared to previous years since she's communicating with them more frequently. She has even seen her students engage with their learning positively despite this new format. Students got creative with a science project focused on their traits, favorite foods and other interesting factoids about them.
"The main important thing is your attitude. If you have a good attitude, it'll work out," Christina Branson said.
Once in-person classes are possible, the three said they're looking forward to creating bonds with classmates and professors.