Micah Roberts, 39, cardiac electrophysiologist
A patron serving his community.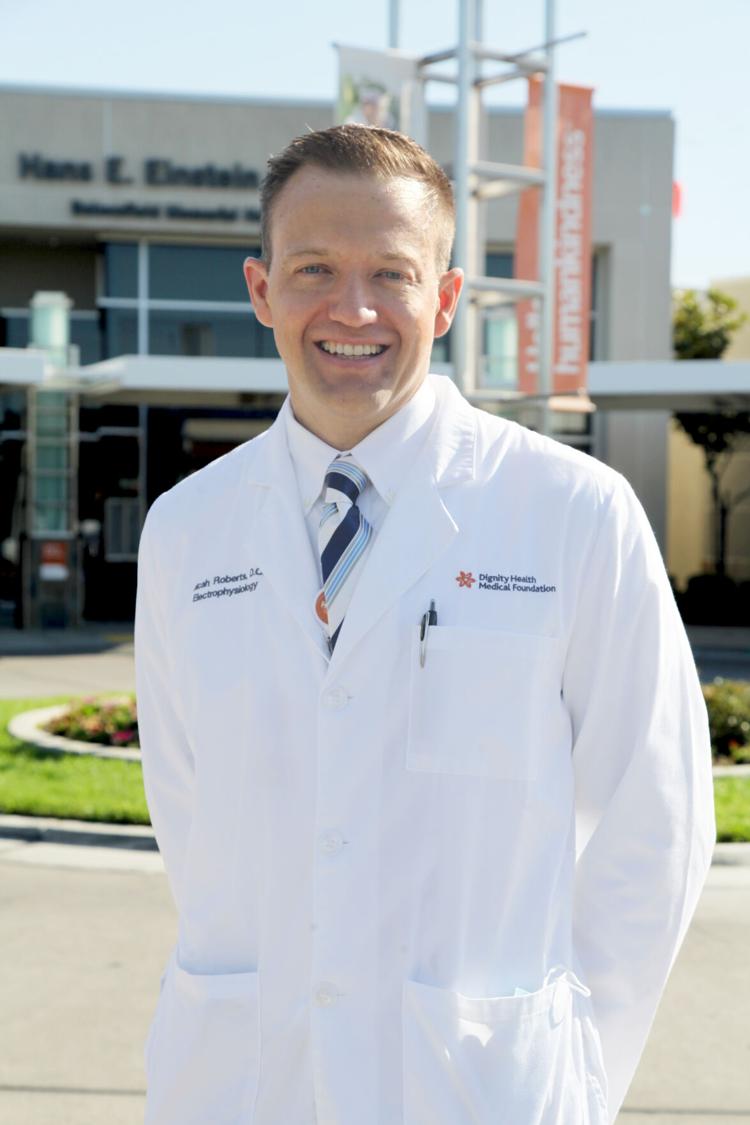 Born and raised in Bakersfield, Dr. Micah Roberts is a Centennial High School and Cal State Bakersfield alumnus. Roberts studied architecture but had a last minute change of heart and decided to go into medicine instead.
Growing up, Roberts' parents were both in the medical field so the change was a perfect fit.
"I started working as a phlebotomist at age 18 and that's how I paid for a big chunk of undergrad work part-time and summers full-time. It was a great way for me to get patient exposure — doing procedure's, talking to patients, learning about medicine," he said.
Prior to his current position, he enlisted in the military and served for seven years. As soon as he left CSUB, he was commissioned as an officer and went to medical school. When he was deployed, Roberts received a combat medical badge and a bronze star.
"I took the scholarship with the army and went through a great program," he said.
The army moved Roberts and his family to Hawaii for three years and then he was deployed to Fort Irwin in Barstow, where he got to practice internal medicine. He was also able to serve as chief of internal medicine at two hospitals. 
Roberts ended up getting deployed to Afghanistan with a unit from Fort Bragg, N.C., for seven months. After his deployment, Roberts and his family moved to El Paso, Texas, for a year and a half.
But that wasn't the end of his moving journey.
"At that point, I knew I didn't want to stay in internal medicine. It's a challenging field. I really wanted to focus on one area so I decided to focus on cardiology so I was accepted to the cardiology program in Fresno. I lived in Fresno for three years," he said.
Afterward, Roberts moved to Wisconsin to learn about cardiac electrophysiology. He later decided to call Bakersfield home again.
"I always secretly wanted to move back to Bakersfield. I love it here. For the most part, it had everything I wanted," he said. "It's a great community to raise your family and good people here. I had a lot of friends and family still here. It's home for me."
Roberts serves his community by dedicating time to his patients.
"Medicine is an underserved community but Bakersfield needs better health care. As a native of this community, I know more about the people and some of the challenges we all face. It was a no brainer for me to come back," he said.
Roberts is currently a cardiologist and sub-specializes in rhythm heart disorders at Bakersfield Memorial Hospital. He resides in Bakersfield with his wife, whom he met during his undergraduate years at CSUB, and his two children.
"I like what I do a lot. If you have a dream, don't settle for what's given to you. You could always work harder. Some people think to be a physician, you have to be smart. I don't think I am, I was just willing to go the extra mile. It pays off in the long run," he said.
Roberts said his faith drives the work he does and has a foundation for what he believes in.
"In the position I have to work in, I have to remain humble and know my limits. Humility and humbleness are a key to success," he said.