It's hard to imagine Bakersfield Christian coach Darren Carr worrying about much these days.
The Eagles have a host of players that were key last year as the Eagles advanced to the CIF State Division 4AA championships and the Eagles are again undefeated in the South Sequoia League with a home game Friday against Shafter, a team also undefeated in the SSL.
But there was one glowing concern for Carr and his staff in the offseason.
Carr felt in his first two years on campus, the team lacked explosiveness in the return game.
Carr credits special teams coaches Bryson Sumlin and Will Mahan for making adjustments that have helped the Eagles (6-1, 3-0) add another element to an already dominant team.
"Those guys really dug in this last offseason and figured out some things that work on special teams to make us a threat," Carr said.
The proof is evident on the field, as junior Alex Wallace has returned two punts for touchdowns this season to go along 40 catches for 676 yards and eight more scores.
"Alex does a great job with the ball in his hands," Carr said. "He's so electric and we've got guys that will block for him, that will work for him. When you are a good guy, people want to see you succeed and I think he's one of them."
BCHS is playing well heading into the final three games of the regular season with a five-game win streak.
"We feel pretty good with where we are at," Carr said. "The last thing you want is hitting your peak midseason and dropping off at the end. But these kids, a lot of them went through it last year on the team and went all the way to a state championship. They are expecting a long season."
Shafter second-year coach Jerald Pierucci knows something about taking BCHS to a state championship game. In 2013, Pierucci was at the helm when the Eagles won the program's first section title en route to a berth in the D-IV state bowl game.
It's his first time back at BCHS since he left the program after the 2014 season.
"My time at BCHS was a good time for not only me as a coach, but me personally," Pierucci said. "I have a lot of good memories there."
His next one on that campus will come in a game that Pierucci likes to call a showdown of two teams' "modern offenses." Both squads boast top passing offenses in the Central Section, with Braden Wingle at BCHS and Alex Aguilar — who leads Kern County with 1,616 passing yards — at Shafter.
"You are going to watch two of the better quarterbacks in the Valley right now battle it out," Pierucci said. "Two different styles of quarterbacks, which I think is fun to watch and I think it's one of those situations where you not only get to see good athletes in good schemes, but two good quality football teams."
Wingle is a more prototypical dropback passer, with 988 yards and 10 touchdowns to two interceptions.
Aguilar has added another 569 rushing yards and 26 total scores.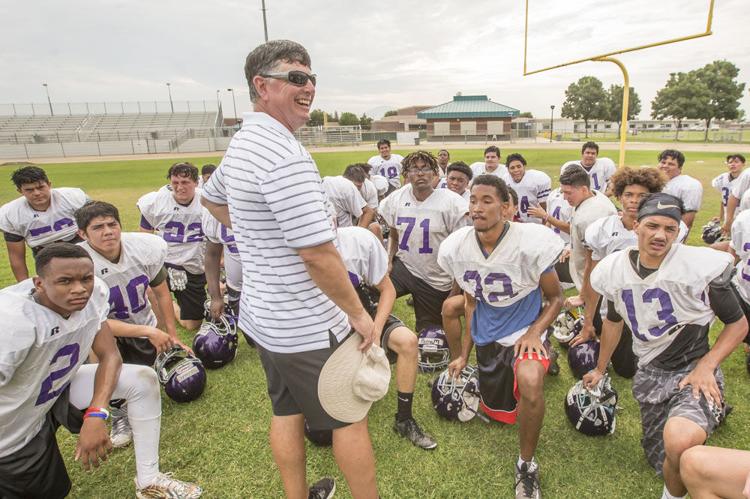 The friendship between Dennis Manning and Derrick Dunham goes far beyond coaching and long before either one became a head coach.
Going back 30 years and countless rounds of golf, Manning will take his Ridgeview (3-3, 1-0) team to his old stomping grounds at West (4-1, 1-0) for a South Yosemite League showdown with two teams coming off wins to open league play.
"Me and coach Manning go so far back. Probably a good 30 years as far as being a friend first and then coaching together here at West," Dunham said. "I am just looking forward to seeing him. I haven't seen him in a while since the season started and catching up with him a little bit."
Even though Dunham is just in his second year as a head coach at West, his stamp on football in town has been here for more than two decades. That includes time on staff at West with Manning more than a decade ago.
"This will be a good challenge for us. Coach Dunham and his staff have been around a long time and are great guys," Manning said. "As an ex-Viking, I am proud of the job they are doing over there."
Proving strength of schedule matters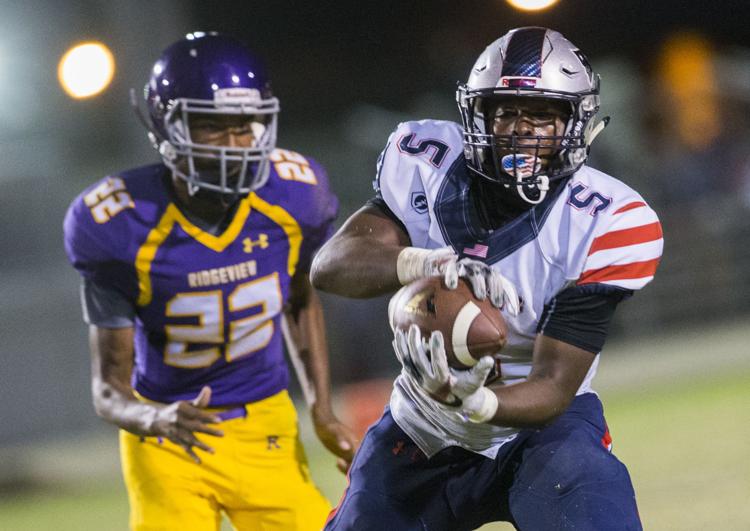 Liberty coach Bryan Nixon is a fan of challenging himself, his coaches and his players.
That's clear when you look at the non-league schedule the Patriots play annually.
This year was no different with games against four teams ranked in the top-60 in the state.
The Patriots went 1-4 before opening non-league play with a 28-16 win over Frontier in the Southwest Yosemite League opener, snapping the Titans five-game win streak.
"We want to play the best and want to see every scenario we can see," Nixon said. "For us to do that, we have to play good teams. We don't want false senses of security. We schedule those guys and we want to play the best. Doing that, we are able to see some of our weaknesses on some of that and get ourselves ready for league.
Liberty has won 21 of the last 23 SWYL games and after that four-game road trip — all losses — in September, Friday is another home game, this time against Stockdale with the losses in the past and a team ready to move forward.
"We will be defined a lot for what we do moving forward," Liberty junior Sam Stewart, Jr. said. "We aren't looking into the past because that's over with. We have to keep going forward and keep winning."