If truth be told, a lot of defenseman would love the chance to play forward.
After all, scoring goals is a lot more fun than getting hammered into the boards while retrieving the puck in your own zone.
So when Condors coach Gerry Fleming asked defenseman Joey LaLeggia to play up front midway through last season, LaLeggia readily agreed.
"When I was growing up, I always wanted to (play forward) but the coach wouldn't let me," LaLeggia said.
LaLeggia is now a forward as he begins his second pro season and will be on a top line when the Condors face San Antonio in their home opener on Thursday night.
That's what scoring 20 goals, 18 of those after the switch to forward, will do.
To be fair, LaLeggia, 25, was an offensive-minded defenseman when he started his pro career with the Condors in 2015. He played played four seasons at the University of Denver where he put up 131 points in 156 games for the Pioneers.
LaLeggia (5-10, 185 pounds) led the Condors in defensive scoring in his rookie season but the entire team struggled with putting up goals last year.
On the day after Christmas, LaLeggia became a forward.
"It was before a pregame skate right after Christmas and Gerry approached me and asked me if I was cool if they tried me up front," LaLeggia said. "We were either last or pretty close to last in the league in goals for, and I think we needed a little bit of a spark."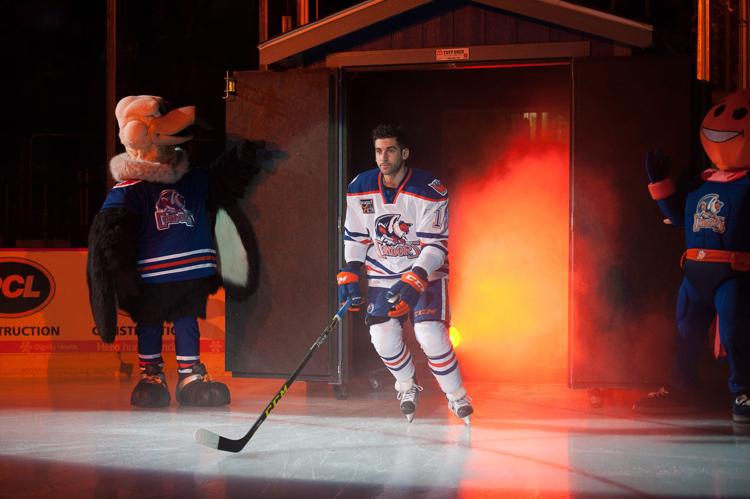 LaLeggia had a goal and an assist in that game and as the season wore on he became known as a forward, not a defenseman playing forward.
"Joey's a good skilled player and we felt that with his speed and his playmaking ability we might be best served if we played him up at a forward," Fleming said. "Credit to Joey. Joey embraced the idea and was willing to learn a brand new position after playing defense all those years."
And credit to the Edmonton organization, which gave the green light to Fleming to give it a try.
"They had the trust in me that I knew what I was doing, I guess," Fleming said of his bosses in Edmonton. "They saw him play a few times. They liked what they saw so we continued with it and as a result, like I said, he had a tremendous season last year."
One person not surprised at how well LaLeggia performed up front was Oilers' center Ryan Nugent-Hopkins, a longtime friend who played with LaLeggia on a Vancouver midget AAA team as a youngster.
"I've known him since we were really young and he was a dominant, dominant defenseman," Nugent-Hopkins told the Edmonton Journal during Oilers' training camp. "The transition is easier than it would be for other guys though because he's always been skilled and fast. But it also says a lot because this isn't like going from center to the wing. He's going from defense."
Playing in a top-six role and with the likes of Anton Lander (55 points in 42 games for the Condors last season) and Jesse Puljujarvi (28 points in 39 games) made the transition easier for LaLeggia.
"Luckily for me, (Fleming) gave me a good opportunity right off the bat playing in the top six," LaLeggia said. "The confidence he had in me seemed to work out well."
But the the transition to forward was not a simple as LaLeggia made it appear.
"It's just a completely different game. There's a lot of new stuff to get used to. But the coaching staff down here did a really good job with me as well as the guys I was playing with last year. Between Jujhar Khaira and Anton Lander and guys like that helping me out, just talking to me a lot and being patient with me."
There remains much to learn, and plenty of room for growth.
"Obviously I'm down here for a reason and that reason is to continue to improve my game and develop," Laleggia said. "To get used to the systems at forward ... focus on my play away from the puck. A lot of the system stuff is just knowing where to be. When to be there. Not just relying completely on instincts.
"It's going to take some time. It's going to take some video sessions with the coaches, It's going to take some, or a lot of, attention to detail."